SERP Checker Tool Review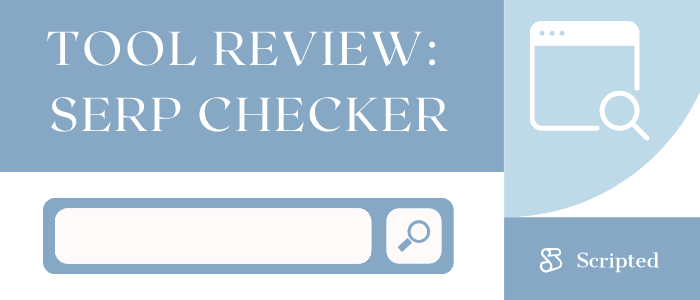 Every website owner knows that it's important to keep track of where their content ranks within the search engine result pages (SERPs). However, many don't know that your rankings will vary widely depending on the location of where you're searching. A SERP tool like the SERP Checker will pull and analyze your SERPs from 229 countries, allowing you to check your rankings throughout various regions without needing to use a proxy or location-specific IP address.
If you aren't already checking your rankings throughout different regions, the SERP Checker tool will reveal information that you haven't discovered yet, helping you identify the regions where you're performing well and the regions where you may need improvement. Meanwhile, if you are already monitoring your rankings across regions, the SERP Checker tool will help you do so more easily, eliminating the need for proxies and spoofing different locations.
What is The SERP Checker Tool?

The SERP checker tool offered by Ahrefs will help you check your rankings within the SERPs across various regions, allowing you to track and compare your performance in different countries. As they put it, "Ahrefs' SERP Checker tool lets you see real-time search results from any location, without using proxies and location-specific IP addresses." If you're not already familiar with Ahrefs, the platform is well-known for offering some of the best SEO and ranking tools on the web -- and this one happens to be free!
One of the best reasons to use this tool is to evaluate ranking difficulty. Whenever you try to rank for a keyword, the difficulty is one of the top considerations as it tells you how much work it will take (i.e., content, backlinks, time, etc.) to actually get your content appearing in the top 10 results for that keyword. However, one thing the difficulty rating often leaves out is the location. Ranking for a keyword in one region may be extremely difficult compared to how much work it will take to rank for that keyword in another region.
"Ranking difficulty varies by country because it depends on the top-ranking pages of each local SERP. Ahrefs' SERP Checker gives you an accurate ranking difficulty score and detailed SEO stats for the top 10 search results. This lets you see the whole picture and make informed decisions," Ahrefs explains.
Using the SERP Checker Tool

To use the tool, simply enter a keyword and you'll see the top ten results in each region, along with metrics to help you understand the ranking difficulty and existing competition. The information shown will include:
Domain Rating, or DR, tells you how strong a website's backlink profile is. A domain with a high DR is more authoritative and its links will be, too.
URL Rating, or UR, which tells you how strong a specific URL's backlink profile is. This metric closely correlates with the URL's rankings.
The backlink count tells you how many inbound links point to that specific URL.
The domain count tells you how many unique referring domains point to that specific URL. 
It's worth mentioning that Ahref's SERP Checker tool is not the only one of its kind out there, but it stands out for two reasons: It's free and it's operated by Ahrefs, which manages the second-largest backlink database on the web, only second to Google itself. Best of all, the SERP checker shows you the historical positions of the top results, so you can see the patterns and guess whether or not you can outrank them easily.
Some websites are solid when it comes to their rankings, meaning they rarely fluctuate, while others go up and down often and may fall out of the rankings altogether as new competitors pop up. The latter shows great opportunity for coming in and taking a spot, while the former may be harder (if not near impossible) to outrank. In either case, the historical data can be very handy in helping you shape your strategy.
Pros and Cons

No tool is perfect, but the SERP Checker comes pretty close. With a fairly straightforward premise and no price tag, it's tough to beat this helpful service from Ahrefs.
Pros
This tool is completely free, which is hard to beat. It has plenty of features if you just need a SERP checker to monitor your rankings across regions.

Offered by Ahrefs, which boasts the largest backlink database and most crawls, only second to Google.

Easily cross-integrate with other Ahrefs tools, allowing it to fall perfectly into your tools suite if you're a premium Ahrefs user or plan to become one.

It's fast, accurate, and reliable thanks to Ahrefs' trusted status as one of the largest search engine crawlers and database managers on the web.
Cons
Perhaps the biggest con of all of Ahrefs free tools is the temptation to try the premium suite, which can be costly if you take the plunge.
Ahrefs Plans & Pricing

The SERP Checker is entirely free to use on its own, but chances are, you'll find great value in the other tools that Ahrefs offers — and since they all play so nicely together, it's easy to be tempted into a premium plan. If you decide to go that route, you have four options:
Lite: $99/month for one user, with unlimited verified projects and up to five un-verified projects. Enjoy access to all of Ahrefs' popular tools with fairly generous limits.

Standard: $179/month for one user, with unlimited verified projects and up to ten un-verified projects. Enjoy access to all of Ahrefs' popular tools with high limits, enough to manage more than one website with ease.

Advanced: $399/month for up to three users, with room for plenty of projects for your brand or your clients. Extremely high limits work for large companies or agencies.

Custom: $999/month for a custom plan that is built to suit your team's needs.
Ahrefs Customer Reviews

"Ahrefs is the best SEO tool available out there providing complete information on the performance and analytics of the SEO side of your digital presence. From monitoring the rankings of your keywords to doing an integrated content gap analysis, Ahrefs provides you with multiple options to easily acquire and understand your data along with allowing you to formulate a workable strategy to progress your SEO efforts." via G2
"One of the best features of the tool is the batch analysis! By using it, you can easily get a snapshot of how you are doing vs. your competition. Also, love the Best Pages which is lacking from other tools in the industry. The FREE version of the tool which allows you to add your websites to their dashboard is amazing! Generating keyword ideas for SEO and Content is just one button click away." via G2
"Ahrefs is (almost) a complete SEO Tools Suitcase. And the only tool that does such an awesome job at everything the tools got to offer, e.g.: keyword research, site explorer, content explorer, and many many more. Ahrefs enables you to wear many different shoes and does it better than any College/Uni program in the related fields ever could (or will)." via G2
Improve Your Content Marketing Strategy with Scripted
Hire Freelance Writers to Power Your Content Marketing. Work with professional copywriters in your industry and start growing your business with exceptional website copy, blogs, digital marketing and sales copy, and more. Our freelancers deliver the high-quality content you need to achieve your business goals. Check out our writers today!