Verblio: Reviews, Features, and Alternatives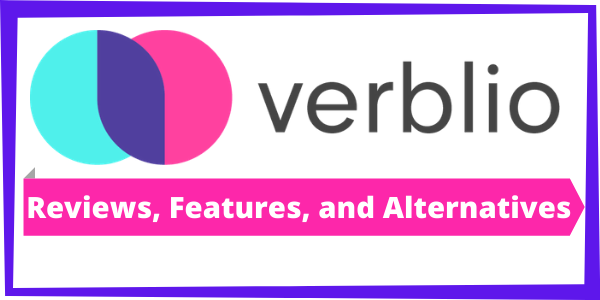 Using content writing services allows you to deliver a content stream that attracts increased traffic and growth. The following Verblio review shows you how to choose a provider to optimize content marketing for blog posts and articles.
Should You Use a Content Writing Provider?
When deciding on a content writing company, you need to review the benefits, as the right content writing company can lend authority and credibility toward marketing your products and services.
Today, many businesses use content writing services to gain more exposure online. Therefore, most successful companies use experienced writers to expand their reach locally, regionally, and internationally. 
Companies that offer content writing allow you to:
Save time

. The more experienced the writer, the less time you need to spend on editing and revisions. They know what to write and how to deliver it.

Fully use Google

. Content writing services understand how to format content so it meets Google's criteria for

website linking

, driving traffic, and increasing page views.

Promote your online business

. Your principal goal for using a content writing service is to attract website views or increase your daily volume of traffic. Doing so gives you a key advantage when offering services and products and enhancing brand awareness. A content writing company knows what to write to capture reader interest and promote your brand.

Get noticed

. Whether you need SEO copy, product descriptions, a press release, or blog posts, a content writing company will engage your audience with on-trend and timely topics.

Build an impressive website

. You cannot afford to have a mediocre website in today's competitive marketplace. Viewers take websites more seriously when they provide ongoing and

valuable content

. If you don't supply fresh content, your business can fade from view - something that affects your professional credibility, plans for growth, and revenue.
All the above benefits give you reasons to align yourself with a content writing service that offers continued support for marketing and sharing content.
If your company represents a small, medium, or large operation whose goals include expanding your reach and building a reputation as a thought leader in your field or industry, you may find using a writing service, such as Verblio, a helpful addition for strategizing content marketing and delivery.
What is Verblio?
Based in Denver, Colorado and originally established as BlogMutt, Verblio began operations in 2011. From that time, the multimedia content producer has written content in specialized fields. The content company caters to marketing agencies and businesses in the United States and 15 other countries. It currently serves around 1,500 businesses monthly. 
The company's easy-to-navigate platform and high level of customer support allow it to provide users with ongoing customized content. Verblio received 5 successive Mercury 100 Awards, highlighting the business as one of the fastest-growing private enterprises in the Boulder Valley area. The company sets itself apart from the competition, noting its position in 2019 on Inc. 5000's list of companies and its system of writer-and-customer collaboration.
What Does Verblio Do?

The following summary shows you how Verblio supports your efforts in presenting fresh and ongoing content. Use this Verblio review of services to see how the content provider stands up against the competition.
Verblio creates content in a wide selection of fields and industries, covering both niche and general copy.

The content service produces quality on-time content.

You can interact with knowledgeable writers on niche writing assignments on Verblio's platform.

The Verblio platform is both intuitive and easy-to-use, as it has received several facelifts. 

You can use Verbo to produce SEO content and increase brand awareness 

Verblio provides ongoing support for writing agencies wishing to outsource writing services

The content producer employs monthly posting and scheduling to organize and deliver content
Using a Crowdsource Approach
Verblio works on a crowdsourcing model, which offers users more flexibility and scalability while reducing the risk of writer turnover and burnout. By using this approach, Verblio can provide more content options at an affordable price.
Verblio Review: Verblio Streamlines the Content Writing Process
For its writers and customers, Verblio streamlines assignments by connecting each client to its large database of writers. The writers pick up the assignments they want and return them immediately. The customer has an advantage, as he or she can choose the content they like without interviewing a writer.
The company also allows you to pay by subscription (either monthly or annually, which makes payment easier. Before you pay for your subscription, the site asks for yourto define your business, target audience, and the type of work you wish to contract. 
One of the major advantages of using Verblio is the speed of the work completed. If a client needs content quickly, he can get the assignment returned in 48 to 72 hours. By submitting their work to a writing pool, customers save time and money, and can significantly reduce the wait time on a project.
Major Features of Using Verblio:
The website features 3,000 top-tier writers, based in the U.S., that have undergone rigorous tests and reviewing by the Verblio staff.

The site specializes in niche writing services, serving the topic needs of various industries.

Verblio supports the work of publishers, content agencies, and enterprises for scaling content.

Clients do not have to review writer profiles. Instead, writers choose the content they want to write. The customer selects the content piece he or she likes best.

Turnaround is fast, from 48 to 72 hours

Clients can streamline their content needs and save time after initiating a request - Verblio does the rest
Verblio Alternatives
My Blog Squad
Founded in 2012, My Blog Squad is a smaller writing platform than major producers, such as Verblio, Writer Access, and Scripted. The company primarily serves companies that wish to post content on blogs. You can order one blog post or a series of posts, with most posts averaging 400 to 500 words. Plans begin at $147 per month.
Writer Access
Founded in 2010, WriterAccess features amenities, such as AI Writer Search, Topic Finder, and SEO tools. The one-stop writing site gives you access to 14,000+ freelancers and allows you to tap AI-powered workflow tools and order content for many writing needs. When applying on the site, you need to highlight two public web pages for the platform to review, including a portfolio page, Linkedin profile, or a professional blog.
Scripted
Scripted supplies content marketing and creation, relying on a highly skilled in-house staff. The site matches experienced and expert writers with clients, producing content for social media posts, web pages, newsletters, blogs, video scripts, press releases, and content curation.
The membership-based writing service offers 3 subscription plans with a 100% satisfaction guarantee. You can choose:
A

Self-Serve Basic plan

for $199 per month - good for ordering 2 to 4 content pieces per month. 

A

Self-Serve Premium plan

at $349 per month - suggested for ordering 5 to 10 content pieces per month.

A

Cruise Control subscription

at $1,299 per month - recommended for companies that need 10+ content pieces per month.
All the plans feature:
Unlimited content ordering

SEO-friendly content

Two rounds of revisions

Spelling, grammar, and plagiarism checks

Editorial review

Phone and email guidance and support

Scripted's SmartMatch customer-writer matching aid and tool
Copify
Based in the UK, this writing platform, established in 2010, also features a U.S. branch. Besides writing blog posts, Copify produces content for emails, e-commerce, websites, and press releases. Copify states that it fully proofreads, formats, and delivers most copy in under 48 hours.
Inbound Marketing Agencies
Inbound marketing agencies, such as Lean Labs, hire and train writers knowledgeable in SEO best practices. Inbound marketing agencies offer services to generate leads, analyze keywords, and use advanced reporting to drive results. You do pay considerably more for these services. However, what you receive in incentives enables you to meet your goals toward investing in organic growth.
Final Thoughts
A smart content marketing strategy involves building your brand and gaining a following of loyal and dedicated customers. This evergreen approach offers a higher return on investment (ROI) than merely focusing on paid ads. 
By choosing the right content provider, you can produce and curate content that allows you to share your business's products and services transparently and reliably. You need quality content to realize these objectives. Scripted provides writing services that make it possible for you to feature content that is both authoritative and valuable to your readers.
Choosing Scripted for your content marketing needs makes sense if you want to deliver the right message for your brand. You can be a start-up or large company. It does not matter. By subscribing to a plan on Scripted, you can populate your blog or website with the latest in trending content. Using a direct writing source that offers specialized writing services enables you to remain competitive while becoming a thought leader in your industry or profession.