The Scripted Podcast: Voice Overs with guests David Ciccarelli & John Kubin of Voices.com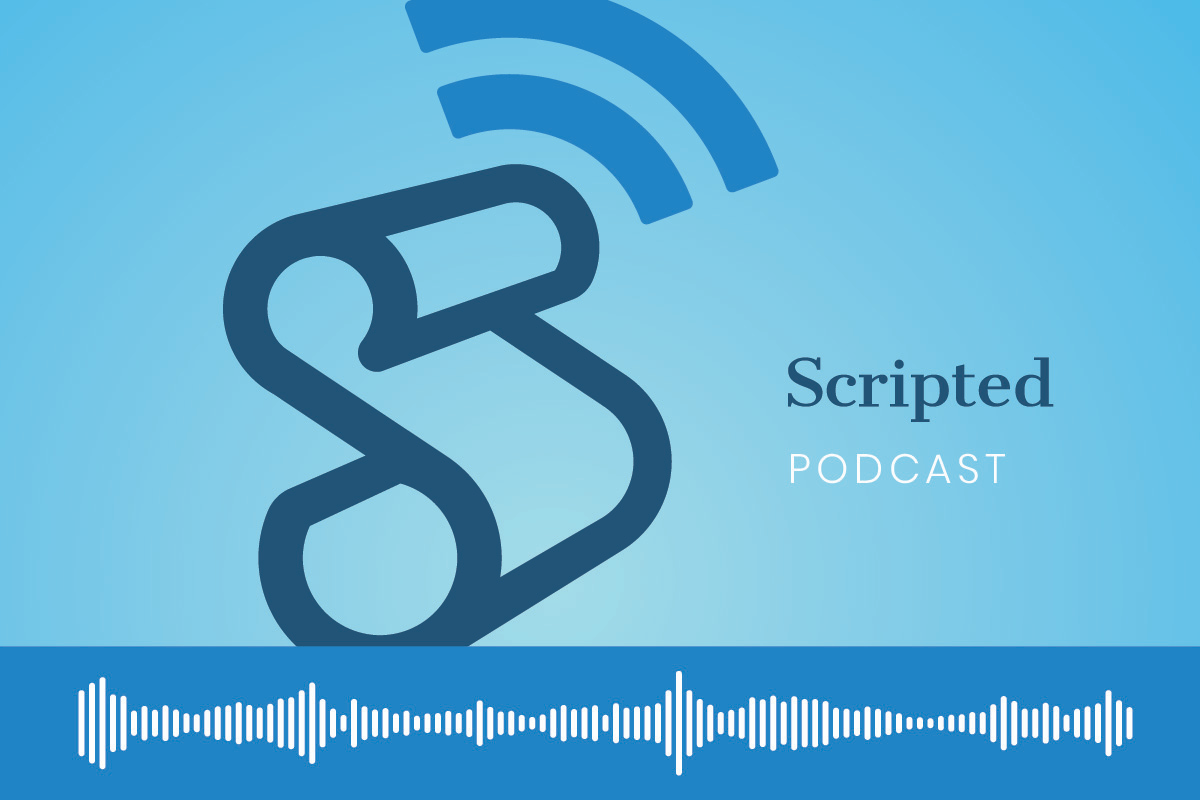 Welcome to The Scripted Podcast! Today on the show we are talking about voice overs. If you're creating video or audio content for your business (which you should be!) you will need a professional voice to go with your brand. But where do you find this unique talent?
Here to talk about that process is Co-founder & CEO of Voices.com David Ciccarelli. David tells us how he and his wife took a recording studio in Ontario, Canada and turned it into the world's #1 voice over marketplace. 
We are also joined by veteran voice actor John Kubin. John takes us through his unique journey to become a top voice over actor and what it takes to build a career in voice acting. John is currently the CEO and Founder of Spexster, a platform built for filmmakers to stream and sell spec content to advertisers and brands.
If you're in need of voice talent or are thinking about a career as a voice actor - this is episode is for you!
The Scripted Podcast: Season 3 Ep. 2: Voiceovers 
Transcript:
Kevin [00:00:37]: Alright, welcome back to the Scripted Podcast. Today on the show we're talking about voice-overs, John. What comes to mind when you first think of voice-overs?
John [00:00:46]: Ah, I'd say like cartoons, maybe…
Kevin [00:00:47]: Yeah, me too.
Kevin [00:00:52]: But if you're in the marketing or advertising world and you're creating video content or audio content for your business as you should be, you're going to need voice-over. You're going to come across that problem eventually it's inevitable. So, where are you going to get it? You don't want to do it yourself and have your own Philly accent across the world. So, one place you could go is Voices.com, and we happen to have their co-founder and CEO, David Ciccarelli, here to help us understand that world a little better.
John Parr [00:01:24]: That's right, and not just that, Kevin. We're also joined today by John Kubin who is a very accomplished voice actor and also runs a company called Spexster that we're going to be talking a little bit about. But, for now, let's start with David, and we'll go from there.
Kevin [00:01:38]: Hi David, welcome to the show.
David [00:01:40]: Hey Kevin, hey John! Good to be here, guys. Love to talk about all thing's voice, so let's do this.
John Parr [00:01:46]: Yeah, let's get in there.
Kevin [00:01:48]: So yeah, give us a little background, like how did you end up founding, co-founding with your wife, a voice-over company?
David [00:01:56]: That's right, we are co-founders and I'll refrain from positioning this too much as a love story but I did go to school to become an audio engineer. I grew up being really interested in sound, tinkering with an old record player as a kid, I remember this short-wave radio I could dial into stations from around the world and hear people speaking in different languages which is really cool. So, I think that fascination just carried forward. You know, when you graduated from high school, what do you want to become when you grow up, so-to-speak. 
So, I found this audio engineering program that was pretty fascinating and when I did graduate; I open up actually, a small recording studio and got my name in the local newspaper on my birthday, of all days, and that's how I met Stephanie as you mention, who's now my wife and, of course, co-founder. At the time she was studying to become a music major at the university. She actually had to record her singing repertoire as one of her assignments and her mom actually knew this and cut out the newspaper article that she saw and left it for her on her bed and says, "hey why don't you go down to this new studio and get your singing portfolio recorded?" 
So, she came down, and we did certainly hit it off, but because of that original article there were other small businesses that contacted me. They said, "hey we have a phone system that needs to get its greeting, kind of the voicemail greeting, and that on-hold message updated," there's a local hair salon that wants some commercials being done for local radio, and they both had the same request, which is for female talent. Clearly that wasn't my gig. I'm the engineer but I did just meet Stephanie that the day before so I asked, "hey do you think," and this was not my wedding proposal, our marriage proposal, but I did ask, "do you think you could be the female voice talent and I'll be the engineer and we'll just split the money fifty-fifty." So that was not only how I found my dear wife but also how we started this crazy business together. 
Kevin [00:04:03]: Wow yeah, serendipity on both your personal and professional life. 
David [00:04:10]: Yeah exactly, I think we realized very quickly we certainly worked well together, but you know I put up a pretty basic, I call it a primitive website, this brochure style website. No database behind it, nothing fancy. And you know, both of us went down to the local library, we read on Adobe Dreamweaver and web design for dummies, and just kind of took out all the books and taught ourselves how to create a web page in HTML. Which is very different than now days like WordPress does 99% of the heavy lifting for you, if you want your own website. So, we put up the site and actually attracted other freelancers, creative talent from around the world. Well, predominately around North America, who wanted to be a voice listed on the site. You know people, folks who speak other languages, who did other kind of character voices, celebrity impersonations. So that's really, we always kind of said, "yes, you could be listed on the site." 
And then concurrently, there were clients that would also find this site say, "how do I get in touch with people?" "Can I hire them?" And now is the, what I call, the "ah-ha" moment of wow we should get out of the recording business ourselves and instead, serve as that trusted intermediary instead. Like, let's re-invent this site as a marketplace where we connect that voice-buying client, you mentioned marketers and agencies, creative producers, with the voice talent. People were from home studios that have great voices, maybe a background in Arts & Entertainment or broadcasting and are looking to leverage those skills and capabilities and work on fast moving projects. So that's really the story, and we've been doing that really for the better part of over ten years, and I just stuck to that one niche. 
Kevin [00:06:15]: That's incredible. 
John Parr [00:06:16]: What would you say, has the industry changed since the time that you first started it to now and then what kind of changes have you experienced?
David [00:06:26]: Ah yeah, the industries. One of the key drivers is actually is, I think, it's in the equipment accessibility. It is very different than recording a garage band, or hip-hop, or something where maybe, well especially, like rock bands where you need drums, and guitars, and amps, and all these microphones, and it's just like there's a lot more to it. 
And voice-over, it's really one track. The most important thing you need is actually a quiet room, everyone thinks it's all about the microphone, but I would argue a quiet soundproof room is going to do you way better than having a really high-end microphone and so this could be as simple as soundproofing your room with foam, or sleeping bags, or extra blankets which a lot of talent actually do in spare bedrooms or even closets. They kind of convert that into a vocal booth. 
So, I think the cost and the accessibility of entering in is one thing, and then the disbursement of work is gone from being geographically centered in New York, Chicago, and LA to really if there's a market, if there's an advertising market really globally, that there's a need for voice-over. And so, I think that's been another driver and then just the type of content that's being produced as well too. 
So used to be, as you guys talked about, "oh, I think of cartoons" and a lot of people think, "oh, I get it, it's voice-over, it's radio and TV commercials" that actually only about 10% maybe 15% of the market. We would be characterized as broadcast work. The other 85% is non-broadcast. It's like more industrial in nature. 
Think of it like, you talk about these phone system recordings, corporate training videos, maybe a kiosk. Like sometimes there's even compliance videos as well too that just need to get done, and I think that businesses are recognizing, let's make this like an engaging experience for both our employees or maybe an educational content that actually gets shared with customers. So, kind of all that non-broadcast, it's not an ad, it's more educational in nature or are informative that's actually the bulk of the market.
John Parr [00:08:34]: That makes sense. 
Kevin [00:08:35]: And before Voices came along, how did those jobs get done?  
David [00:08:41]: Yeah, I mean, the industry's… it's kind of a fascinating history. The industry has been around, really, since the days of Walt Disney himself doing the first voice, I think in 1926, if I can get that correct. For the precursor to Mickey Mouse, which was Steamboat Willie, the very first black and white, animated, hand-drawn animation and Walt Disney did the voice. 
And then, that led to a fellow who was hired by Warner Brothers called Mel Blanc he kind of characterizes like the "man of 1000 voices." He did like Tweetie Bird, and Bugs Bunny, and Porky Pig, and all the Warner Brother Brothers characters. So that's kind of the origins and because of them being in the Arts and entertainment industry they're often, the artists, were signed on as part of the Screen Actors Guild, or the union, the Performing Arts Union in the United States. 
That industry, like that, was kind of like really the controlling factor and construct, for really up until about the year 2000, where there was a performing artists strike by The Screen Actors Guild; and that caused a lot of upheaval both the emergence of, basically, people still needing to do work, or producers, or ad agencies still needing work to get done. And then, they would go and hire a freelancer or what was characterized like a non-union talent, now we just talk about them as independent talent. So, that was one of the big changes, and they would just get booked into a recording, a local recording studio. 
So how the work would get done is put out a casting call. You do a job posting in effect, and number of talent agents who represented these unionize talent would be put forth. You know you get these time slots. He's got five minutes to record, I should say audition, in person and then from there you would actually either do a call back but all that would be kind of narrowed down to this one talent that you might work with. Not process work. Sometimes there'd be a casting director, the person with the golden ears who's helping make that decision. That process, hiring casting director in New York or LA is somewhere between a thousand and fifteen hundred bucks, and then the actual recording studio time, couple hundred an hour, so next thing you know we're talking like $2,500 just to find the talent who I might want to actually work with on this project and then you actually have to pay the talent and kind of repeat the process for the actual recording. 
So that was kind of a slow, and dare I say, cumbersome process including like the legalities with the Union contract and so forth. And I think it would last through the last 10, if not 15 years, particularly advertisers have needed to turn projects around very quickly. You know, I need the thing yesterday. I want to spin up a campaign, some world event happens, I need to change my messaging very quickly and the content shelf life is very short. Nowadays, when you see something on social media, I only want to see it once. If I seen it before and probably just going to skip ahead. So, there's this desire to be much more nimble and terms of it like brand ad, you know, brands themselves are like their counterparts as the ad agencies. You just need to turn things around much faster so that old Legacy Traditional the way that work would get procured really just doesn't lend itself to I think the fast-moving culture today.  
John Parr [00:12:19]: Yeah, I was very curious about that. Would you say that a lot of the production is just gone digital? Are they still doing any form of in person for these sessions or is it…
David [00:12:28]: Well for that, I mean, there's certainly a time and a place for it. I think if you're going to hire a celebrity, which candidly very few people do, there's almost a certain, like this, like it almost becomes like an event in and of itself. Right like, we're working with your favorite celebrity, they're coming into the studio, it becomes almost like an experience for that brand who got to hire so-and-so for their campaign. 
Aside from that though, I mean most of the work definitely has shifted to the majority of it to be this freelance independent work as opposed to like the old Union contract. It does exist but absolutely since the onset of the pandemic, all the studios shut down in New York, LA so this is like yet again this another catalyst towards embracing remote recording talent, where you just hop on a Zoom, Google Meet, Skype just to have some face-to-face and do the creative direction where you feel like you're collaborating in person, but you're just doing it through video. 
Our feedback from speaking with clients who actually do the hiring, once they kind of realized "wow, this is actually pretty convenient. I don't need to travel to a studio, and I also don't need to pay a talent to go into the studio. They can do this from home? This is amazing!" They're going to save the time and money. They said they're not going back, and I can certainly see why from the cost and time savings.
Kevin [00:14:04]: And did you see an influx of Covid related, not only for customers, but for actors applying to the site as well? 
David [00:14:18]: Oh yeah, it's been a crazy year and I recognize obviously Covid's been very challenging on everyone, in their own way, both personally and certainly the mental challenge of just being stuck at home, and in a lot of cases, and you know the response of that especially those who may be immediately were laid off or maybe had a fear of even being laid off, and like many of us maybe even looked online and like okay, how do I make money from home? And people thinking "how do I leverage the skills that I have into finding a side hustle or a side gig?" 
And so absolutely, we had some days there is, one day we had fifty thousand people sign up over a couple day period. You know several months, even now days, there is about a hundred thousand voice talent or people signing up as voice talent. Obviously, their level of skill is going to be vary greatly, but it's about a hundred thousand people a month who are signing up, which is very different than two, three years ago might have been more like five, ten thousand a month, so let's call it a tenfold increase in the amount of Interest. But then, that's the first step. Realize it's more than talking into a microphone and it gets one of the biggest misconceptions. You need that at home studio as well.
Kevin [00:15:48]: Yeah, I want to talk about that a little bit. I mean with a hundred thousand people signing up, what is your vetting process? What is, I'm an aspiring voice actor, which maybe I am, you don't know.  What makes a great voice actor? What elements do they need?
David [00:16:07]: We call it the triple thread. Which is, you need, I'm going to go out on a limb like the God-given gift of a great voice. Let's call it the art. The artistic element. You need the skill and the ability to read a page of copy, read a script and bring that script to life. That means being in character, means interpreting the artistic directions, let's just call it all the artistic aspects. 
Then definitely the norm nowadays is having the home base recording studio, so it could be as simple as a closet that's outfitted. The equipment could be a MacBook Pro and a USB microphone, it actually does not need to be all that complicated certainly to get started.
And the third one, I'd argue is some type of business or marketing and communication skills, which really means, how are you marketing yourself online?  Do you have your own website? Are you maintaining social media presence? Are you participating in a marketplace that you really could have mastered this as a lead generation tool? "I know how to respond to these jobs I'm winning one out of twenty-five, one out of fifty, one out of a hundred. I am working that system to be able to generate an income. In so, I think those are those are probably the elements that may surprise some. It's not necessarily the person with the deepest voice or even the person with the most experience. Somebody can have a lot of experience in that old world that is having challenges translating, "I used to just walk into a studio and someone would hit record for me and I'd read them leave," to now. It really is an independent business owner, you are a talent, yes; but you're also the engineer, you're also the marketer, you're also the bookkeeper, to make sure you're getting paid. So, I think it's that those who are most successful, maybe to put a bow on it, are those who view the pursuit of voice acting as a career actually as an entrepreneurial path.
John Parr [00:18:28]: That makes sense. So obviously there's sort of a changing of the guard happening now, but where do you find that the vast majority of these voice actors are coming from? Are they the already kind of formally trained actors or is that changing already?
David [00:18:42]: I think the trained actors, this is going to be a huge benefit if you've taken an improv class, if you've gone through some kind of drama or theater program. That's going to be a huge benefit, so there's these whole transferable skills that are definitely present and people come from that place, but interesting with voice acting, it's almost has this cachet of like, you see the celebrities do the behind-the-scenes like, "wow they're in their pajamas and this looks like it's really easy to do."
 I think it has an appeal because you're actually not on camera, because you can kind of let go a little bit, and you have this air of anonymity that you aren't necessarily exposed, people don't know who you are. I'm being hired based upon my voice and capabilities, not because somebody likes what I look like. It's because it's something I can do. I think that absolutely appeals to a great number of people who value their privacy and don't feel like they need to… they want to be somebody else. This type of new jobs every day… one day I'm a talking caterpillar, the next day I'm a talking robot, the next day a corporate executive who is delivering the important message. So, I think that's kind of what keeps it interesting. So maybe John, you said, if you come from this acting background, you almost have this flexibility and this, you're stretching of your vocal talents kind of built-in really appeals to you. 
John Parr [00:20:35]: Yeah, I think actually a lot of people don't recognize how difficult it is. I actually have done some voice acting work by myself, and there is a lot of crossover as well even with traditional acting. I know that some voice actors I have even spoken to even still stick with doing some physical element while they're performing it just to get you know some degree of performance out of it.
David [00:20:57]: Oh yeah, there's this whole debate like sit versus stand, even if you're in the vocal booth and a lot of people are quite on the "no, you should be standing, you should be moving your arms around…." The only reason you'll be probably sitting is if you are recording an audiobook and it's nine hours even if it's to your legs than anything else, but yeah, it's this notion of physicality in performance. Just like you know are you going to give a better speech if you're just kind of standing stiff behind the podium or can I actually walk around? Oh, I got a wireless headset. I can move. I can try to engage the audience. That's going to deliver a better performance, or even if you make a sales call, or talk to a customer, it's really always best to be standing up doing that. If you walk through sales floors in like a business environment and these kind of software tech companies, almost everyone is standing because it just keeps the energy up and I think that seemed concept translates to doing a vocal performance that you also want to be moving and leaning into and just adding that extra bit of emotion into the read. 
Kevin [00:22:16]: Yeah, that makes sense. You mention the variety of different jobs you can find yourself in as a voice actor, can you tell us maybe the oddest job that's come to Voices?
David [00:22:29]: One that comes to mind is a… there is this voice, it was a request from an outdoor theme park. It was a water park in Florida, and they wanted the voice for a pirate. And at the time, we just had this on the job posting form, like describe what you're looking for, and they just said pirate. And wow! Like low and behold, you wouldn't believe the diversity of pirates. You know it's for a mascot, but we want it sounding like, if you remember the movie, The Disney movie, Pirates of the Caribbean. You want the scary Davy Jones, skeleton looking thing; or like the octopus's chin. That's kind of a frightening pirate, but it's a pirate. Or, do you want the goofy, Johnny Depp pirate because that's a whole other flavor of pirate? 
So, we realized that, in the request, that we were kind of doing a disservice to the client. They obviously pictured some kind of pirate in their head, but we didn't give them this other capability of… they describe the role, but they didn't describe the style. And so, I mean, this is basics. This is basic character sketching.  What does this person look like? What would they sound like? And that's one I think that's been pretty funny. It kind of lends to this notion of artistic direction, that voice… and this is really the challenge, we're creating the invisible here. Like it's something intangible. It's something you hear. We all hear it the same way, but if you didn't hear it like you hear it in your head, and it's really hard to describe. And people just lack a lexicon or like the terminology to describe in their head and they often resort to very vague and general terms of the kind of voice that you're looking for. 
So, case in point, I want somebody who sounds professional. It's like, ok, do you want a corporate executive or is that really more of an indication of like the quality of recording? Yes, it's the quality of recording. So, who is it that you're looking for? That's where we came up with this idea, like having a role. You get to pick the role of the character that you want to read. It could be a character, I'm sorry, it could be a cowboy, it could be a villain, it could be a doctor, it could be a superhero, could be a guy next door, soccer mom, go down, we got this big list of these common characters that you'd find. And then there's the style, which is funny or sarcastic or serious. That's kind of where this needs to come together, and in the absence of two options on this job posting. We get clients that would say, "oh I just need you to… I just need somebody who sounds purple." You're giving me the brand colors of your logo?  I don't know how that's supposed to sound. Or, one of my other favorite ones, Kevin, because you asked, was I need you to sound taller. We need somebody who can sound tall. Do you mean authoritative? Do you mean imposing? What is it that you're actually getting at? Because tall is just ripe for misinterpretation. 
And so, I think maybe for those listening, if you're thinking about your vocal, like your voice brand or your audio brand, if your brand could walk into a room, what would it look like? What would it sound like? And it's almost like a character. Because, it's easy if it's a mascot, because if you have a mascot, you're like okay, I get it. I understand what this character would look like because there is a mascot but what would it sound like?  So many brands just have not put that forward or their mascots of never spoken. Like Ronald McDonald basically never speaks, the Energizer Bunny never speaks, yet there's new audio channels for marketing like smart speakers. Having them as a user instead of the brand, Energizer showing up on clubhouse or Twitter spacers. So, I can imagine if the Energizer Bunny like showed up and had a conversation about you know getting the most battery life. I don't know what the conversation, but you know what I mean. The brands have an opportunity to personify themselves as an organization, through the human voice which didn't pre-exist.  And most people have not thought about this, perhaps I think about it because I'm deep into it, it's shocking that there are global brands that don't really, they're not clear on what they should sound like.  
Kevin [00:27:34]: 100%. A brand guy very often does not include a sound section.
David [00:27:39]: No, so we… there's a brand guideline, we said, "let's listen, let's try to walk the walk here." So, if those listening want to see an example of what Sonic brand guidelines might look like, we've done one ourselves so if you go to voices.com, you'll see the Press section the bottom. It's in the media kit. And basically, it's a PDF download that walks through, hey, here's our overarching Sonic brand guidelines.  The emotions that were trying to evoke kind of where we would and wouldn't want to appear in cut a sounds bite, the type of music that might accompany our brand, and then we also have what's called a sound logo. 
Some people might have heard like the Intel chime or the Netflix chime when you first boot up Netflix or even Apple when you turn on a Mac there's a kind of three to four note musical signatures. And so, those are actually becoming popular whether you're turning on a physical piece of hardware or you're actually calling into a contact center. I often see these tagged on the end of videos, which is where we use ours the most. So, we have it on our sound logo which is usually again by three, four, five, six notes; and or they can have a blend of a voice in it as well too, which ours appropriately does. So, in the terms of guidelines, that might be a good resource for folks, kind of considering how well would I even articulate this, hopefully ours might serve as a as a template.
Kevin [00:29:20]: And it mirrors what we tell our customers too.
John Parr [00:29:21]:  I was thinking the same thing.
Kevin [00:29:25]: For our end it's the content brief. The content brief is the most essential part of ordering content. If you're going to have a successful content project, it starts with a very detailed content brief. Knowing exactly what you want, being able to communicate it to the freelancer. It sounds like you guys have a pretty good handle on that as well. You obviously ran into that, I'm sure, early on, with customers coming in and saying and I want to sound purple. I'm sure that was a difficult process to kind of figure out. What is it that they are not getting, that we need to be able to communicate to these freelancers? 
John Parr [00:29:57]: I think that's almost kind of native to anyone that's looking to hire freelancer in this case because naturally, it's the same with us at Scripted. Sometimes content briefs can be very vague and primarily, if they were able to write a good content brief, they wouldn't need a writer in the first place. And that's obviously where a lot of the same thing that's probably happening with Voices, is give us a character that's purple. It's the reason why they're on Voices. It's a challenge.
David [00:30:27]: The irony is we actually do have Barney the purple dinosaur which is a hit character and TV show, I guess in the early 2000s, actually his name is Dean Wendt, and he's one of the most popular and most hired guys on our platform right now. Not because he was Barney, but he's actually just really talented. So, there are those situations where it's like, are you referring to Barney the dinosaur? Or are you actually looking for someone purple? Meaning, oh, passionate or royalty? What is it? This is as much as you try to draw it out. 
Actually, in fairness, I hadn't contemplated that the writing brief is the same thing. It's like someone has a vision in their head, and it's like our job to draw that out and get them to describe it in pixels on a screen that is like, don't you just write 500 words for me. It's like well, no, what's the tone and we call that the style. Well, how do you want the tone, I can read the sentence any number of ways. We actually have an exercise for employee onboarding at Voices. 
We talk about the importance of culture and how communication is mostly nonverbal. I put up this one line on the screen and I say, "I want you to read this and put an emphasis onto the word that you see." The sentence is, "I didn't say that to her." But it can sound, "I didn't say that to her," which is, I didn't, but somebody else did. Or, "I didn't say that to her" or "I didn't say that to her," "I didn't say that to her," I said it to him. It gives this… it really kind of hits home with everyone, which is like guys, when your sending Slack messages and Gmail's back and forth, and if it's just a chat, and it's just written in a certain way, it's so easy to be interpreted the wrong way by the recipient because they're missing and lacking the sense of tone. So, you got to figure out, and I know I'm like you know preaching to the choir here, it's you've got to figure out, infuse tone into your message because otherwise you're leaving it up for interpretation and similarly you describe the tone that you're looking for when you're hiring a voice talent. Otherwise, you'll be leaving up to interpretation and you will get like the wide diversity of pirates like the theme park and so forth.
John Parr [00:33:21]: Yeah exactly, I think the further you can get and the closest you can get to what your vision is and then letting the freelancer take it from there; you're going to get much, much closer to what it is you need. I have to ask because we've name dropped Barney now, who else do you got on there? And also, if there are any big names that are also on Voices, are a lot of them using pen names? That's sort of the situation that we have on Scripted at times. 
David [00:33:49]: Yeah, we a couple years ago, we actually ended up acquiring a company called Voice Bank and Voice Bank was a similar platform that really only a showcased or was like home to all the big talent agencies. So, Creative Artists Agency, William Morris Endeavor, like United Talent, this is all the big ones and they actually all listed their celebrities and we've since of migrated that experience on to voices.com. So, there was a while there where there's all of these celebrities and Matthew McConaughey had the funniest and they all had these voice demos as well too. They were just really entertaining and engaging, and they were like A-list celebrities. We found there's some that prefer to be represented, and will opt for obvious reasons to be represented by their agent who can field those inbound requests. But a lot of people are any more are like if you want to hire me, then hire me through my agent, I'm not doing an audition for you. If you really want me, I'm going to walk into the studio for like no less than sometimes like six figures. That's just that they're not going to enter into that engagement. So that certainly occurs but yeah, I mean the phenomenon; you call them pen names; we call them stage names, same issue; where they just don't want to be, perhaps maybe, accessed a bunch, through fans or people who are just kind of wasting their time. Or perhaps they might be a B-list or C-list celebrity or are really popular in the show couple years ago but you know work comes and goes. So maybe they're actually really talented but they know they're there looking for the next gig so they kind of want to fly a little bit under the radar and you know that's fine with us as well too. We don't make a point of trying to highlight, there's no kind of celebrity section, or anything along those lines. Although maybe it makes sense to do so, so thanks for [inaudible]. 
John Parr [00:36:18]: Maybe we'll talk about that as well for Scripted. It's something I think happens quite a bit. 
Kevin [00:36:20]: David, before we let you go, I wanted to ask, you started out as an audio engineer and you ended up a co-founder of voice-over company, where do you see your company going, where do you see the market going over the next few years? 
David [00:36:36]: Well, definitely the market is going to be more freelance and independent talent work. You see that through the enormous rise of massive players like Upwork and Fiverr who both had incredible years. You know I read all of their financial statements because they're both publicly traded companies. Both had really huge growth years and are continuing to push on that, so with those two leaving the way I think there's almost like this general awareness that it's not just freelancer gig work. It actually makes sense in a lot of situations where there are these customers scenarios where it actually makes more sense to hire an independent creative talent on perhaps no contract, unlimited contract basis or an extended project basis. 
Either because of lean times, you just need to scale back and you work-to-work as needed, me, there's a surge in activity because you landed a big contract or you're about to launch a big campaign, so again, it's not going to be there always. So, it makes sense to consider an independent and then lastly, this discount of variable mode of like these surges and peaks and valleys, if you will. So yeah, I think those are three customer scenarios that would continue to drive this adoption of freelance creative talent and working with independent talent. 
The other driver is just much content is almost digital-first, and this might seem a little bit passé but really the amount that we're all spending on screens and now I think it's almost to the point it's reached a bit of a saturation. Where now it's almost like, I'm actually more willing to listen to a podcast or just hear a clubhouse chat on in the background and engage away from screen. Maybe just through earbuds, like this kind of augmented listening experience, I think is another big trend. 
So, our response at Voices is what if we view ourselves more as enabling more of that creative process particularly on, sometimes these scripts can be translated into other languages, we think that there's an opportunity there, and then after the voice is recorded sometimes there just needs to be some editing. Like, lets remove out all the brass, or let's tighten this up, or cut out a section of a podcast recording, or create variations on an ad. So, this is like this editing, perhaps even mixing in music, so we're almost going through Advoice.com is like reinvention, if you will, to become a more creative services marketplace. So, we've got some big plans for over the next couple months, but that's going to be a big one that hopefully I'll new see roll out and can be part of the story as well.
Kevin [00:39:40]: For sure. And it seems scalability and being able to be nimble is this really the future here. And then unfortunately, we will have to cut out your mention of Fiverr and Upwork as they are competitors.
David [00:39:52]: Oh, that's fine. That's fine.
Kevin [00:39:54]: But you can still get a script, to get your scripts written before you go to Voices.com to find your voice style. 
David [00:40:02]: Exactly.
John Parr [00:40:04]: Thank you so much for joining us, David. 
David [00:40:07]: No, it's been a great chat. You guys are highly engaged and I really appreciate the opportunity to tell my story. 
John Parr [00:40:15]: We're thrilled to hear it. Alright then, thank you so much.
Music [00:40:15]
Automated Voice [00:40:25] We're also joined today by John Kubin. John is a multi-talented entrepreneur currently based out of Pasadena, California, where he works most prolifically as a voice-over artist. John has built his own production company, pretty nifty. And is also the CEO and founder of Spexster platform built for filmmakers to stream and spec contents to advertisers, in order to get hired for production jobs. Join us today to talk a little bit about what it's like to be a freelance voice-over artist and some of the projects he's currently working on. 
John Parr [00:40:58]: John, welcome to the show!
John Kubin [00:40:59]: Hey thanks for having me.
John Parr [00:41:02]: Of course, thrilled to have you. So, tell us a little bit about what brings you here today? How did you get started with voice acting?
John Kubin [00:41:10]: You know, it's been a journey, and thanks so much for having me this is awesome. I started out in voice-over kind of accidentally. I think as a lot of people doing in these interesting careers. I'm a kid from Kansas of about a hundred people in the town total, and I, just on a whim, decided he was going to move to Hollywood and face-palming pretty hard for a couple years doing that. But I had been doing music basically most my life and learned how to play a lot of different instruments and tried to sing. And I was just a god-awful singer, and so my music career wasn't going to work out too good with that being the case. 
So, I moved to LA. I always loved performing, and I came out to do the whole actor and I did stand-up comedy, got into improv troupes. I mean just this whole everything clown show. And when I was in acting, I just I really just hated the process of it. I love performing, hated the process of driving to an audition that was two hours of traffic, one way there 5:00 in LA and it was just a nightmare. It wasn't fun, and so the whole business side of it just really killed it for me. And then I just kind of retorted back to doing music and at the same time, this is when YouTube was kind of blowing up, and everybody was kind of putting stuff up there just for fun just to see what would happen. And I'd always done mimicking of like South Park and Family Guy. I like these kind of fun-to-drama type shows. 
So, I just started putting up videos of me doing voices just for the hell of it and some guy from Louisiana who ran a bong shop of all things, he messages me and says, "I want you to make me some radio ads with like some Star Wars impersonations and Family Guy," and I was like, "ok," and he would have to do all the music. So, I'd make the jingle. It took forever to do this thing, and finally he had me obviously do the voices, and it was so much fun doing those, and such a pain to do the music. But he paid me. I think there's like two hundred bucks for the music and then two hundred bucks, I think, for the voice-over and I was like, "what?" The voice-over took nothing to do, and then I always say it's the laziest entertainment job there is and yet one of the most prosperous and abundant jobs there is it at the same time. 
So here I was, I didn't have to drive across town, I didn't have to dress up, and I just discovered this whole thing, where at these platforms came out that we're just like, "oh," all the advertising agencies and clients are now starting to post these job briefs on these websites like Voices.com. And so, I jumped on that train pretty hard, and I was awful. I never had a class, I didn't understand advertising and so, I still keep a lot of my old auditions too, and I'll go back and listen to 'em and just go, "God." 
So, long story short, it was a big journey to go from Aldi's kind of entertainment and performing aspects, into a closet basically, and use all of that that wisdom in things I've learned from the business side of things, into doing these auditions in starting to book jobs. So fast forward, I think it's been ten years, eleven years, I've been doing this now; I guess five or six professionally. It's really turned into the booming business, and I'm just obviously, so grateful and blessed to be doing what I'm doing, and then you do it all from the comfort of your home. Or I go on vacation, and I pack up the laptop and microphone with me, and I'm doing it there. It's just exploded the amount of work you can get and do and the ease-ability of doing it all has just become pretty phenomenal.
Kevin [00:45:16]: Yeah, it's great. So, like David, the founder of Voices, you kind of stumbled upon your career. But what advice do you have for people who are interested in getting into voice acting? Like how would you get into it today if we were starting out right now?
John Parr [00:45:30]: Yeah, that's a good question. Has the game changed since you first got into it? 
John Kubin [00:45:34]: The game has changed for the good, I would say. It used to be that the voice-over world or niche was a small group of people in Hollywood doing it. The Don LaFontaine, people doing The Simpsons show, it was such a niche business for the longest time, and that all has completely changed. And I think for a lot of other industries as well this has changed too. 
So, what happened was, the internet happened, and social media happened, and so instead of everything being centralized in Hollywood or with TV specifically; you have your phones; you have the radio; you have just YouTube; all these different platforms out there that can advertise your product to the right market and wildly more efficiently now. So, for someone wanting to get into voice-over, it's just unbelievable how much jobs are out there right now, and you can really target things that you know it would be easier for you to get into. And if you're if you're totally green, you've never done voice-over and always kind of interested in it; I think one thing that scares a lot of people out of doing it is that it seems like it's a complicated system, you know, "I'll have a hard time finding jobs," "I've got to pay a bunch of money up front to join a website or buy a microphone," and I'm always trying to be, I think, the encouraging voice or the voice of reason in this. Just go, don't let anybody tell you have to do it a certain way. Or, have to spend this much money, or you have to take a class. You don't have to do any of that. I didn't do any of that, if I did teach a class could be 90% of, hey, this is what you shouldn't do because I made all these dumb mistakes. Then you just boil down to, you don't have to have a great voice. I didn't have a great voice when I started. I had to learn and figure out how to manipulate my voice and talk naturally. And understand that there's jobs all over the spectrum. I think a lot of people are thinking, "I want to go book like the $30,000 sag job for Nike." And I hardly done any of those. 
The money, the work is all in non-union because everything's going to non-union has been going to non-union for years. And that means other businesses, they can afford to advertise now. They can afford to put stuff on YouTube pre-roll ad or a Facebook or Instagram blast and that's so much cheaper than saying how it's supposed to spend a hundred thousand dollars on a TV ad. So bottom line is there's so many great ways to get into it. The technology has just got out of control with what you can do. When I was first starting, if I got an audition or two a week, it was a big deal. And now, I'm waking up to like over a hundred possibilities of jobs out there and I just have to turn down so many, you can do this job for a hundred bucks and a two-minute ad. Or, here's an audiobook that's like 30,000 words for whatever it is. Whatever you're into or you think you might be good at, or you could do a specific voice, or you just kind of want to start learning, it's just a great place, any of these platforms, just to see what is coming out there. 
What these brands, these clients, these agencies are looking for and it just give it some practice, submit some auditions. The bottom line is, yes you do have to spend a little bit of money up front, which compared to any other business, this isn't like Starbucks too where, okay, now we have to order the next round of coffee beans. You buy a mic and laptop and you're done. You book one job that's paid for and then your money-maker is just hot air. You never have to invest in anything else again. I'm still using the same microphone from 12, 15 years ago.  
John Parr [00:49:33]: That actually segues into something we were wondering. So, have you done any gear upgrades since then or is that where it ended? 
John Kubin [00:49:30]: Very minute. Obviously, your computers keep changing over time. They get faster and more efficient. But, they'll last, if you get a good one. They'll last four or five years, and then if you want to upgrade, you can. Like the editing systems, a lot of your computers come with them, and editing voice-over, I mean it's the simplest thing in the world. You're not creating a symphony here. But the microphone, I pride myself in telling people this, especially new people that think they need to go buy this $3,000, $10,000 microphone to sound so good. I'm like, my dad bought me this 20 years ago for music and this bad boy has been beat up and travels with me everywhere, and I just refuse to go get something better, because I'm just like see, you don't have to, it's not the microphone. I mean it's hardly ever the microphone anyway.
Kevin [00:50:36]: David said the same thing, that it really isn't the microphone, more importantly, have a soundproof room. Is that something that you work on it home? 
John Kubin [00:50:43]: Not really, that's another thing, I have minute amount of soundproofing. I see these people with these gigantic closets and just spent a fortune probably on this thing. I just kind of laugh and go, "you don't need that much." "You need some carpet on the floor, maybe a sound pedal here." "I'm looking at a pillow right now that's my soundproofing," and it's just like, you really don't need to over-complicate what it is. It's obviously taking me a little time, I don't want to put too much sugar-coating on this, I guess but, it's obviously the wisdom I've got from doing this for so long, from doing sound editing, I know how to make my voice sound good in any environment. Small tweaks here and there, but you learn that as you go. 
John Parr [00:51:29]: Yeah no, I worked in music a long time, and I had the exact same experience. I've had a vocal booth in my house that I built out of an Ikea wardrobe, and it actually ended up sounding worse than just an open room with bed foam behind it. So yeah, it really depends on the voice, what you're trying to get, I agree. I think gear can be a money-pit for a lot of people. So, let me ask you this, you obviously are now in a place where you're taking on a lot of different jobs. At Scripted here, we obviously have a freelance situation as well, all of our writers as they grow are taking on more and more jobs as freelancers. How do you balance that with your life?
John Kubin [00:52:14]: As far as maintaining or getting new jobs or…
John Parr [00:52:20]: Yeah, or even when you're taking on a lot of jobs at once. I mean how can you balance out your professional life with your private life? Is it very time-consuming, like if you're doing an audiobook or something like that?
John Kubin [00:52:32]: Oh God yeah. I mean thankfully I have no personal life so it's all business, so I can dedicate a lot of time but it's easy for me, I'm married, I'm single. I don't have a lot of distractions. And the all the sudden this business, for me, started blooming a couple years ago, especially when I joined Voices, that I just decided you know I want to just grind for a while, and just see, do as good as I can. So, it's easier for me. Someone who has a wife and kids, or a dog, or whatever it might be like that's keeping you distracted, in a positive way obviously, it's tough. 
There's so much opportunity out there though that I sit here 18-hours-a-day and do voice-over and it's a grind, it's not the funnest thing in the world. But, when you can get in a rhythm of booking jobs and all of a sudden, hey, I booked a job and I auditioned for 10 more. You can snowball out-of-control so fast, and it's really fun, for a season, to do and I'm getting to the point where I'm just like, I'm so tired of doing this, I'm so burnt from doing this so hard-core.  But that's what I'm trying to say is encouraging to any other freelancer out there.  The amount of things that you can do from home and fish for jobs while you're doing jobs or pricing jobs, it's just a whole new world. It's the wild west and there is just gold in the streets. 
Kevin [00:54:09]: I think what people don't realize probably is how physical they can be to do voice-over. Can you tell us how you take care of your voice? How do you kind of manage that without overdoing it with your 18-hours-a-day?
John Kubin [00:54:22]:  You know, it's not even so much the voice. It's ironically, voice-over doing it 18-hours-a-day just destroys your whole body from just sitting here all day. I went through the same thing with editing for many, many long hours with the production company I still run, and it takes a toll for sure. So, I've had to learn to try to take more breaks, do stretching, keep in shape somehow, someway. It's interesting how your body just deteriorates doing this. 
The voice thing for me, I say I do 18-hours-a-day voice-over but that's not me constantly yapping. I mean, I think 60% of the business is just me trying to keep organized with all the jobs, the auditions, the revisions. It's more just like a how good a multitasker can you be to manage all this stuff? Because like I said, I could sit here and audition for a couple jobs a day maybe get one do it tomorrow, go on vacation, but I've kind of just decided, this is an opportunity that not a lot of people get to do and the auditions, the opportunities are there, and they're just being thrown in my face and I want to do them all. I know I can't do it forever but I can do it all for right now. 
55:43 John Parr [00:55:43]: So, tell us a little bit about some of the stranger requests. You opened up here with the bong shops; I know there's a lot more underneath there.
John Kubin [00:55:50]: Yeah, has been some weird ones for sure. I think one of the jobs I did, this is a couple years ago, some gal had asked me to do a video game they were developing. And I was like, "cool, I'd love that." So, they said we want you to play this character that's really link a full-on jerk and you know kind of the whole thing with it and I said, "ok, it'll be a fun challenge, a fun challenge, for sure," because I'm a pretty happy, go-lucky guy. It would be a pretty interesting thing to do. Then I kept getting the scripts and it just kept evolving into this really weird, kind of like pornographic type of… [laughter] and I just, I had one script and I just can't… [laughter] and I turned down the job. But like audiobooks and these really long form projects, I avoid them like the plague because when you're doing them 18-hours-a-day, you don't have time to do these 30,000, 100,000 reads and that's what I'll kill your voice, I think, so fast, and then you're stuck doing that. And say, what if I did 14 pages and they're like, you know what, we didn't really like the accent or the voice you had, can you do it all over again? 
[various exclamations]
John Parr [00:57:14]: Yeah, that's awful.  Tell us a little bit about what's been your favorite job as a voice-over? 
John Kubin [00:57:22]: One of the early jobs I got on Voices was… I really love David Attenborough-type narrations for Discovery Channel type stuff and I knew something about like island creatures and some animals I've never seen before. And I just love seeing animals outdoors because I never outdoors and stuck in my closet here all day and I just really love narrating that stuff and then they'll have me sometimes do like a British accent like a David Attenborough-type of thing. So, it's just the fun challenge of it. Because you'll do these 30-second technology ads constantly. And they all say the exact same thing. Is the whole world in this together and business [inaudible] corporations and innovations… but that's what pays so you can't knock them too hard.  
58:18 John Parr [00:58:18]: How'd you learn the British accent? I was going through your reel and came across it. It's really impressive. Is that something like you study or is it just something that you picked up throughout the years. 
John Kubin [00:58:28]: Oh no, you know I've always been a mimicker. Kind of when I said I was starting back in impressions of South Park and stuff like that. So, I kept seeing all these jobs that come out for British or Austrialian, and I was just like you know what if the guy could capitalize on that? It's a big market, you know, because there's so many. And the cool stuff is usually like, the stuff that pays is like, the luxury car commercial, the watch commercial, the James Bond type thing, and I want to tap into that money, you know. So, I started just listening to a lot of different voice-overs that were British and most of them were celebrities and my go-to is kind of Tom Hiddleston because I got somewhat of the same timber of voice this guy has. He's wildly more successful and ten-times better voices than I am, but I can be the knockoff version of this guy and hopefully get away with it. I just started trying it and it was terrible my first a couple years doing it but then, you can learn it, you develop it a little bit and you figure out the nuances of it. And then, I started getting hired over and over. I think I did more British voice-overs than American. Then if you can get into like, I did a Danish one not too long ago, a German… 
Kevin [00:59:51]: Have you run these voices by any British or Danish people and got some feedback on them?
John Parr [00:59:53]: Yeah, what's the feedback?
John Kubin [00:59:53]: Oh yeah, hell yeah. The funny thing is that I'll do a British accent and typically it's not a British company that hires you to do it because they don't know. But British companies actually like it because we don't know where you're from, because there's so many different dialects in Britain, we like that your kind of the blended version of "we don't know where the hell you're from." [chatter] It's become kind of a… they call it the Transatlantic accent where select Global were really fits into…
Kevin [01:00:27]: Is that what Madonna ended up having? [laughter]
John Kubin [01:00:30]: But yeah, it's worked out pretty good and I still tell people, I'm not the greatest but I can pull it off for a 30-second ad.
John Parr [01:00:37]: And you're getting hired for it.
John Kubin [01:00:38]: Yeah, I'll take it.
John Parr [01:00:39]: That's about… I think that's where the line is. I think you crossed it.
Kevin [01:00:43]: You mentioned Tom Hiddleston, who are your guys? Like you have to have some guys, right? Your voice acting heroes or who you aspire to be.
John Kubin [01:00:53]: Oh gosh, yeah, there's tons of them out there. I just pay attention to whatever's popular at the time. I just in the business mindset at this point. The art, the coolness, has worn off for me from doing it for so long, so I'm in the business mindset of, what are these clients, what are they looking for? What's popular? And that's like anything from a Tom Hiddleston to do a lot of John Hand-type commericals… 
Kevin [01:01:24]: He's what Mercedes now? 
John Kubin [01:01:28]: Mercedes-Benz. So, anything like that I really pay attention to and just go ok. Now I know collectively when I go into these auditions, what the clients are looking for. There is a huge difference between what you think is good for an audition like some of these scripts you'll see they'll say, "we're looking for a Tom Hiddleston or a Morgan Freeman and every voice-over goes all I'm going to do a dead-on impression of Morgan Freeman. No, no, no, that's not what they're truly looking for. Their looking…
John Parr [01:02:00]: For the gravitas of the…
John Kubin [01:02:01]: Yeah, their saying this ad's popular, so we want to do that. And it's that simple. Once you start learning how the system works. 
John Parr [01:02:09]: You know, one thing we were curious about because, I think it was not too long ago, there was that whole thing with the Screen Actors Guild and in the strikes that were happening… what is it like out there for voice talent and rates? Is there a struggle for this? Like with people getting started? I mean obviously you're in a great place now, which is awesome, but you know you were saying earlier like some of the non-union jobs are where the moneys at. 
John Kubin [01:02:37]: Well yeah that's true. I have a lot of friends that are brand new to the business. They'll kind of ask me what should I bid for this job or in a lot of professional friends that I have that will hit me up and just go am I'm getting screwed here type of thing? And in my answer is always, it's kind of, it's a case-by-case basis.  Again, there used to be a centralized network of these big money jobs, and now it has kind of just spread out to a quantity of jobs versus quality of jobs. The quantity comes from non-union and that's the world I stay in because I just like to work. It may be lower-paying but you know you booked a bunch of these jobs it stacks up very, very quick versus waiting to hit the jackpot to 3, 5 years to make what someone can make in a month doing non-union. So, with the prices, I've done a lot better at it now kind of recognizing that, okay, I can tell this company's brand new, up-and-coming, they don't have a lot of money. I'm willing to work with them. I'd rather like do the job that takes me five minutes to record and make hundred bucks versus, go to a restaurant and work a shift and not make a hundred bucks. 
John Parr [01:03:53]: Exactly. Yeah, yeah. 
John Kubin [01:03:55]: So, that's my mindset but obviously if it's just like, oh, we want to put this on the Superbowl and use it for the end of time we got two hundred bucks…yeah probably not.
John Parr [01:04:08]: Right, right, right. So, tell us a little about Spexster.
John Kubin [01:04:11]:  Yeah, you know I didn't want to go to off topic here but it kind of routes back to voice-over. Spexster is a combination of all of my experiences I've had in LA and I'm founding it with my business partner Jed Williams, who also does voice-over and does well. We were friends out here doing acting, doing improv classes, the whole bit, and we decided that we wanted to be serious for two seconds and try to start a business. 
And so, we loved filming. We were kind of loosely filming spec commercials for these commercial contests that these different platforms would host. And we would go out just with friends, with a camera, I would edit, and we put together like a 30-second commercial that was kind of fun and we were we were big on humor, so we would make it funny. So, we'd submit these, and they started getting bought by these brands and these clients, that just needed to advertise. You know, not on TV but just on social media on the different channels just because, why not? It doesn't cost them hardly anything compared to the mega-budget they're using. 
So, we got into doing this production company and did very, very well for a long time. We shot over a hundred, two hundred commercials with a bunch of different brands, big brands too, it was really fun and it just became this pretty hard grind of you don't make a lot of money, it's a lot of hustle but also a big payoff too of learning. I mean we had to everything. From write, to produce, to pitch, to run the camera, to pick up trash on set, while the other one directs, and it was like, man, it was it was such a hard struggle to basically not almost break even. Because we just kept doubling down anything we would sell, we would immediately put in the next budget. 
So Spexster kind of comes along a few years later and we kind of said, what if we could get back to having fun with filmmaking again, and go out and shoot what we want to film, not what a client dictates that's really a watered-down idea that's you know it's going to be a grind. What if we could just go out and film anything we wanted and adapt it to any brand out there that would want it? What Spexster does is it opens up the doors for, right now specifically, filmmakers and a lot of creatives to create whatever they want, their passion project. It could be something as simple even as a lens test, something out there, and just put it on our platform. And then basically, you had a 90% made commercial that we are pushing to clients in agencies out there that can add their 10% of branding into it. 
And so now, you've made the whole commercial process instant. It just like a browse for an ad, there's one great, here's my logo, film my product whatever it might be for a revision quick, and then we're done. And so, all of these again experiences with voice-over, and working with clients, and doing this production company, and knowing all these worlds, kind of go into this one thing and it's just supposed to open up, I think a lot more fun ways for filmmakers anywhere in the world now to submit something, and get hired or get discovered. Whatever it might be. So, we're trying to be, the best way to explain it is, like the Netflix of ads or the Uber of hiring a filmmaker.
Kevin [01:07:46]: And how many filmmakers do you have on the platform right now?
John Kubin [01:07:48]: Ah, we've been launched for a little less than 6 months, I think we've got about a hundred, a hundred fifty filmmakers that have uploaded stuff. We've run a few contests with just kind of our own internal contest of like who can you upload a cool spec ad. And now we're trying to taylor the industry in these filmmakers to go, okay, here is what you know some of these new up-and-coming clients are looking for, that you know have a budget of $5,000 to $10,000 and basically you go out and film in non-branded commercial. Just have a storytelling piece of work that you can do. And it's very different from stock footage, because stock footage is like you buy a single clip and you know it doesn't tell a story. You still have to build it yourself, and we're saying no, no, no, we've built everything for you. It's on a silver platter you can buy the ad as is, you can buy all the b-roll, you can buy a 15 second cut down of it or the whole package, whatever you want to do. So, we just try to make the process really, really simple for the advertiser. And then, the filmmaker can just say, they put their own price on it, so we don't dictate any prices or what you do, it's your free rain world. 
John Parr [01:09:02]: Yeah, that's super cool. And so essentially, then the buyer will add contacts to the footage presumably in that case?
John Kubin [01:09:09]:  Yeah basically, the advertiser will be able to come on and browse just like a Netflix, something in the wheelhouse of what their brand is. So maybe it's like a holiday or we're really into hunting-type stuff, they can go on and do a search and find something in that world and just go, okay, what are the possibilities now? And we play matchmaker to filmmaker and buyer and just say we could do is something as simple as slap your logo at the end its already built or you know what you can hire the filmmaker to go do a pick up shot or just hire a filmmaker to redo the whole thing. But the point is, we make the process a lot, lot faster and cheaper for both parties involved. 
John Parr [01:09:50]: And that's an awesome idea. 
Kevin [01:09:52]: Sounds like, I mean, one of the most difficult things for freelance creative market themselves and get themselves connected with a buyer, and it sounds like Spexster is kind of a solution to that. 
John Kubin [01:10:03]: Well again, it comes back to a not having a centralized system anymore. So, we decentralized the whole platform to where you don't have to be on Hollywood. You don't have to go to film school. Everybody can pick up a camera, go to YTU, YouTube University get an education on how to do the bare minimum, and film something. So, whereas when we started, it was kind of like we needed to be out here; we needed to be out here; we needed to be around these locations and these agencies and stuff. 
Now you don't have to do that. Anybody can pick up an iPhone, go film a Superbowl ad in their backyard, it's going to be as equal quality as what we were shooting 10 years ago on amazing cameras. We've awarded people in Moldova for stuff that they've done, countries I've never even heard of.  We're getting people signed up that are now able to be discovered through this platform. And that's what's exciting for us because it's like we kind of struggled and went through the weeds of to do the typical process of coming out to Los Angeles and drive through traffic. Yeah, now you don't have to do that. 
John Parr [01:11:07]: Yeah, that's amazing. And let me ask you this to bring it back, because I think it kind of ties in as well with what Spexster's doing. But what do you think about the future of say the voice-over gig economy but also the stuff that you're doing of Spexster. Where do you think we're going, I guess, in terms of the industry and the economy in general, are there any trends that you see developing that are moving forward into the future?
John Kubin [01:11:35]:  Oh yeah. I mean tons. And it's kind of fun to keep track of and plan accordingly. I'm a big ten-year, forward-thinking, kind-of-guy. So, my escape hatch is Spexster obviously, and voice-over thankfully, which has been a booming thing for me which is funding the start-up and getting it all put together. So, I would very much love to get out of voice-over at a certain point. I'm a guy that doesn't stick with one career too long anyways, but I figure it out, I want to master it, and then I want to build something else with it. And so, the great, great news for any freelance route there doesn't matter if your voice-over, filmmaker, writer, or whatever it is. There are so many opportunities right now. 
Because advertising, you are advertised to death. Let's be honest. You get in your car; you got your phone; you get on YouTube, TV, it's just they're going to find a way to sell your products and now you have an economy to where anybody can create a product in five seconds, spend a hundred bucks to advertise it, and they need your creativity, your spin to bring it to life where that didn't ever used to be the case. It was always a very niche group of people and budgets that were doing it. And now, anybody can do it. And so, it's just a matter of how ambitious do you want to be and go after it and even with voice-over a lot of people are like what do you think about voice-over Ai and it's going to kill half the industry I mean or more in for 5 years so capitalize now while it's hot but at the same time maybe you should try to invest in being one of those AI's, those voice-over AI's. Cause every time they play those… [laughing] but technology will just continue to, I mean exponentially, get crazier and crazier and that you should we shouldn't look at that as a negative. This would be like how can you capitalize on that and how can you make it work for you?
Kevin [01:13:32]: Yeah absolutely. That's definitely all about how you're going to hustle over the next couple years. 
John Kubin [01:13:39]: And that's just the thing, it is more of a hustle because there's so much more competition at same time, so it's kind of like a give and take. 
Kevin [01:13:54]: Well John, we'd be remiss if we didn't ask you to perform for us a little bit. So, if you could, if you wouldn't mind, could you basically do a pitch for this podcast right now using your British accent.
[laughing]
John Kubin [01:14:04]: All right, give me my script here. 
John Parr [01:14:08]:  Let's see, put something up there, Kevin, into that Word doc?
Kevin [01:14:14]: Yeah, give me one minute. 
John Parr [01:14:17]:  And then yeah, we also love to hear anything that… I mean we know we got everything for for Spexster, but I anything else that you're working on, any other projects. 
John Kubin [01:14:29]:  You know, it always waits. I'm still kind of loosely running the production company. My business partner Jed is kind of keeping that all together, thankfully. That's Pretty Nifty Productions is our production company and website prettynifty.tv, and that's where we post a lot of our commercials that we've done for these brands. I have a lot of my current voice-over work on there with the actual videos and stuff. 
John Parr [01:14:52]:  So yeah, I watched your reel there, yeah awesome. 
John Kubin [01:14:56]:  So, thank you, thank you. But yeah, I mean that's kind of the three big ones and Spexster is obviously very new and growing, but we've got a big Phase Two to launch coming in a few weeks here, and we're really excited to show it to everybody. So, we got a great response and we're just actively pushing, pushing, pushing to get people's contents seen and purchased, and more than anything, get people working with the environment that were in right now. So, I encourage anyone just to check out Spexster it's kind of a weird way we wrote it. And make sure there's two s's in there, it'll take you somewhere else you don't want to go. [laughing]
John Parr [01:15:41]:  As is the case with domains. [laughing]
John Kubin [01:15:43]: Well, we just, I came up with the name because I wanted something like "spec" in the title. Of course, you go through at all the website domains and everything's taken so we just kind of invented a word.
John Parr [01:15:56]: Was that the route? That's how you came up with the name? 
John Kubin [01:15:59]: Basically, yeah. [laughing] 
John Parr [01:16:02]: I always overlook the domain name, name creation method but it is a very strong one.
John Kubin [01:16:08]: Well, it kind of, when you type it in it would come up with Speedster to autocorrect you. I was like, that sounds pretty good, that sounds like Speedster, Spexster, that's kind of what we're doing here. But somebody else apparently, I think that German company, has like basically the same name but minus an S, and it's kind of like an adult store of some sorts. So, a lot of people we tell the website, they go there and they're just like, what is it you guys are selling? [laughing]
John Parr [01:16:39]: What is it you guys do again? [laughing]
John Kubin [01:16:41]: Oh goodness! 
Kevin [01:16:47]: All right I have a terrible script for you. [laughing]
John Kubin [01:15:52]: Oh, I love it. I love it. I've got to get my song planned. Just so I… I don't know if you can hear this or not, but… ready? 
John Parr [01:17:00]: Ready.
John Kubin [01:17:02]: From the dawn of time there's been many podcasts that failed to live up to the hype and left you wanting more. That time is over. The podcast you've all been waiting for is here. The Scripted podcast. Open your ear holes this [laughing] 
John Parr [01:17:21]: Just, just WOW, man. All right, the level of professionalism was shift. 
Kevin [01:17:27]: I thought Tom Hiddleston was in the room. [laughing] 
John Kubin [01:17:30]: I want, I want my residuals every time you play that too. The call is coming from inside the house. 
John Parr [01:17:34]: Yeah, of course. John thank you so much for joining us this was a blast, and yeah, we'll be reaching out of course, to follow up with you, and to see more of what's happening with Spexster and congratulations with all your success. It's obviously very deserved.
John Kubin [01:17:49]: No, no, thank you guys very much for having me and thank you David, and his wife Stephanie, for putting together a great platform. It's obviously been wonderful for me to capitalize on and do well with so I'm just thankful, thankful, thankful. Appreciate it. 
David [01:18:03]: Awesome, thanks man. 
John Parr [01:18:05]: Alright, that about does it for the Scripted podcast this week. Be sure to join us next time and in the meantime, please be sure to like, comment, or subscribe on whichever platform you choose to listen on and remember life isn't scripted at your contents should be.