Increasing Organic Traffic to Your Parenting Website: The Complete Guide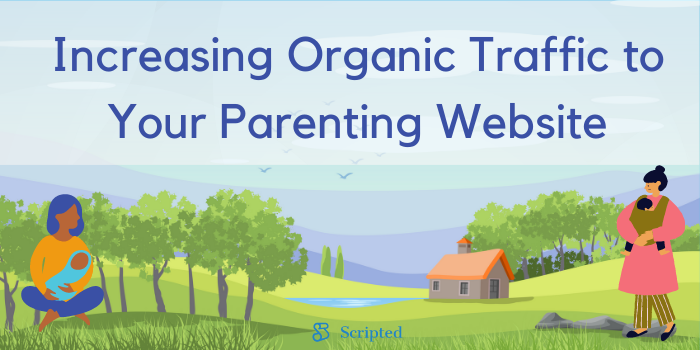 Parenting is the most important yet challenging job in the world.
Social media has increasingly provided challenges for children to navigate, which is why parenting today requires a different set of skills.
Due to these reasons, the parenting coaching and training industry is booming! As parents try to navigate unfamiliar waters, coaches and trainers guide them through handling difficult or sensitive situations with their kids.
Suppose you have your parenting website already set up or looking to get into this space. In that case, one of the essential parts of building a successful online business is generating traffic to your website.
You can have the best website in the world, but it has no impact on your business if no one sees it.
Paid vs. Organic Traffic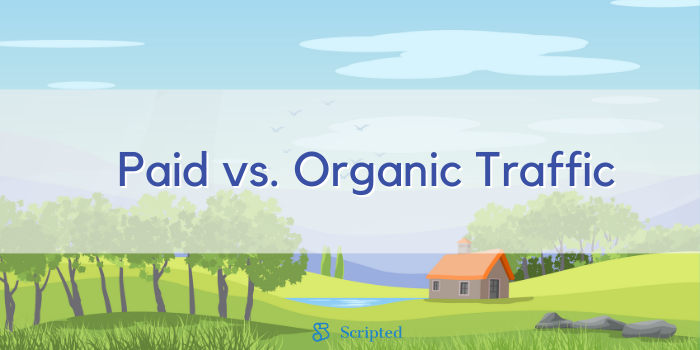 Before implementing strategies to generate traffic to your website, the first thing to know is the difference between paid and organic traffic.
Paid traffic
Paid traffic is any form of marketing that you pay for, including advertisements on parenting magazines, parenting websites, and Google AdWords.
A common way to generate paid traffic to your website is through Facebook advertising.
Organic traffic
Organic traffic is any marketing that you do not pay for. This can mean someone types your website into the search bar, or they stumble across your website on Google!
While it may seem like the obvious choice to generate free traffic instead of paid traffic, you must have a proper strategy and system in place to grow your organic traffic.
Different Organic Traffic Sources for the Parenting Industry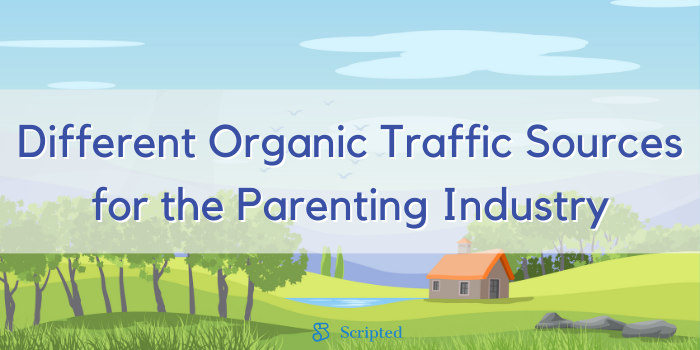 There are many ways that a business can generate significant volumes of organic traffic to your website. However, the vehicle you use to create the traffic will vary between businesses, offers, and industries.
Here is a list of the top ways to generate organic traffic to your parenting blog or website:
Start a blog with optimized articles
One of the best ways to create high volumes of traffic to your parenting website is by increasing your ranking on Google searches. This is done by creating content that your audience is interested in and that provides value to parents looking for your services!
A great example of a parenting website that has a high converting blog is Parent Influence.
Parent Influence currently generates around 14 million views per month on their blog, stemming from their highly engaging articles.
Parent Influence provides advice to parents on how to handle different situations.
One of the recent articles that has generated significant traffic for them is: How to co-parent with a jerk.
Podcasts or other long-form content pieces
Another excellent way for you to generate organic traffic to your parenting website is through long-form content such as a podcast! Podcasts are great because they provide a ton of value to your audience, and they have the potential to be shared across different networks such as Facebook, Instagram, or Twitter.
If looking for inspiration, The Mom Hour is a very successful parenting podcast.
Email lists or parent newsletters
Email marketing has been around for decades now, and for a good reason. Collecting an email from someone interested in your services or what you have to say is the best way to have personal conversations and promotions directly to a targeted audience, and it's completely free!
Once you have collected an email, as long as that parent is willing to stay on your newsletter or email list, you can send them content or articles that drive them to your website.
Social Media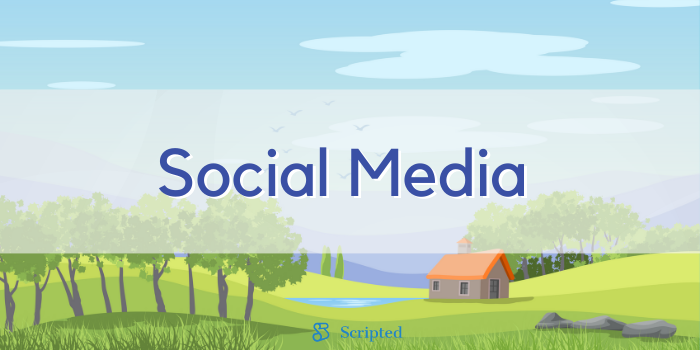 Social media is one of the easiest ways to post content and have an audience interact with it. Your social media channels should be thought of as marketing platforms, as they are direct lines of communication with your ideal audience.
While it is essential to post parenting content tailored towards your business, it is necessary to note that you should also mix in other types of posts! This will keep your audience more engaged and be less "salesy."
Recommended social media channels for your parenting website:
Pinterest
Pinterest is a great social media platform for parenting businesses because it is a visual-based site. This means that people are more likely to engage with your content and take action related to what you post instead of other types of posts such as written articles or tweets!
Pinterest is so important for advertising parenting services is primarily from the demographics of interest users.
Here are two incredibly valuable statistics of the Pinterest demographics according to Omni Core Agency.
77% of Pinterest users are females

72% of Pinterest users are over the age of 30

478 million active Pinterest users
Looking at these numbers, one could assume that there are approximately 345 million active female users over 30 on Pinterest,
showing an incredible opportunity for anyone in the parenting industry.
Instagram
Parents love Instagram stories because they can see snippets of someone's day in real-time. It allows them to feel like they know the person behind the parenting website better than any other marketing medium would enable them to do so.
This can significantly help growing trust and building a community of dedicated followers for your business.
Facebook Groups 
Running Facebook groups is not only a fantastic way for parents looking for advice from qualified professionals near their area, but it also provides a space where they can share insights on parenting challenges with others going through similar experiences.
There are many excellent facebook parenting groups such as Mom Life that you can engage in and build relationships with other parents to send them to your website later.
In conclusion, the commonality between organic traffic sources is the need to produce high-quality content that engages with your audience, parents.
Growing Your Organic Traffic Pipeline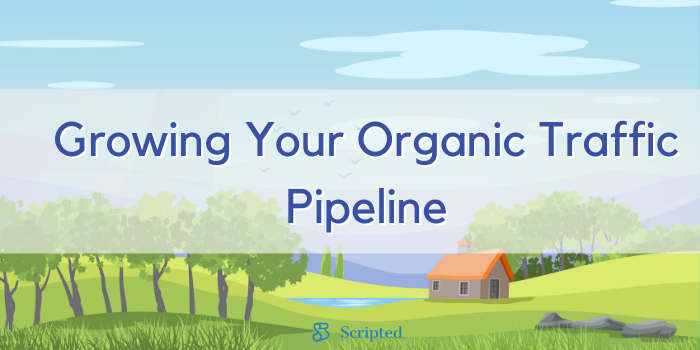 Now that you know that having high-quality content and posting it on various online platforms is how you grow organic traffic, let's discuss how this looks. To successfully grow organic traffic in the parenting industry, you must have a plan in place! Here is a great way that you can build your organic traffic pipeline.
Step #1: Find common user questions in the parenting space
When mapping out your organic traffic pipeline, you first want to identify the common questions parents are looking to solve!
Ideally, these questions are related to the services that you are offering or the products you are selling.
One of the best ways to find common parent questions is by going to Quora. 
Quora is one of the top-ranked question-and-answer communities on the internet.
To use Quora, start by searching your keyword into the search bar. A great place to start would be "parenting advice."
Search for different articles that are shaped like a question. The articles that have more than ten answers should attract your interest!
Another great way to find common questions in the parenting niche is to use Google.
If you search any question on Google, a section called "People also ask" with relevant common questions.
Some great questions to help you get started could be:
How can I improve my parenting skills?

How can I be a better parent without yelling?

What should first-time moms know?
Go through these strategies, and compile a list of 20+ common questions related to your parenting service or offer.
Step #2: Research for keywords
Once you have identified common questions in the parenting space, it is time to do keyword research.
Keywords are common words used in your industry that will allow your articles to rank higher on Google.
Keywords are what enable you to connect with potential customers. When integrated properly into your blog posts, they can add 20,000 organic visitors and connections within six months.
You can identify the common keywords in the parenting industry by using online tools such as Google AdWords Keyword Planner, Ubersuggest, and Semrush.
 Below are some parenting keywords to help you get started.
parenting skills

parenting advice

become a better parent
You want to include at least five different parenting-related keywords in every article you publish, as they can significantly improve the quality of your organic traffic pipeline.
Step #3 Create high-quality content: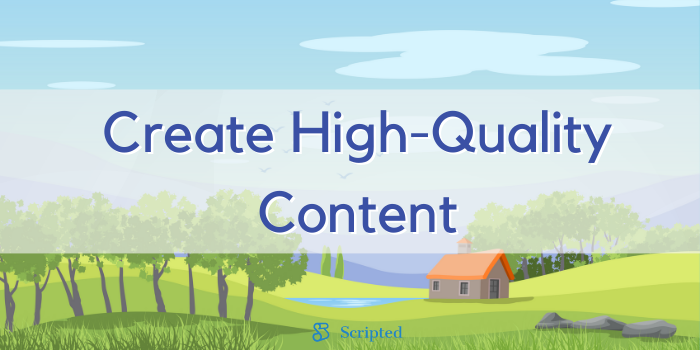 Now that you have a list of commonly asked and answered questions, as well as a list of keywords that parents are commonly using, it is time to create your content.
The most common form of engaging content are blog articles.
The goal is to create content that would answer these questions that have the keywords integrated into the content.
Step #4. Distribute content on all your channels
Once your blog article is written, you will want to distribute this content in as many places as possible!
Here is a checklist for where you should be posting your article to:
The first place to post your articles is on your website! This is where your article should originate to drive traffic to your website.
Pinterest, Facebook (your Facebook page, group, and newsfeed), Instagram, Twitter, Linkedin, etc.
Note that most of these platforms are visual. When posting about your article, you want to include images that represent the topic of discussion and link the images or videos to your blog.
Email your newsletter list about your latest posts. Write a brief email that outlines blog content and links to the full post on your website.
Parenting groups or communities
Find parenting groups on Facebook and post your article in the group. If you write authentic articles and do not strictly promote products or services, most groups should welcome these.
Reach out to other websites that share similar content. Let other websites use your article but make sure they link it back to your website. This can significantly help with your rankings on Google.
Step #5. Rinse and repeat
Repeat these steps as often as possible!
For a blog or website to generate organic traffic takes a while and a lot of content. If you do not think you have the time to be posting a minimum of once per week, you can always outsource the article writing to professionals.
This is an excellent approach that many successful businesses take.
When outsourcing content, ensure the writers have been trained in SEO and can produce high-quality, authentic content.
An excellent place for finding a team of writers in the parenting niche is by using a company like Scripted. 
Tracking and Monitoring Traffic to Your Website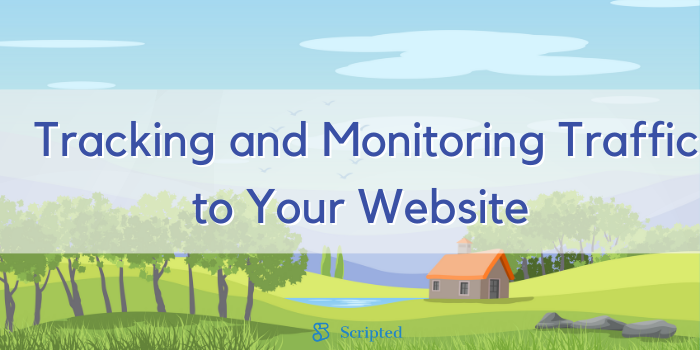 There are many different ways to monitor the amount of traffic to your website, and some are more complicated than others.
Here are some top ways to track the organic growth on your website, which is imperative for tracking the success of your content creation.
Google analytics
Google Analytics is a free tool that will provide you with a wealth of information.
To access the analytics, go to Google Analytics and type in your website URL. You can find out how many people have visited your site today or this month (the statistic you are looking for is called "Unique Visitors"), as well as what country those visitors are coming from.
Set up an account, install the analytic code onto your website, and learn what content pieces create the highest increase in traffic for your website. For in-depth training on how to install and use Google Analytics, follow this link: Getting started with Google Analytics 
HotJar
Another great tool for tracking analytics is HotJar.
HotJar is a visual interpretation of the behavioral engagement that a website viewer has with your website.
You can break down the analytics into three main categories:
Heatmaps: Heatmaps show the hottest parts of your website and can help you find pages where potential customers get stuck or leave.
Screen recording: This will show how long visitors are interacting on different pages of your site and whether they scroll or click through to other parts and where their location is from in the world.
Forms and surveys: Visitors who come to a form page can answer questions and provide you with valuable feedback.
Remember, analytics are everything! Make sure you have analytics properly installed on your website and blog to see which content pieces work best for you.
Organic Traffic for Your Parenting Website Overview
Organic traffic is essential for solidifying your business's online success.
Organic strategies take time and consistency so you should not expect overnight success when it comes to organic strategies. The long-term results, however, are better than those you would get from pay per click (PPC) advertising.
High-quality content is essential, so hiring a team of professionals is often the fastest way to success.
Scripted writers will create content that is specific to your offer and voice. Take your traffic into your own hands, and get started with Scripted today.