Increasing Organic Traffic to Your Sales Site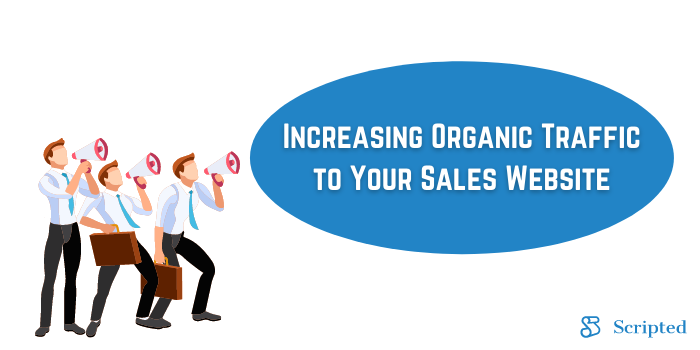 With online shopping increasing rapidly these days, the number of online stores across all sales niches is also climbing. Experts estimate the number of eCommerce sites at 12-24 million globally, which represents a tremendous opportunity for sales websites like yours. Whether you offer sales software, marketing tools, or an online store platform, the growth means more potential customers who need your products or services.
On the flip side, however, the increase in online shopping means more competition and even more content published on the web. So how do you make sure your prospects — current and new shop owners — find your website and, hopefully, make a purchase? This guide will walk you through the factors you need to consider and implement to increase traffic to your sales website.
Take Your Cues From Top Sales Websites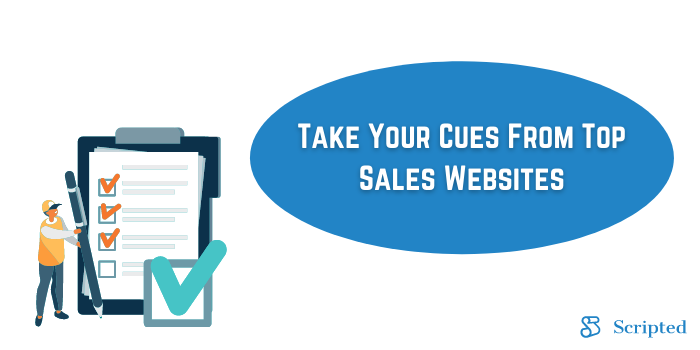 In planning your website and traffic strategy, it's always valuable to take the time to review current websites that are succeeding in the same space. These example sites, both direct competitors and non-competitors, can provide insights on the factors and elements that make an effective sales website. In addition, they may also help you identify areas you can improve, making your website more findable and more attractive to potential customers. As examples, we'll look at a few well-known sales websites to identify the qualities that make them successful.
Shopify is a popular software-as-a-service (SaaS) brand that provides the tools to create an online sales website. Right from the top of the homepage, the Shopify site states its purpose — "Anyone, anywhere can start a business" — before providing more details on what it offers as an eCommerce platform. Visual examples show visitors what they can create with Shopify, while additional content highlights Shopify's advantages. Calls to action and a simple but clear menu make it easy to learn more about Shopify's platform and get started with an eCommerce site.
HubSpot has a similar approach for featuring its marketing, sales, and service software. Beginning with a clear benefit statement, the HubSpot homepage distinguishes the various solutions it offers, highlighting the key features of each. Statistics and customer logos offer "social proof" that helps persuade potential customers that HubSpot's software can also be effective for their business. Prioritizing education, HubSpot provides a robust blog full of informative articles to answer customers' questions about effective sales and marketing practices.
These examples provide a start in planning your website focus and content, but you'll also want to look at similar sales websites within your specific category. Review the websites of your known competitors and look at content types and features they highlight. If you aren't sure who your top competitors are, run a Google search for sales products similar to yours and analyze the top results — the results may surprise you. Be sure to evaluate website structure and content carefully since this is where you'll get new ideas from reviewing the strategies of a range of sales websites.
Focus on Industry Keywords to Increase Organic Traffic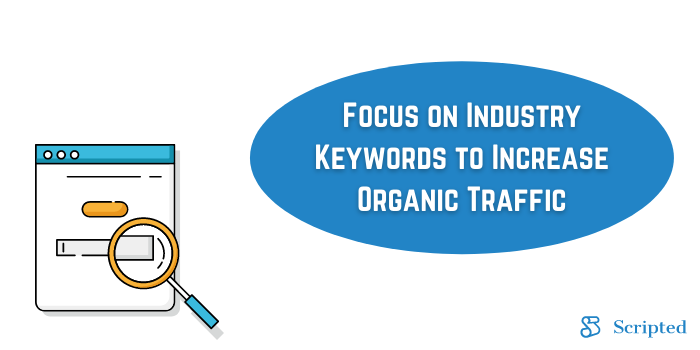 A focus on the right keywords is essential to online success in any area, but it's especially critical for a sales website. Without a physical product to share, content is your best bet for driving more traffic to your site — and keywords are foundational to that content. The precise keywords or keyword phrases (long-tail keywords) that will be best for your sales website depends on your particular niche, making keyword research essential to success.
With your experience in your specific sales area, you can start by brainstorming a list of terms and phrases that you know are important to customers and relate to your product offering. Start with broad topics or categories, then list more specific keywords and phrases that you're already aware of for each one.
Next, you'll want to enhance your list through research and use several tools specifically designed to help you identify words you may not have thought of. From the search giant itself, Google Trends not only shows search trends for keywords you choose but also provides related words and related queries you may want on your list. Another great resource, Answer The Public, provides specific questions your potential customers are asking about the products and services you offer. These and other keyword tools can help you create a robust list of terms.
Before you plan your strategy and create content around these terms, the last step in choosing your keywords and phrases is to refine and prioritize that list. Different words and phrases will have different values based on their search volume (how often search queries include that particular term) and competition (how difficult it will be to reach a top rank for the chosen keyword). Keywords with little search volume may not be worth your time, and broad keywords may have a lot of competition, making it too difficult to rank for them. The Keyword Magic Tool from SEMRush provides search volume and competition details for keywords and keyword phrases so you can prioritize your list.
Choose the Right Types of Content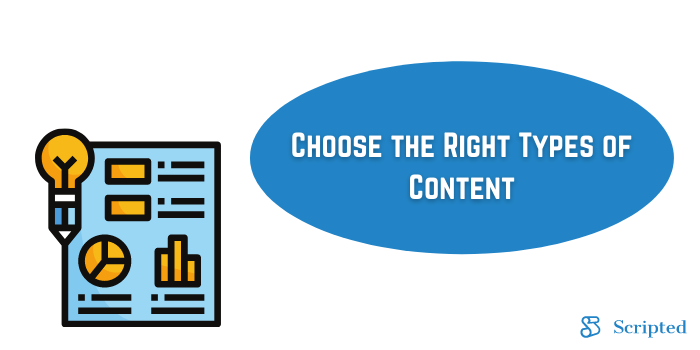 Now that you have the terms you want to focus on for your sales website, it's time to plan your content strategy and create the content pieces that will increase traffic to your site. Naturally, web pages and blog posts are some of the most obvious types of content you'll want to include in your plan. These text elements can highlight your products while targeting those keywords and phrases and providing valuable information to your potential customers.
The key to making this content work for you is to consider the questions your potential customers may have about your area of sales and answer those questions. For other website pages, think about the needs and issues that matter most to store owners, marketers, and sales teams, then build content around the ways your solution addresses those specific needs. This customer-focused content will not only serve you well in organic search but will also help persuade visitors to become customers once they reach your site.
However, webpages and blog posts aren't the only type of content you need to consider for your site. In fact, a strategy with only those text formats limits other significant opportunities. Of course, the type of content you prioritize will depend on your particular sales niche, the preferences of your target audience, and the platforms you will use to reach customers.
For example, visual diagrams such as infographics and charts are an effective way to explain complex concepts. Videos and animations can also demonstrate product features in a clear and engaging way. For any type of sales website, you'll want to have visuals that complement your text content and clarify the benefits your product or service offers.
Use the Best Platforms to Promote Your Sales Website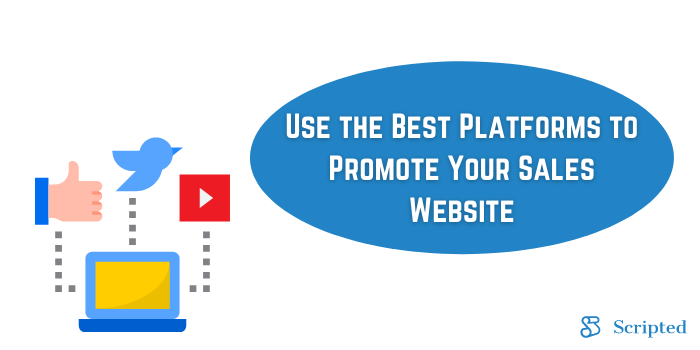 Naturally, your sales website is your primary platform for bringing in traffic and increasing your revenue by converting visitors to customers. However, direct traffic to your site is not the only way to build an audience. To maximize your potential reach, you'll want to consider other platforms you can use to increase traffic to your site without investing in paid advertising.
Social media channels can be a valuable tool for promoting your product and service, as well as the valuable content you offer. Globally, internet users spend an average of 144 minutes on these channels each day. This represents a lot of time and a significant audience to reach for your sales website. Taking advantage of this can amplify the organic reach that your keyword-focused, content-rich site is already bringing in. 
However, planning content for all the social media channels would take a considerable amount of time — and different audiences spend more time on different channels. To make your limited time more effective, determine the social media channels that best fit your business and audience, and focus your efforts on those. A quality presence on two or three channels with custom content designed for each will be more effective than haphazard posting on a larger number of sites.
Take Advantage of Tracking Tools for Your Sales Website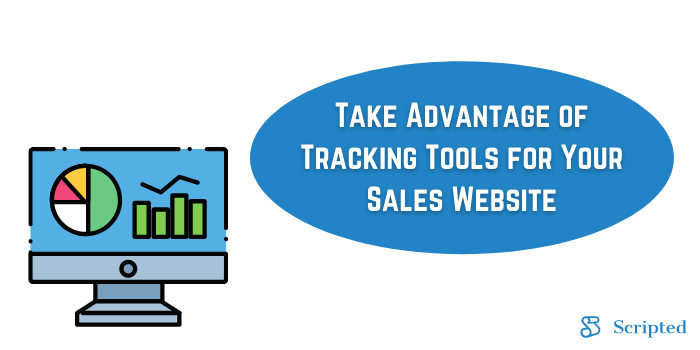 Your traffic-boosting strategy wouldn't be complete without checking how your website and social channels are performing regularly. Analysis of your site and content can help you determine which sites and content pieces are your top performers and which ones could use some more attention. You can also identify developing trends in content and topics your target customers are most interested in consuming.
Google Analytics is the top tool for tracking a wide range of factors related to your website's traffic and content performance. As organic traffic is a primary goal, you'll want to view your traffic in Google Analytics for your website overall and by individual pages of your site. You can then see the elements that work best and refine underperforming web pages and content based on those that have been more successful in driving traffic. Besides organic traffic, bounce rates and exit pages are key metrics to evaluate since these show when customers leave your site — and potentially look elsewhere to make a purchase.
In addition, Google Analytics includes features that let you track sales as well as traffic and other website metrics. This feature lets you identify the pages of your website that are most effective in leading customers to make a purchase. Google Analytics also offers insights about your audience, which can help you better target your content, web pages, and social media shares to drive the most organic traffic to your sales website.
Building Organic Traffic with Professional Content from Scripted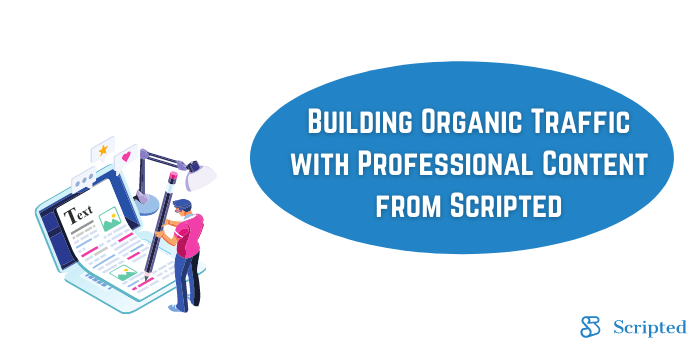 With a sales website and products to manage plus customer service needs, you have more than enough to keep you busy. Quality content is important to driving organic traffic to your site, but planning and writing that content can easily become a full-time job. Fortunately, you don't have to do all the writing yourself to have traffic-driving, engaging content for your website and your business.
Scripted's team of freelancers includes experienced writers across a wide range of industries including sales. These writers have the technical skills to craft audience-friendly content that meets your goals, promotes your business, and is search engine optimized. At the same time, their experience in sales makes them especially qualified to generate the content you need to bring more visitors to your website.
Our writers can create the full range of content for your sales website, not just the typical blog post format you might expect. From website and landing page copy to product and feature descriptions plus newsletters, Scripted content writers can fulfill all your content needs. This leaves you more time to focus on your sales business while enjoying all the benefits of a constant stream of audience-building content. To get expert help with your content needs, visit our sales industry page to learn more about what Scripted offers for your content strategy.