Top Landscaping Sites by Traffic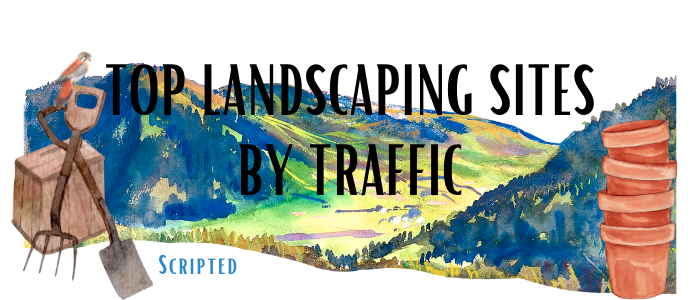 For many website owners, generating organic traffic can feel like an uphill battle. The more time you put into various strategies, the less you may feel like you're getting out of your investments, so where does it count, and what should you be doing to see the visitors you need? If you're in the landscaping niche, these top landscaping websites may give you just the inspiration you're after.
Let's take a closer look at how the top landscaping websites are pulling in organic traffic and keeping it steady through engaging content, appealing designs, and insightful content.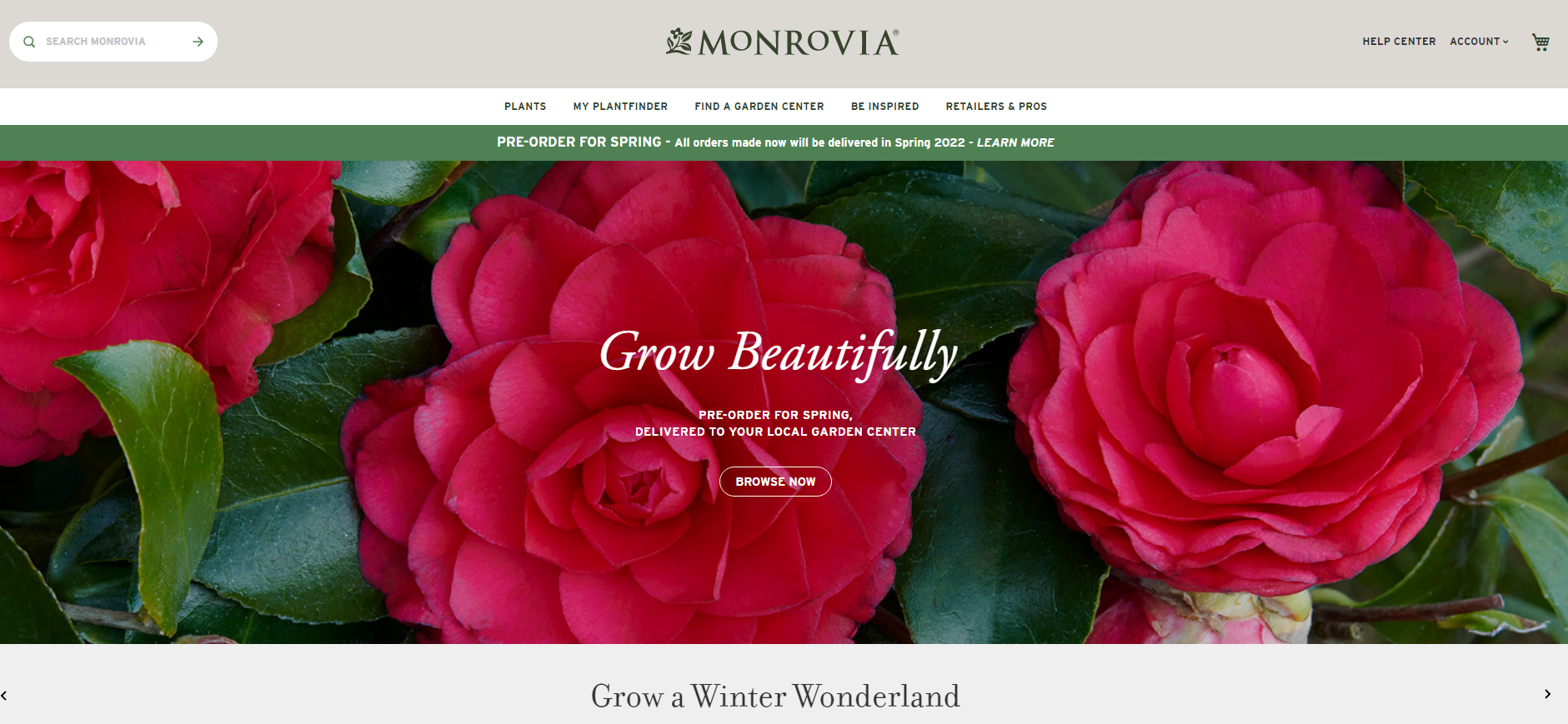 If you've spent any amount of time looking for plants at a home and garden center, you've surely seen Monrovia pots filled with some of the most beautiful outdoor flowers and greenery. Monrovia has over a century of expertise in growing plants, and that reputation means they ship their classic green pots to garden centers across the country where they will be resold to the final buyer.
Thanks to the brand's reputation in the landscaping industry, they certainly see major organic traffic, with some coming from Monrovia buyers who are looking to learn more about the brand and their new plants and others being gardening enthusiasts -- and even professionals -- who want to view the catalog or get in-depth information on growing in their zone.
Monrovia offers a little bit of everything, recognizing its position as an authority and thought leader in the world of gardening. In addition to detailed pages about every plant Monrovia grows, the brand also offers growing guides and advice for the various regions across the country, attracting organic traffic by targeting countless keywords by season, concern, and location.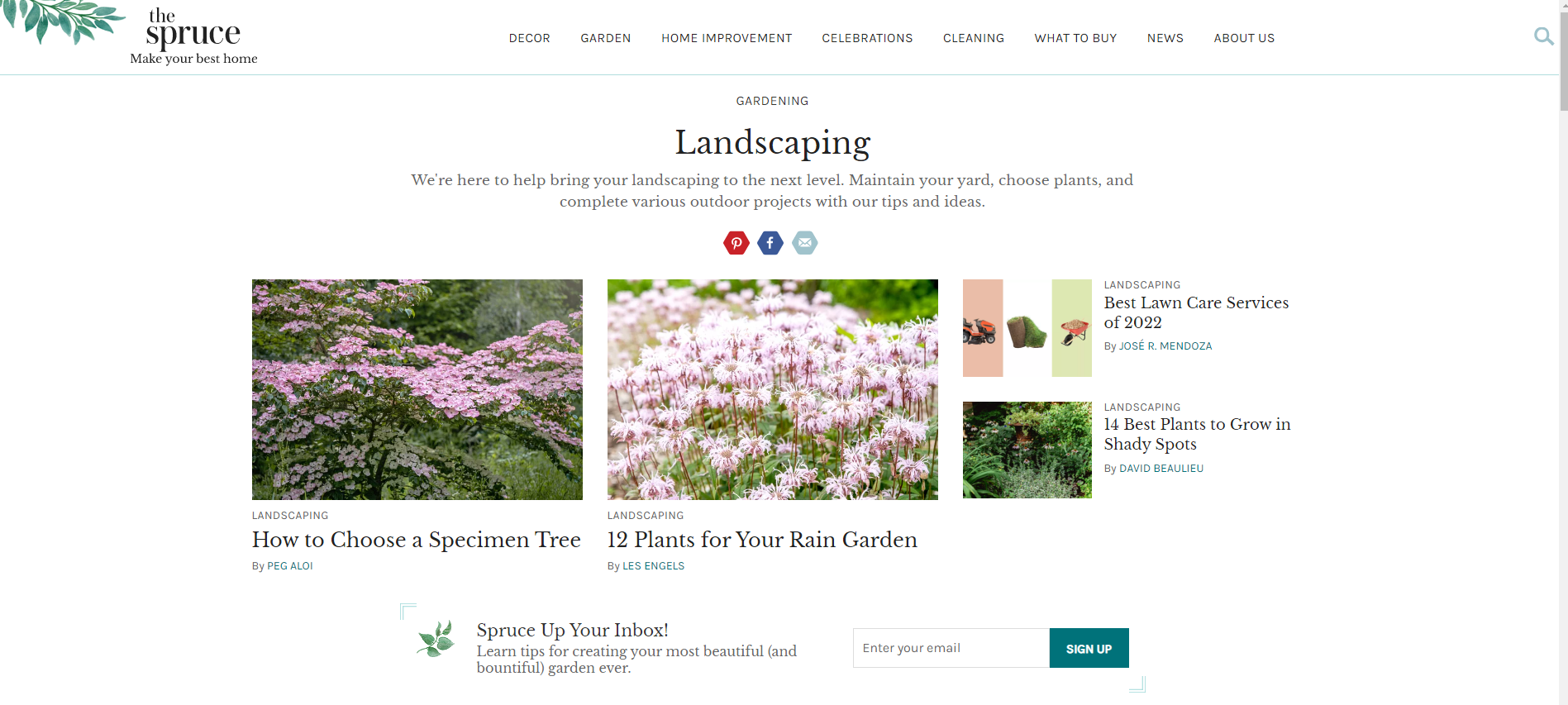 The Spruce is a brand with countless home and garden sub-sites under its big trendy umbrella, but its Landscaping section is one of the biggest of them all. Consistently attracting organic traffic thanks to a steady stream of new content, addressing common questions (like how to stop killing plants) along with highly specific concerns and trends, the brand is able to keep their niche demographic interested while offering real value to anyone interested in landscaping.
Right on the homepage, you'll see a selection of the latest articles on the blog, and it never fails that at least one of them has a headline you're likely to see making the rounds on social media in the coming weeks. For instance, a recent article is titled: Why Landscaping Mulch Can Spontaneously Combust—and How to Prevent It. In addition to the more sensational, yet always fact-checked topics, The Spruce is also sure to cover plenty of practical and valuable subjects in the world of landscaping.
Whether you want to explore new varieties of succulents that you may not be familiar with, dig deeper into specific concepts -- such as rain gardening -- or gaze at compilations of beautiful backyard makeover before-and-after pictures, The Spruce has a little bit of everything. While many landscaping websites might think the variety simply goes too far, it works for the brand because they know their demographic -- young, social, and in love with the "magazine-style" that The Spruce is known for.

Garden Design is a well-known industry magazine. Like most magazines, they feature a complete website and blog to accompany their printed content. While perhaps not as well-known or viral amongst consumers, Garden Design is worth reviewing thanks to its position as an authority within the industry of professional landscapers who are looking for new information, ideas, and reliable guidance.
With that said, Garden Design is looking to break out into the consumer space on a deeper level, which is given away by the general navigation of the website, which links to photos, plants, and design ideas. Much of the content is focused on "designing your garden" and offers a lot of tips and "do-it-yourself" style information for homeowners and new gardeners who want to give it a go.
Still, Garden Design has in no way compromised its reputation as an industry authority, with content that highlights the work and visions of top garden designers from around the world along with sneak peeks into new outdoor furniture collections. The variety appears to many readers, yet it never ventures far away from Garden Design's main premise, which is helping people create more beautiful outdoor living areas.
Turf Magazine is a go-to source for anyone looking to get away from garden and patio spaces and focus on the grass itself. Turf covers landscaping but focuses on lawn care with dedicated content covering the brand's Design Builds around the world where they've taken residential and commercial lawns and turned them into something truly unforgettable.
Aside from featuring their own work, Turf also talks about business management and gives advice for companies who need help managing beautiful green space for their employees and customers. They then dive into the more consumer-friendly material, with plant overviews and more. Additionally, they manage to target the B2B sector and a whole new group of readers -- investors -- with content about landscaping stocks, startups, and innovations.
Ultimately, both individuals and experts will benefit from Turf's authority reporting on droughts, changing climates, dealing with pests, and getting rid of infestations in lawns and gardens across the country.
The unique variety in Turf's content certainly helps them attract a large reader base, far more than most landscaping websites on this list, but don't realize that this isn't a strategy that most brands can or should try to mimic. While it works well for Turf, most brands do better narrowing down their target audience rather than trying to be a "catch-all" that appears to the masses. So, think it through before you decide to start expanding your landscaping content to new territory.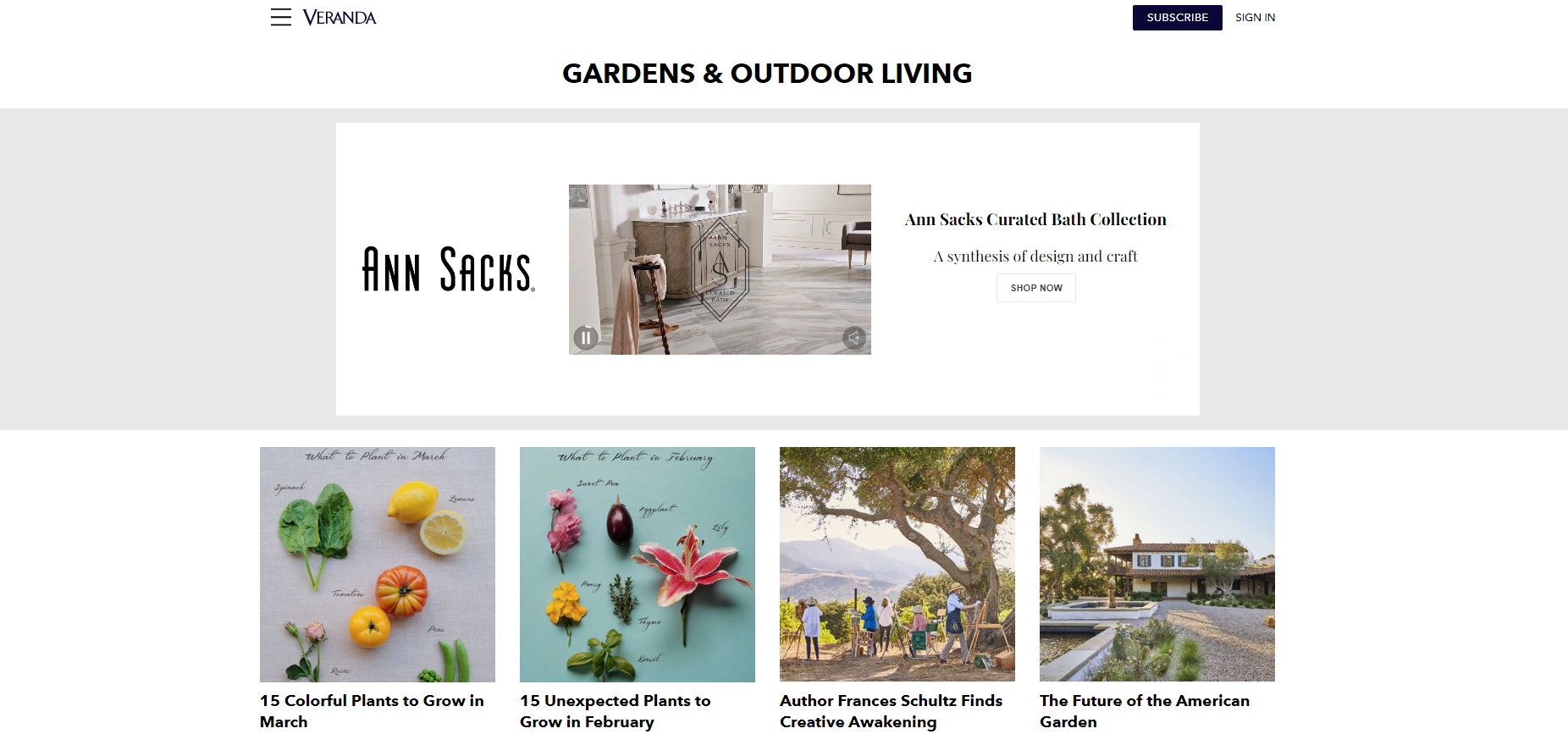 You may first categorize Veranda as another home and garden magazine, but the expansive categories relating to gardens and outdoor living featured on the Veranda website are worth looking at. With content that goes beyond the ordinary "best plants" lists and basic gardening advice, Veranda offers compelling insights and information that both consumers and professionals will find interesting.
Take, for example, the recent article titled "The Future of Outdoor Living Is Here Thanks to SCAD, which delves into how SCAD students have re-envisioned outdoor living. With beautiful illustrations, this article alone could offer inspiration for someone tasked with laying out an urban garden in a tight space. Of course, Veranda also branches out into other gardening tips that can apply to those in suburb and rural areas, too, although it's clear who their niche target audience is.
Go on to read book reviews, interviews with thought-provoking garden designers, and get new perspectives on how landscaping is being approached differently, and timelessly, in gardens and yards around the world and throughout cultures. Ultimately, not only is Veranda a fun read for anyone who loves the outdoors, it's a high-value content source for those needing unique inspiration in the landscaping niche.
Of course, they've managed to target all the popular keywords by working on the content about gardening advice, but that "101" level content is the exception in Veranda's content, not the rule, making it an easy and enjoyable read for anyone who has a bit of downtime to learn about something new.
Increase Traffic for Your Landscaping Website
Do you operate a landscaping website? If you're trying to increase organic traffic, there are countless elements to consider, from on-page optimization (like page load speed) to the bigger details, like the quality and depth of the content you're offering to readers. If you're struggling to get results after pouring all of your efforts into your landscaping website, it's time to reach out to a professional writer who can fill your blog with excellent, engaging content.
Scripted can help connect you to the landscaping writer who fits your brand's needs, matching your voice, style, and being empathetic to the concerns of your audience.