Keyword Hero: Tool Review, Features, Prices, and Alternatives

Generating a steady stream of organic traffic is critical for most small businesses. A 2020 study found that the first 5 search results garnered an average of 67% of all clicks for a search term. This means that when a website ranks naturally for a search term, companies receive tons of traffic at no cost.
However, the internet is saturated with billions of webpages, many of which belong to businesses that compete for higher search engine rankings. The vast majority of websites don't generate any organic traffic (a surprising 90%).
In recent years, Google has expanded its algorithm to include many more factors than exact phrase matches - a method that worked like a charm in the old days. This means that while the phrasing you use still matters, you can't expect it to improve your rank on its own. Techniques like using keywords in domain names, link exchanges, and meta descriptions aren't nearly as effective as they used to be.
This has forced businesses and marketers to up their SEO game, learning new strategies to get more eyes on their websites. One such strategy is using Keyword Hero, a tool that simplifies keyword research.
Keyword Hero's Best Features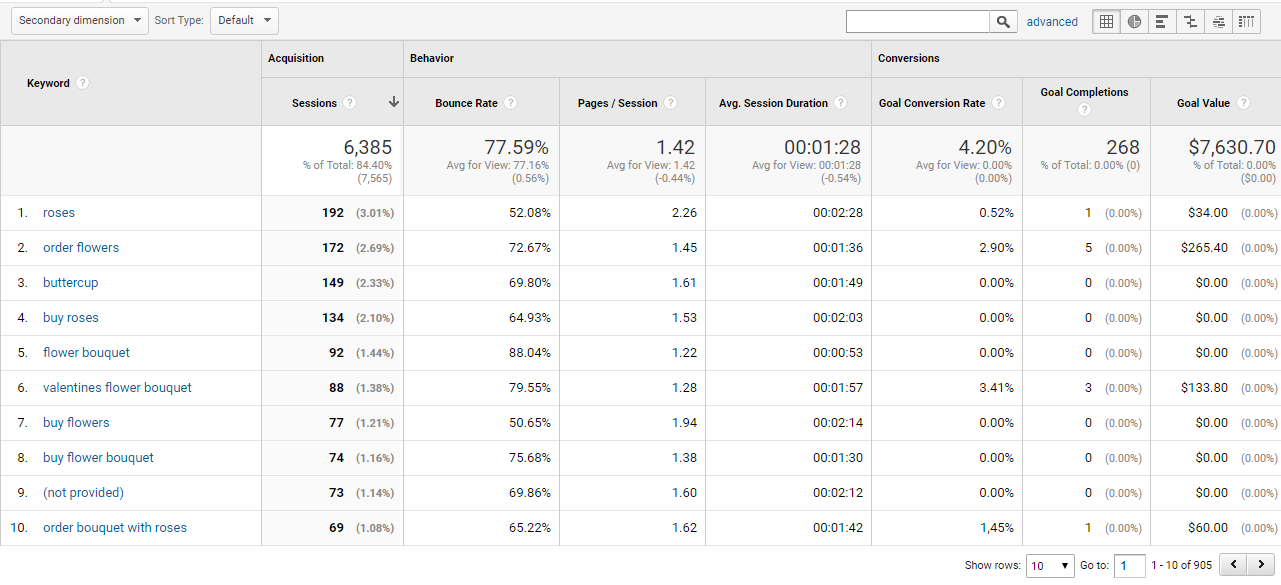 Businesses use Keyword Hero in conjunction with Google Analytics to understand which keywords are receiving significant traffic. The platform helps you understand your visitor's intent when they click through to your website - a key insight for succeeding in today's search environment.
There are a few specific areas where Keyword Hero shines. First, the platform provides next-level keyword data, revealing all organic keywords and session metrics. So when potential customers visit your site, you'll be able to see bounce rates, average time spent on the page, conversions, and more. This gives you a birds-eye view of your most valuable organic search keywords. With this knowledge, you can work those keywords into your landing pages for even better search results.
In addition, Keyword Hero helps businesses view and optimize their position in Google SERPS (Search Engine Results Pages). So if a brand wants to rank for a keyword (e.g. best whitening toothpaste), they can see what position they currently hold and work their way up the ranks. This is an example of a general keyword, but you can also track brand-specific keywords in the platform (e.g. Nike Air Max Shoes).
One of the biggest draws to this platform is that it solves the infamous "not provided" problem. In Google, you may have noticed that many of your keywords that generate traffic are listed as "not provided." For some businesses, this may account for a huge percentage of your organic search traffic, leaving you with very little information. Keyword Hero reveals these hidden keywords that Google doesn't. An online platform called MeasureSchool shows how Keyword Hero reduced their unknown organic keywords from 98% to just 20%, giving them way more data and keywords to work with.
Lastly, Keyword Hero lets you sort your search queries. This is an element of SEO best practices that many people are not familiar with. Search queries can be navigational, transactional, or informational. Searchers are looking for a particular website, looking for information, or looking to make a purchase. Knowing this allows you to place keywords more strategically and increase your revenue. When you cater your content to one of these three search intentions, your website visitors get exactly what they are looking for. When you target those who are ready to make a purchase, you won't need to pressure them to buy.
How the Platform Works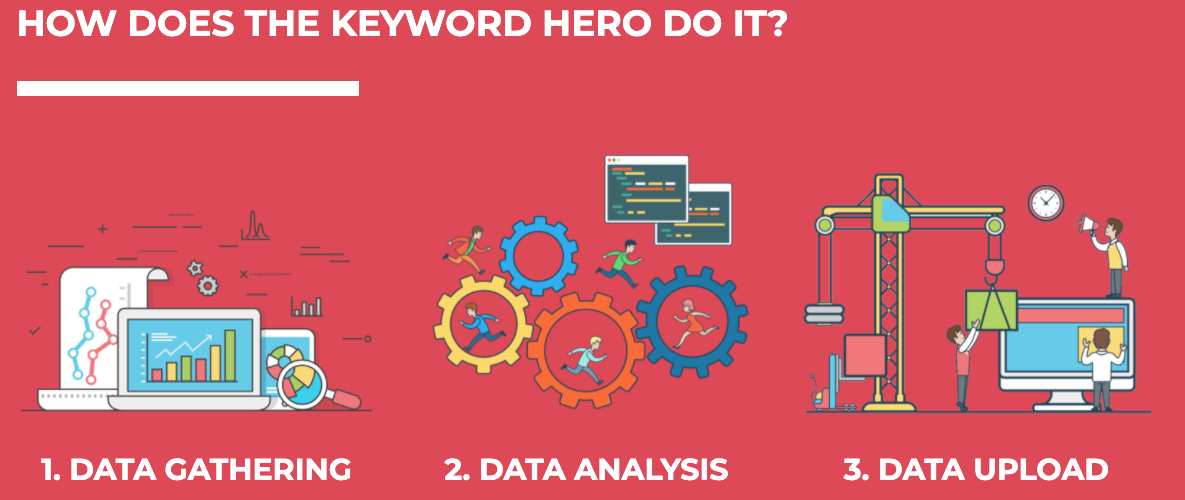 Keyword Hero has a simple 3-step process it uses to learn about your website. First, it gathers data from your Google Analytics account and Google Search Console. Google Search Console is a free tool that provides a plethora of useful data about your website, like mobile site performance, best-performing pages, most popular keywords, and more.
Once all information is gathered, Keyword Hero employs artificial intelligence and machine learning to analyze and cluster your unique website data. The algorithm scans search engines like Google and Bing along with data from all common internet browsers to get the most precise keyword data for your brand.
Lastly, the findings are automatically uploaded into a separate area in Google Analytics so it doesn't interfere with your current data. You can then sort and examine the data in several ways. For example, in just a few clicks, you can generate a list of all keywords in which you rank on page 2. Keyword Hero calls this the Quick Wins report because it shows the fastest avenues for getting on the first page of search results.
Once you are aware of what keywords to focus on, it's time to revamp old content or create new content. The process can seem daunting, especially for busy marketers and business owners who already have plenty on their plate. This is why Scripted offers SEO content writing on demand - Simply tell our writers what keywords to use and we'll create the content.
Pricing 
Keyword Hero offers four tiers:
Little Hero - up to 10 URLS and 2000 sessions for free

Big Hero - up to 250 URLS and 10000 sessions for $9

Giant Hero - up to 500 URLS and 50000 sessions for $49

Ultimate Hero - up to 2500 URLS and 250000 sessions for $149
The right tier for you will depend mostly on the amount of search engine traffic you receive. Businesses that are getting just a handful of views from most of their organic keywords shouldn't invest big from the start. However, the free plan does not include conversion tracking, which is a critical element for businesses that are doing a significant number of sales. For those just getting started, conversion tracking will probably be a lower priority than getting initial traffic to the website.
The question is: What is your goal? Your goal may be increasing visibility and generating brand awareness. For more established businesses, it may be increasing sales for specific keywords.
If you'd like to try out the platform, Keyword Hero offers a 14-day free trial of any tier.
Limitations of Keyword Hero 
While Keyword Hero is a useful tool, it may not be right for everyone. Those who have extensively examined their organic keywords in Google Search Console may be disappointed to find that Keyword Hero provides a lot of information they already knew.
The most obvious limitation of Keyword Hero is that it requires a Google Analytics account. For businesses who recently set up Google Analytics, data will still be minimal. In addition, those who are not familiar with generating reports in Google Analytics may find Keyword Hero confusing.
Tools like Keyword Hero are only useful if businesses have the capacity to act on the insights they learn. So if you don't have an SEO expert on staff or freelancers who can fully implement your new keyword strategy, the insights won't have any positive impact on your search engine ranking. Keyword Hero gives you the data you need, but it doesn't tell you what actions to take. Only a search engine marketing writer can take the information and apply it.
Reaping the Benefits of SEO 
As digital marketing grows more complex, it is becoming harder to keep track of all traffic avenues - let alone optimize them. People may find your website through ads, social media, search engines, direct visits, or links from other sites. Few marketers have the time to manage all of this manually, and thankfully, technology is catching up to help us.
Keyword Hero is a valuable tool because it reveals all the search avenues from which visitors are landing on your website. It shows not only your website's current traffic streams, but its potential streams too. Seeing that your website is on the 2nd or 3rd page for a lucrative search term gives you the motivation and focus to improve your ranking. It also saves you from wasting time on keywords that will never pan out.
The best thing about organic search traffic is that short-term effort can yield long-term results. While it may be hard work, securing a higher rank for relevant keywords puts your advertising on autopilot. Your website is getting traffic while you sleep! It lessens the burden of having to pay for every bit of visibility. Instead, you can spend your ad dollars reasonably, knowing you're also getting exposure for free via organic search engine traffic.
Content marketing will continue to play a vital role in the future of business. As consumers and businesses rely more heavily on digital avenues, it is the written word that helps eager customers find great brands online.
This is why we've created a way for businesses to generate steady, targeted content without having to do the dirty work. Scripted's Cruise Control feature gets you a team of content experts creating and analyzing your content for best results. Click the link to learn more about Cruise Control and rest assured: Your content strategy is in good hands.