CMI's Michele Linn On The Importance of Repurposing Content in Content Marketing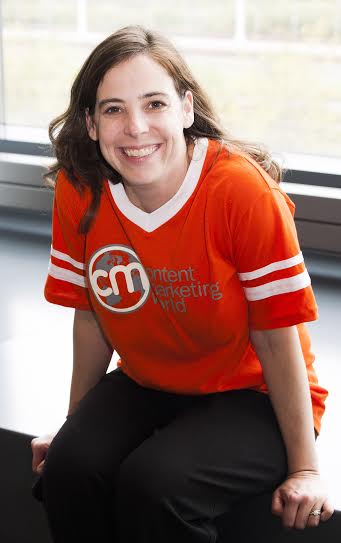 Michele Linn, CMI's Vice President of Content, tells us her content marketing mantra, why more marketers need to focus on repurposing old content and more.
Content Marketing Institute
is known for being a thought leader in the content marketing space -- and rightfully so. From putting on the
most-talked about content marketing event
to publishing annual benchmark reports that make headlines, the company is an authoritative figure in the industry. While
Joe Pulizzi
is usually at the forefront of their efforts, there are many others that keep the engine going. Enter Michele Linn, CMI's Vice President of Content who has been with them since the early days --in fact, she was Joe's first hire in 2010. We caught up with her to listen more about her content marketing learnings and adventures along the way.
See also: How to Find an Awesome Content ManagerScripted: How is the content team at Content Marketing Institute structured?
Michele:
We have a lot of different editorial leads (that's not necessarily their title). We have someone who manages our print magazine. We have someone who manages our podcast network. We have someone who manages our CMI blog. We also recently purchased an event called
Intelligent Content Conference
, so we have a different person who manages the editorial for that. We have a person who does a lot of the "hardcore" editing. She'll take posts and she'll review them for logic and structure and flow. We also have an internal copy editor.
Then we also have a person who manages this new thing. An existing employee who's now shifted positions, but her role is to curate all of the internal content from CMI because we have so much of it.
See also: 9 Ways to Repurpose an Infographic Scripted: So CMI has hired someone to oversee content repurposing? That's a great idea. Michele:
One of our biggest challenges is trying to repackage content in smart ways and get it back out there to people, so it doesn't get lost. Now we have an internal content curator.
Scripted: What's your mantra when it comes to content creation?Michele:
One, I'm a big believer that you need to have structure and you need to have processes and workflows in place. I think workflows give people space to actually be creative with their content creation. Process is absolutely critical for creativity in content.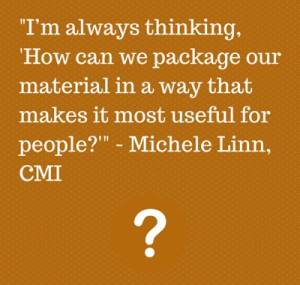 Another thing along those same lines, it's something that Joe said to me a little while ago which really stuck. He said, "I would much rather you try a lot of stuff and fail, than trying to be doing too much of this same stuff." I've really been trying to think about different ways that we can expand our content. Obviously, blog posts and e-books are very core to what we do, but I'm looking at the other ways that we can be really useful to people in this space.
The third thing is that I'm always thinking, "How can we package our material in a way that makes it most useful for people?" Again, that really ties into that content curator role. As you guys know, the content marketing space is so crowded.
See also: 4 Ways to Repurpose Your Evergreen ContentScripted: Since the space is becoming so crowded and noisy, what does CMI do to brainstorm fresh and original ideas?Michele:
Our ideas come from our team, and our team knows about content marketing. Our team's out there on social and everyone's reading. Everyone on the team just says, "Hey, what about this?" It's a very organic and team-focused process. I have a weekly meeting with the CMI blog team, and then I have a weekly meeting with the ICC editorial lead. Then I have meetings with the marketing people, the marketing person. Then we have meetings about research, meetings about contents on a more regular basis. But it's a mix of email plus meetings.
Scripted: Which metrics are you looking at to measure the success of your content at CMI?Michele:
Our biggest metric that we track is our email subscribers. Because email subscribers are the number one way that we can engage with our audience, and then nurture them to come to Content Marketing World and so forth. People who engage with three to four of CMI's "products" -- be it attending a webinar or getting CCO Magazine or attending an event or a Twitter chat or a podcast -- the more likely they are to attend Content Marketing World.
We also look at traffic because a lot of our programs [email sponsorships] are based on traffic. For that reason traffic matters to us.
See also: How to Measure The ROI of Your Blog ContentScripted: Do you think that right now there's currently a type of content, or maybe a format or anything that marketers are overlooking, that you guys at Content Marketing Institute have found to be really effective?Michele:
I'm going to sound like I'm a broken record, but I think that content marketers could definitely look at repurposing what they have in a more diligent way. For example, we put together blog posts over Christmas break. We did basically 10 days of stuff where we were pulling together, templates, and the checklist -- or here's the best articles from CCO. All of that content did exceptionally well, even though it was posted over the holidays.
In terms of the next big thing, I would say that we're getting a lot of traction with our podcasts. I know Joe and Robert have a podcast called "PNR with This Old Marketing," which has been doing great. A lot of people anecdotally come up to Robert and Joe and say, "Wow, your podcast is awesome."
Another great vehicle for us has been
CCO Magazine
, which is our own print magazine. I think digital stuff is great, but I think the stuff that's outside digital is working really well too.
Scripted: What challenges do you think marketers are still facing this year, then, and what steps can be taken to solve them?Michele:
I think marketers have a lot of challenges right now. I think they look and there's just so much to do. Ideas are definitely flowing in this space, but I think one of the big challenges that marketers have to come to grips with is trying to prioritize everything.
I think another thing that we talk a lot about at CMI is that content marketers talk about trying to deliver the right content to the right place at the right time on the right device. I don't think anyone is really doing this well yet.
Scripted: Finally, how do you define quality content?Michele:
Quality content
is stuff that your audience actually wants to consume and share. But more importantly, quality content is whatever drives the business for your organization.
What did you think about this interview? Share your thoughts with us below.
To Read More Interviews With Content Experts, See Below:
Jason Miller of LinkedIn: 2015 Content Predictions & Secrets For Using LinkedIn
Content Careers: Dayna Rothman on Being a Content Manager
Lee Odden on Defining High-Quality Content, The Future of SEO & More [Interview]