Content Careers: Prezi's Susannah Shattuck on Creating a Content Marketing Strategy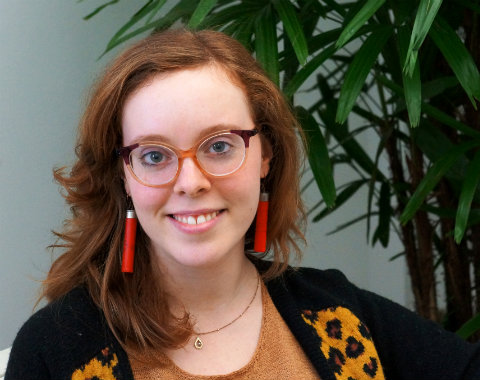 Prezi's social media coordinator, Susannah Shattuck, shares her experience on developing a content marketing strategy from scratch.
What's involved in building a content strategy from the ground up? Which ideas and plans do you have to scrap to find what works and what doesn't? Susannah Shattuck, Social Media Coordinator at the presentation software startup Prezi, developed a successful content strategy with just a few months --and a few colleagues. In this installment of Content Careers, she talks about what she's learned in content marketing and how it's changed Prezi's marketing and public perception.

Scripted: For the uninitiated, what is Prezi?
Susannah: Prezi is an alternative to slide-based presentations--instead of presenting your ideas in linear slides, Prezi allows you to arrange your ideas on a canvas and zoom in to the details or zoom out to show the big picture. It's much better for showing the relationships between your ideas.
Scripted: How has your role changed since you started at Prezi?
Susannah: In the last three months, my role has changed to be much more content-focused. We're using content to help people understand what Prezi is and what value it can bring to their work. By writing blog posts, making videos, and -- of course -- creating Prezi presentations about presentation tips, we can engage an audience that might not necessarily know what Prezi is, but is interested in giving better presentations. A large portion of our content is tool-agnostic -- that is, it doesn't only apply to Prezi or people who use Prezi. The idea is that we introduce our product to people without shoving it down their throats.
Scripted: How has your content marketing strategy changed since you started?
Susannah: When I started, we didn't have a content marketing strategy. Our main content tactic was just to distribute interesting Prezi examples around the Web.
We have a huge educational user base -- teachers and students -- but we also want to be a tool for business presenters. We've implemented our content strategy with this target audience in mind. In particular, we've made some changes to where we distribute content. We used to focus very heavily on Facebook--but with our new focus on business presenters, we're making sure now that we are catering to the LinkedIn audience.
Scripted: How do you measure success in content marketing?
Susannah: It depends on the network and kind of content. We are really interested in click-through rate -- how many people are actually clicking on our content. Once they've gotten to the blog post, we look at how much time they are spending on the page, whether they are looking at the Prezi we have embedded and if they've clicked back to our homepage.
Scripted: How do you create content?
Susannah: Once a month, I will sit down with my colleague on the social media team, an outside consultant who has a background in journalism and editorial work and a freelance writer. We look at the next month to plan which blog posts we're publishing when -- if there are any major events happening. After we create the editorial calendar, the process is then pretty simple: Get a draft, each of us takes a turn editing it, and then it goes to our brand communications director for final approval.
Scripted: What are you most proud of?
Susannah: The consistent quality of our content. We publish four times a week. Pretty regularly we see that time on the page is upwards of four or five minutes. I don't know about other company blogs, but I think that's pretty high. One of our pieces went a little bit viral -- 10 Most Common Rookie Mistakes in Public Speaking.
We got 450,000 page views within the first couple months. We announced our partnering with the [White House] ConnectED Initiative; to bring tech into other classrooms. We saw the same volume of traffic from this huge announcement that we saw to the '10 Rookie Mistakes' post. I thought: our content was able to compete with President Obama.
Scripted: What's Prezi's blog voice?
Susannah: We try to stay away from strict "how to's" -- explaining how to use a certain feature. We are much more of a "show don't tell" kind of source. Our voice is friendly and supportive. We are there for you if you want to give a presentation.
Scripted: To arrive at this voice, which ideas did you throw out?
Susannah: When we were thinking about our brand voice, we were thinking of challenger narratives. We are competing in a space with huge companies. How are we going to portray ourselves? We decided we are not the scrappy controversial underdog there to undercut the big players. We don't like to play dirty. We are the friendly, user-centric alternative to slide-based presentation tools.
Scripted: What's your day-to-day like?
Susannah: I get into the office pretty early, take early morning meetings with my colleagues in Budapest. I'll look at our editorial calendar, edit posts in the pipeline. In the afternoons, I focus on distribution of that content; check on all of our paid channels, Taboola, Outbrain, making sure our budget is spent properly. There are always days when a random project is thrown my way.
Scripted: What's your experience with paid content distribution?
Susannah: Our desire to reach a new audience. One of the only ways to reach new people on social media channels is to pay for it; almost nothing is free these days.
Scripted: Do you see a returning audience from these paid programs?
Susannah: We're still experimenting with a lot of stuff, but we actually do have a lot of return visitors to our blog. Whatever we are putting out there is interesting enough for readers to come back. The actual numbers of people able to convert to Prezi is difficult to see. Someone might read a blog post and then Google Prezi two weeks later. Who knows which one of the six [ways we've reached them] is the one that convinces them to start using Prezi.
What did you think about this installment of Content Careers? Share your thoughts with us in the comments section below.