Canva: What Content Marketers Need to Know About Design [Interview]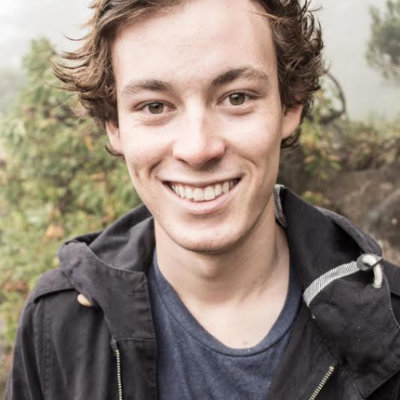 We picked Zach Kitschke's brain to learn more about how content marketers can wow an audience through original design.
Let's face it, as
content marketers
our visual design skills aren't always ones to brag about. It usually takes the skill of a seasoned professional with an aptitude for design to create eye-catching visual content, which is why many marketers rely on stock photography to help tell their stories . For this reason, original graphics have become somewhat of a novelty being that they're harder to create without the right people or resources around.
Canva
, an Australia-based startup, is solving this problem by making it easier for marketers to create original graphics on their own (including us!). This week in our Content Influencer series, we caught up with the company's Head of Communications,
Zach
Kitschke, to learn more about their own content strategy, in addition to design advice all content marketers can learn from.
Scripted: What does Canva's content marketing strategy look like today?
Zach:
Canva's best marketing has been our product. Since launching ten months ago, we've had more than 550,000 people sign up for an account. We're now seeing more than 200,000 designs created each week. Many of our users come back every week and have told their friends, family and social media about Canva. We've had Canva users create video tutorials, write their own blog tutorials and even taught classes on how to use Canva.
Most of our marketing is centered around education. There are a lot of people who want to learn graphic design, and are keen to improve their social media skills. Sharing tips and tricks that are useful to users helps to get Canva out into the world, but also provides great value to our users.
We also invest a lot of energy into our weekly design tutorials and blog content. We write about topics that
interest our audience
, including social media, marketing and graphic design.
See also: 5 Ways to Turn Your Audience Into ContentScripted: How is your marketing/content team structured?

Zach: We have an incredible marketing team.
Guy Kawasaki
recently joined Canva as our Chief Evangelist. His social media architect
Peg Fitzpatrick
also joined us as Canva's Head of Social Strategy. We also have a number of regular writers who contribute to the blog.
Scripted: What metrics and measures of success are most important to you in your own content marketing strategy right now and why?Zach:
There are a number of metrics that matter to us: how many new users we have each week, the number of designs created, and the number of designs published. We want to create content that's valuable. If someone gets an email from us, or spends five minutes of their time reading a blog post we want to make sure they'll take away something that they can apply themselves.
Scripted: Why do you think it's important for blog posts to have original images?Zach:
Good graphics help you to stand out from that sea of content. An eye-catching image can prompt someone to read your blog post. It also enhances your brand. You'll see how this can work in practice on
Canva's blog
. We create unique graphics for each one of our posts. It's a great way to illustrate the main points of an article. These images can then also be shared on social media.
See also: Why Creating Social Media Content on Mobile is Different [Interview] Scripted: On that note, what advice can you give to content marketers for creating fresh and engaging images for their blog posts? Zach:
Keep it on brand. If you have standard brand colors try and use them in your posts. If you're a travel brand with great photographs then use your images. If you're stuck for inspiration, try browsing sites like
Designspiration
or
Behance
. Pinterest can also be helpful for saving a style or graphic element that you like. Canva offers hundreds of different layouts in different styles which you can customize. These can be a good starting point when you're creating graphics.
Scripted: How can content marketers grab their readers' attention through images on Facebook? How is creating images for Facebook different than creating images for blog posts?Zach:
As a marketer on Facebook, you need to stand out from an ocean of content. You need to be clever in the way you use images, so that your graphics catch your
audience's attention
. There are four key things to keep in mind:
1. Color Palette.
Keep your color choice consistent across all your marketing materials. This leads to a stronger visual brand and makes it easier for people to identify your posts.
2. Font Palette.
In addition to your color palette, pick two to three standard brand fonts and use them consistently. Choose a more eye-catching font for your heading, a strong font for your sub-heading, and something simple and easy to read for your body font.
3. Brand Assets.
Incorporate your logo into all of your graphics. Whether it's a presentation or a
social media post
, your graphics should clearly display your brand.
4. Templates.
Invest time into creating brand templates, as you'll be able to use them many times over. It may be as simple as changing an image and editing the text before posting the graphic on social media.
Scripted: What's a good way content marketers can measure the success of their blog images?Zach:
Try different types of images. What works well for one blog might not have the same effect on your blog. Keep in mind who your readers are and cater your images to them. One way to test your images is to share the same post on social media but use two different images. You might notice that one performs better with your audience then the other.
Scripted: Finally, what do you see trending in design right now and what do you think content marketers can expect to see in the future?Zach:
Social media has really increased the need for good design. Every brand now needs high-quality visuals. As a marketer, you need to be able to create great visuals quickly and easily. Having a strong visual brand is going to become increasingly important.
What do you think about visual design in content marketing? Share your thoughts with us below.
To Read More Expert Interviews, Click the Links Below:
Atomic Reach: How We're Quantifying High Quality Content
Ash Davies of Tablo: Empowering Writers to Self-Publish Through eBooks
Alexis Grant of Socialexis: How to Grow an Audience Through Content Creation