Hiring an HR Writer: The Step-by-Step Guide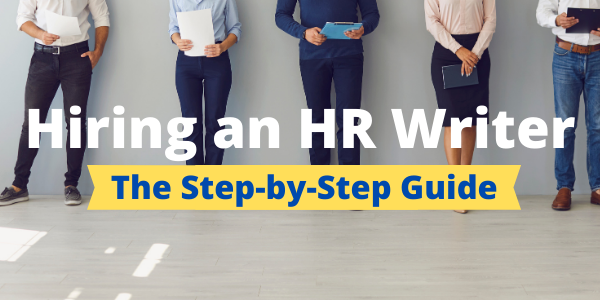 With so many businesses converting to online platforms, the HR industry is rapidly changing.  Staking your claim as a thought leader in the human resources space isn't as simple as churning out as much content as possible. To stand out from competitors, it's essential to develop insightful, authentic HR content. 
HR blogs from The People Equation and HR Hero are producing top-ranking SEO content and are growing faster than ever before. 
Right now….
If you're interested in hiring an HR writer, the process can feel far from simple. Where do you start? How do you find the writer that works best for you? What can you expect once you make the hire and begin your project?
In this post, we'll guide you through hiring an HR writer, and how using one can improve your company's HR efforts and increase organic traffic. Here's what you need to know.
Why Hire an HR Writer?
2020 was a weird year for everything, HR included. And to adapt, many companies have turned to HR writers for help staying on the cutting edge of new trends. 
Here are just a few of the things facing the HR industry right now:
Increased work-from-home rates

Changes to onboarding and recruiting practices

Shifts in the way companies manage people, thanks to remote work

A different employee experience

Shrinking generational differences

Data literacy growing in importance to HR firms and professionals
As you can see, this industry is changing rapidly, and it's critical for HR professionals to keep up. Fortunately, a skilled HR writer can lead readers to your website for solutions and advice on new industry challenges.
Now, all you need to do is find one. 
6 Steps to Finding the Perfect HR Writer
Ready to dive in? Here are six steps to help you find the perfect HR writer for your organization:
Step One: Define Your Content Needs
Before you can bring in a writer, you need to know what you need written. HR writers are flexible, adaptable professionals and can create a wide variety of materials. 
With this in mind, decide what you need in terms of content creation, whether it's a press release or an employee handbook. 
While a skilled HR copywriter will help you identify and fulfill your content needs, it's nice to have a starting point before you dive in. This makes working with your writer much more productive.
Step Two: Set a Budget
Budget is important when it comes to considering both your content and writing needs. And here's why: it pays to hire the best HR writer you can, and you don't want to break the bank to do that.
While premium HR writers will be more expensive upfront, they're also more skilled and experienced in the industry. This means you'll get more in-depth, informative, educational content that's more valuable for your readers.
With that in mind, sit down and create a marketing budget that works for you and your team. 
How much you have for a budget doesn't matter nearly as much as the fact that you understand the budget from the outset. Once you know what you can afford to spend, it will be easier to find a copywriter who fits into your budget. 
Step Three: Know Where to Find Your Writer

Next, it's time to decide where you're going to actually find your writer. Today, there are a lot of sources to discover writers across industries. You can use a content platform like Scripted or go out on your own and use tools like LinkedIn or a job board to find someone who seems like a fit. 
Those options are not created equal, though. Here's why we recommend Scripted:
Finding a great writer can be tough, and - unless you use a platform that specializes in connecting writers and clients - there aren't many guarantees associated with the hiring process. For example, you can hire a writer that looks great on paper but ultimately doesn't deliver on the project you had in mind. And, unfortunately, if this happens, there's not much in place to protect you.  
Many companies have horror stories about working with writers who ghosted them, delivered low-quality work, or delivered work that wasn't original. While there are plenty of excellent writers out there, there are also lots of sub-par ones, and hiring them can be a massive headache and a financial burden.
Fortunately, these things aren't issues if you use a platform like Scripted. For ease of work and peace of mind, we offer built-in guarantees to protect both clients and writers. 
For example, we hold payments in escrow until you approve the work and you can read a writer's reviews to find out what other Scripted customers have said about them. Writers also share samples of their work and portfolio so you can review their previous work before you dive in. 
Put simply, using a copywriting platform like Scripted is the easiest, safest way to find a copywriter for your HR writing needs. 
Step Four: Narrow Your Choices
Now that you know where to find a writer, it's time to narrow your choices down. Make a list of the top writers that jump out to you, and then compare things like their background, specialty, and client satisfaction ranking. 
Once you've found the writer you love, Scripted makes it easy to communicate directly with them. This is perfect for hammering out details and getting started on your big HR project.
Step Five: Begin the Project
Now that you've found your writer it's time to get started on the actual job. Scripted makes it easy to get started with writing and provides a simple process to support both you and the writer.
The writer will have a timeline to complete the draft and, once it's finished, you'll get a chance to review and make edit requests. This is a streamlined way to get projects going and is the perfect starting place for companies that have never worked with a professional copywriter before. 
Step Six: Love Your New Content
Now that you've got your new content on tap, it's time to deploy it and watch your business grow. When you outsource your HR writing to a skilled copywriter on Scripted, it's easier than ever to create and maintain excellent content. 
Scripted: Your Source for HR Writers and Excellent Content
The HR industry is complex and multifaceted, and the details are really, really important. This is an industry where compliance matters, and it's critical to find a writer who not only understands the complexities of your industry but has lived experience within it.
Here at Scripted, we specialize in hiring vetted, highly skilled content writers for a variety of industries. When you work with us, you'll get 100% unique content designed for your brand and your needs, plus a user-friendly ordering dashboard and overall experience. 
Ready to learn more? Check out our list of top-rated HR writers to find the perfect ones for your needs.