How to Hire a Freelance Writer on Scripted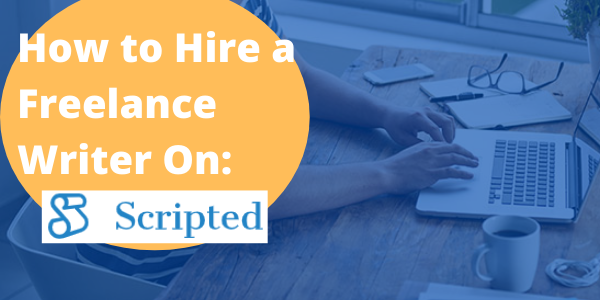 Over the past decade, freelance workers have transformed how business owners operate. As the workforce continues to become more flexible, companies willing to adapt to change will remain competitive. However, regardless of industry trends, all successful companies need skilled professionals. Since most do not have access to such employees or the budget to hire in-house, freelancers are the solution — especially for content creation.
Research shows that more and more small and medium-sized businesses (SMBs) are investing in freelancers. Being a flexible and cost-effective solution, 70% of SMBs in the United States have worked with freelancers at least once and 81% plan to hire freelancers again. More importantly, 83% of SMBs say that freelancers have greatly supported their business.
Although there are countless freelance writers online in 2021, who you hire will make all the difference in your ongoing success. If you want to benefit from a high ROI, you need to invest in expert freelance writers — those who will consistently create content that is unique, engaging, and professional.
The key to hiring the best of the best is knowing where to look. The last thing you want to do is waste your time hiring freelance writers who are underqualified. This will only waste time and money, and may potentially deter you from working with high-quality freelance writers in the future.
There is no denying the power of quality content. Here's how you can get started, working with freelance writers who will help you achieve one milestone after the next.
Why Hire a Freelance Writer?

The benefits of hiring an expert freelance writer are vast. Whether you have recently created a fresh content market strategy or are revamping last year's strategy, freelance writers can help you achieve your goals. Whether you want to improve your ranking, increase your subscriber list, drive sales, or simply boost traffic to your website, content can help you achieve all that and more.
The key is to invest in professional writers who consistently create quality content. When you do, you'll benefit in the following ways.
You can save money, supporting your bottom line
When comparing freelancers to in-house employees, you can save an immense amount of money. Not only will you avoid paying a part- or full-time employee a set number of hours, but you will also save money on everything from office rent to employment taxes and recruitment costs to employee benefits. Freelancers are available when you need them, so you only pay for the content you need, when you need it.
You will save your most precious resource — time
You are only one person. When you're running and managing a business, your to-do list is never-ending. If you do not delegate tasks, productivity levels will plummet. By hiring freelance writers, you will free up time to focus on the bigger picture. Again, it's important to hire freelance writers that are highly skilled and knowledgeable. That way, you can give them an outline or brief and not worry about the next steps. You can take a hands-off approach until it's time to review the content. After all, that's the whole point of outsourcing tasks, right?
You receive quality work
When it comes to online content, whether it be newsletters, social media posts, blogs, white papers, or anything else, nothing is more important than the quality of the content itself. In the past, many companies focused solely on publishing as much content as possible. However, they quickly learned that a higher quantity isn't always the best strategy. Research shows that 70% of businesses now prioritize content quality over quantity, relying on their writing team.
Anyone can write text, but few can consistently publish quality content that converts. Just like any other profession, it's important that experts handle your content creation needs, especially in terms of your ability to rank better, build a solid reputation online, and grow as a trusted brand. When you hire expert freelance writers, you can expect quality content every time.
You can hire experts for your business
Whether you own a design firm or a software company, you specialize in a specific industry or niche. This means that when you create content, you are speaking to a specific audience. Skilled freelance writers are often incredibly versatile based on their strong research skills. However, most writers will specialize in 2-4 core topics. Hire someone who understands the ins and outs of your industry, as well as the power of SEO.
You will benefit from fresh, innovative ideas
You know what they say, two heads are better than one! When hiring expert freelance writers, they will bring their unique experiences to the table. This will allow you to gain new perspectives and ideas. Since freelance writers are immersed in the latest trends, they can pass their knowledge onto you. Based on your current content calendar, work together to develop winning ideas that are sure to convert.
How to Hire a Freelance Writer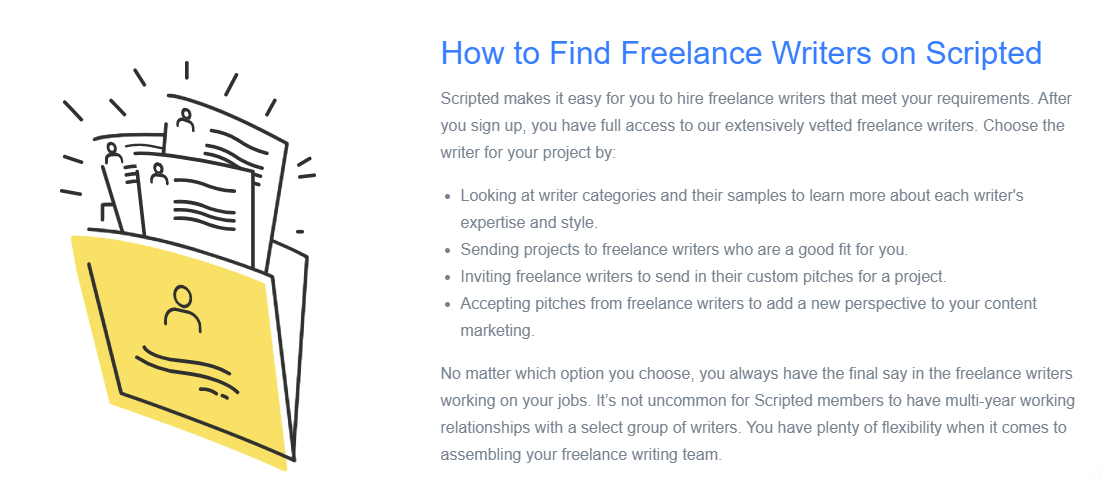 There are thousands of freelance writers available online, but not all writers are equal based on their skills, knowledge, and expertise — not even close. Knowing where to find writers you can rely on is more than half the battle. While this task can be daunting, especially if you have had a bad experience in the past, it doesn't need to be.
Scripted offers an all-in-one content creation platform that provides a seamless experience. Quality content and exceptional customer service are our specialties. We take great pride in our talented pool of writers, all of whom have passed rigorous testing. In fact, Scripted only accepts the top 2% of applicants, ensuring you have access to the best of the best.
By completing this process for you, you will not need to waste time posting jobs and interviewing applicants. Best of all, when you do hire a freelance writer, you can be confident in their abilities — instead of worrying about whether you will receive quality content on time. Working with a company like Scripted will help you see what the content creation process should be like!
All you need to do is become a Scripted member, start browsing writers based on your industry or niche, hire the best fit, and the rest will be history. Everything is completed within the platform, including the hiring, content creation, and editing process. This will give you the peace of mind you need to focus on other aspects of your brand and growing business.
Ready to start creating winning content? Start browsing our impressive pool of talented freelance writers today!