Top 10 Restaurants and Bar Sites for Inspiration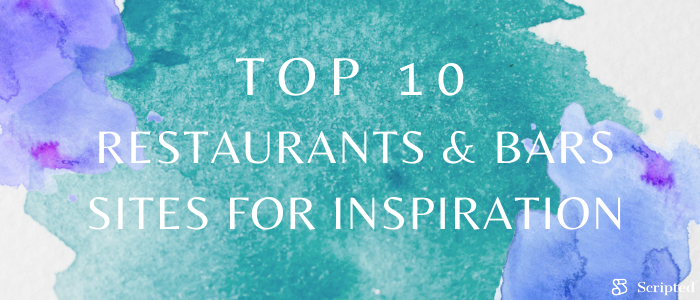 When people are looking for a new restaurant or bar to try, they often head online. A quick search yields a list of options and depending on how well you've optimized your content, you may be a top suggestion. In contrast, if you don't actively grow your online presence, many prospective diners won't find you or consider your establishment. The same is true for food writers and critics. You need to write quality content that people want to read to grow your brand.
A strong content marketing strategy helps you build credibility, reach a wider audience, increase brand awareness, and build stronger customer relationships. The following list of sites highlights bars and restaurants with a strong digital presence, as well as those who write about the food industry.
Whether you're a freelance blogger or a restaurateur, you need to invest in a solid content marketing strategy — one that allows you to become the "go-to" resource for restaurant and bar-related content.

Restaurant Den is an "all-in-one website design and online ordering solution for restaurants, food trucks, and more." The company's homepage drives the importance of having an online presence, stating that 89% of customers research a restaurant online before dining. Your website and online presence help diners choose your establishment over another. The Restaurant Den blog keeps up with the latest trends, encouraging growth among its community of restaurateurs. All the content written supports the brand's readers, providing them with something of value. In exchange, Restaurant Den positions itself as a leader in the industry.
Sample articles include:
Why this site is so successful: Restaurant Den has taken a strategic approach, using quality content to bridge the gap between their customers and brand. Their ultimate goal is to build a customer list that ensures sustained growth. To do so, they invest heavily in content that benefits their audience. Restaurant Den's site is well-optimized, focusing on key SEO strategies. The brand's blog is a prominent component of the website and publishes content that improves the lives of those they target.

Mei Mei is an Asian fusion restaurant in Boston, serving up vibrant dishes in a bright, funky setting. Woman-owned and operated, Mei Mei is more than a restaurant — it's a brand. The site's main menu invites you to choose one of several options, including order, store, about, and virtual classes. Under the about tab, you find the Mei Mei blog — a source of "food for thought and food for your belly." Offering recipes you won't find anywhere else, as well as community news, Mei Mei is authentic, transparent, and inspiring.
Sample articles include:
Why this site is so successful: Mei Mei isn't interested in attracting people from every corner of the earth. Instead, this restaurant focuses on its local community and the causes that mean something to the residents of Boston. Through adversity, Mei Mei has successfully adapted, using its blog and social media as a platform to educate and entertain. All content is highly personable and real, which is important when aiming to maintain a tight-knit, loyal following.
Restaurant Systems Pro has carved out a niche, covering one of the most important topics of all — cash flow management. Offering unique software, this brand helps restaurant owners cut costs and maximize profits. Publishing an average of two blog posts per week, this company understands the value that content brings to conversion rates. To build their subscriber list, they offer an insightful download that helps readers cut food costs by 2-3% overnight.
Sample articles include:
Why this site is so successful: Restaurant Systems Pro incorporates its sales strategy into its content marketing strategy. Well-written content helps this brand connect with current and prospective customers. This helps drive sales, supporting the company's bottom line. The Restaurant Systems Pro blog helps the company improve its ranking, allowing more people to find them based on keywords. As they increase organic traffic to their site, they build their customer base. They also stay on-trend in terms of the latest news in the industry, offering resources that help restaurant owners thrive.

Anyone in the food industry knows EATER, the ultimate food news and dining guide. Unlike some of the other sites on this list, EATER is not a restaurant or bar — it is an in-depth resource, telling readers where to eat in the world's best food cities. The entire site is content-rich, publishing several articles every day. The topics are unique, interesting, and highly versatile, drawing people in.
Appealing to a wide audience, EATER articles cover everything from industry news to must-try recipes. Sample articles include:
Why this site is so successful: EATER has built a solid reputation based on the content this brand produces. Investing heavily into several content marketing strategies and channels, EATER has become the ultimate resource for dining news for foodies from near and far. The topics covered are highly unique and inclusive, appealing to a wide audience. EATER's newsletters help its followers stay in the know, strengthening the relationship this brand has with its readers.

Another well-respected creative food writing center, Grub Street is a food blog developed by New York Magazine. Featuring chef interviews, restaurant reviews, food-trend coverage, and restaurant news, this brand thrives because of quality, engaging content. Grub Street is well aware of its audience, creating content that's tailored to its community. All content written is professional and well-researched, yet entertaining. With over 284,900 followers on Facebook, Grub Street has mastered its multi-channel marketing strategy. This allows them to increase organic traffic and continually grow a reputable brand.
Sample articles include:
Why this site is so successful: Grub Street offers foodies a sincere and fun tone, covering the topics and trends that mean something to those who read them. This brand is not afraid to voice its opinion about topics that beg for America's attention, often writing about controversial issues. Whether their readers are interested in the latest kitchen gadgets or supply chain trends, Grub Street is the place to find content that educates and inspires.

With over 13 thousand Instagram followers and nearly 19 thousand Twitter followers, Table Hopper is the place for all things food- and drink-related in San Francisco. This insider e-column focuses on the San Francisco dining and drinking scene, posting several times a week. Covering the latest news on what's opening, closing, and changing in the city, readers know they can rely on TableHopper to fuel their local food knowledge.
Sample articles include:
Why this site is so successful: Table Hopper tends to have a selective audience, offering fresh content that isn't found elsewhere. The author of Table Hopper, Marcia Gagliardi, has built a community of enthusiastic food and drink lovers in the SF area. Considering there are thousands of restaurants in SF, Table Hopper does all the hard work and research for its audience. They stay up-to-date about what's going on in the local community. This is a powerful approach that's executed perfectly.

Gourmetian is a food blog that focuses on recipes, foodie tricks, giveaways, restaurant reviews, and more. This site is easy to navigate, breaking content down into several categories. Gourmetian offers "featured cuisine" on their homepage with ideas based on the latest trends, such as keto and low-carb recipes. This blog focuses on the foodie lifestyle, featuring restaurants from around the globe, spanning from Spain to Geneva.
Sample articles include:
Why this site is so successful: Gourmetian works because it is simple, yet strategic. All the content on this brand's site is original, focusing on the lifestyle of those who love to try cuisines from around the globe. Gourmetian draws attention through its social media platforms, well-written content, and giveaways. The restaurant reviews show a high level of expertise and the recipes offer a sense of creativity.

If you run a bar, serve alcohol, or write about the latest in drink news, this site is a must when seeking inspiration. Uncorkd is a popular brand that helps bars and restaurants educate guests, create digital drink menus, gain access to tasting notes for over 200,000 drinks, and more. The blog covers the latest wine and cocktail trends, as well as all things related to successful bar management. They also encourage their audience to read beneficial resources, including case studies and reports.
Sample articles include:
Why this site is so successful: At the end of the day, Uncorkd is a beverage management product. Their goal is to drive sales, but their content doesn't showcase that. They understand the importance of creating content that offers value to their prospective and current consumers. Each piece of content created is both purposeful and actionable, helping readers achieve their goals. Uncorkd knows their audience and caters to them.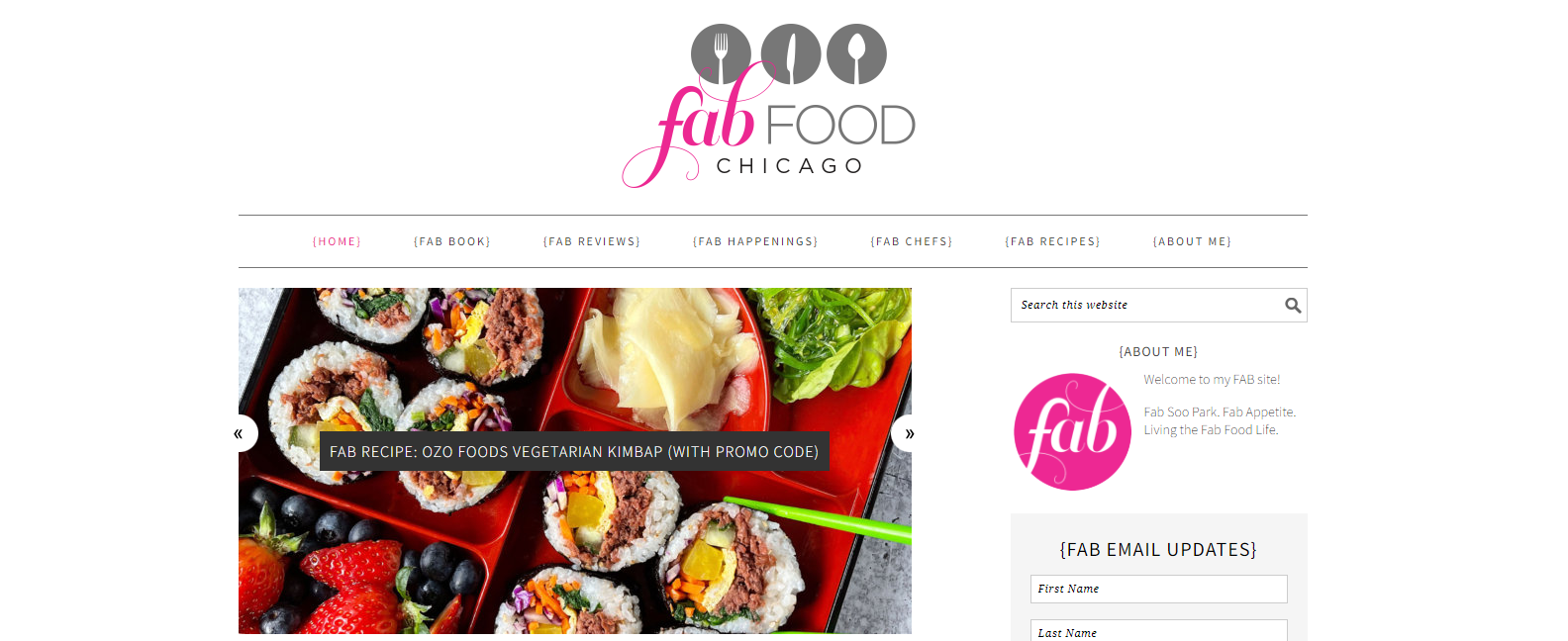 Another example of a brand that caters to a localized region, Fab Food Chicago was founded by Soo Park, who has 17 years of marketing and branding experience. She is passionate about helping Chicago businesses, which is why she launched her marketing consulting company. She reviews restaurants, bakeries, and products, covers upcoming events, and promotes chefs she loves. Her site also features an extensive recipe list.
Sample articles include:
Why this site is so successful: Soo writes for a select community, creating content that is important to the people of Chicago. This allows her to focus on a niche that has grown with her and her career. There is authenticity in her tone, resulting in content that is engaging and honest.

First founded in 1998, OpenTable has grown into an online restaurant-reservation empire. Visitors to OpenTable's website can easily search for a table in one of the hundreds of locations. To help fuel their digital marketing strategy, they developed an inviting blog, offering in-depth city guides, trending topics from around the world, product news, and events.
Sample articles include:
Why this site is so successful: OpenTable's blog covers topics that are thought-provoking and inspiring. Articles are written incredibly well, helping OpenTable maintain its strong reputation. Being the go-to brand for restaurant reservations, they are now a reliable source of industry news and advice.
The Above Sites Are Unique — But They Have This in Common
Upon reviewing the above ten sites and brands, it's clear that they're all unique. Some focus on their local dining community while others sell restaurant and bar software. How each site approaches its goals drastically differs. However, all the above sites understand the value of quality content, as well as consistency. They leverage great content to reach their target audience and build a loyal following.
How Scripted Can Help
The content you publish matters. That's why you need to invest in writers that ensure the greatest return on your investment.
Scripted offers a large pool of talented restaurant, bar, and food industry writers. The hiring process is simple, allowing you to focus on your growing food and beverage establishment.
Ready to get started? Start browsing Scripted's selection of skilled restaurant and bar writers!