Top 10 Family Practice Sites by Traffic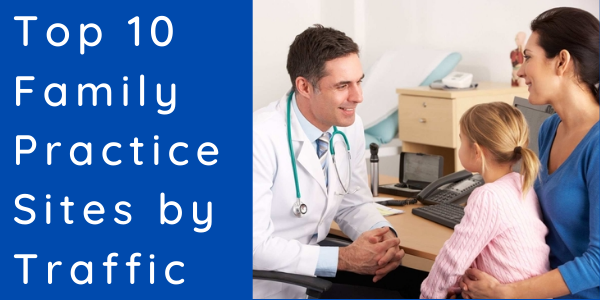 There are thousands of family practice websites out there - about 32.9 thousand, at last check. But they are not all created equal. Some of these family practice websites draw significantly more traffic and visitor attention than others. So, what's the difference? What separates these popular family practice websites from the ones doomed to SERP obscurity?
That's exactly what we're going to evaluate in this post. We'll look at the top-ranking family practice websites on the net, and evaluate what makes them stand out. We'll also share a few top tips on how you can make your family practice site better, using the lessons from these hard-hitters. 
Let's dive in!
What is a Family Practice Website?
Family practice websites are devoted to versatile medical professionals with training that allows them to provide healthcare for the entire family and people of all genders and backgrounds at various life stages. Depending on a client's needs, they may offer pediatric care, for example, or provide OB/GYN care for pregnant women. 
According to the American Academy of Family Physicians (AAFP), family physicians are "dedicated to treating the whole person." 
Family practice physicians differ from pediatricians, who see children until the age of 21 years old. Likewise, internists only see adults. On the other hand, family practice physicians provide medical care for everyone, from pregnant women and newborns to seniors. Like internists and physicians, family physicians go through medical school and complete a three-year residency before they can practice independently. 
Here's an overview of the services a family practice physician may provide:
Health Promotion, nutrition counseling, weight maintenance, and hormone balance

Preventative Care, including:

Annual wellness visits

Newborn and post-natal care

Well-child check-ups and annual immunizations 

Women's health

Annual exams

Family planning services, including contraceptive counseling

Prenatal care

Pregnancy care

Men's Health

Sports Physicals or Job Physicals & DOT Physicals

Mental Health Visits

Occupational Medicine, including at-cost TB screening or Tetanus (Tdap) injections
The Top Family Practice Websites on the Internet Today

Located in Midlothian, VA, this family practice website ranks near the top of the SERPs. And it's easy to see why. The website is convenient and well-designed; the hours and contact information are easy to find; and families looking for family practice care can find convenient overviews of the clinic's services and offerings. One thing that helps this site stand out is the comprehensive "meet our team" page. It provides headshots and bios for each team member, from MDs to CFNPs.
Tip to take from this site: As this site illustrates, a clean design is key if you want more traffic to your site. Make the page easy to navigate and people will come.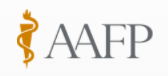 AAFP.org is the website run by the American Academy of Family Physicians. Why does this site make the list of the most-visited destinations on the web? Simple - authority. As a .org domain, AAFP.org has a high domain authority that illustrates trustworthiness for visitors. It's also an all-in-one destination for anyone looking for more information about family practice - from students, residents, and physicians to prospective patients. 
Family practice providers can find information on the site about how (and why) to sign up for an AAFP Membership, as well as support resources and more. Would-be patients, meanwhile, can access a provider directory and lots of information about why AAFP membership is an important thing to look for in a provider.
Tip to take from this site: Even if you're not a .org domain, this site illustrates just how important authority is to traffic. The more authoritative and professional you can be, the more visits and clicks you'll get. We recommend routine, long-form blog posts written by experts in the field and building a strategy of high-quality links and backlinks. 

When you visit the website of The Medical Offices of Manhattan, you're greeted by a slick, easy-to-navigate site that screams professionalism. One thing that stands out about this site, though, is the calls to action (CTAs). 
They're clear, concise, and powerful - "book appointment," "access test results," etc. Going by the slogan "Care That Never Quits," this medical office is run by ten medical professionals that care about their patients. The site's layout and simplicity prove it from start to finish.
Tip to take from this site: Make your CTAs work for you. Instead of waffling with weak or hard-to-find CTAs, make yours bold, clear, and directly related to your services. The rate of visitors clicking through and accessing your services will automatically be much higher.

Dr. Sally Thomas runs Thomas Family Practice from Houston, Texas. NCQA-certified, Dr. Sally Thomas offers a host of health services for the complete family, including autoimmune services, weight management, and more. 
If you're in the family practice space, you probably know how difficult it can be to communicate a variety of services without creating a confusing, messy website. That's a real risk for family practice doctors and providers. Fortunately, Dr. Sally Thomas provides a splendid example of how to navigate it like a professional.
The website is simple, but its real standout is that it offers a separate page for each service presented by the clinic. This makes the myriad of services easy for clients and patients to navigate and provides an intuitive page layout that's great for SEO and visitation.
Tip to take from this site: Invest the time required to create stunning website content. Instead of jamming all your services together on a single page, build a unique page for each service. Integrate high-value SEO keywords on each page and seek to make them as helpful as possible for readers. The clicks will follow.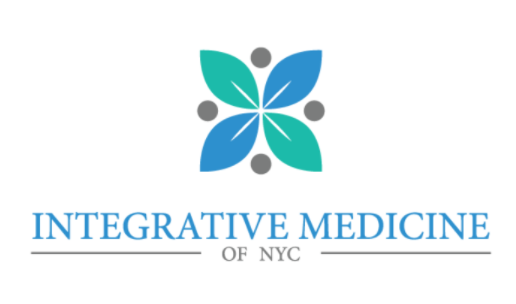 Integrative Medicine of NYC is a well-known family practice firm that offers a variety of wellness services, including integrative medicine, and cancer screening. The site is easy to navigate and loads quickly, but its real calling card is the conversational tone of its content.
Besides being a good fit for the industry (Family practice medicine is a very intimate field, within which clients form long-lasting relationships with their care providers), the voice of the website content is inviting. It draws readers in and helps them trust Integrative Medicine of NYC's providers right off the bat. Here's an example:
When choosing Integrative Medicine of NYC, you're not only choosing a highly trained medical professional, you're choosing someone committed to partnering with you to improve your health and well-being.
Tip to take from this site: Talk to your clients like you're talking to a friend. While family practice websites need to walk the line of professionalism (especially because they're considered EAT/YMYL sites), it's also important to bring some warmth and approachability into your site's voice. We recommend working with a skilled website content writer familiar with your industry and knows how to craft inviting, warm content that will attract both patients and prospective clients.

Fountain Medical Associates is a family practice business based in Philadelphia, PA. Like the rest of the family practice websites on this list, this one does a few things well. First, the site is clear, straightforward, and easy to navigate. As soon as you land on the homepage, you're confronted by a "Why Choose Us?" block of content that features bold content that makes it easy for readers to browse. 
One of the biggest draws of this website, though, is that it offers options for visitors, who can schedule tele-visits and access e-prescriptions, right through the website. It's an outstanding example of what happens when family practice websites adapt to the modern, digital world and provide the services their customers need, right from the get-go. 
Tip to take from this site: Consider the usability of your site as you design it. If you're appealing to new clients, they're likely busy, on the go, and searching through a variety of different family practice websites. Your should stand out in a way that makes them think, "Oh, this was so easy for me." Take a page from Fountain Medical Associate's book and provide bold content that's easy for readers to skim, and work with a skilled web designer to plug in easy online booking and payment options for your customers.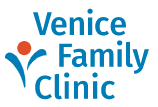 Venice Family Clinic, based in Los Angeles, does one thing right: they appeal to the "family" in "family practice." Serving a diverse client base, including a high number of Spanish-speaking people and disadvantaged people, Venice Family Clinic makes it clear from the outset that it is a true community clinic, providing "quality care to individuals, families, and communities with compassion and dignity."
The website is bi-lingual - offering content in both Spanish and English. This is unique to this site and speaks to the clinic's mission to extend accessibility to everyone. 
To further that accessibility, the site offers an easy, above-the-fold feature for patients to access the patient portal, schedule an appointment, or locate the clinic on the map. The site's content and images also speak directly to their clientele - the photos are of diverse individuals and families and the clinic's presence in the community.
Tip to take from this site: What Venice Family Clinic masters more than possibly any other site on this list is accessibility. Everything about the site's content and structure makes it accessible and welcoming to a wide variety of people. The site's main hero banner points to a local Family Clinic Art Walk & Auction, and each page you dive into just showcases the clinic's commitment to the community. 
There's a community calendar, for example, and an entire page dedicated to the types of patients the clinic serves. If there's one thing you learn from this site, it's to know your target audience and address them directly. Venice Family Clinic has done an extensive amount of audience research and built a team of designers and writers who know how to speak to those people. 
Ashton Family Medicine and Wellness Center is based in Philadelphia. PA. The clinic provides services to a wide assortment of clients, from newborns to seniors. From the moment you land on the site, it's accessible in every way. There's a chatbot that pops up to help visitors with simple questions, and a large assortment of page content aimed directly at communicating with clients and would-be patients. The clinic's address and hours are at the end of the page, and there's a "contact" pop-up that follows visitors around the site to make it easy to get in touch with the doctors at any moment. 
Tip to take from this site: Ashton Family Medicine and Wellness Center keeps it simple. Unlike other sites on this list, it doesn't offer hundreds of pages or thousands of words of site content. Instead, it keeps the on-page material informative and pared-down and directs users to contact the clinic to learn more. While more on-page content is generally more helpful for users, we like how simple this site is. It's a good reminder that the best way to provide value to clients is to hit the middle road - simple content that's informative and ample, all at once.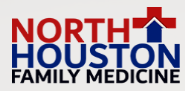 When you visit North Houston Family Medicine's website, you feel like you're interacting with a major hospital's website. It is well-designed, professional-looking, and chock-full of helpful information. The thing we want to focus on with this family practice website, though, is the blog. Lots of time, websites in the healthcare or personal care industry get a little stuck on blogging. They're not sure how to communicate with patients or what topics would apply to their audience. North Houston Family Medicine, though, has it figured out.
Tip to take from this site: North Houston Family Medicine offers a blog that's relevant for both patients and fellow healthcare providers. The topics covered include things like how people can keep their New Year's weight-loss resolutions going and the ins and outs of Suboxone for opioid treatment and addiction. It's an outstanding example of how websites in the healthcare industry can blog successfully and which topics will be salient to the industry. This high-quality, original content helps this site claim its fair share of organic traffic and provides a nice, natural linking strategy that positions it as an authority in the industry.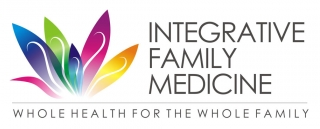 If you were a client searching through family practice websites, this one would naturally catch your eye. It's simple while also being bold, bright, and full of intriguing visuals. Located in San Antonio, TX, Integrative Family Medicine takes a "more is better" approach to client education. The site provides:
Illustrations.

Clickable images.

Easy-to-find contact information.

Interactive maps designed to place all the information clients need right at their fingertips.
What we love about this site, though, is the selection of "client education articles" it offers. These articles, housed under the "patient education" tab, run the gamut on topic and length. There are posts about preventing COVID-19, the basics of family medicine, the importance of women's health and family care, and more. Most notably, there are long-form, well-0written pillar pages focused on driving traffic to the practice's key service pages, including acute disease and mental health care. It's clear that this clinic has a content strategy and knows how to use it. 
Tip to take from this site: If Integrative Family Medicine's website could talk, it would say "content is king." If you take one thing from this site, we hope it's the importance of a content strategy. The fact that this practice's "education" page is so well-organized is no accident. Someone took time to plan out blog topics and make sure they supported the clinic's larger SEO strategy. Each post utilizes SEO keywords and supports the site's internal linking strategy. 
How to Increase Your Family Practice Website's Organic Traffic (and how Scripted can Help)
If you're looking at these sites in awe, we have great news for you: high-traffic domains are made, not born. While these ten family practice websites all do something well, it's also possible for you to learn from each of them and strengthen your site. 
Here are a few tips we suggest:
Invest in design

. No matter how great your site content is, it won't count for much if your pages are jumbled or difficult to navigate. With this in mind, don't cut corners with site design. Work with the best design team you can afford and focus on elements like readability, navigation, and adaptability. This is a simple tip, but it will pay off in the long run. 

Create original content.

Some sites on this list stand out because they're so superb at creating original content. Be like those sites. Creating original content like blog posts, white papers, infographics, visuals, and even social media material will help boost your organic t traffic numbers and keep you top-of-mind for customers. To make sure you're publishing on a reliable schedule, develop a post calendar and stick to it. 

Invest in excellent writers.

Today, great content is more than just a "nice to have" on family practice websites. Since Google evaluates these sites differently (because they're considered "Your Money or Your Life" sites, which contain important, possibly life-altering information), the information contained within them must be top-notch. With that in mind, we recommend working with expert content writers who have a background in the healthcare industry. Not only will this ensure the information in your posts is accurate, but it will help guarantee you're creating content that speaks to your clients and draws them in. Here at Scripted, we're in the business of matching top-quality, industry-expert writers with the companies who need them. Browse our

selection of healthcare writers

today to find your perfect fit! 
Hire a Family Practice Content Writer Today!
When it comes to family practice websites, you can't afford to cut corners. 
Luckily, Scripted is here to help. Offering a way to find expert writers! 

---
Published by
Carolyn Heard
on Thursday, May 27, 2021
in
Family Practice
,
Website
,
Aafp.Org
,
Ashton Family Medicine And Wellness Center
,
Dr. Sally Thomas
,
Family Practice Associates
,
Fountain Medical Associates
,
Integrative Family Medicine
,
Integrative Medicine Of Nyc
,
Medical Offices Of Manhattan
,
North Houston Family Medicine
,
Venice Family Clinic
.