Guide to Hiring an Entertainment Writer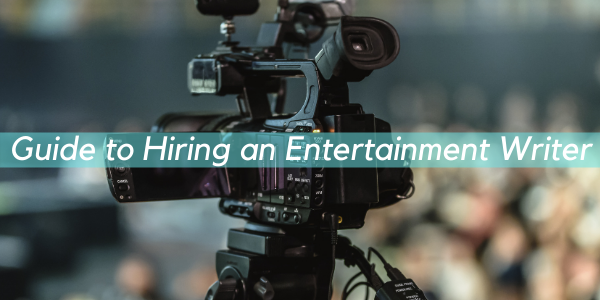 The year 2020 was tough, but depending on what you specialize in as an entertainment brand, your company may have gained access to unique opportunities. Although the value of the worldwide entertainment and media market fell to 2 trillion USD in 2020, it's anticipated to reach 2.1 trillion USD in 2021, just as it was in 2019. That's why you need to invest in your online presence, starting with the content you create.
The whole point of developing a content marketing strategy is so your audience can learn about your expertise, products or services, and brand. As of 2020, 70% of marketers were actively investing in content marketing. This means that if you are not considering the power of quality content for your entertainment business, you may get left behind.
While content marketing strategies vary from one brand to the next, the content you create should be engaging, unique, and of value to your audience. This allows you to increase organic traffic and build your online presence. Here's how to get started.
Why Hire an Entertainment Writer?
Whether you focus on entertainment news, sell video games, or review movies, quality content helps you bridge the gap between you and your audience. Like any area of expertise, an entertainment writer will help you create content that your target audience connects with. Just as poor quality content can damage your brand's reputation, high-quality content strengthens it.
Each brand has its own unique objectives, but some benefits of hiring a content writer include:
Getting conversions

— When you create well-written, SEO-optimized content, your website ranks higher on Google. This can help you boost traffic to your site, leading to higher sales.

Becoming a trusted leader

— Quality content showcases your level of expertise on a topic or niche subject, allowing you to position yourself as a leader in the entertainment industry. This helps you increase organic traffic and even grow your subscriber list.

Maintaining consistency

— You may find one or two writers you love to work with right off the bat. If so, they can help you develop consistent content that adheres to your brand's mission and overall tone. The key is working with professional writers, as they will consistently deliver the type of content that converts.
Finding an entertainment writer you LOVE is often easier said than done. Unless, of course, you're looking in the right places.
Step One: Plan Out Your Content Needs
Before you hire a professional entertainment writer, you'll need to figure out what it is you need in terms of content. To ensure the greatest return on your investment, develop a comprehensive strategy. From blog posts to social media content, press releases to video scripts, there are plenty of options. Although you can hire multiple writers, try to find a source that serves all of your content needs. The goal here is to be as productive with your time as possible. The more seamless the hiring process is, the better.
Before you hire an entertainment writer or two, keep the following in mind:
The tone of your brand

The format you want your content written in

Your budget and general timeframe

The topics you'd like to cover
Tip: While a professional entertainment writer will allow you to step back so that you can focus on other areas of your business, proper communication is critical. Your content plan allows you to target the type of writers you want, and then your content brief ensures writers deliver exactly what you're looking for. The more detailed and in-depth your initial instructions are, the quicker you'll receive a polished final draft. The goal here is to be clear and concise. When you know what you want, it's much easier to communicate your concept to your chosen writer(s).
Step Two: Find a Reliable Source for Entertainment Writers
Outsourcing your content will allow you to focus on your business goals. However, hiring in-house is not your only option.
Although you can certainly create job postings and undergo the traditional hiring process, this approach can be lengthy. Unfortunately, writers are not always as qualified as they initially appear. This can lead to wasted resources, including your time and money. That's why it's so beneficial to hire entertainment writers from a trusted content creation company.
Tip: Send an invitation to multiple writers who pique your interest. This will allow you to narrow down your selection based on the type of writers you require. You can also post a job so that all writers are able to send proposals. That way, you may benefit from a greater variety of ideas and a range of rates.
Step Three: Partner with Entertainment Writers Who Can Help You Achieve Your Goals
Once you've found a source of writers, you'll want to find a writer or two that understands your overall vision. Whether you're looking for a writer with experience in gaming or a professional writer who's also a movie buff, it's important to work with professional entertainment writers you can rely on. When browsing writers during the hiring process, review writing samples to get a better feel for who each writer is in terms of their background, experience, and writing style.
Tip: In addition to looking for proper grammar and spelling, reach out to writers who create samples that are both well-researched and engaging. It is important to remain factual, but also fun and interesting within the entertainment industry. Find the perfect balance can equate to optimal results.
Step Four: Create Content to Increase Organic Traffic
Based on the content plan you created, you and your writing team will make it happen. When you select highly-vetted writers to work with, they will know how to work with clients in a professional manner. The goal here is to have the most seamless experience possible. You should be able to send your ideas, suggestions, and resources to a writer and then be hands-off until it's time to review.
Tip: While it is not a requirement, hire writers who have an understanding of SEO and other strategies that will boost traffic long-term.
Step Five: Then Create Some More
The initial stepping stone is the most daunting, which is why you should partner with a platform that makes the process of hiring, reviewing, and accepting content as easy as possible. Once you find writers you like to work with, your content creation process can quickly be kicked into high gear. The goal is to find writers you love to work with and develop long-term working relationships.
Tip: Create a content schedule to stay on track. Remain mindful of special events or seasonal topics within your industry.
Scripted Can Help You Reach Your Content Marketing Goals
Finding an entertainment writer you can count on is often the hardest part of the process. Once you connect with professional writers who consistently create quality content, you can take a step back to focus on what matters most - your company and overall brand.
Scripted makes this process seamless. Our all-in-one platform provides you with access to thousands of professional writers, including those who specifically specialize in the entertainment industry. From blog posts to video scripts, social media content to newsletters, no matter what your content needs are, there are writers waiting to assist you. Regardless of your goals, Scripted writers will help you reach key milestones. Whether you want to generate more leads, grow your subscriber lists, or gain more followers on social media, quality content is the solution.
Since we only accept the top 2% of applicants, this ensures that the content produced is of the highest quality. This helps you increase organic traffic and boost your ROI. We also offer Scripted Cruise Control for those who are far too busy to manage their team of writers and would benefit from our team of experts. This service includes complete content marketing, account management, content creation, and managed analytics.
Ready to create content that converts? Browse our entertainment and media writers to get started today!