Top 10 Engineering Websites By Organic Traffic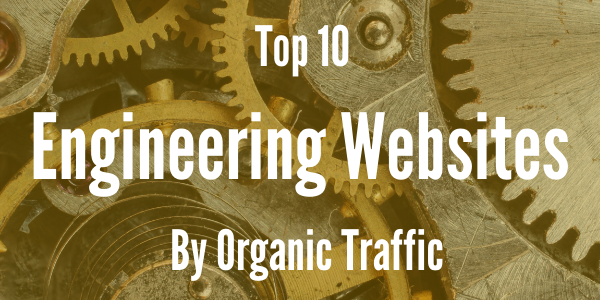 The engineering sector is comprised of countless industries from technology and electrical products to construction services, and more. If your business fits into any of these categories, one thing is certain: Your niche is likely poised for massive growth in the coming years. Of course, in order to grow your business itself, you have to start building a digital presence and work to increase your organic traffic.
Whether you've been working on your content marketing for a while or you're just beginning to explore what it means to actually be online as a business, looking at these top 10 engineering websites will surely provide some insight and inspiration.
What is an Engineering Website?
The engineering sector is impressively broad. It encompasses a number of industries, and each industry serves a different segment of the population in a different way. Your engineering business could provide technology to construction companies or you could be working behind the scenes on defense technology through government contracts.
Whatever the case may be, building a digital presence will help future-proof your company and open the doors to new opportunities. These 10 engineering websites are prime examples of how to approach content marketing with authority to get results and increase organic traffic.
#1 Jacobs

Jacobs sees about 924 thousand monthly visitors. An array of specialties leads Jacobs to offering solutions in the intelligence, infrastructure, water, mobility, and renewable energy sectors, among others. In addition to a clean site design that's easy-to-navigate, visitors are greeted with quick links to the Newsroom, Trending Topics, and Careers sections.
Off the website, Jacobs maintains active social media profiles across multiple platforms with special focus on LinkedIn. They talk about company culture and work to attract new talent.
#2 AECOM

AECOM sees about 748 thousand monthly visitors. AECOM is dedicated to the creation of future-proof infrastructure. With a global portfolio of projects, the company's website shows off the brand's work while also highlighting them as thought leaders in the industry.
Many turn to this company for insights, especially those who hold design, engineering, construction, and consulting positions.
#3 Arup
Arup sees about 658 thousand monthly visitors. As an independent firm comprised of designers, engineers, architects, and other specialists, Arup offers a first-hand perspective on sustainability and eco-friendly construction. It's another thought leader with a blog that balances news and trends with insights and corporate reports.
Readers will be both informed and delighted with stories about Arup's impressive projects and check-ins regarding the company's corporate responsibility goals.
#4 WSP
WSP sees about 643 thousand monthly visitors. Content is front-and-center when you visit the WSP website. On the homepage, visitors are greeted by recent posts that beg to be read with interesting graphics and thought-provoking titles. Dig deeper into the WSP website and you'll find a section devoted to insights where WSP's worldwide presence offers informed points-of-view.
WSP also targets new talent with a Careers section and explains what they do in a way that's accessible and interesting for both potential clients and the public at large, which helps to increase organic traffic.
#5 Kiewit
Kiewit sees about 436 thousand monthly visitors. With a people-first mentality that prioritizes safety and wellbeing, Kiewit is an excellent example of content marketing that focuses on instilling corporate values. The company serves many markets with specialties ranging from construction to mining, and a well-organized website allows visitors to quickly find what interests them.
Whether you're looking to explore the company's latest projects, learn more about working for them, or see what's the latest in the newsroom, Kiewit's site is easy to reference and browse.
#6 Parsons
Parsons sees about 376 thousand monthly visitors. Specializing in defense, the sleek and modern design of Parsons is strongly branded to match their focus on security and safety systems. Parsons puts its innovation into numbers, with plenty of metrics throughout that quantify the company's impact in the markets it services. Three simple sections in the header menu divide the website, helping visitors navigate to learn more about who the company is, what it does, and what it's like working for them.
The Newsroom is the primary source of updated content and it's where Parsons offers case studies regarding its latest projects and discusses how the company is leading the industry with new technology and solutions.
#7 HDR
HDR sees about 194 thousand monthly visitors. Serving over a dozen markets, HDR has a robust website filled with niche-specific content. Yet, the company is able to keep all of its content neatly organized thanks to a beautiful menu system and a smart layout. Video backgrounds and contrasting headings add visual interest to pages, while the content has the chance to shine thanks to its positioning throughout pages.
If you visit the site, you'll see that HDR puts its impactful projects front-and-center, helping to bring their value-oriented work into the spotlight. From the emergency shelters they have helped build to the wind farms they've designer, HDR has its CSR goals at the top of mind when it comes to what they post and how they feature it.
#8 Bechtel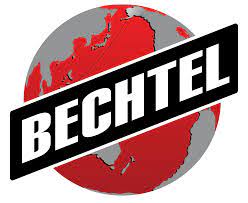 Bechtel sees about 192 thousand monthly visitors. Engineering and construction are the prime focus areas of Bechtel. On this company's website, you'll be able to explore the typical "Who We Are" and "What We Do" pages, but the Projects page stands out as something unique next to most websites in the industry. On the Projects page, you can view an interactive map of all the things Bechtel is working on around the world, showcasing their presence in a very visual manner.
Sections dedicated to sustainability along with the Newsroom offer content to keep readers engaged while targeting recent headlines and capturing keywords. All of that helps to increase organic traffic for Bechtel.
#9 Fluor
Fluor sees about 173 thousand monthly visitors. As a global engineering firm, Fluor showcases their specialized team members alongside the work they're doing to help the people and communities impacted by major events and natural disasters. With a highly visual design, the website is well-organized, breaking things up by client services, projects, and information about the company. The very top bar of the home page links to login areas, locations, pages for different countries, and more.
Spend a few minutes looking around and you'll be met with a multitude of content that's written to impress. Statistics and case studies come together to show off Fluor's global presence, astounding projects, and continuous impact in communities near and far. That makes this company a premiere example of building brand authority.
#10 CDM Smith
CDM Smith sees about 86 thousand monthly visitors. As the company puts it, CDM Smith is a team of "engineering and construction professionals delivering legendary service." The homepage design directs visitors straight to the core content areas of the site, with links to the service areas and specialties right there in the center of the page. Below that, you'll see a slider of featured posts that help call your attention to everything CDM Smith is doing as a company.
One thing CDM Smith does particularly well is bringing the focus back to its real-world projects. They center much of their content around client stories, case studies, and the projects they are actively working on, helping to showcase the company's expertise in action while bringing the brand to life.
What Makes for a Great Engineering Website?
As you go through this list, it's important that you take some time to analyze each of these websites and consider how their strategy could inform or impact your own strategy. Taking inspiration from how these companies present themselves online, and the platforms and types of media they use to do it, will help guide you as you work to build up your own digital presence.
Ultimately, regardless of the size of your business, you can find success with your content strategy so long as you devote the right resources to planning and executing it. For most businesses, that means outsourcing the writing portion to a specialized engineering writer who knows the industry and SEO.
Find The Perfect Engineering Writer
If your business is like most in the engineering sector, you don't have a team of in-house content writers and marketers, nor do you have your own dedicated SEO specialists. That's why companies like yours continuously turn to Scripted to help them get their content strategies up and running.
When you work with Scripted, you'll enjoy tailored membership options to fit any budget along with a database of skilled engineering writers who have the knowledge you need to produce valuable, thoughtful, and engaging content. Whether you hope to become a thought leader, attract top talent, or simply increase organic traffic, our expert writers can help you put your plan into motion.
Interested in learning more about Scripted and how we can help your engineering business thrive? Reach out to the team for answers to all your questions.