Sendinblue Email Review: Features, Pricing, Pros & Cons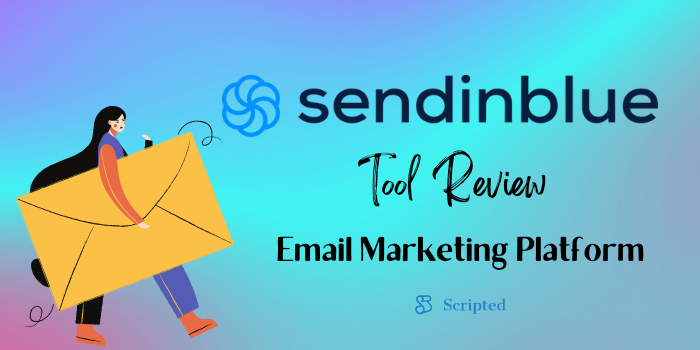 There are lots of email marketing tools out there, and some are much better than others. Here's our full review of Sendinblue, one of the more affordable options with some extra features that set it apart from the competition.
What Is Sendinblue?
Sendinblue is an email marketing tool that has a few extra tricks up its sleeve. The tool also includes SMS and chat services, as well as CRM, marketing automation, and more.
But where it really stands out is pricing. Sendinblue is considerably cheaper than most of its competitors.
Ready to dive into the full review? Let's get started.
Sendinblue Pros:
First, let's look over the pros.
Email, SMS, and chat functionality

CRM included

Lots of automation features

Plenty of templates

Phone, email, and chat support, depending on pricing tier
Sendinblue Cons:
And now the cons...
Sometimes glitchy, particularly when importing data

Many templates are a separate service with extra cost

It takes a while to set up your account

Some users report issues with emails going to spam folders
Sendinblue Features and Benefits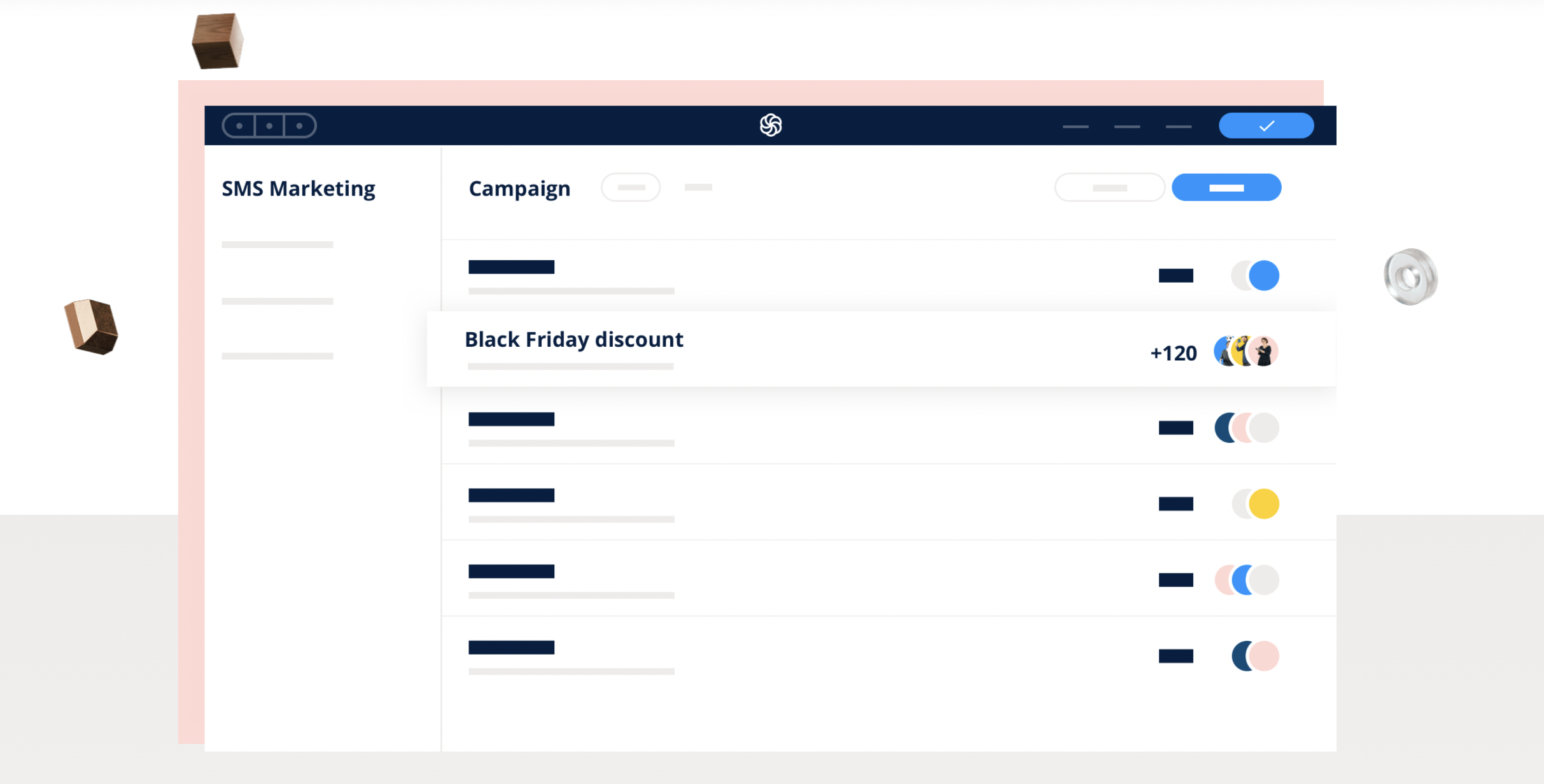 Here's a more detailed overview of the features and benefits you'll get with Sendinblue.
Subscriber List
The subscriber list set up is pretty straightforward, though not quite as intuitive as some other email marketing tools. You upload your existing contact list, matching fields as necessary. You can then segment your customer list by data and other criteria.
Email Campaigns, Newsletters, and SMS
You can also import your existing campaigns from other email marketing tools. Or, if you don't have an existing campaign, set your first one up using the helpful prompts.
There are templates available, and you can make your emails mobile-friendly with responsive design, too.
For newsletters and landing pages, just use the drag-and-drop templates. You can also send SMS messages or transactional emails using a similar setup.
Marketing Automation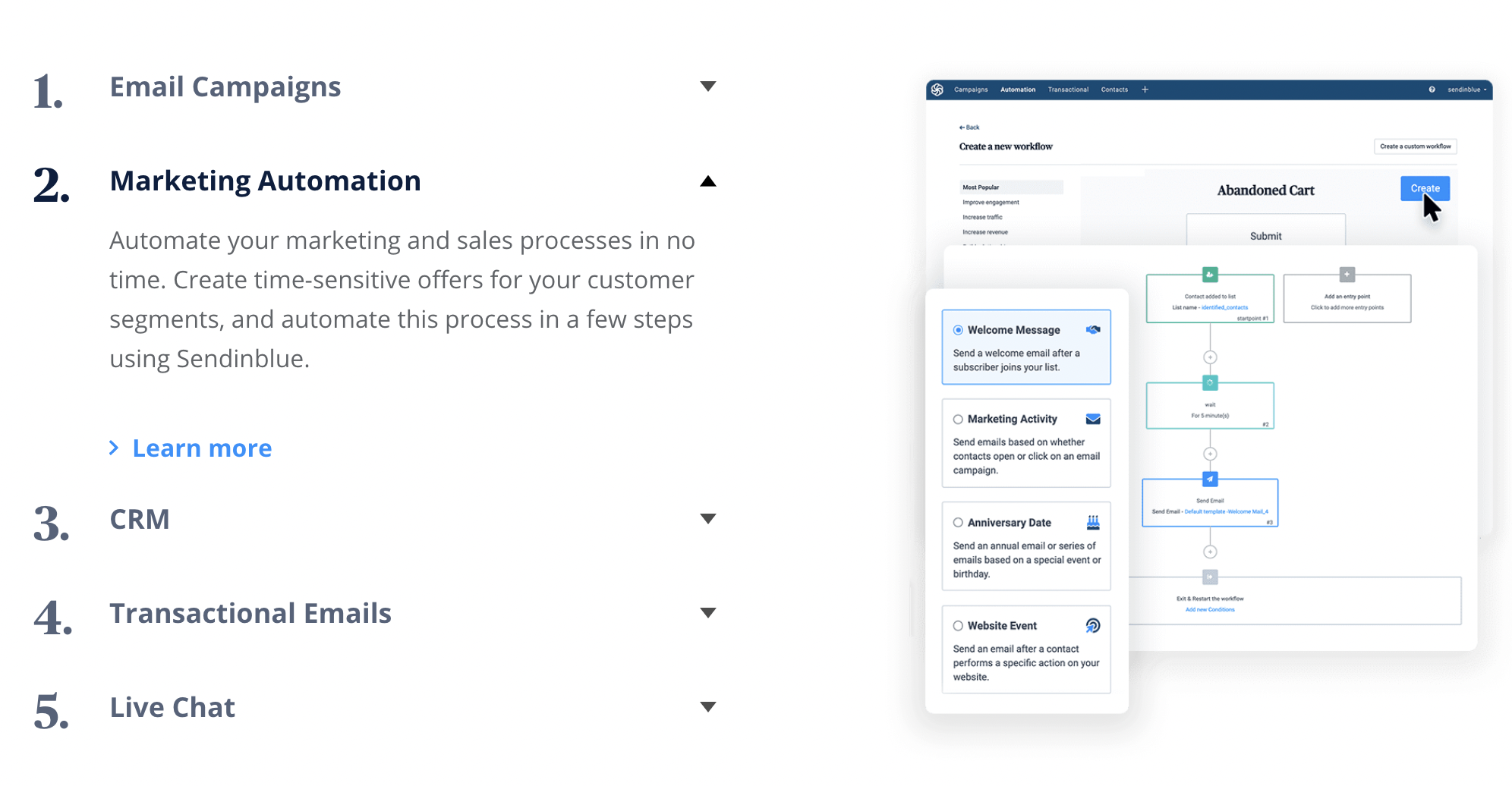 The marketing automation tools are helpful for new businesses who want to focus on drip campaigns. There are a variety of templates for different triggers (welcome message, abandoned cart, etc.) Just fill out the template, include your conditions, and user actions trigger the messages.
Unlike many alternatives, Sendinblue includes tons of automation features for emails, SMS, contacts, and data.
CRM
Sendinblue's CRM isn't comprehensive, but it's more than most email marketing tools provide. The service tracks customer interactions so you can set up automations and campaigns based on those actions.
Integration
If these features aren't enough for your needs, you'll be happy to see that Sendinblue also integrates well with a number of other applications and tools. It works with Shopify, BigCommerce, Ninja Forms, Zenkit, Stripe, Google Analytics, Gmail, and more. There's also a WordPress plugin that works remarkably well.
Overall, Sendinblue's features are pretty extensive, especially for the price (which we'll get to later). Once you get past the initial set up phase, you'll probably be impressed by all the system has to offer.
Sendinblue User Reviews
Most Sendinblue reviews are positive, but there are a few average or negative reviews that mention technical glitches or difficulties with tech support. However, those reviews are older, and Sendinblue changed a few things in the past year. Here are a few of the most recent reviews, which are all overwhelmingly positive.
I really like the campaigns as well as the automation capabilities of this mailing application. It is effective. A very important factor I would like to point out is that the user interface of this application so simple and easy to navigate things. I've found this highly effective, although not massively complicated and sophisticated. They provide you with some really good basic starters, however, you can start from the beginning as well. Layout, design works well. I additionally find Sendinblue help support reaction very suitable when it comes to response time. --Rohit K., G2
Easy to use, easy to scale and affordably priced. I've used a number of CRM and mailing platforms. If you don't need all the CRM features but want to have email automation and drip campaigns SendinBlue is a great solution. --Rick H., G2
Sendinblue has come a long way since our last test. From standout automation controls to wading into SMS marketing, this is now a mature and flexible platform that can be had for a very reasonable price. That's a lot of work in a little over a year, and certainly earns it an Editors' Choice nod. --Gadjo Sevilla, PCMag
Sendinblue Pricing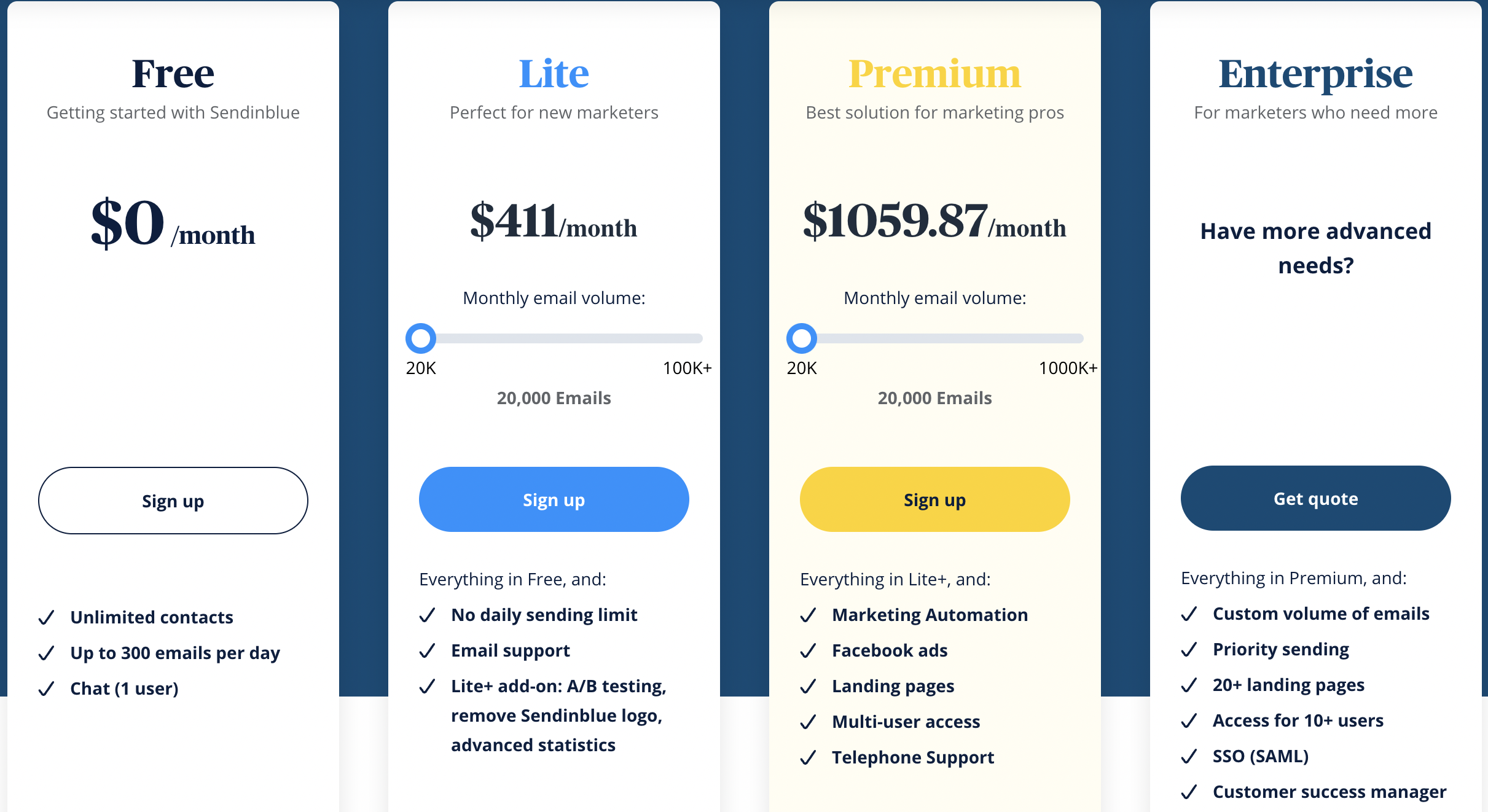 Most users will appreciate Sendinblue's pricing—both the overall cost and the pricing structure.
Most email marketing tools set their pricing tiers based on both the number of subscribers you have as well as the number of emails you send. Because both criteria determine your total price, it's often difficult to estimate the cost as your list grows.
Sendinblue doesn't charge extra for subscribers. Even the free plan includes unlimited contacts. You will, however, pay more if you send over 300 emails per day. In fact, it seems that the pricing tiers are almost entirely based around the number of emails you send each month, which is helpful when you're budgeting. Of course, the higher tiers also include other features, like phone support and A/B testing. The free plan doesn't include anything extra, but it's a great option for new businesses.
The pricing tiers and features include:
Free: $0/month (unlimited contacts, 300 emails per day)

Lite: $25+/month (unlimited contacts, unlimited emails per day, email support, advanced statistics, removes Sendinblue logo, A/B testing)

Premium: $65+/month (Lite features plus marketing automation, Facebook ads, landing pages, multi-user access, and telephone support)

Enterprise: Custom quote (Premium features plus priority sending, 20+ landing pages, 10+ users, SSO, customer success manager, priority support, and more)
Alternatives to Sendinblue
There are a few popular alternatives for email marketing. If you're looking for a comparable service to Sendinblue, here are a couple to consider:
Mailerlite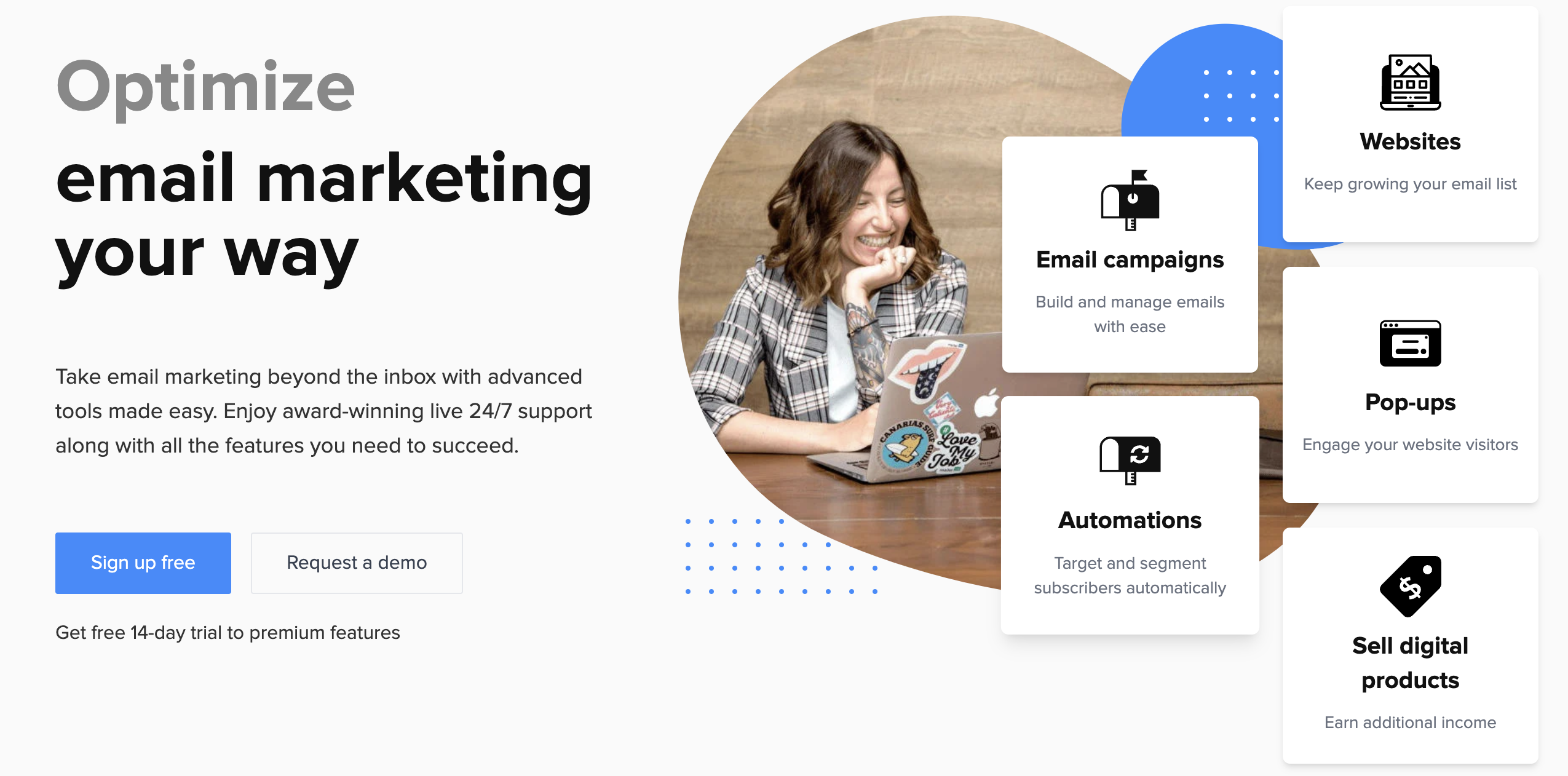 Mailerlite is one of the most comparable services, both in pricing and features. The free plan is pretty great, and the pricing is inexpensive, even for the higher tiers. However, it's just an email marketing tool. Unlike Sendinblue, Mailerlite doesn't have CRM, chat, or SMS messaging. It's also limited when it comes to automation tools and marketing campaigns. And, once you get past 3,000 subscribers, it's actually more expensive. But when you're just starting out and every penny counts, Mailerlite may be the better option if you don't need all the extra features.
Mailchimp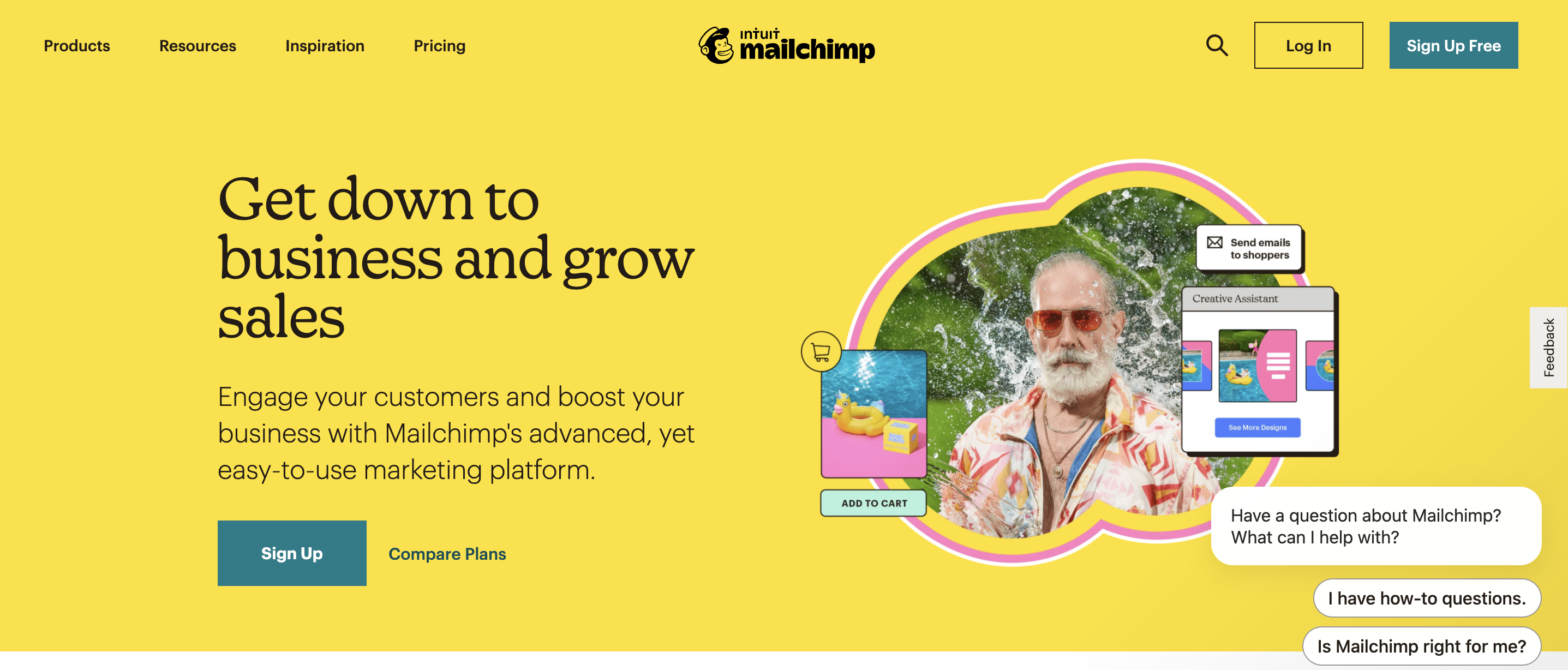 MailChimp is similar to Sendinblue, and it's one of the more popular email marketing tools available. You can use it to send emails and automate messages, create targeted ad campaigns, generate reports and analytics, and build landing pages.
The email editor is pretty easy to use and is most likely why so many businesses subscribe to the service. The free plan includes quite a few features, as well. However, Sendinblue is a bit more robust when it comes to automation and list management. Users report fewer tech issues with Mailchimp, though.
If price is your primary concern, Sendinblue is the answer. It's considerably cheaper than Mailchimp, particularly at the higher tiers.
Creating Email Marketing Content
No matter which email marketing tool you use, your content is what really matters. A powerful email marketing campaign includes strong writing that creates a cohesive image for your brand—and convinces your readers to become customers.
Scripted can help. Our Fully Managed service includes everything you need to create a great email marketing campaign. We do everything from strategy to writing to analytics.
We also have a team of expert writers who are skilled in a variety of niches. Just sort by industry to find ones who fit your needs.
Ready to get started? Just sign up here.