Top 10 Dating Websites By Organic Traffic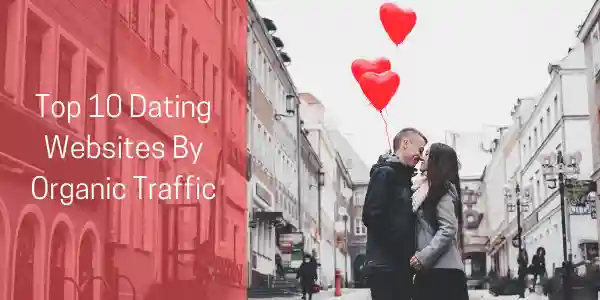 According to the Pew Research Center, about 30% of U.S. adults use online dating websites and apps. When you focus on specific age groups and sexual orientations, though, you see a significant jump in dating website adoption. About 55% of LGBTQ+ people use dating websites. About 48% of people ages 18 to 29 use them.
You probably recognize the names of the top 10 dating websites by organic traffic. They have become popular destinations for singles (and some not-so singles) to find everything from hook-ups to lifelong relationships.
Before you can increase organic traffic to your relationship website, take some time to look at the most popular destinations to see how they attract so many people.
What Is a Dating Website?
Dating websites provide services that help people find each other for romantic or sexual experiences. Most of the sites ask members to create profiles and answer questions about themselves. Algorithms use answers to connect people likely to enjoy each other's company.
Dating websites often distinguish themselves by:
1. Badoo

Badoo is an international dating site with headquarters in the U.S., Russia, Cyprus, and United Kingdom. The dating website and app have nearly 500 million members. Many people enjoy the service because it offers video chat, a search that focuses on the user's area, a general search feature, and a "swipe-left/swipe-right" feature that notifies members when they match.
Stellar Content From Badoo:
What Makes Badoo So Successful?
Badoo publishes a blog called "The Truth" that discusses topics like dating trends, dating tips, and new features for the site. Badoo adds content frequently to keep members interested. "The Truth" also excels at providing straightforward advice for people looking for help while they date.
2. Plenty of Fish (POF)
POF has been helping people connect since 2003, making it one of the oldest platforms for singles. Much of the site's traffic probably comes from POF's reputation, especially among people in the U.S., Canada, U.K., Australia, and New Zealand. Still, it also gets an increase in organic traffic from a blog that posts meaningful and fun content.
Stellar Content From Plenty of Fish:
What Makes Plenty of Fish So Successful?
POF's blog "The Latest Catch" stands out for taking its users' needs seriously. Writers cover serious topics like how to stay safe when dating someone you met online. During the pandemic, the blog published several articles about the challenges of dating and feeling lonely throughout a global crisis. "The Latest Catch" isn't always serious, though. It also connects with readers who want fun, adventurous dating ideas.
3. Tinder

Tinder has a reputation as a "hook-up" app, but members can choose to use it how they please. Still, it made the "swipe" concept popular, so it will always have that feature connected to it.
Stellar Content From Tinder:
What Makes Tinder So Successful?
Despite Tinder's reputation, its blog "Swipe Life" gives readers surprisingly good information about modern dating. It also provides stories from real users and offers a growing list of videos.
4. Match.com
Match.com is the second-oldest dating website (Kiss.com beat it by one year). Since 1995, Match.com has helped millions of its members connect with compatible people to form long-term relationships.
Stellar Content From Match.com:
What Makes Match.com So Successful?
Match.com publishes a blog called "Heartbeat" that posts new articles a couple of times per month. Although Heartbeat doesn't update its content often, it attracts readers by keeping up with the latest dating trends.
5. OkCupid

OkCupid has had some ups and downs since it emerged in 2004. OkCupid asks users to answer a lot of questions, which it claims helps the algorithm match compatible people.
Stellar Content From OkCupid:
What Makes OkCupid So Successful?
OkCupid's blog mostly posts articles based on data the company draws from its profiles. It gives users unique insight into what makes profiles appealing or unappealing. It's also a fun read for people who like evidence-based, well-written articles.
6. Zoosk
Zoosk isn't that popular among Americans, but it has about 40 million members around the world.
Stellar Content From Zoosk:
What Makes Zoosk So Successful?
Zoosk's blog, "The Datemix," has something for everyone, whether you're looking to start dating, getting over a breakup, or trying to make your profile more appealing.
7. Ashley Madison
Ashley Madison takes a unique approach to dating. It doesn't want to foster relationships. It wants to help married people connect for extramarital affairs. Considering that the service has about 60 million members, the strategy seems to work.
Stellar Content From Ashley Madison:
What Makes Ashley Madison So Successful?
Surprisingly, Ashley Madison doesn't always publish posts about keeping affairs secret. It also covers topics like safety and adding spice to your sex life. But it mostly posts about affairs, which is presumably what the readers want to read.
8. Coffee Meets Bagel
Coffee Meets Bagel targets educated singles who want to meet interesting people. It takes a firm stance against "swiping culture" and focuses on building authentic, rewarding relationships.
Stellar Content From Coffee Meets Bagel:
What Makes Coffee Meets Bagel So Successful?
The CMB blog offers diverse content based on area, sexual orientation, dating tips, statistics, and user narratives. Practically anyone can find something useful on this blog, which makes it a good read and a useful way to increase organic traffic.
9. eHarmony
eHarmony wants to bring people together for long-term relationships. It also has a separate service, Compatible Partners, for same-sex matches.
Stellar Content From eHarmony:
What Makes eHarmony So Successful?
eHarmony's blog follows excellent SEO practices. It's full of keywords, catchy headlines, useful information, and links to reliable sources.
10. Bumble
Bumble is the second-most popular dating app in the U.S., which is impressive since it was founded in 2014.
Stellar Content From Bumble:
What Makes Bumble So Successful?
Bumble's spectacular blog probably plays a role in the company's success. It has an impressive design, useful articles that target several demographics, and narratives from real users. It's one of the most enjoyable blogs made by a dating website.
Hire Content Writers to Increase Organic Traffic to Your Website
Established dating websites have brand recognition that helps them stay popular. You need excellent content to increase organic traffic and convince more people to follow your site. Scripted makes it easy for you to hire experienced relationship writers. The platform will also help you order content, request revisions, track projects, and build a team of your most-trusted content creators.
Get started with Scripted today to reap the benefits of great content and drive more traffic to your website!

---
Published by
Carolyn Heard
on Tuesday, March 23, 2021
in
Dating
,
Organic
,
Website
,
Ashley Madison
,
Badoo
,
Bumble
,
Coffee Meets Bagel
,
E Harmony
,
Match.Com
,
Ok Cupid
,
Plenty Of Fish
,
Tinder
,
Zoosk
.