Funny Memorable Holiday Promos and Ads
We look forward to the holidays each year for innumerable reasons. Seasonal drinks, the exchange of gifts, unforgettable gatherings—the list goes on. But let's face it, there's something holiday-ish that we tend to take for granted—festive advertisements.  
Brands all over the country (and beyond) have made it an annual tradition to get creative with their promotions. Some of these campaigns are downright punny (i.e., it's the most wine-derful time of the year—grab your merlots at half price), while others are original knee-slappers.
Laughter is one effective way to cope with stressful global situations. 2021's holiday ads have featured themes of sweet reunions, joy, and general optimism for fresh beginnings.  
We'll take a look at some of the most hilarious and memorable holiday promos this year, alongside some timeless classics. While the delivery methods may change, the goal remains—ringing in the holiday cheer and outdoing the efforts of last year!
British supermarket chain Waitrose outdid itself with this cheeky ad featuring Ashley Jensen of Extras fame. The minute-long clip begins with an innocuous scene with Jensen receiving an enameled plate bearing the words "To My Favorite Aunt." 
You'd think it's a public service announcement about bonding with loved ones—but as the video rolls, we witness Jensen obsessing over Waitrose's delights with a straight face. She even declares that she ate all of the stuffing during one unapologetic moment. You probably guessed what's the "best bit of Christmas." Hint: it's not hanging out with dear nieces.  
Christmas traditions always bring people together regardless of whether it's 2021 or 2121. That's the bottom line in the latest Xmas ad by Lidl, an international discount retailer. The comical ad features a futuristic family going through an endless loop of festive dining with humorous repetition—one party guest carves a turkey with a lightsaber tool, no less. 
The over-the-top ad emphasizes its campaign line—"big on quality, and always Lidl (holiday pun checked) on price. And we mean always." Sometimes that's how you etch your unique brand value into the minds of your holiday audience through pure unmitigated absurdity. 
A hilarious and effective holiday ad doesn't have to be complicated. At times, it's as simple as the prospect of having your dog's adorable face printed on a beer can. Considering how the brand dominates marketing, they don't call Budweiser the king of beers for nothing. It's funny, festive, and effective. 
So, does Buddy have what it takes to be the next big thing?
The holidays evoke laughter and smiles, and there's a story behind every smile. That's the theme that this peculiar ad explores in a silly but familiar way. The video features a lonely zookeeper who spends time watching online videos at the zoo, which snags the attention of an unlikely companion—a smiling/snarling full-grown hyena. 
An odd couple develops an unbreakable bond over a passion for online videos—such is the season of caring and giving, even under utterly wacky circumstances.  
Home Alone is the mother of all Christmas movies. In Chase Freedom's parody ad, we see Catherine O'Hara reprise her role as the mother of Kevin (the Home Alone wunderkind protagonist). She re-enacts an iconic scene where she shouts for her son at the top of her lungs while doing her Xmas shopping. 
Instead, funnyman Kevin Hart randomly appears and introduces Chase Freedom's cashback perks. It's home-age (we had to do it) to a festive classic and gets the promotional message across with a good chuckle.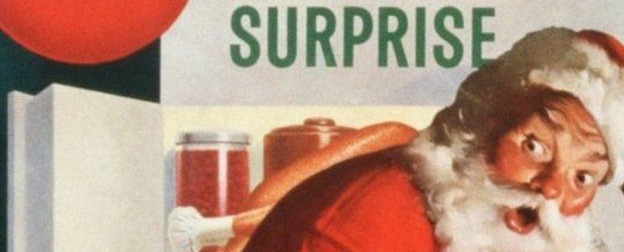 Now, we take a trip down memory lane to visit two funny iconic Xmas promos that left a lasting impression. First up, there's Coca-Cola's rendition of the "I Saw Mummy Kissing Santa Claus" controversy. The vintage artwork depicted jolly old Santa helping himself to a soda and being caught red-handed by a little boy. 
The hilarity lies in the expression of the characters—with poor Santa flustered and the cheeky kid having a one-up that he could cash in at a later date.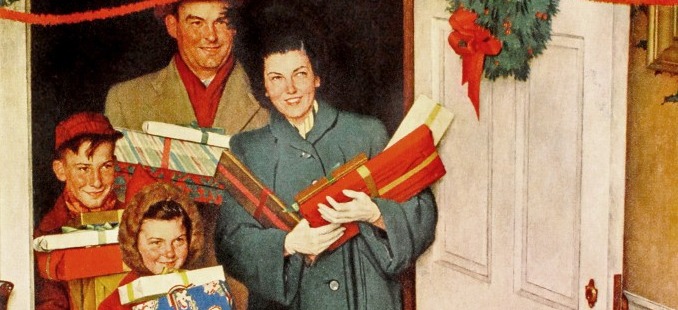 Our second throwback holiday ad involves little subtlety or tact. In fact, Plymouth's (a vintage range of automobiles by Chrysler) took a bold approach off the charts. At the time, owning a Plymouth represented an excellent year for working-class families. So visiting loved ones in the said vehicle was a laudable achievement. 
As with the previous still promo, an exaggerated expression behind the character's faces told the tale. In this case, a boy shouts the brand promo while the rest of the family looks on in eager anticipation. Consider this an early example of breaking the fourth wall. It's so direct and undisguised that it's funny. 
If you are seeking talented writers for SEO, video scripts, or social media posts to increase traffic for your brand this season—Scripted is the place to be. We feature some of the most experienced writers ready to elevate your content marketing strategy to new heights. Browse for your rockstar writer today!