8 Helpful Resources for Freelance Writers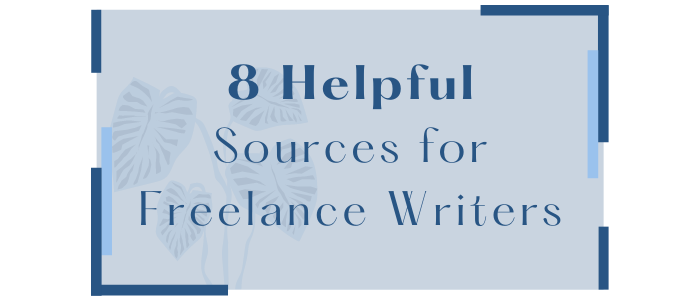 Becoming a successful freelance writer is like living the dream for many. You get to be your own boss, have your own schedule, and work from home, the beach, or even from another country. If you live in New York, for example, freelance writing gives you the flexibility to escape the bitter winters and say hello to warm, sunny Los Angeles, Mexico, or Costa Rica.
Freelancing is also a great opportunity to make money on the side without interrupting your main income stream or other interests. For this reason, freelance writing jobs are great for college students, stay-at-home parents, and anyone who doesn't want to work their 9-5 forever.
But entering the laptop lifestyle is not as easy as clicking your heels three times and declaring yourself a freelance writer.
Beginner writers often struggle with finding writing jobs and knowing what to charge for their work. Even established, expert writers must learn how to grow and scale their businesses.
Plus, since this career has such a flexible schedule, it's important to maintain motivation and inspiration, avoid distractions while working, and know how to overcome the dreaded writer's block.
If you're looking to maximize your writing income while fine-tuning your writing skills, you'll find a plethora of writing tips and inspiration in each of these outstanding resources.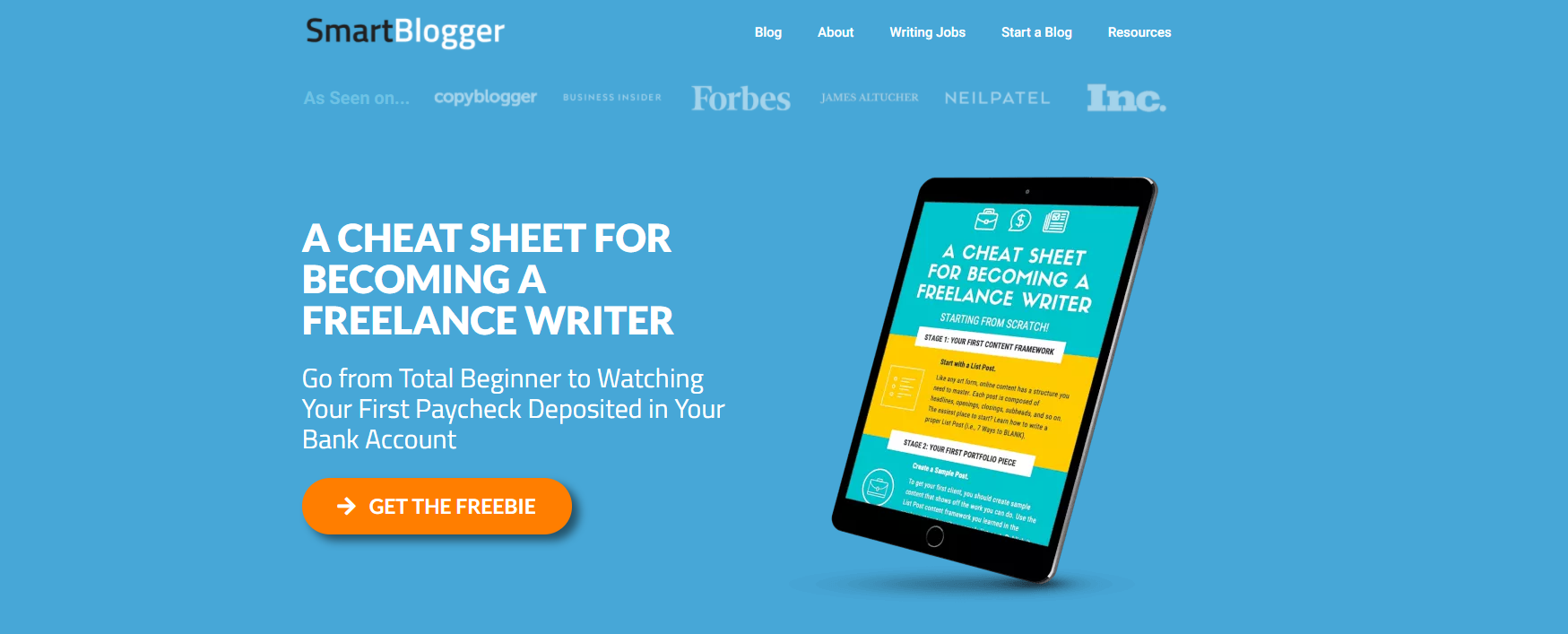 SmartBlogger is one of the largest, most well-known platforms dedicated to writing and blogging. The founder, CEO, and "His Royal Awesomeness" Jon Morrow heads a team of editors, instructors, and assistants and also writes many of the articles himself.
They offer courses to help freelance writers develop skills and find well-paid work, but you can also browse their website for free cheat sheets and blog posts about everything from grammar and power words to starting a blog and affiliate marketing.
SmartBlogger stands out because of its step-by-step, detailed approach to articles. Plus, every bit of content on their site is an example of solid writing that's interesting and easy to read.
As they've been publishing since 2012, they have thousands of articles, informational pages, tutorials, and free courses on their site. You could browse for days and learn a ton. To help writers navigate their way through their web pages, they feature their most popular blog posts on their home page. Loads of inspiration here!
Articles we recommend include 583 Sensory Words to Take Your Writing from Bland to Brilliant and 801+ Power Words That Pack a Punch & Convert like Crazy. Incorporating some of these words into your writing will instantly make it more inviting. And scroll down to the footer where you'll find "Best of the Blog" and article types, like content writing, categorized in the "Learn" section.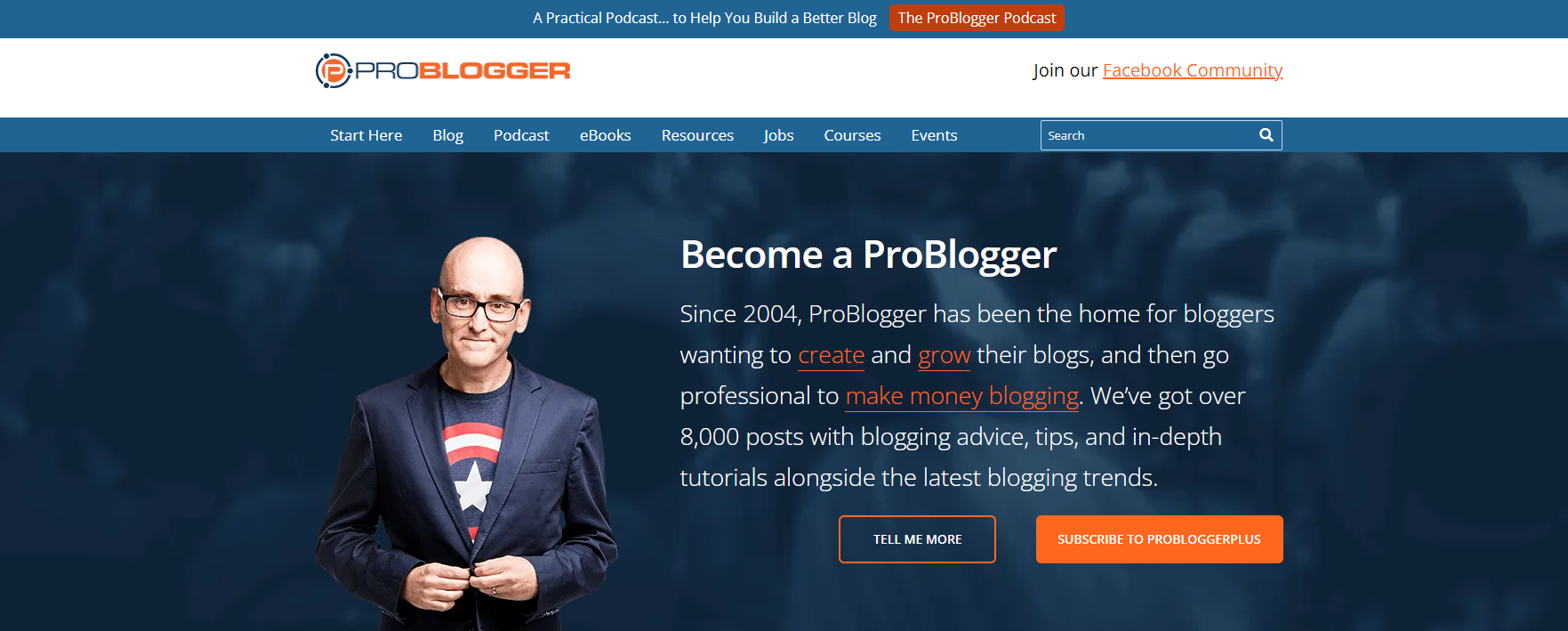 ProBlogger is another well-known website dedicated to bloggers and freelance writers. Darren Rowse runs the site, and he's arguably one of the first and most well-known big names in blogging.
ProBlogger features over 8000 articles with general content writing advice plus specific types of writing like social media and landing pages. He also offers information on search engine optimization (SEO), white papers, and much more. On top of that, ProBlogger includes a job board, a list of recommended resources and tools for blogging, plus a search bar and a "Start Here" section for easy navigation.
If you're out and about a lot — or busy writing — listening to their podcast while getting some exercise or taking a break is an easy way to learn more about writing, sharpen your skills, and get a big dose of inspiration at the same time. 
Medium bills itself as the place to read, write, and interact with interesting stories. But it's also a great place for freelance writers because it features seemingly endless posts about developing your writing talents, writing for people as well as search engines, and building a robust client base.
You can also post your own articles on Medium and potentially get paid via the Medium Partner Program. They calculate payments according to the time people spend reading your articles, so if you produce engaging content and build an audience, you can earn money by publishing here.
If you're thinking about writing for Medium, scan their homepage regularly to see which topics are popular at the moment. It's no coincidence that top articles have catchy, well-written headlines that pique the reader's curiosity. You can learn a lot about writing simply by reading and analyzing the best articles they offer.
While you're at it, search Medium for the phrase "freelance writing." This will return a slew of helpful articles on building an audience, finding jobs, and scaling your freelance writing business.

Copyhackers is headed by copywriter Joanna Wiebe, and the focus is on conversion copy. This is a specialized type of writing used in marketing that "converts" readers into buyers or convinces them to respond to a "call to action" (CTA) such as signing up for a free webinar or subscribing. Conversion copywriting is an incredibly important skill because writers who master it find it easy to get jobs.
The website hosts a ton of useful content, which is neatly organized into articles, videos, and resources. You'll also find an option to sign up for Copyhackers training, which covers a broad range of skills including building sales funnels and getting started with Facebook advertising.
We recommend checking out their library of popular content such as How to Do Amazon Review Mining or How to write copy: A copywriting crash course by Mad Men.
If you need a break from chasing writing jobs and creating blog posts, head to Longreads for well-researched, topical feature articles. They're longer than what you'd typically find on news websites and give you a chance to sink your teeth into a subject.
They cover broad, often controversial topics such as education, politics, and gender roles as well as science, nature, social issues, and many others. As the saying goes, writers are only as good as what they read, and you'll easily find your favorite subjects here and even a few you've never heard of.

Digital Marketer features more than just writing, but it offers a wealth of advice about copywriting and content creation for freelance writers. Many posts teach specific skills such as how to write an attention-grabbing headline or the best way to track your writing project's progress.
Check out these two articles: 101 Best Email Subject Lines of 2020 or The Top 3 Most Profitable Copywriting Positions.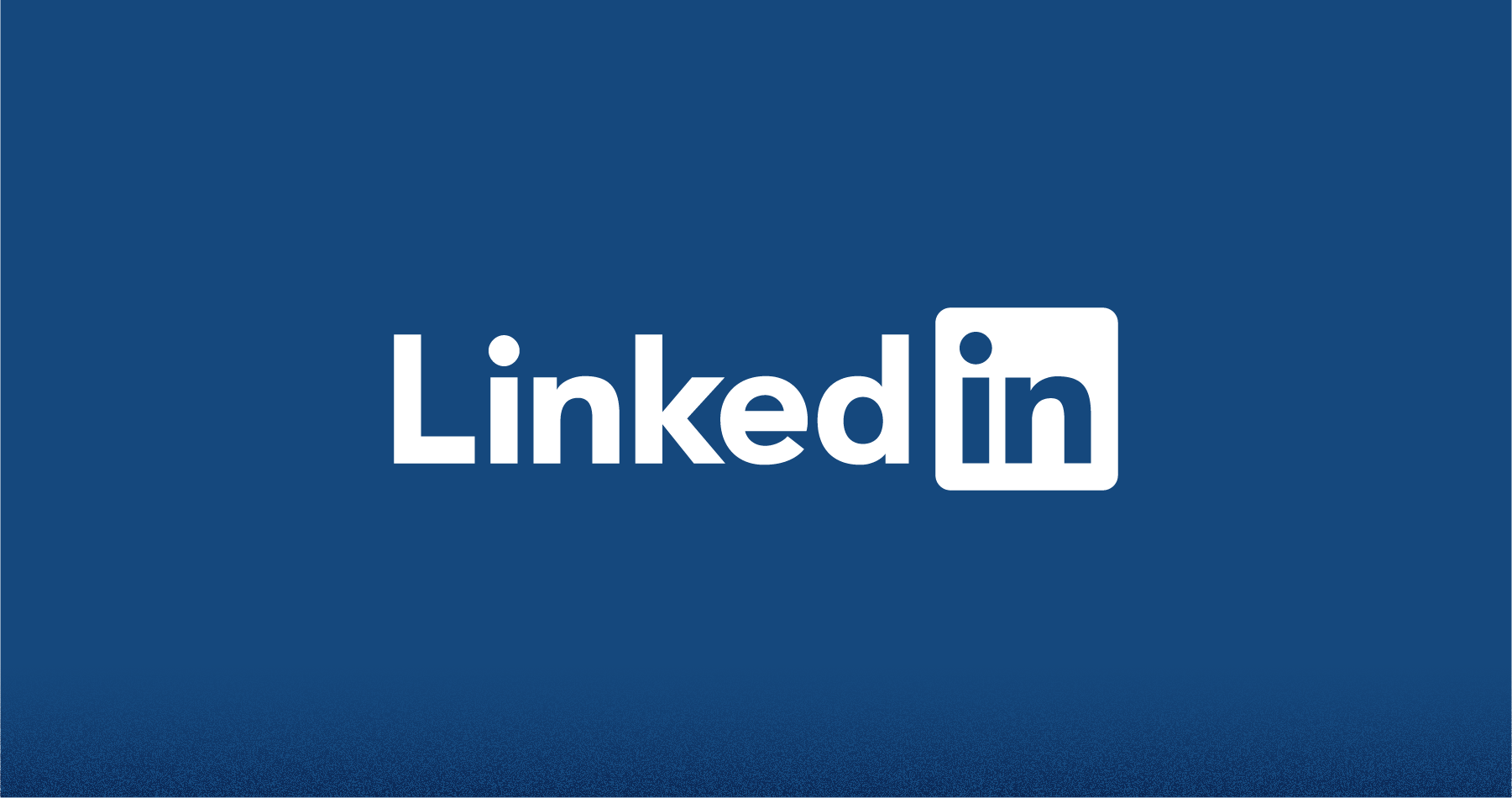 Linkedin is the ultimate platform for networking and making contacts in almost every industry including writing. If you're just starting out as a freelance writer, connecting with other writers is a great way to get your name out there.
If you're new to using LinkedIn as a networking tool, make sure your profile clearly states the type of writing you specialize in whether you're a technical writer, content writer, or experienced author. If you're not sure of your specialization, just pick an industry and try it out. You can always change it as you gain experience in another field.
Be sure to highlight your freelance writing experience whether it's landing pages, blog writing, or editing. You can also create a portfolio of your best work.
Next, consider how your profile appears to others. A professional photo and a brief paragraph about your writing skills and experience will make readers interested in what you offer and hiring you. Check out Copyhackers (above) for tips on conversion copywriting.
Once your profile is up to date, reach out to your current contacts and ask if they need help with their projects. It's much easier to find work by asking people who already know, like, and trust you than approaching strangers.
And be sure to connect with other freelance writers and read their articles. It's always a good idea to cultivate multiple contacts for networking.
LinkedIn has many large groups dedicated to freelance writing. For example, their group for freelance science writers has over 2,000 members. You'll find loads of inspiration here and in other groups.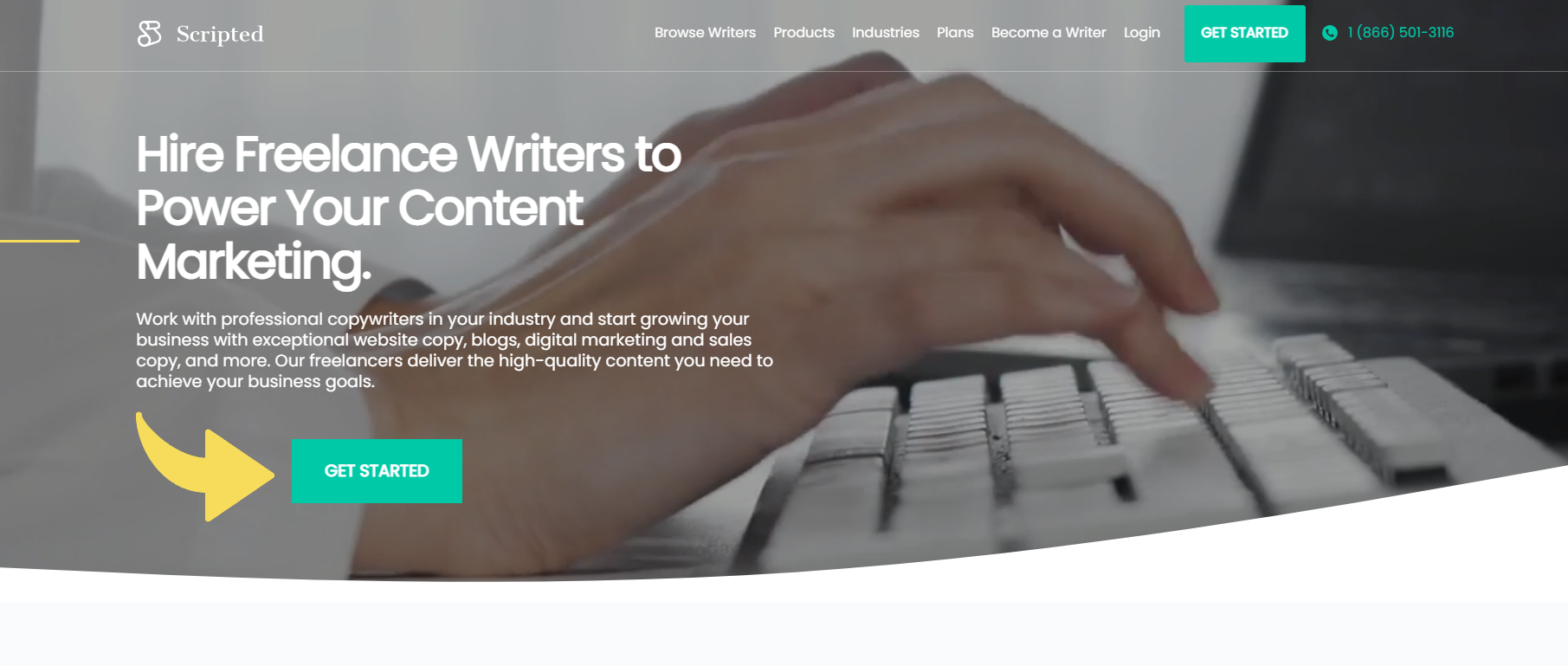 Scripted publishes a weekly article about trends in content marketing and other useful information such as How to Get Hired as a Writer.
It's one of the best places for writers to find freelance writing jobs and businesses to find top talent.
We only work with high-quality, vetted writers who are truly passionate about what they do, so you can be sure that the writers on our platform can handle any writing job with ease. Businesses can be confident in their ability to create great content when working with us.
Once you've signed up for a trial, our experts will help to determine the best writer for your job based on their skills and experience.
Next, we carefully review the work to make sure it's well-written, error-free, and fits the requirements.
We then send the work to the client and ask for feedback.
To experience what we offer your business, visit our writer profiles.