Hiring a Relationship Blogger: The Step-By-Step Guide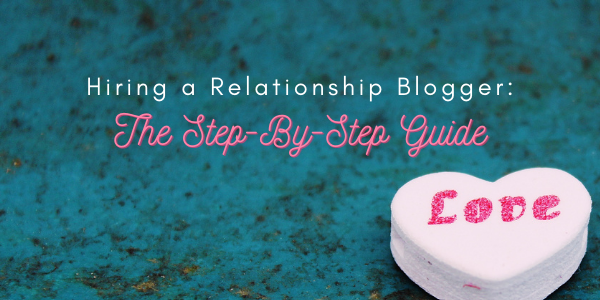 Statistics show that the world needs plenty of relationship advice:
75% of daters

say that their dating lives over the past year have been very difficult or somewhat difficult.

67% of daters say that their dating lives, overall, are going not too well or not well at all.

31% of all U.S. adults

are single.

Although 15% of single U.S. adults are looking for relationships, an equal percentage is not looking.
While millions of people around the world struggle to find partners, millions more want to improve the relationships they already have. The desire to build a loving relationship has created several industries that cater to single and partnered people. Whether you work as a couples counselor, dating app manager, advice columnist, or attorney, you need helpful, professional content that can reach your target audience and convert them into customers.
The Benefits of Hiring a Relationship Blogger
Bad advice can cause a lot of harm in a relationship. You don't want to make your website or company responsible for failed romances and hurt feelings. Hiring a relationship expert helps ensure that people get useful, positive advice that will improve their lives.
The benefits of hiring a relationship writer don't end at helping more people, though. Finding the right content creator can also improve your website's success in the following ways.
Increased Traffic From Better SEO

Today's writers understand the importance of search engine optimization (SEO). Good SEO helps attract search engine crawlers, improve your site's ranking, and increase traffic to your pages. Some of the common approaches to SEO that you can expect from a relationship writer include:
Choosing keywords that will help search engines match content with queries.

Writing titles and headers that include keywords.

Linking to internal pages to increase the amount of time visitors stay on your site.

Writing meta descriptions that will encourage people to click your links.
Recommended reading: Top 10 SEO Content Writing Services
Improved Industry Authority
You want other websites and companies in the relationships sector to see your material as authoritative content that they can trust. The more authority you gain, the more likely it becomes that other websites will link to your posts. Eventually, this will make your website more appealing to search engines.
Better Quality Posts
A relationship counselor might know the best advice to give someone struggling to find love. Unfortunately, knowledge doesn't always mean that a professional knows how to write well. Hiring a professional relationship writer ensures that your website communicates ideas accurately in ways that your target audience understands. 
Get Results While Saving Time
Do you have time to do your job and create content for your website? Hire a relationship writer so you have more time to focus on the things you do best.
The Step-by-Step Hiring Process
Now that you know the benefits of hiring a relationship writer, you need to know how to find the perfect person for your brand. The following steps should lead you to a person who can create thoughtful, engaging content that appeals to readers and boosts your page rankings.
Step 1: Focus on Finding an Experienced, Knowledgeable Writer
You need a relationship writer with experience in your industry. Search for people who have published blog posts and articles about topics like dating, marriage, and divorce. You don't necessarily need someone with a degree in counseling—although you might look for that if you want to promote a counseling center. You do, however, need to see evidence that someone has ample experience writing about the topics your readers want to see.
Your Next Step: Review writer profiles to find someone with the experience and knowledge you need.
Step 2: Read Writing Samples to Find Someone With the Right Voice for Your Brand
Writing samples demonstrate a writer's ability to mimic brand voices. Do you want to give your readers some tough love that will get them to change their behaviors? You might look for a writer who addresses readers straightforwardly and doesn't mince words. Do you want to take a soft approach that gently encourages readers to think differently? In that case, you might need to find writers who can show you samples written from an empathetic perspective.
Writing samples will also help you identify content creators who know how to write well. If you find a lot of spelling or grammar mistakes, you should probably remove that person from your list and move on to the next option. You don't want to waste time cleaning up someone else's writing, especially when you pay them for professional content.
Your Next Step: Read the writing samples of several writers to find someone with a voice that represents your brand identity.
Step 3: Ask Qualified Writers to Submit Proposals
You can choose to come up with ideas for your website, or you can ask writers to submit proposals. It often makes sense to ask qualified writers to submit ideas because it gives you a chance to review their knowledge of the topics you want to cover.
Your Next Step: Review proposals to choose ideas that will appeal to your audience.
Step 4: Request Your First Post
Once you have a writer you believe can do the job well, ask them to produce one blog post. This test will show you whether the person can live up to your expectations. If you like the results, you can keep working with the writer. If you're disappointed, find someone else instead of spending time working with someone you don't trust.
Your Next Step: Ask one writer to produce an initial post for your blog.
Step 5: Offer Feedback and Fine-Tune Your Relationship
Even the best writers might need a little time to fine-tune their writing to match your voice. Give them feedback so they know what you did and didn't like. Never feel bashful to offer constructive criticism. Professional writers should know how to accept feedback and editing requests without feeling hurt or upset. They know that this is a critical part of forming long-term relationships with clients.
Your Next Step: Provide feedback that helps your writer create content that matches your tone perfectly.
Step 5: Build a Group of Committed Writers You Trust
Play it safe by finding a few writers you trust to create excellent content for your website and social media accounts. Even if you find one person with the knowledge and skills to write all of your posts, you must assume that they have other clients vying for their time, too. With a stable of talented writers, you'll have a backup when you need one.
Your Next Step: Curate a small group of writers to make sure you always have content when you need it.
Find a Relationship Writer on Scripted
You don't have to spend a lot of time vetting relationship writers for your website and social media accounts. Scripted makes it easy for you to hire a relationship writer who fits your unique needs. The platform lets you focus on writers with experience in relationship content. You can then narrow your options by customer ratings and writing samples.
Get started today so you can publish the content that your website needs to attract organic traffic and convert readers into followers and customers.