How Travel Brands Can Embrace User-Generated Content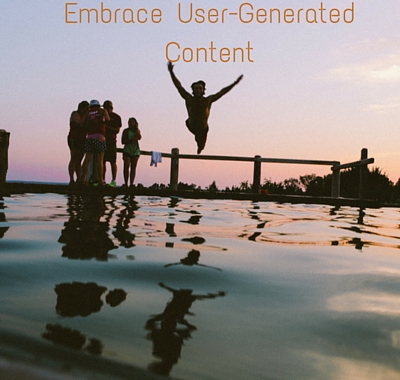 Travel brands, your users are already creating content for you. Here's how to get the most out of it.
There's a lot of information generated through social media use, and it's more important than ever that brands understand what it takes to turn that information into smart marketing campaigns. When used the right way, they can spread brand awareness in ways that million dollar marketing schemes might not be able to.
This kind of marketing, which involves social media and audience participation, is called user-generated content marketing, and it's one of the most powerful tools available to your company these days. The best way to show how great your product is to show off the ways in which real people are using it, wearing it, eating it, drinking it -- or just plain enjoying it. 83% of people
look to social networking
, video or photo sites for travel inspiration, while 92% of consumers around the world
trust word of mouth
over any other form of advertising. 70% of consumers around the world report that online consumer reviews are their second most trusted form of advertising.
Highlighting the customers who use and live your brand will make others excited about doing the same. So how can you incorporate more user-generated content in your strategy this summer? Here are some key ways that you can contribute to stellar branding and develop brand loyalty.
Inspire Customers
Travel industry brands use this method a lot. Travel is, in and of itself, an inspiring topic. Consumers who are interested in travel want to stretch their imagination, to be excited and to have their horizons expanded. Companies that take an interest or spark an interest in the imaginative aspect of human nature can make an impact on those people. Partner with hotels, restaurant chains, tour companies and other related businesses that can contribute and help collect images from consumers that represent inspiring travel situations.
South African Tourism (@GoToSouthAfrica) inspired an audience of international travelers. They encouraged people to participate in a #MeetSouthAfrica campaign on Instagram, in which travel bloggers set out to cover all nine provinces of South Africa. The bloggers posted their photos with the hashtag and generated more than 10,000 tweets from other users that were posting pictures and sharing about their experiences traveling to the same places.
Tailor Your Product to Your Customers
Many customers are dissuaded from certain decisions because they aren't sure they're making the right choice. What if it turns out that they don't like the travel destination they chose? What if they stand out and don't feel comfortable? What if language barriers are a problem?
You can employ user-generated content to help customers envision themselves in a variety of different situations this by featuring photographs of people in exotic locations that they might not have otherwise visited and telling the story of why they decided to go and how they got there. Or you can use stories of users who started out feeling uncertain about a trip and ended up having the time of their lives.
The #BookLoews campaign that Loews Hotel & Resorts launched in 2013 allowed users to book a room directly through Twitter without having to call or use online booking forms using the BookLoews hashtag. This gave customers a simple, personalized booking option that made them stand out from the crowd and also, through the social nature of the bookings, provided more opportunities for the company to use to promote their brand.
Find Your Biggest Fans
One of the best ways for businesses to use user-generated content is to find "super fans" that already exist in the world of social media. These super fans are basically existing brand ambassadors that can be put to use in advertising your brand to customers in a relatable and powerful way. You can find out who your super fans are by conducting Twitter contests are asking them to Instagram themselves in different travel locations or hotels. Then they can earn points for how quickly they complete these tasks and win prizes for it. It's a great way to flood your social media sites with user-generated content and also locate hardcore brand evangelists that might be people you can continue to collaborate with for life.
Let Your Customers Define the Product
Collaborative thinking is valuable, so it makes sense that tapping the collective creativity of a large community is a smart thing to do. There are lots of talented artists, designers, sketchers, musicians and other creative-minded folk among its fans. How about asking them to submit artistic interpretations of your brand or pieces inspired by your brand? Both parties benefit: Your company benefits from the beautiful work that promotes your brand, while the artists benefits from recognition, exposure and additions to their portfolios.
Lufthansa employed this technique when they launched the branded social media app
MySkyStatus
, which allows air travelers to log in and update social networks while on their flights. Customers can post photos and updates about arrival and departure times and more, and every update links people back to the Lufthansa MySkyStatus page so that they are promoting the airline with each post.
Travel companies are moving into a more nuanced understanding of social platforms, and right now the possibilities for using user-generated content to promote brands are endless. The more quickly your company can adapt to new technologies and creative strategies and integrate them into marketing plans, the sooner you can start reaping the benefits of these digital efforts.
Need content?