Top Medical Law Sites for Inspiration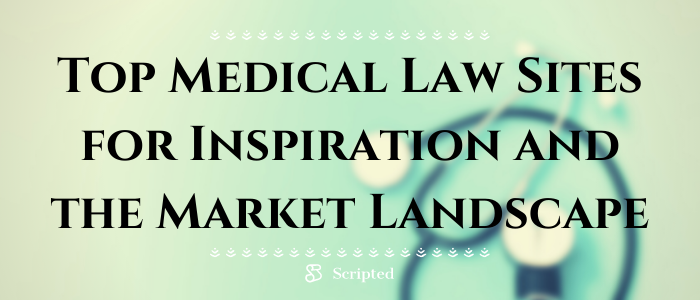 The healthcare industry is undergoing a radical transformation, driven by digital innovation and the pressure to respond to the demands of the COVID-19 pandemic. That transformation is creating new challenges for healthcare and life sciences organizations as they struggle to keep up with new technologies and changes in the laws and regulations that affect all areas of the healthcare industry. Medical law, or healthcare law, is a wide-ranging legal field designed to help healthcare professionals navigate those challenges. 
The top medical and healthcare law sites aim to connect healthcare and life sciences professionals with the resources they need to navigate legal, regulatory, and ethical issues in areas as diverse as medical malpractice, pharmaceutical research, patient rights, and regulatory oversight of care facilities.
Most of these sites are created and managed by leading law firms with special expertise in medical law, and they feature a rich mix of information, current news, and insights created with their very specialized audience of professionals in mind. Here's a look at ten of the most prominent medical law sites and how they succeed in serving their readership. They can teach you how to increase organic traffic and keep readers coming back for more information.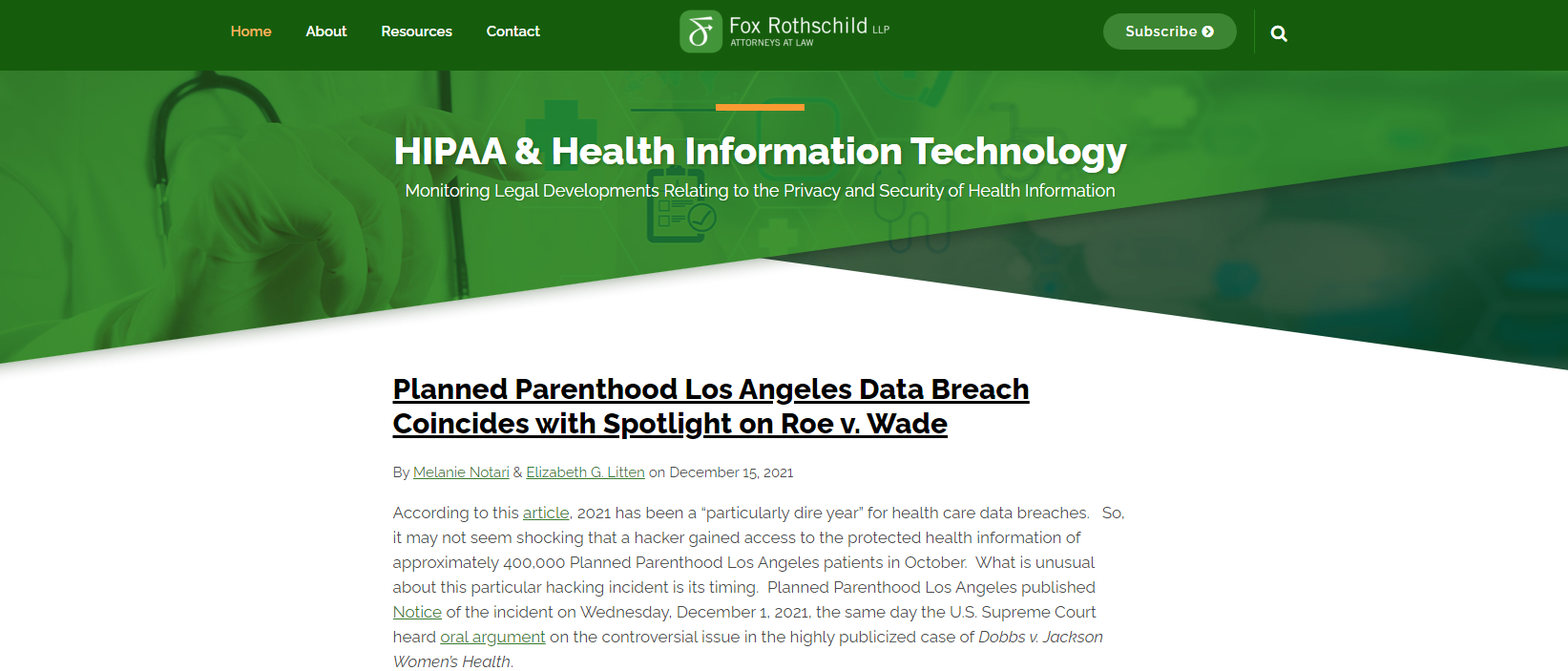 HIPAA & Health Information Technology is run by the US-based law firm Fox Rothschild, a multidisciplinary firm that offers counsel for healthcare facilities and doctors' groups. This site specializes in information and updates related to patient privacy laws, such as the Health Insurance Portability and Accountability Act (HIPAA), a federal law designed to protect patients' sensitive healthcare information. Recent articles focus on helping healthcare organizations to comply with HIPAA and similar regulations having to do with managing patient information across the spectrum of care.
 As the name suggests, HIPAA & Health Information Technology also features numerous articles on the role of technologies such as artificial intelligence and automation in managing health information. Recent posts discuss the use of AI in HIPAA compliance and the need for cybersecurity protocols to protect healthcare databases.
Why It Succeeds: HIPAA & Health Information Technology stands out as an authority in the highly specific niche of privacy law and data sharing. Its blog is written by Fox Rothschild's medical law attorneys, and its many articles and resources give readers the essential information they need to stay in compliance with HIPAA and other patient privacy regulations.

Created by the Health Law Partners firm of attorneys dedicated to providing legal counsel for healthcare organizations of all kinds, the Health Law Attorney blog features articles, news, and commentary on a broad range of topics such as healthcare legislation, regulatory requirements, patient rights, and other trending issues. 
Recent articles include updates on regulations related to COVID-19, the emergence of digital therapeutics and telemedicine, and licensing for anesthesia care. The site also includes a Resources section that lists publications, speeches, and other activities by Health Law Partners attorneys. 
Why It Succeeds: Health Law Attorney delivers lengthy, information-rich articles on specific laws and regulations that affect healthcare providers of all kinds. Its goal is to help healthcare professionals stay current about legal issues in a fast-moving and constantly changing landscape. All articles and posts are created by Health Law Partners attorneys who specialize in medical and healthcare law. By targeting its content to a highly specific audience, Health Law Attorney establishes itself as an authority in its niche.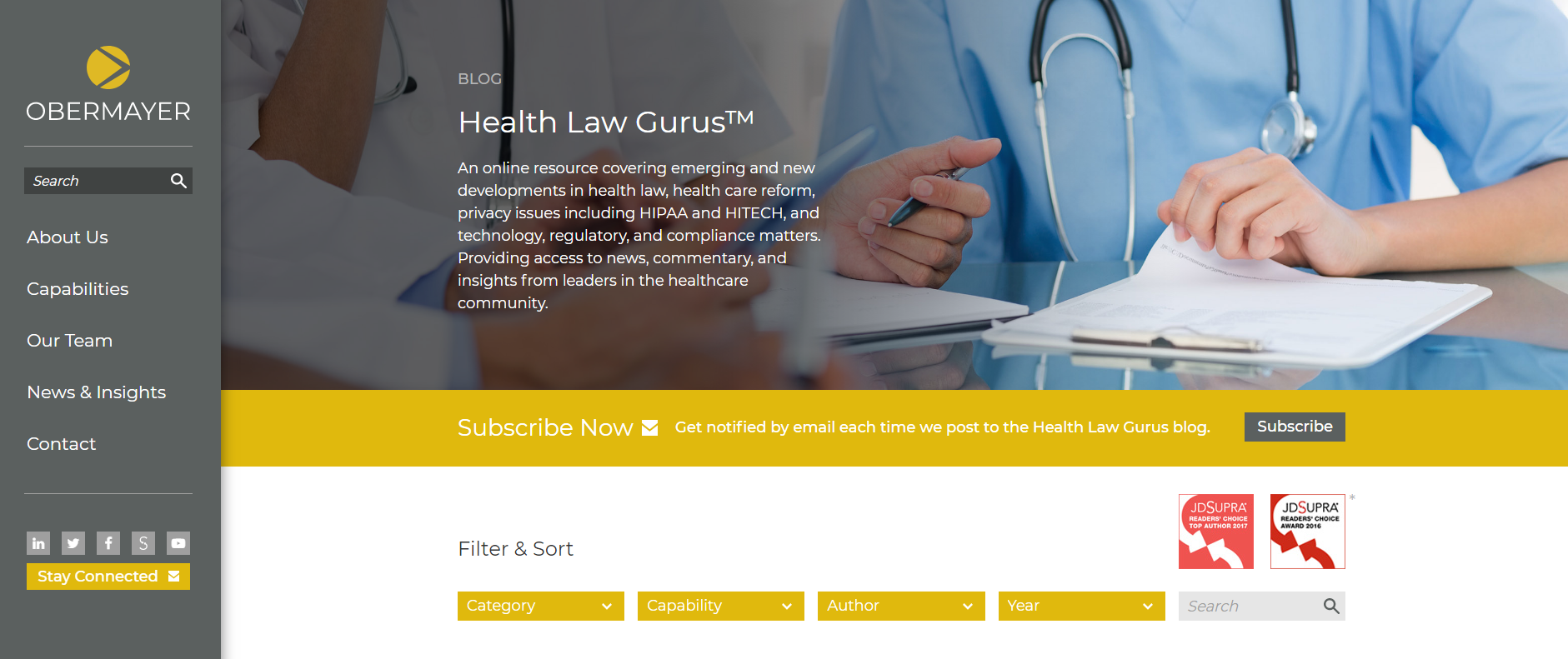 Health Law Gurus is a medical law resource created by the Philadelphia-based Obermayer law firm, which includes healthcare law among its many specialized practices. Health Law Gurus calls itself "an online resource covering emerging and new developments in health law, health care reform" and many other issues, with "insights from leaders in the healthcare community."
Written primarily by Obermayer attorneys, Health Law Gurus covers a wide range of topics that affect healthcare organizations and providers, including updates to patient privacy laws, COVID-19 vaccination issues, and healthcare-related bills and legislation.
Why It Succeeds: The Obermayer law firm is an established legal authority, and Health Law Gurus draws on that authority to provide well-researched articles and other resources on trending issues that concern healthcare professionals and providers. Health Law Gurus features news and analyses from a wide range of healthcare niches so that it serves a broader audience of health and medical specialists than many similar sites.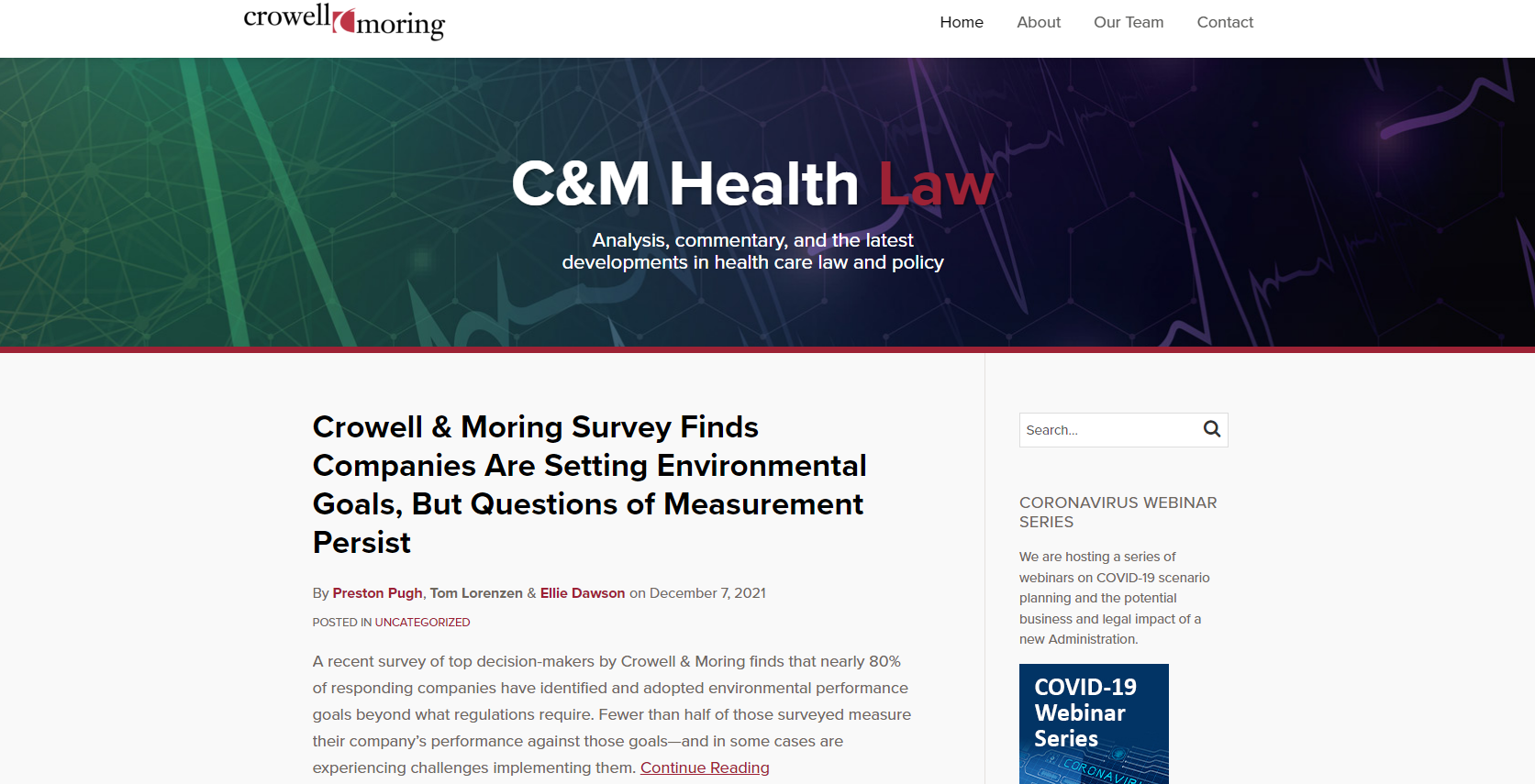 Created by US-based health law firm Crowell & Moring, C&M Health Law covers "virtually every aspect of the increasingly complex and heavily regulated healthcare industry," according to its homepage. C&M Health Law features articles and commentary from Crowell & Morning's health law attorneys on a variety of topics related to recent developments in health care law and regulation.
Recent articles include laws and regulations around COVID-19 testing and vaccination, full disclosure of drug pricing, and digital transformation in healthcare. C&M Health Law also offers resources, including a COVID-19 webinar series produced by the firm.
Why it Succeeds: C&M Health Law covers the spectrum of healthcare-related legal issues ranging from Medicare and Medicaid to drug pricing, mental health care, telehealth, and government contracts. With content written by practicing attorneys specializing in health-related litigation, contract law, and numerous other areas, C&M Health Law provides authoritative content that's relevant to an audience of senior healthcare professionals across the spectrum of services.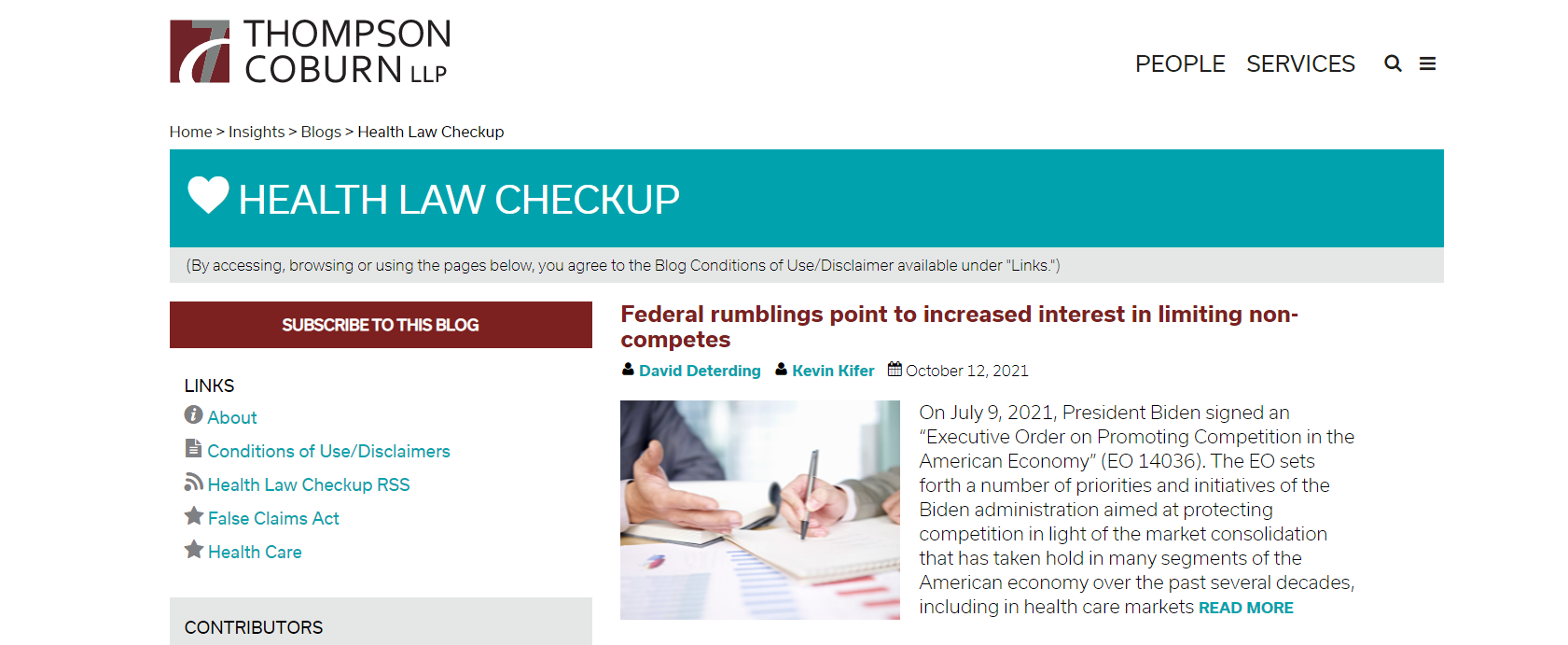 Health Law Checkup is a product of US law firm Thompson Coburn, which has several health-related service areas, including health care insurance, operations and licensure, regulatory and compliance, and telemedicine. Health Law Checkup is one of the firm's many specialized resources, and it's written by Thompson Coburn attorneys who handle healthcare-related cases on behalf of organizations and providers.
Health Law Checkup covers a range of stories on topics including court rulings on billing fraud, Medicare coverage for telehealth, and provisions in the 2020 CARES Act. The site takes a broad look at trending topics related to the healthcare law, so it can increase organic traffic by appealing to professionals in the field who want to learn more about the legislation and trending news that can affect the decisions they make every day.
Why It Succeeds: Health Law Checkup aims to keep higher-level healthcare professionals informed about legal issues that concern them, so its articles dig deep into the implications of recent legislation and court decisions. Because Health Law Checkup's content is written by attorneys who specialize in health law, readers can trust that the information they get is reliable and relevant.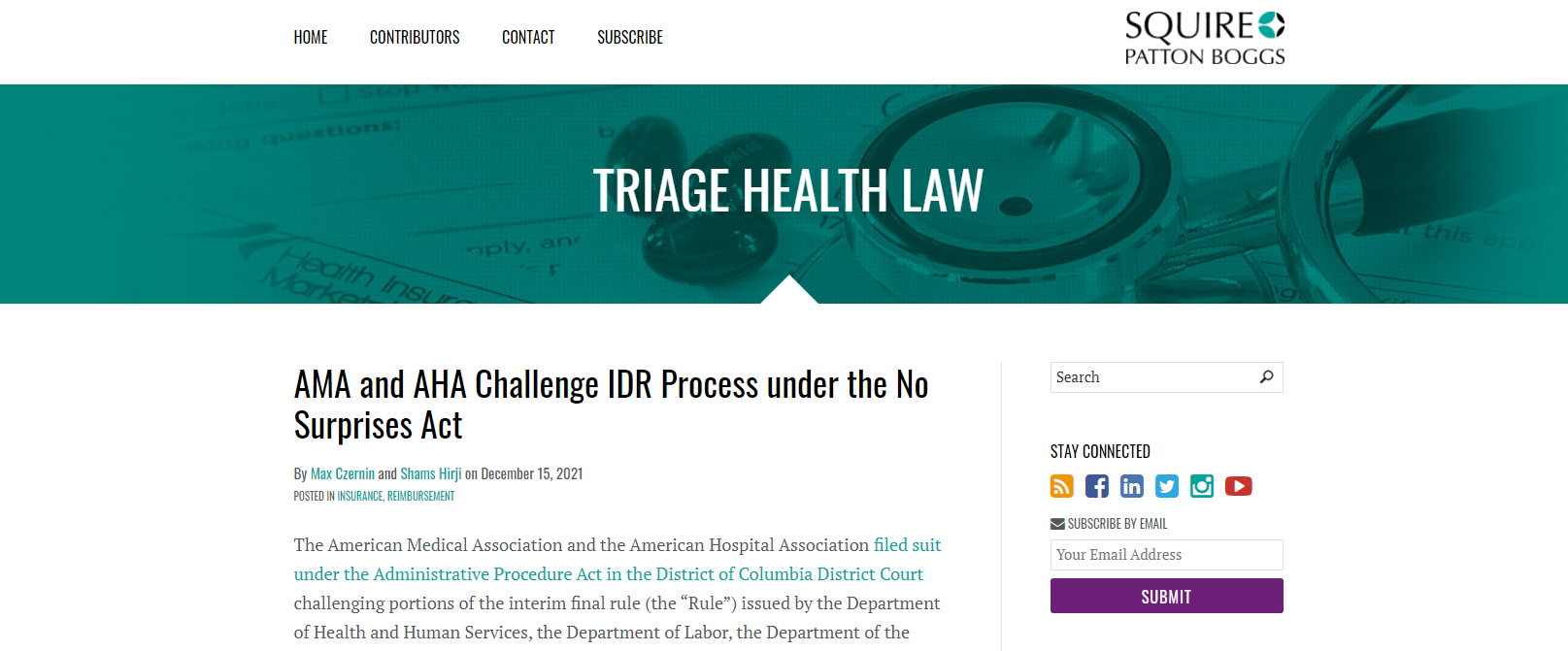 Triage Health Law is produced by the US-based law firm Squire Patton Boggs, and its contributors are mainly attorneys associated with the firm. Triage Health Law aims to "foster a broader discussion about the rapidly changing healthcare industry," and its articles offer insights, commentary, and updates on trending issues, including cybersecurity, recent legislation, regulatory changes, and digital innovation.
Recent articles discuss topics such as COVID-19 safety regulations, hospital licensure, and the ongoing debate about protecting patient data in the digital age. Triage Health Law also hosts a special Coronavirus (COVID-19) Legal Insights Hub, which focuses on the legal impacts of the pandemic and offers practical guidelines for mitigating risk and complying with local and national safety protocols. For more resources and information, Triage Health Law also links to "Insights and Events" on the main Squire Patton Boggs site.
Why It Succeeds: Triage Health Law provides authoritative, in-depth articles that are relevant to professionals in a wide range of healthcare settings. Because the world of healthcare is undergoing a rapid, digitally-driven transformation, many of its articles offer insight and practical advice for dealing with those changes and the unique challenges of the COVID-19 pandemic.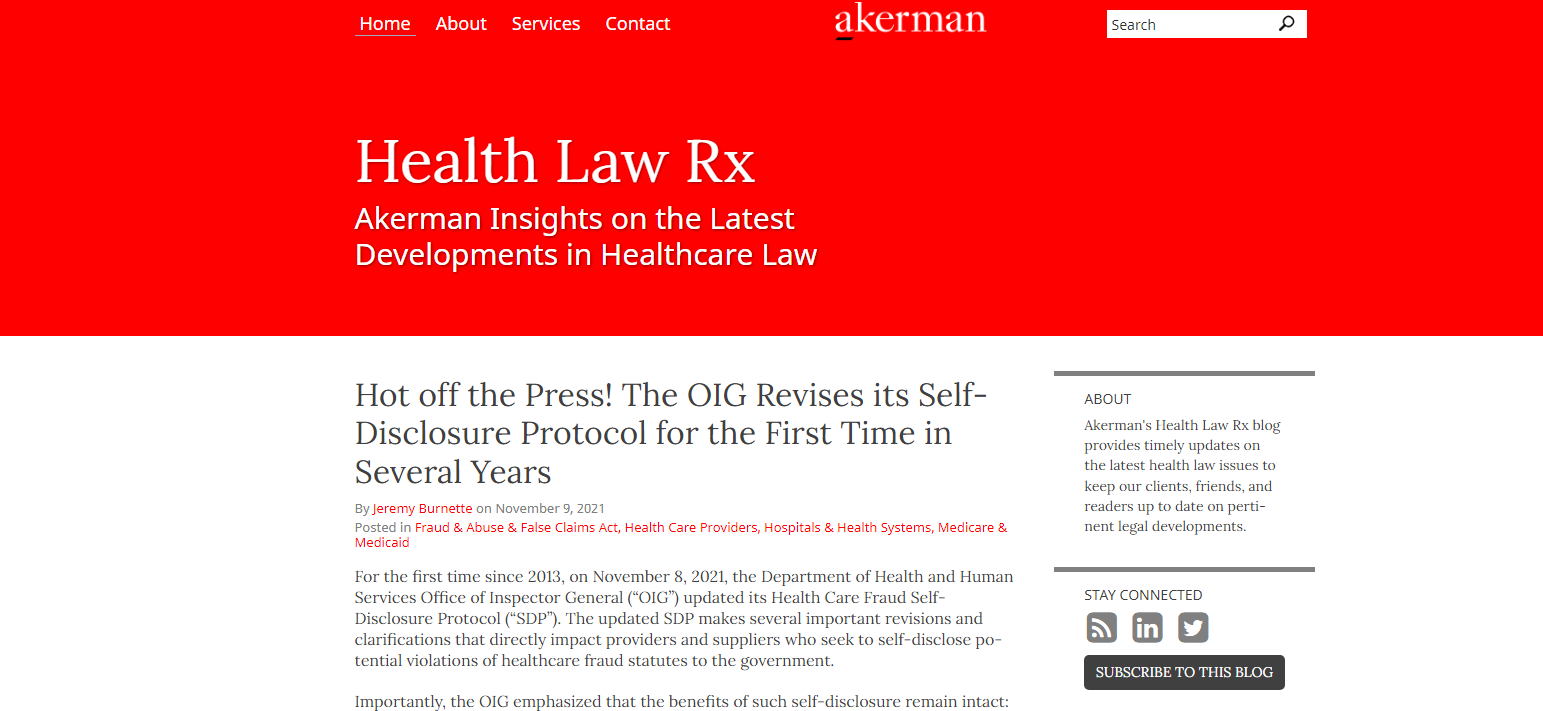 The Health Law Rx blog is produced by leading US legal firm Ackerman, and the homepage says its goal is to provide "timely updates on the latest health law issues," including court decisions and regulatory changes. With content created by Ackerman attorneys specializing in health law, Health Law Rx covers topics such as healthcare reform legislation, data security, and pharmaceutical regulation. 
Many recent articles on Health Law Rx discuss trending topics such as COVID-19 safety protocols for healthcare workers, cybersecurity protections for patient data, and transparency in drug and hospital pricing. There are also a few pieces on general health and wellness, such as a recent post warning that some new cell phones can interfere with devices like pacemakers.
Why It Succeeds: Health Law Rx focuses on timely, in-depth content that's relevant to higher-level healthcare professionals in a variety of different organizations. Since Health Law Rx is written and managed by attorneys in the Ackerman law firm, readers know that its articles are well researched and trustworthy, with insights and advice they can put to practical use.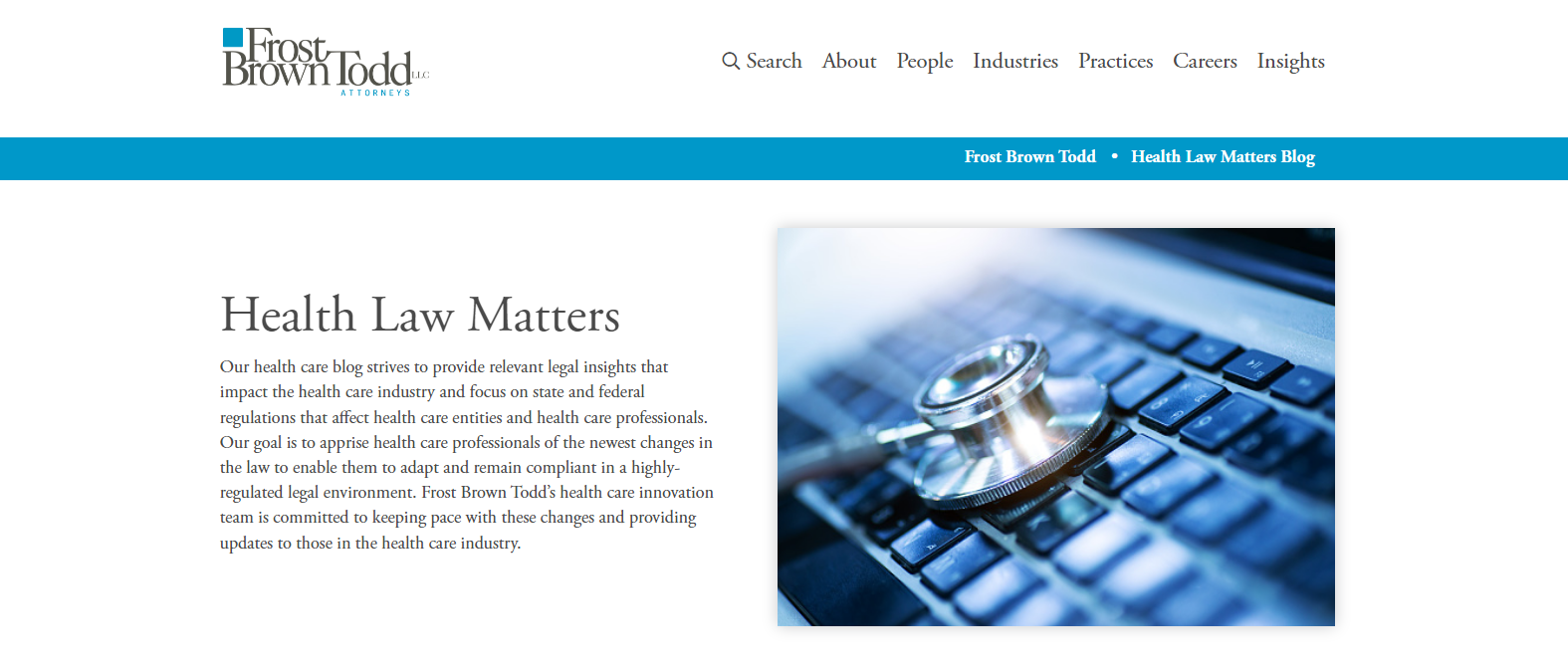 Health Law Matters is the blog of US law firm Frost Brown Todd, and it aims to keep healthcare professionals up to date on regulations that affect healthcare organizations and help them remain compliant. All its content is written by Frost Brown Todd's health law attorneys for high-level professionals who need to stay current on court cases, new regulations, and the changing landscape of COVID-19 protocols.
Recent articles include FDA legislation on gloves and other personal protective equipment, updates on new HIPAA rules, and proposed changes to nursing home oversight as a result of the COVID-19 pandemic. Readers can also subscribe to Legal Updates and The Week in Health Law newsletters for a roundup of recent articles and notifications.
Why It Succeeds: Health Law Matters serves a specific health law niche: navigating the complex world of healthcare legislation and constantly changing regulations. Although it also includes some general information on trends in healthcare law, most of its content is aimed at helping readers stay compliant with the laws and regulations that affect them.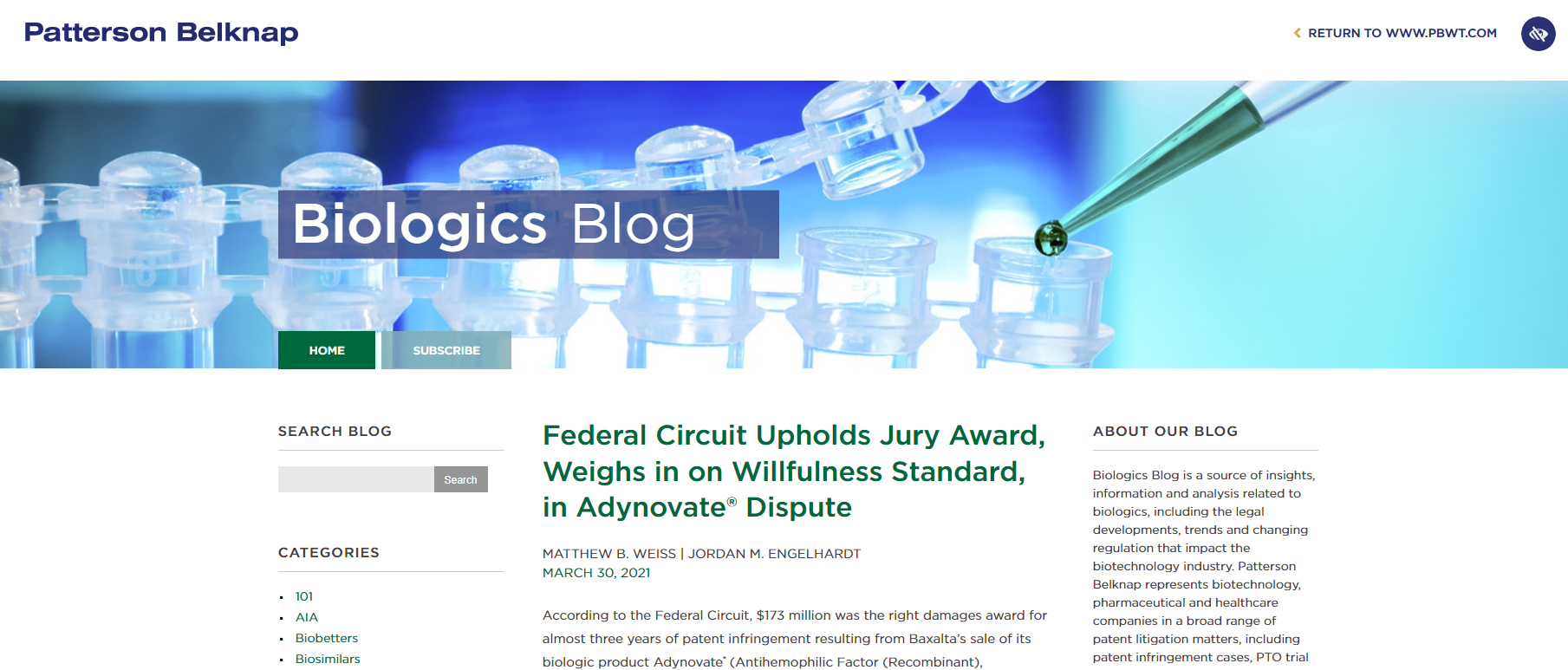 The Biologics Blog is produced by the New York-based law firm Patterson Belknap, which specializes in representing pharmaceutical and biotech companies in cases involving the development of new drugs and therapies. The Biologics Blog targets pharmaceutical and biotech professionals with articles and commentary on legal issues related to biotechnology research and development.
Biologics Blog is largely written by Patterson Belknap's team of health law attorneys, some of whom have advanced science degrees and outside experience in fields ranging from chemistry to nuclear engineering. The blog hosts a long list of articles on topics such as drug patent reviews and rulings, gene therapies, and regulations around biosimilar products. 
Why It Succeeds: Biologics Blog serves a highly specific readership with insights and updates on regulatory issues affecting pharmaceutical research and development, and its authors have the expertise to deliver authoritative articles on a wide range of topics related to biotechnology and drug marketing.
Life Sciences Legal Update is a product of the multinational law firm Reed Smith, which includes a team of attorneys dedicated to health and life sciences law. Life Sciences Legal Update offers long articles and short updates on a variety of topics of interest to the healthcare industry in general, such as telehealth regulations during the COVID-19 pandemic, changes to patient privacy and data sharing regulations, and Medicare recommendations for medical devices. 
Life Sciences Legal Update also promotes webinars, publications, and other resources on topics covered on the site. Although the site is aimed at a general readership of health professionals, it also provides additional information on regulatory and legal issues for clients and potential clients of the firm. 
Why It Succeeds: Life Sciences Legal Update offers a broad overview of issues in healthcare law, so it appeals to a wide range of healthcare professionals. Because its writers are practicing attorneys in healthcare law, readers turn to the site for authoritative, well-researched content that keeps them updated on developments in the industry.
The top health and medical law sites on the web today provide information and insights that help healthcare professionals meet the challenges of a rapidly changing world. With a target audience clearly in mind, these sites offer authoritative, highly specific content created by experienced writers with expertise in the niches they serve.
Scripted is a full-service content solution that relies on vetted, experienced freelance writers who specialize in creating custom content that drives engagement, creates trust and increases organic traffic through SEO strategies. Scripted's deep pool of medical law writers has the experience and expertise to create the quality content that builds your brand. Browse our writers to see what we mean–and contact us today to learn more about Scripted's content solutions for industries of all kinds.