Top 7 Most Effective B2B Marketing Strategies for 2023

There always has to be a sweet spot between your audience's needs and your company's budget. By using specific marketing metrics, you can measure your strategies' effectiveness. With how dynamic the marketing industry is, you must adapt to varying trends, especially since marketing to businesses differs from marketing to individual consumers. Here at Scripted, we've curated a list of the seven most effective business-to-business (B2B) marketing strategies for 2023. Learn more about these strategies and how you can use them for your brand.
1. Content Marketing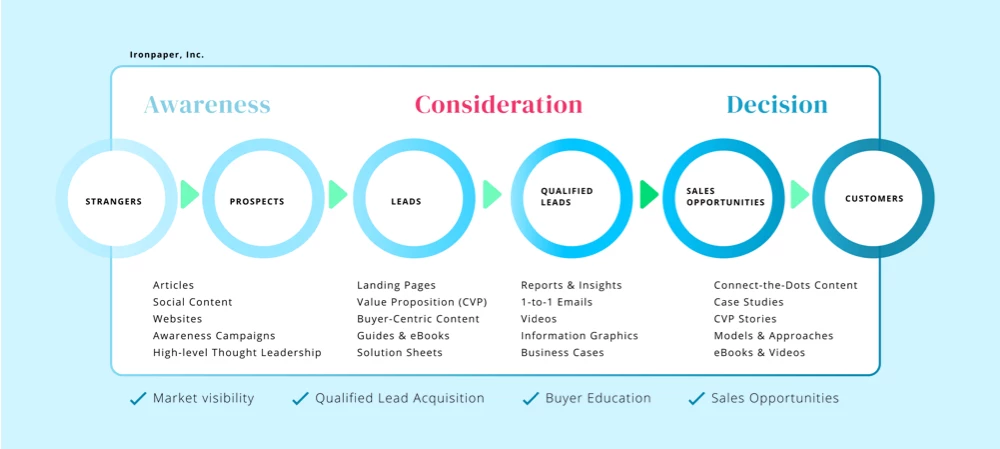 With B2B content marketing, you have to focus on more than just promoting your products or services. For a B2B content marketing strategy to be successful, your content (e.g., blogs, emails, social media posts) must provide valuable information and inform your audience. On top of that, your content marketing plan must work hand-in-hand with your SEO marketing strategy, since you need to learn how to anticipate what your audience is generally searching for. This way, you are helping them discover what your website offers, and eventually, your chances of converting them into one of your potential clients increase. Around 56% of content marketing specialists who leverage blogging say that it's an effective marketing strategy and 10% state that it generates the biggest return on ROI.  
One way to leverage content marketing for your B2B marketing strategies is by making sure that you are offering your clients useful content — practical, informative, and highly relevant to their industries. Other than effectively utilizing a content calendar and readily available content formats, there is another way to ensure the efficiency of your content marketing tactics. By working with a freelance writing company or a content specialist who knows the ins and outs of your industry, you can also make the most out of each piece of content you produce
2. Utilizing In-Depth Market Research
Everything about your brand — from your blogs, content ideas, podcasts, products and services, to how you engage with your audience — should always be based on in-depth market research data.
Research helps you understand your target audience. You can identify their needs, the environment they interact with (which ultimately impacts those needs), and how your competitors behave to respond to those needs. The global revenue of the market research industry from 2008 to 2021 has dramatically increased from 32.46$ billion to 76.42$ billion. Forecasts also show that for 2022, the revenue for the market research industry could still increase to 82.62$ billion.
To effectively utilize market research for your B2B marketing strategies, you must tap into multiple resources and utilize effective keyword research relevant to your industry. In this case, try not to limit yourself to online research materials and try to look for offline resources as well. Look into academic research, industry and government findings, industry authority news reports and interviews, and even social media content.

Here are a few free tools for conducting market research:
3. Account-Based Marketing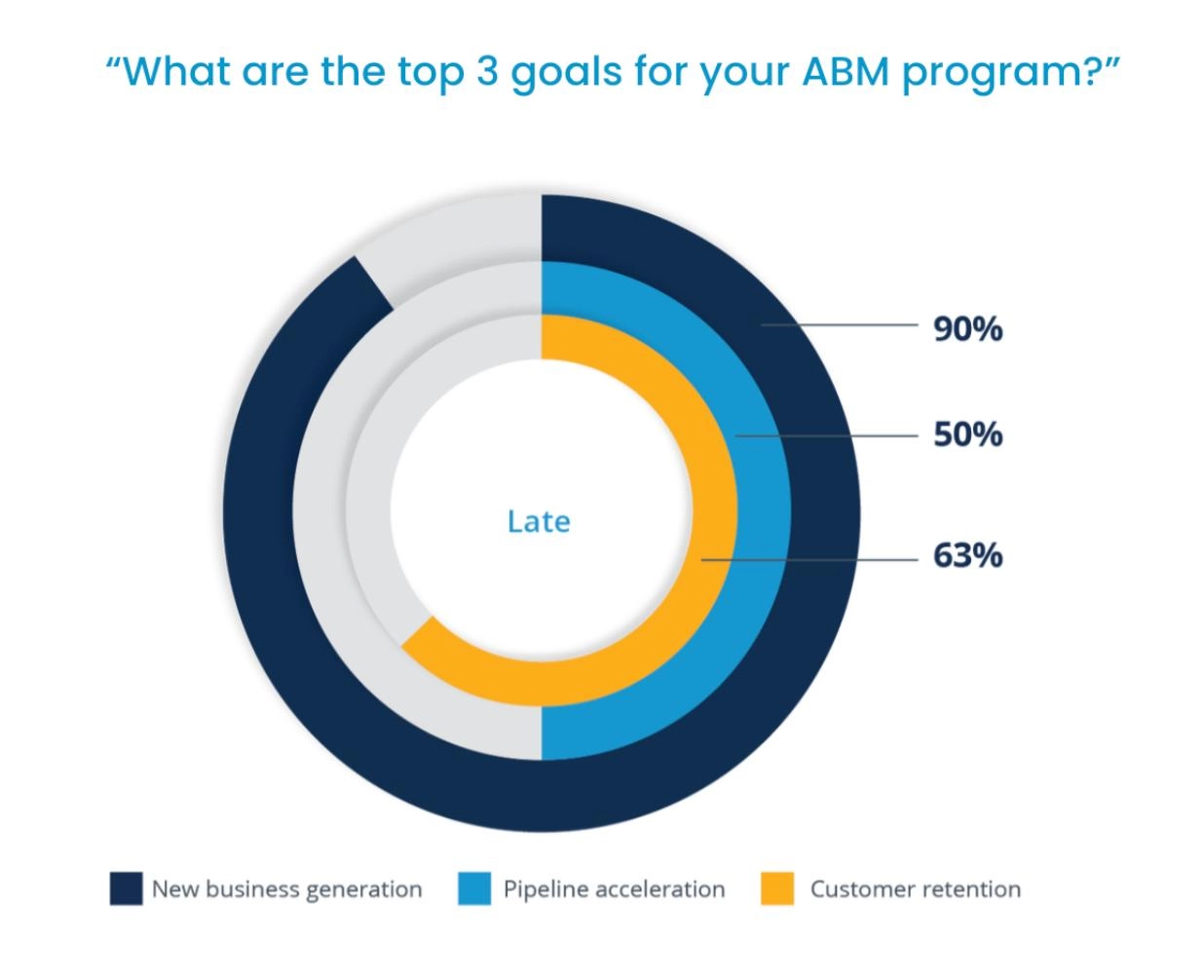 Despite the COVID-19 pandemic, the global market for account-based marketing (ABM) is still projected to reach 1.6$ Billion by 2027, from an estimated value of 749.4$ Million, exponentially growing at an 11.6% CAGR from 2022-2027. And with the US market alone, the ABM revenue is already projected to reach $202.3 million from 2021-2022.
With this type of B2B content marketing strategy, you're using a more personalized approach for lead generations and to make the most out of each account you're handling. Instead of crafting content, let's say an email or a text message, and disseminating it towards a market so you can attract a few accounts to purchase your products or services, with account-based marketing, you modify the sequence of this process.
You must think of each account as if it's a market all on its own, and you craft specific types of content for EACH of those accounts. Take a look at how these 7 companies used account based marketing tactics to successfully grow their business.
ABM is most effective if you're targeting a niche audience at a very high purchase point. Let's say your company provides freelance writing services and other content marketing products for local coffee shops that own blogs; the market would be small enough to know exactly who you should be selling to. By only getting a few accounts, you can earn higher revenue.
4. Social Media & Influencer Marketing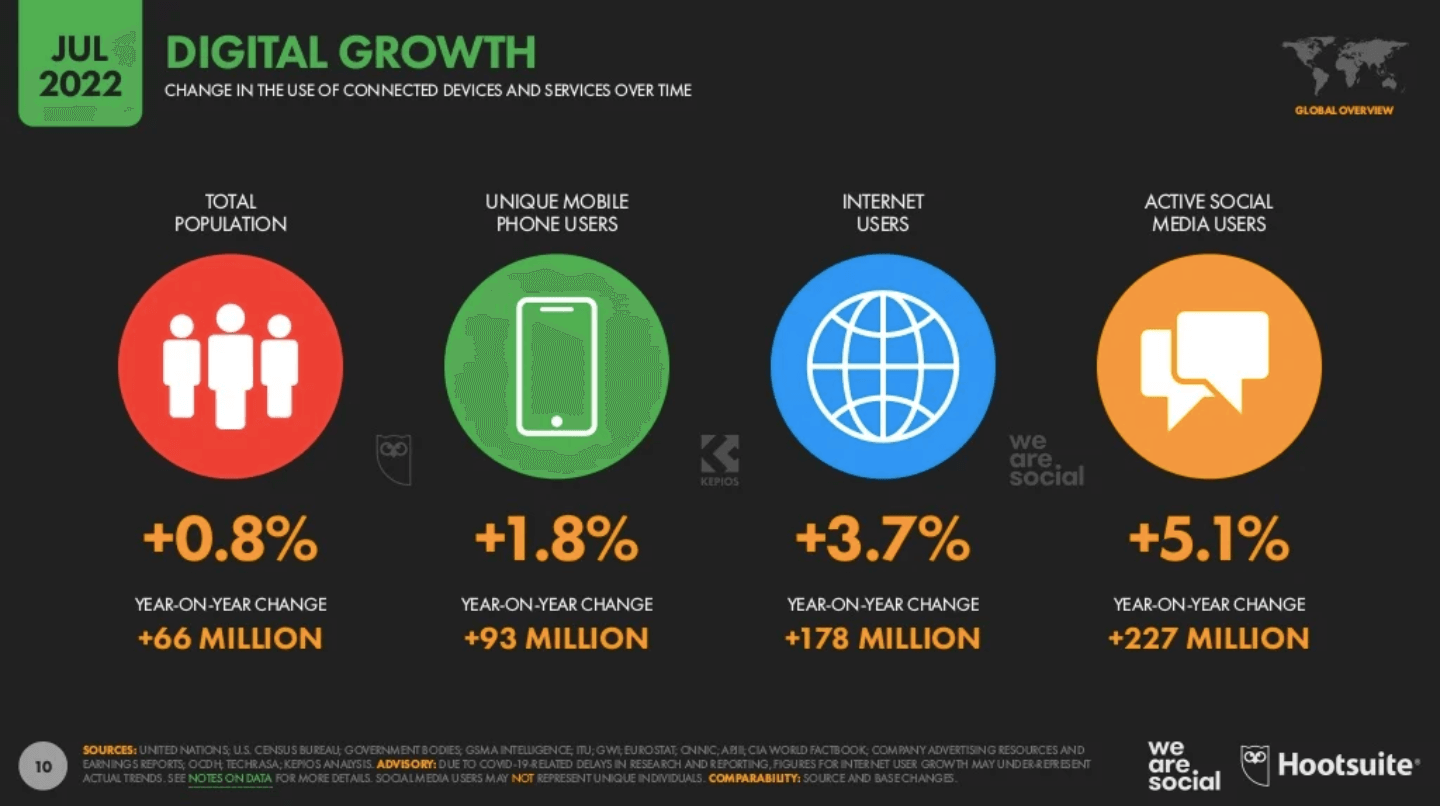 Whether you're a fan of social media or not, you'll have to accept the fact that it's definitely here to stay. Although it would be too complicated and time-consuming to have a presence on every social media platform, you can still take advantage of these platforms for your B2B marketing strategies.
If done right, social media marketing can be a very effective tool to reach your audience and increase brand awareness. You can communicate your stories, continue to build your reach, and even drive actions for your brand using social media platforms. These days, your social media presence also demonstrates that you are a legitimate company — so it can now be technically used to demonstrate proof of pulse.
Influencer marketing is a must for your social strategy, it involves a partnership with an individual in your niche with social credibility and a large following. Most people buy products or services based on word of mouth, what better way to promote your brand than having a trusted individual candidly speak about it. Influencer marketing is a $16 billion industry and growing rapidly. With the rise of skepticism from the consumer and distractions coming from every angle, influencer marketing is a great way to close that gap and is crucial for growth in 2023.
With more than half of the world now using social media, it's no wonder that this marketing strategy could potentially increase your sales as well. And even globally, 93% of content marketers use social media for their content marketing strategies. Based on Statista, 37.9% of respondents said that social media advertisements motivated them to make a purchase, which is between 1 to 25% of the time.
So, what's the best way to make the most out of this strategy? Identify the social media channels where your potential and ideal customers often spend more time. Optimize those platforms for your brand, then make sure to regularly post the types of content that speak to your audience. You can even try paid ads to increase your reach.
5. Search Engine Marketing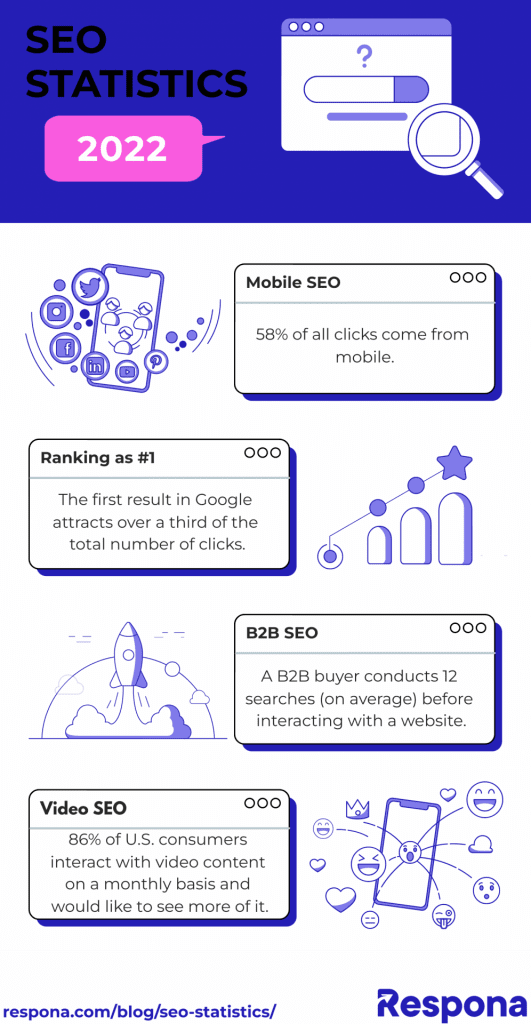 Of course, no matter how well-crafted your website is or how relevant your blogs are to your industry, all your efforts could be wasted if the search engines are not working to your advantage. You must ensure that you can be discovered quickly by your prospective clients when they are searching for solutions to their problems or products and services that correspond to their needs — and wants.
When it comes to your Search Engine Optimization (SEO) strategy, you must consider on-site and off-site tactics. Wherein you're leveraging relevant keywords within your site (on-site), and you're also linking to social media posts or external articles that lead your target audience back to your website (off-site).
With SEO effective marketing strategies integrated into your B2B marketing, your ROI can potentially increase to as much as 5x-12x compared to PPC marketing; on top of helping to attract traffic to your website, which can potentially help in your lead generation. 
Keyword research is a big player in the game of SEO. In order to rank higher in search above your competitors, you have to choose the right keywords. To do that you need to do research on keywords that are highly searched and that you can compete on. Meaning if you find a keyword that fits your industry, but you don't have the ability to produce better content than the top rankings it's better to find another keyword where you can beat the top rankings. What makes you rank higher is based on your ability to produce 10x content (link to our 10x blog) that is stronger than what's currently ranking. Tools and platforms, such as SEMRush and Google Analytics, can keep you up-to-date on SEO best practices, and you can also see how your competitors utilize relevant keywords.
Here are some keyword research tools:
To effectively utilize SEO marketing in your B2B strategies, you have to learn how to use website SEO plug-ins and leverage SEO tools to your advantage. There are plug-in tools (e.g., Yoast, SEOPress, etc.) that can help you optimize all the content on your website, may it be your blogs, visuals, and every single one of your pages.
6. Referral marketing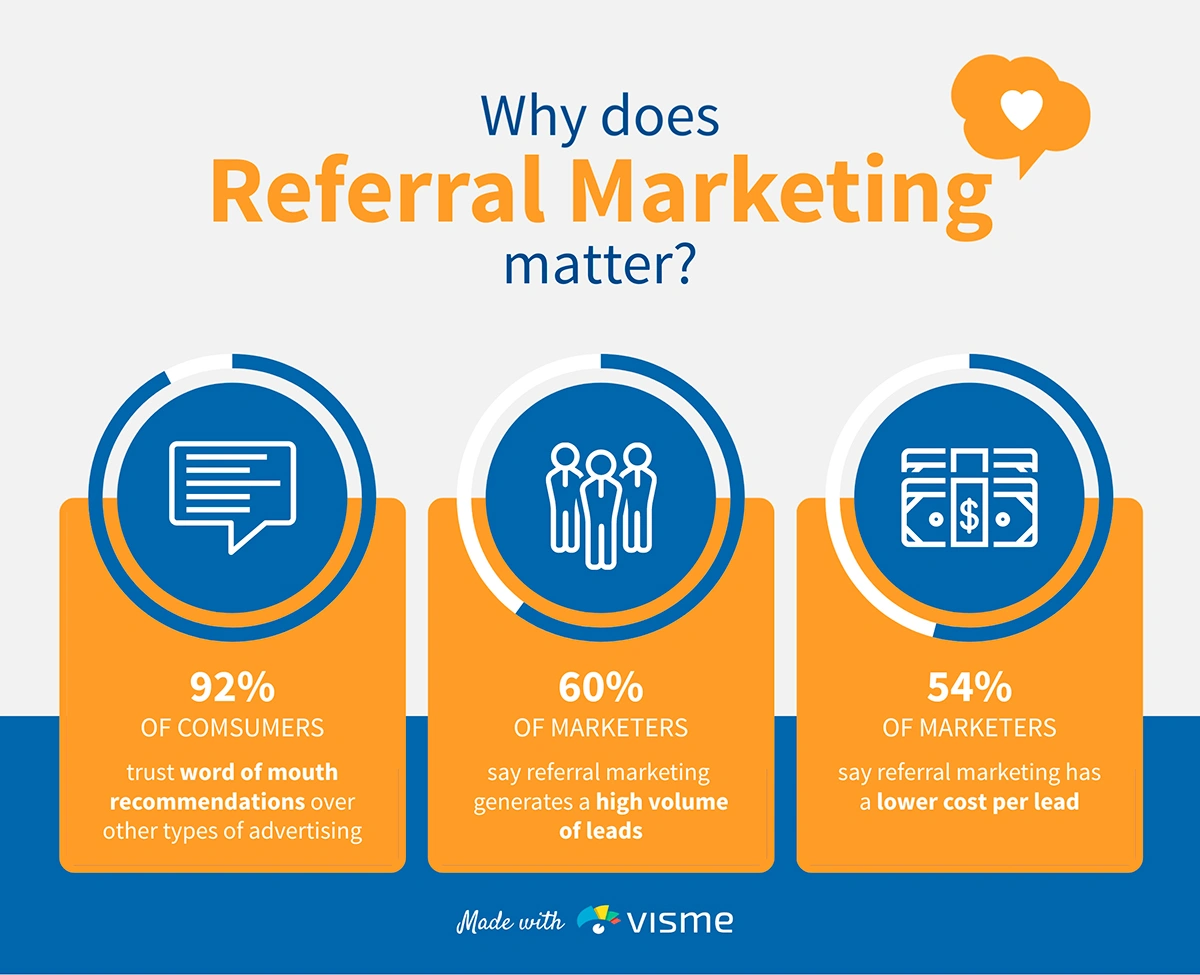 Another way to boost your B2B marketing is by tapping into your professional network. By partnering with your loyal customers or those who trust what your brand can do, you can share your products or services with potential clients in their network.
One advantage referral marketing can do for your B2B marketing strategy is by increasing both your credibility and audience reach. According to IronPaper, 89% of B2B marketing specialists believe customer referrals are the most effective content marketing tactic.
To make the most out of your referral marketing strategy for your B2B plan, here are a few things you can do:
Use incentive referrals. Design a viable referral marketing plan for your company where you can give incentives for recommending your services or products to others. As part of your referral program, you can even ask them to include backlinks to your website on their own pages.

Continue to expand your network. Participate in trainings and workshops conducted by organizations where you can meet people in the same profession/industry. This way, you can keep building your referral program.
7. Marketing Automation

One of the best ways to ensure the effectiveness of your B2B marketing strategies is by taking advantage of technology and automating some of your marketing tasks. You'll be able to save more time and money by reducing and eliminating repetitive manual marketing processes and making a more efficient and centralized system for all your strategies. By using marketing automation, 80% of companies saw an increase in their leads. Utilizing automations is the best way to nurture curious and interested people into leads and eventually sales. 
Here's how you utilize marketing automation to achieve your marketing goals:
Identify which tasks can be automated. To save time, you need to identify which areas you can prioritize. You may not be able to automate all your marketing tasks, but you can start with one or two processes (i.e., scheduling your social media posts, using chatbots to handle online conversations, or even looking into an automated email marketing service).

Compare different automation solutions. There are plenty of ways to automate your processes, so you must consider your needs and priorities before purchasing. Make sure your investments align with your marketing goals, needs, and company budget.
Level up your B2B Marketing Strategies with Scripted
Not sure where to start? Why not partner with one of the industry's leading content marketing companies and hit several birds with one stone?
Scripted can connect you with top-notch freelance writers across various industries who are also experts in SEO, social media, and content marketing. Sign up for a 30-day FREE trial today!