Top 6 Best Finance Blogs For Content Writers to Read

Finance is a fairly broad term, referring to the study of how money is used, mainly in relation to money management and money creation.
Today, people are more interested in financial advice than ever before — there's also more debt than ever before. According to New York Federal Reserve data, American households collectively carried $14.3 trillion in debt as of the end of Quarter 1 2020. To paraphrase Benjamin Franklin, watch those little expenses - they can sink your financial boat if you're unaware. Therefore, it's critical to seek financial knowledge and support sooner than later.
One of the best resources to seek such knowledge is credible blogs. Although there are thousands of finance blogs online, not all blogs are created equal. Those interested in learning more about how they can succeed financially expect quality content from a reputable site. That's what all the blogs below have in common — they consistently publish high-quality content. Visitors know they can rely on these blogs when in need of expert financial advice and guidance.
Whether your goal is to boost traffic, increase sales, or improve your ranking, quality content will make all the difference. Check out our list of the best finance blogs for inspiration. They've perfected well-crafted, strategic content.
1) NerdWallet
First founded in 2009, NerdWallet is an American personal finance company. With the motto, "make all the right money moves" — it's no surprise that millions of people turn to this website to seek helpful credit score information, credit card tips, mortgage advice, and much more. The NerdWallet blog is full of high-quality content that supports anyone seeking financial help. There are three drop-down menus available, including:
Our Top Picks

— Quickly find and compare the best credit cards, banking and investing options, mortgages, personal loans, and more.

Guides and Tips

— Explore topics such as loans and debt solutions, spending, taxes, retirement, and travel.

Calculators

— Here is where you'll get to know your money, highlighting the same topics available under Guides and Tips.
Some sample articles include "Best Travel Credit Cards for Business" and "Got Home Improvement Plans? How a Credit Card Can Help."
Why NerdWallet is so engaging: NerdWallet has carved out a niche, helping individuals make more informed financial decisions. All the content published on NerdWallet is valuable and purposeful, aimed at targeting a specific audience. They present the knowledge they share in a clear and concise manner, making the concept of personal finance more approachable.
2) The Balance
Another popular and highly successful finance blog, The Balance has been going strong for two decades. With more than 9,000 pieces of content available to its readers, visitors know they'll receive straightforward financial advice. Making personal finance easy to understand, The Balance has over 24 million monthly visitors. Their content is written by over 50 expert writers who have expertise and qualifications in varying finance topics, including the U.S. economy, banking and loans, and credit cards.
Why The Balance is so engaging: The Balance is a well-designed site full of personal finance content, covering everything from banking and budgeting to investing and loans. These topics are highly impactful, written in an approachable manner. The goal of The Balance is to take financial topics that are daunting or complex, offering advice that is clear and practical. In addition to advice, they've rigorously reviewed 2000+ financial products.
3) Just Start Investing

As of 2020, 55% of US adults held a stake in the stock market. Just Start Investing is a blog that makes investing simple and easy. Most of the content published on this blog focuses on investing strategies. However, there is also content that covers related topics, including banking and budgeting. Each article is to the point, offering savvy advice for average everyday people.
Why Just Start Investing is so engaging: There are plenty of blogs out there highlighting the same topics. The reason why Just Start Investing is so popular is its approach. They help readers understand that the key to investing is starting now, taking the fear out of getting started. They keep their content as informative yet as simple as possible, encouraging readers to take control of their finances and future.
4) Jackie Beck
The go-to resource for inspiration and advice on getting out of debt, JackieBeck.com "helps people get out of debt without putting their life on hold." First founded in 2011 by debt expert Jackie Beck, the goal of this blog is to help you manage the money you have and improve your credit while getting out of debt, all while enjoying life. The content Jackie publishes falls under one of three categories:
How to get out of debt

Money management

Credit repair
You can also navigate to her latest personal finance articles.
Why Jackie Beck is so engaging: The reason why Jackie Beck gets featured on Forbes, Business Insider, Oprah, and more, is based on her unique approach. Jackie paid off over $147,000 in debt. As she says, she "walked the walk and now wants to help YOU do the same." She has created a genuine community, sharing knowledge that benefits everyone. This has allowed her to develop a smartphone app that further supports her audience.
5) The Savvy Couple
First founded in 2016, The Savvy Couple has since become a name that people trust. They stand for family, finance, and freedom, taking a more personal approach to financial topics. They publish articles across the following categories:
Saving money

Making money

Money management

Lifestyle
The couple's blog makes in excess of $10,000 every month, so now they share their story with blogging advice for their visitors wishing to monetize their own websites. Since their humble beginnings, over 5 million people have visited the Savvy Couple to learn:
How they can live frugally

How to start paying off debt

How to begin a fruitful side hustle
Visitors trust the Savvy Couple for great advice that leads to greater financial freedom.
Why the Savvy Couple is so engaging: The content published by the Savvy Couple focuses on everyday topics that affect your average family. For example, how to save money on groceries, how to develop more frugal living habits, how to make money online, how to better manage money, and more. Again, they developed this blog after struggling to pay off their student debt. In less than three years, the couple not only paid off their debt, but grew their blog into a six-figure business, and saved $20,000 in a single year.
6) Financial Samurai

Considering the founder of Financial Samurai was able to retire at the age of 34, it's clear he knows a thing or two about saving, making, and investing money. Since the financial crisis of 2009, over 65 million visitors have stopped by his blog seeking advice. This blog's homepage showcases all the latest posts and most popular reads. As you scroll down, you'll also see the latest posts across several other categories, including:
Retirement

Real estate

Mortgages

Entrepreneurship

Investments
...and more.
Why the Financial Samurai is so engaging: Financial Samurai is so effective and successful because he writes each article from firsthand experience. The goal of this blog is connecting with readers, helping them navigate the world of finance — regardless of the stage of life the reader is in. There's also a section on the blog that focuses on the Top Financial Products — a list created after spending hours researching and analyzing products in the marketplace (i.e. best mortgage lending marketplace, best free wealth management tool, best rewards credit card, etc.).
Scripted Offers Support to Those in the Finance Industry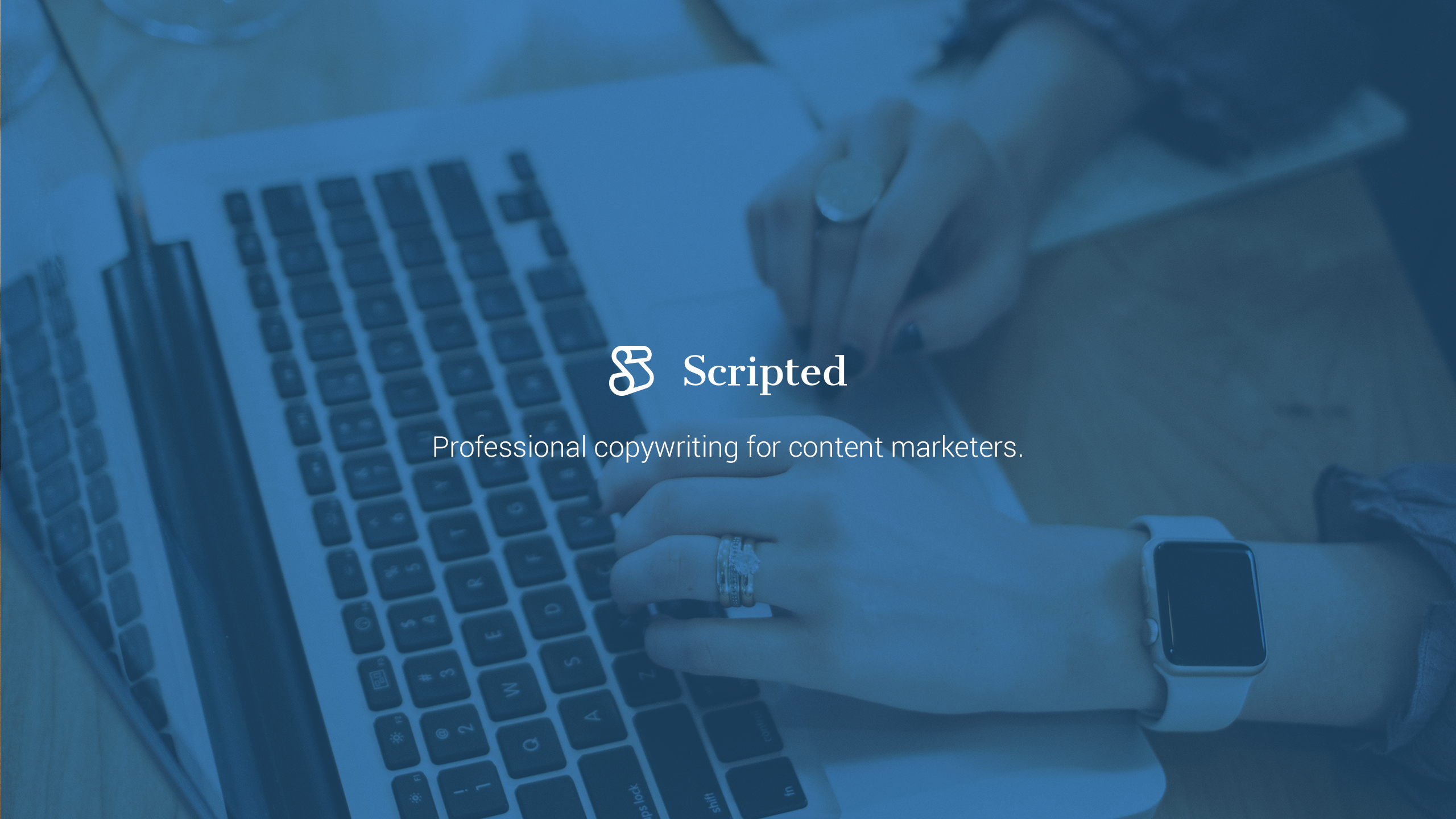 While reviewing the list above, these blogs have one key thing in common — their content is a cut above the rest.
They understand their audience, and it shows in their content — it converts. However, their strategy is only half the battle, as no content marketing strategy is an island. You need quality content. Each of the above blogs invests in their writers, and that investment pays off.
Regardless of your core objectives, creating quality content is time-consuming. That is why it's so beneficial to outsource this critical task. Skilled writers will not only save you time and money, but they will help you reach your content marketing milestones, as they understand the value of SEO, authoritative links, and other key strategies.
Related: Blog Ideas for Finance
If you are in need of quality finance content but are unsure where to look, Scripted offers a large pool of talented writers. Since Scripted only accepts the top two percent of applicants, you gain access to the best of the best — many of whom specialize in finance. From start to finish, the entire process takes place on Scripted's all-in-one platform. Once you hire the writers who are the best fit, they create and submit content on the platform, allowing you to give immediate feedback. You can rehire those who impress you the most, further increasing overall productivity.
Ready to take your finance blog to the next step? Start browsing our selection of accounting and finance writers today!