Top 15 Entrepreneurship Websites by Traffic
With thousands of websites and blogs on the internet, search competition is high in every industry. But with 67,000 Google searches occurring every second - 46% of which are local - small businesses simply can't afford to skip search engine optimization because it's challenging.
Generating organic search engine traffic doesn't happen automatically, and according to one study, only 10% of websites manage to get any at all. While it may surprise you, it's a dismal truth. Most small businesses are relying on paid advertising and other costly strategies for building brand awareness and generating income. Meanwhile, they are leaving free traffic and income on the table (often without realizing it).
To shed light on the organic traffic conundrum many entrepreneurs face, this article examines the 15 best-performing business sites and how they garner such a large audience year after year. While most do not share their SEO strategy directly with the public, we'll glean insights from each platform's history, search rank, and decision-making process to learn what they do to stand out from the competition.
Measuring Your Website Traffic 
In truth, acquiring organic traffic requires sustained effort, quality content, and knowledge of keyword optimization. While some experts tout it as a simple fix for low visibility, building credibility in Google's algorithm takes time. Climbing the ranks of Google has increasingly become like a game of chess for website owners. Nowadays, marketers need to go beyond basic keyword research and consider the intent of their target audience as they are searching. Whether they are hoping to buy something, learn something, or land on a specific website, your content should cater to that need.
To get started, it may be useful to examine your website's current ranking compared to the ranks of your competitors. There are several ways to find your Alexa ranking (a global website popularity ranking system) and note how much organic traffic you are receiving. If the number is very high, don't fret. This is where most businesses are. There are countless tools that help you strategically climb the SERPS for relevant keywords regardless of your Alexa rank.
SEMRush and Alexa.com can get you started. In addition, Google Analytics and Google Search Console will provide you with ongoing feedback as your website earns more traffic from different keywords. The keywords you rank for may surprise you. Keeping an eye on which keywords you rank for - even if it's way back on the 5th page of search results - can help you write better content and move up the ranks.
The Top 15 Entrepreneurship Websites by Traffic
1. Inc
Daily visitors: 462,923
Daily page views: 694,385
Alexa Traffic Rank: 2214
Inc.com is one of the most widely known and followed business magazines in the world. Created in 1996, the Inc website was already primed for success. Inc's physical magazine was founded in 1979, giving the New York City company plenty of time to build a strong base of readers beforehand.
Much of Inc's success can be attributed to its steadfast commitment to keeping its finger on the pulse of the business world. The renowned Inc. 5000 established the magazine as a thought leader with a list of the most promising businesses to watch each year.
The podcast Inc. Uncensored features journalists covering industry trends, technology, and major startup news. This has garnered the platform several awards, including a Best of the Web Award for best podcast.
2. Entrepreneur
Daily visitors: 504,468
Daily page views: 908,043
Alexa Rank: 2217
Founded in 1994, Entrepreneur.com is a close rival of Inc, falling just 3 points behind it in the Alexa Rank. Several factors keep organic traffic flowing into the website, including recurring webinars that walk business owners through timely obstacles.
Like Inc, Entrepreneur's continuous coverage of the brightest in business has made it a household name for aspiring and successful business owners. Entrepreneur's podcasts, Masters of Scale presents innovative business growth theories, and its host, Reid Hoffman interviews founders to test their validity.
3. Quora
Daily visitors: 1,904,062
Daily page views: 4,855,360
Alexa Rank: 372
Quora.com was launched in 2000 as a place to gain and share knowledge. Much of what has brought Quora success is that it's an interactive platform to ask and answer questions. Quora has created a space that attracts both experts and novices in business, marketing, and technology. It's topic-specific spaces keep visitors coming back to learn and engage in deeper discussions.
One of the biggest advantages Quora has is that it is a question platform. This provides an advantage in Google's newest algorithm updates, which favor longtail keywords and conversational voice searches - which are more likely to be phrased as questions.
4. The Economist

Daily visitors: 326,420
Daily page views: 587,557
Alexa Rank: 2847
Based in London, The Economist is an international weekly newspaper. While the website was launched in 1996, the Economist's origins date back to 1843 when the newspaper began as a publication dissecting current events, international business, politics, and technology. The company has come a long way since then.
The Economist recently made news for its successful LinkedIn marketing strategy, in which its editors narrowed down the types of content they shared on the professional social channel. They tested out a wide variety of topics over a 3-year period, finally settling on business and finance pieces alone. As a result, LinkedIn followers grew by 39% and organic subscriptions generated from Linkedin tripled.
5. Bloomberg
Daily visitors: 1,727,152
Daily page views: 3,402,491
Alexa Rank: 394
Founded in 1993, Bloomberg brands itself as a global business and finance news leader much like The Economist. One of Bloomberg's greatest assets is its healthy backlink network. High-ranking websites like CNBC, The Wallstreet Journal, and Reuters have thousands of links back to Bloomberg articles. While top news sites have an advantage in this department, any business can encourage backlinks by creating content other sites are motivated to link to.
Curious to find out if any sites link back to your business? Visit this free backlink checker and type in your URL.
6. Forbes
Daily visitors: 2 028 845
Daily page views: 4 828 653
Alexa Rank: 259
Created in 1993, the Forbes website has been a pillar in the world of entrepreneurship. Its magazine is published biweekly and covers business, finance, marketing, technology, science, and law. A big part of Forbes' draw is its emphasis on self-made millionaire entrepreneurs and the documenting of their success path.
In January, it was reported that several Forbes writers saw a concerning drop in organic search traffic from Google. However, the drop was likely temporary in response to Google's January 2020 Core Update, an algorithm change that had website owners waiting in suspense for weeks. Forbes still receives the majority of its traffic (about 66%) from search engines.
7. Wall Street Journal
Daily visitors: 1,515,222
Daily page views: 2,969,835
Alexa Rank: 425
Founded in 1996, the Wall Street Journal has built a reputation in media with 2.5 million members. About 70% of its readership resides in the United States. WSJ's 2019 Read Yourself Better campaign positioned them as a traditional news source and an antidote to the misinformation commonly spread on social media. It was a classic move that appealed to its older, more conservative audience base.
Overall, the Wall Street Journal receives 29% of its traffic from search engines. As with many news sites, the average page view per visitor is fairly low (1.9), revealing that much of the Journal's traffic comes from one-off news story reads.
8. FORTUNE
Daily visitors: 135,106
Daily page views: 229,681
Alexa Rank: 6167
Founded in 1994, Fortune is a business news outlet that distinguishes itself from competing publishers with lengthier, in-depth feature stories. Like Inc, Entrepreneur, and Forbes, Fortune garners repeat visitors with its lists, such as the prestigious Fortune 500, 40 Under 40, Most Powerful Women, and 100 Best Workplaces for Millennials. The multinational business magazine's target audience is affluent business leaders, making it a go-to information hub for decision-makers and executives.
9. Fast Company
Daily visitors: 250,379
Daily page views: 400,607
Alexa Rank: 4958
Created in 1995, Fast Company has positioned itself as one of the world's leading progressive business media sources. Their editorial pieces blend innovation, technology, and design and primarily address the future of business. Founded by two former Harvard Business Review editors, the publication was birthed to branch off from tradition and innovate right from the start. Fast Company's work-life section offers advice and practical tips for navigating modern work struggles, making it a relatable information source for the average professional.
10. Mashable
Daily visitors: 477,167
Daily page views: 715,751
Alexa Rank: 1753
Launched in 2005, Mashable came onto the scene much later than many of the websites on this list. So how did they manage to outrank giants like Inc and Entrepreneur in Alexa's system?
Mashable brands itself as a multi-platform media and entertainment company rather than a business news source. However, the platform incorporates business and technology, taking a strong progressive approach that appeals to many younger readers. Within its first 18 months, Mashable had already received its first 2 million readers. Founder Pete Cashmore moved to Sillicon Valley. He began creating bite-sized content pieces that explored the blossoming startup scene many people were still unfamiliar with.
While Mashable is highly focused on the digital revolution, even creating a holiday called Social Media Day, Cashmore regularly attended offline conferences, gave talks, and participated in interviews. In addition, Mashable organized and co-hosted in-person events to build an organic, loyal audience early on.
11. Harvard Business Review
Daily visitors: 534,143
Daily page views: 747,800
Alexa Rank: 2106
Launched in 1996, Harvard Business Review was one of several major media outlets birthed in the mid-90s. With an emphasis on bridging new ideas with classic strategy, HBR covers innovation and leadership, incorporating the voices of business and management experts around the world. With an esteemed reputation in academia, the Review has made a name for itself as an educational platform for both business theory and practice.
In 2009, HBR was rebranded in the midst of an economic recession. The publication was modernized to address the uncertainty and changes occurring at that time. Integrating the print and digital publications more closely helped HBR close its readership gap and attract a wider demographic. Most recently, The Review won a 2020 Webby Award for best Business Blog/Website.
12. Business Insider
Daily visitors: 1,990,717
Daily page views: 5,394,844
Alexa Rank: 245
In 1998, Business Insider came onto the media scene as a business and financial news outlet. Its website was first published in 2007 garnering 5.4 million unique visitors by 2012. By 2014, the digital publication was receiving comparable traffic to the Wall Street Journal that year.
Since then, Business Insider has branched out to form Tech Insider, Markets Insider, and most recently, BI Sub-Saharan Africa. 61% of traffic to the main BI website comes from search engine results, and more than 40,000 sites have linked back to BI.
13. Tech Crunch

Daily visitors: 506,030
Daily page views: 961,457
Alexa Rank: 1758
Launched in 2005, Tech Crunch came onto the digital tech publication scene the same year as Mashable. They sit just 5 points away from Mashable in the Alexa Rank, making the two neck-and-neck competitors from the beginning. Tech Crunch reports on business and technology - specifically startups, venture capital funding, and Silicon Valley news. They are often the first to break the news when a promising new startup receives funding.
Like Mashable, annual in-person events have been a central channel for Tech Crunch to raise brand awareness and build organic traffic. One such event, TechCrunch Disrupt, has served as an alternative revenue stream for the company and has attracted thousands of attendees over the years.
14. SmallBizTrends
Daily visitors: 164,351
Daily page views: 213,657
Alexa Rank: 8706
Launched in 2004, SmallBizTrends keeps entrepreneurs, business owners, influencers, and experts informed with news about tech products and small business movers and shakers. The publication has amassed more than 20,000 pages of practical, down-to-earth tips for small business owners in any industry.
By 2015, SmallBizTrends hit 1 million monthly visitors, with its founder Anita Campbell attributing the site's success to an interactive community of business owners. This communal atmosphere is unique to the site and has likely contributed to its surge in organic traffic. Approximately 71% of its traffic comes from search engines.
15. Neil Patel
Daily visitors: 286,148
Daily page views: 801,214
Alexa Rank: 2765
Widely known as the master of helping small businesses produce more organic traffic, it's no surprise bestselling author and business guru Neil Patel made the list. Launched in 1997, Neil's website quickly grew to dominate search engine results with detailed digital marketing how-tos. Today, about 58% of the site's traffic comes from search engines, followed by direct visits. Neil is the founder of Crazy Egg, KISSmetrics, Ubersuggest, and Quicksprout.
In an interview with Forbes, Neil recommended taking advantage of Quora to boost organic traffic. Neil uses this same strategy for his own website, using popular marketing questions as blog titles and weaving keywords throughout his posts. He also recommends zeroing in on longtail keywords while simultaneously considering user intent. Combined, these strategies help generate more targeted traffic rather than random traffic.
What Content Performs Best? 
By no means is this an exhaustive list of websites for entrepreneurs. These are simply some of the most reputable, high traffic websites that feature business news and advice to help you start and grow a business. Among the 15 websites above, a vast variety of avenues are being used to drum up regular traffic and loyal readers - print, social media, videos, articles, conferences, and podcasts to name just a few.
Overall, the world has seen a drastic uptick in video as a marketing medium in the last five years. But the type of content a business should produce largely depends on its business model and audience. A B2B company may benefit from hosting webinars or tutorial videos. Meanwhile, a B2C company might thrive on entertaining blogs and social engagement. There is no definitive, one-size-fits-all answer.
When deciding what type of content will perform best, first consider your goal. If your aim is social engagement, Hubspot suggests "list" posts and "why" posts, which have been shown to create the most predictable traction (about 21,000 shares per month with little variance). Videos and how-to posts were each shown to generate about 18% of total social shares during the experiment.
Another obvious factor that must be considered is industry - Different types of content perform better in different industries. For example, list posts didn't perform well in the education vertical in Hubspot's experiment. Meanwhile, how-to articles performed well in the automotive and culinary industries.
When deciding what kind of content to create for your audience, the best question you can ask is: What makes sense from the audience perspective? The medium that is best for you is the medium that your audience will get the most from - and that depends on their unique problems and reasons for engaging with your brand.
Content on Autopilot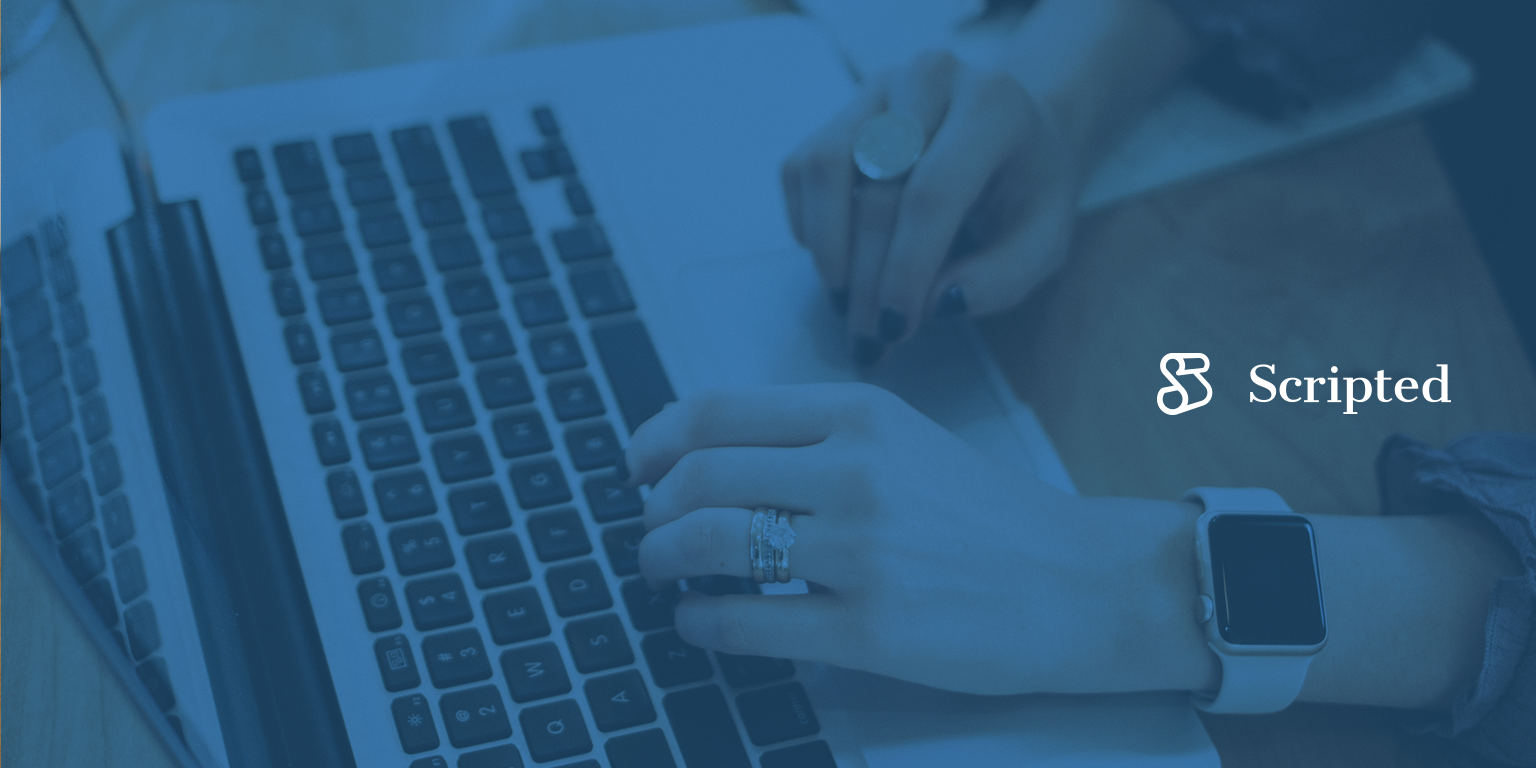 Every sustainable brand has a well-thought-out content strategy to achieve its long-term goals. Whether your business is new and visibility is a priority, or your brand is well-established and growth is a priority, content marketing will get you there.
Many small business owners don't have the time, energy, or expertise on staff to execute a well-rounded content strategy. For this reason, Scripted now offers a special feature called Cruise Control. With Cruise Control, you can set your content output on autopilot, requesting what you need and setting your own deadlines to ensure you always have the written pieces you need. Access a talent pool of vetted freelance writers with years of experience covering topics in your industry. Our SEO writers will work with you one-on-one to create niche content that engages your target audience.
Need help with social posts, blogs, white papers, or newsletters? Learn more about our content creation services and how you can access a team of freelancers and marketing experts to take your brand to the next level.