How Local Content Is Powering Real Estate and Travel Brands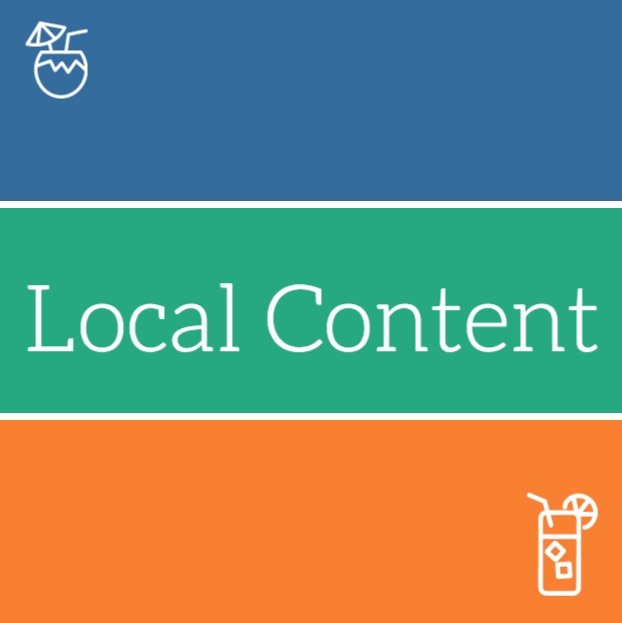 As more people are searching for information and services near them, it's never been more important to create relevant local content.
Geo-specific industries such as real estate and travel are at the forefront of local content creation and some brands have shown us just how they leveraged local content to drive their business. This article dives into what local content is, how it's been applied across real estate and travel brands, and how to create local content.
What Is Local Content?
Local content is defined as
content and news that promotes a service in a specific city, neighborhood, or community
. Local content is used across a variety of different industries, but primarily you'll find local used in real estate, travel, and retail.
Appealing to a specific geographic community with content about that community has proven to be extremely effective in lifestyle brands and publishers. San Francisco's The Bold Italic, has gathered thousands of social shares with posts about "The 7 Best Waterfall Hikes," "What Being Broke in SF Really Means," and "
The Top 10 Dating Profiles in SF
." Even as a local publishing site in San Francisco, the Bold Italic became a top 10,000 site in the world.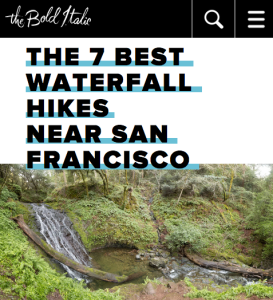 Buzzfeed has created a model of creating as much content as they can to a specific community or demographic, ranging from
cities
,
age
,
decade you grew up
, your
career
,
education
, and more.
Movoto Has Conquered Local Content On Social
How is this applied in other industries? In real estate, look at
Movoto's content marketing strategy
. They've scaled out local content to each of their neighborhoods, taking their traffic from 2,000 to 18,000,000 visits per month.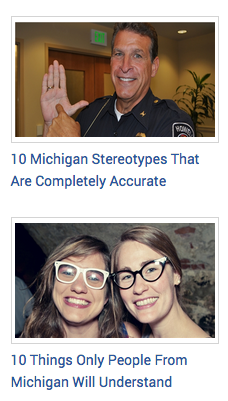 Movoto has created the blog for all things about communities, cities, and most importantly - people!
People share articles that are relevant to themselves.
For example,
33 Things People From Michigan Have to Explain to Out-Of-Towners
or
10 Best Places To Live In Birmingham for Young Couples
. The level of specificity that Movoto has applied to their content strategy is greater than any other real estate blog or website - and it works. At Movoto's peak of content creation, they created 400 articles per month, with an average of 35,700 visits per article.
Neighborhood and City Guides
It's not just Movoto that's creating local content in the real estate space. Other examples include Apartmentlist's neighborhood guides around the country. Apartmentlist has taken a different approach than Movoto and focused their content strategy around search engines rather than Facebook shares and comments. They've created a comprehensive guide, like
this one in San Francisco
, that is not only informative about the local area, but also allows visitors to find and rent apartments from the landing page. Zumper has taken local guides down to the neighborhood level, creating this one about
living in the Presidio neighborhood
of San Francisco.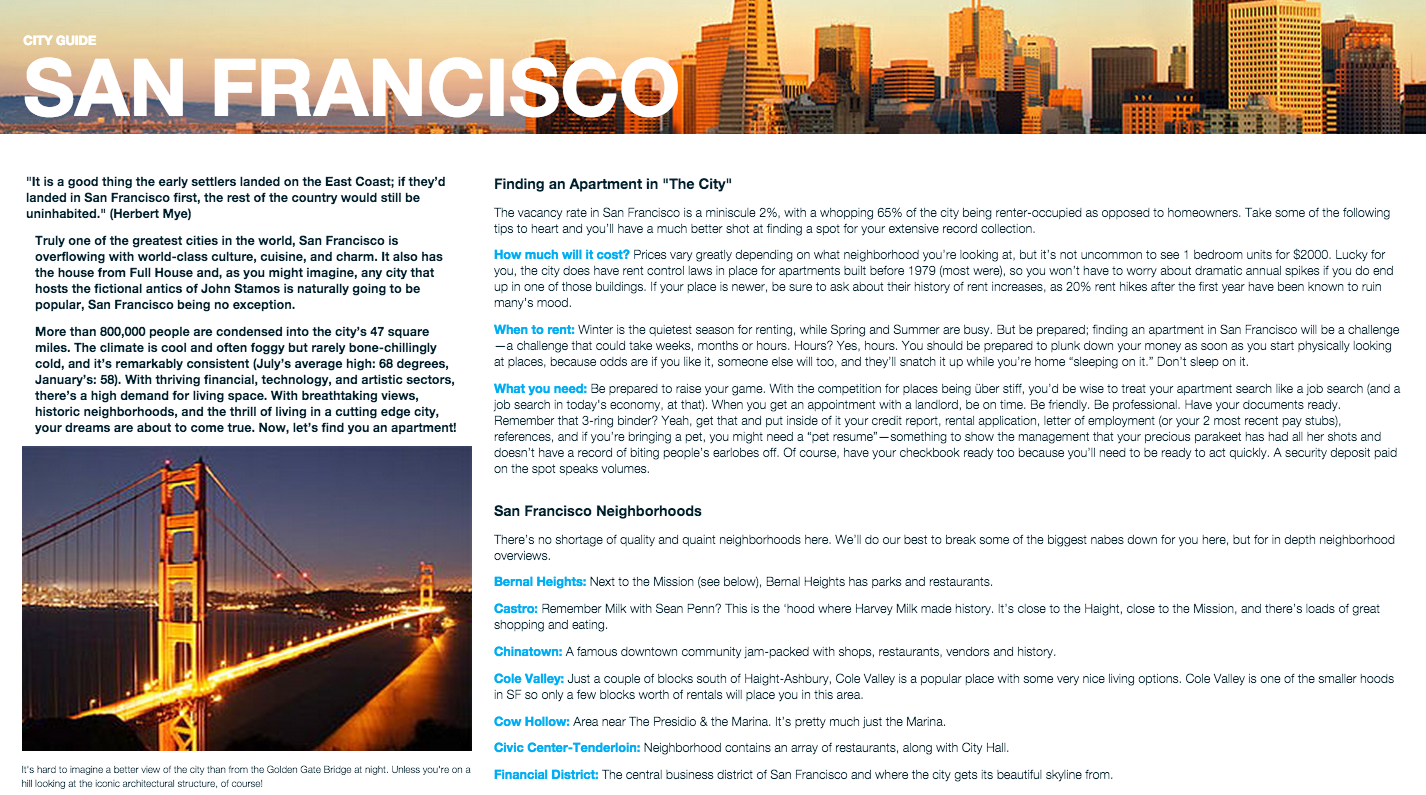 Using Local Content For Real Estate Agents
Real Estate agents can also take advantage of local content by educating prospective clients about the market in their city. Most of the search results are dominated by the big real estate websites (Zillow, Trulia, Realtor, Redfin) but a few independent agents have shown that they can beat the big guys.
This agent in Marin County
had the number one result in 'real estate trends' and the 'real estate market' in Marin - all because she consistently publishes articles. Being unique is also very important to stand out in real estate. The Girls Guide to Real Estate is a true unique niche blog that is informative, helpful, and knows their audience.

Even without winning the search results battle, real estate agents should be nurturing their leads and clients with relevant market information through email.
Knowledge = Trust = Closing Deals.
Local Content In Travel

For travel brands, creating travel guides and local tips is essential to capture traffic of those looking to book their vacation online. One of the most established websites for creating local guides is TripAdvisor. Covering almost every major city in the world, TripAdvisor has created:
-
City overviews
-
Best of the city and travel guides
-
Neighborhood guides
-
Restaurants, Things to Do, Hotels, and more
That is a lot of content! How has local content paid off for Trip Advisor?
Looking at SEMRush's tool,
TripAdvisor ranks on 4.1M keywords, generating 61M traffic, and captures number one positions for top searches such as: "san francisco hotels," "costa rica vacations," "barcelona," "flights to hawaii," and "hotels in san diego."
On a smaller scale, the adventure travel company Intrepid Travel, has been creating amazing recaps of travel journeys and stories to engage their audience. Their trips vary from cycling, sailing, hiking, eating, and more - but
check out the detail of their local stories
. Within one week, their blog covers local stories from Cambodia, Nepal, Egypt, Jordan, and Peru.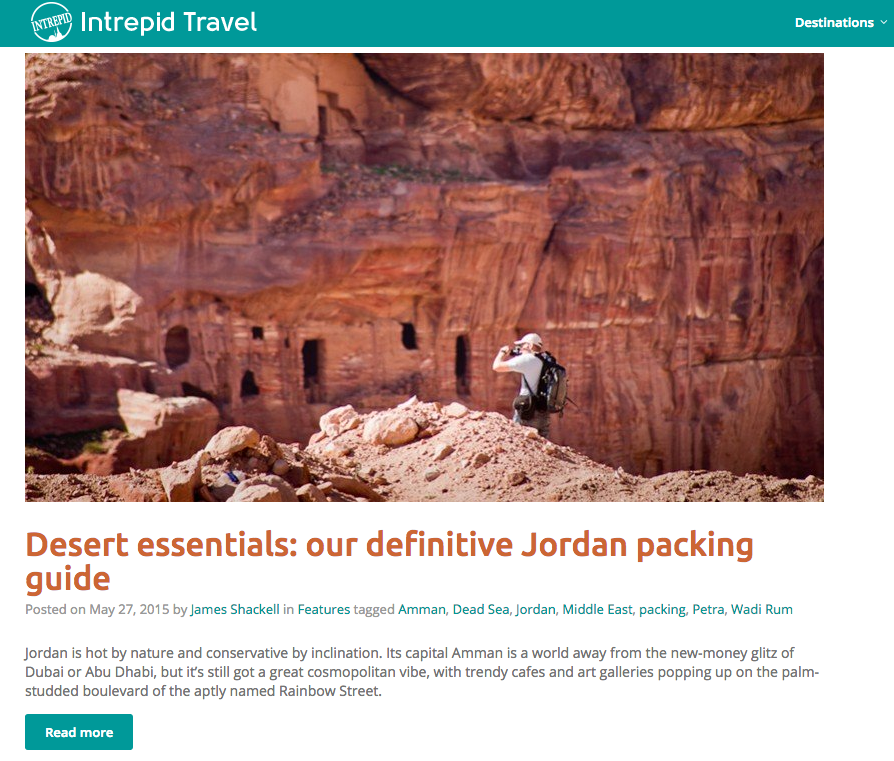 Local Content and Mobile
With
42% of all search traffic is from mobile
and
"near me" search queries increasing by 34x
since 2011, SEO marketers have been making mobile SEO a priority. Not only is TripAdvisor ranking on city terms, but they've taken advantage of the latest 'near me' search trend. According to SEMRush, TripAdvisor is ranking number one on "restaurants near me," "food near me," "hotels near me," and "bars near me."
With more travelers on mobile,
traveling has become more real time
and less planning in advance. Visitors in cities are searching for things to do around them at that moment. Last minute deals, events, and services will become more prevalent. Guides and information about things to do that don't require planning ahead will be popular - as well as creating information that pertains to where travelers are at that moment. Vacationers are also posting about their trips in real time across social networks. Airline brands, such as JetBlue, have taken to
Twitter
to engage with their customers as they travel. Take advantage of
user-generated content
(UGC) by making it easy for travelers to post to your social media accounts easily.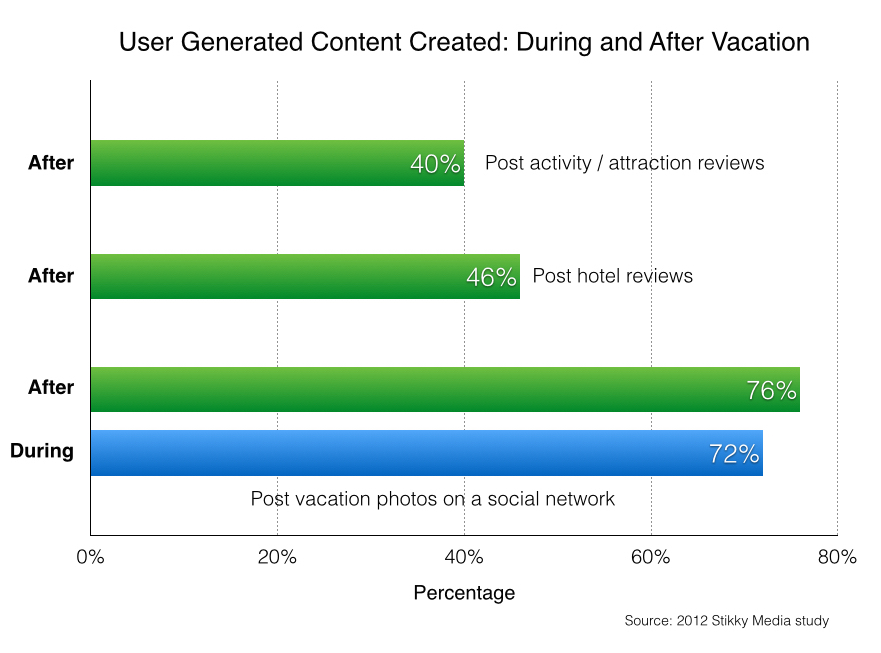 How to Create Local Content
A single small business may be able to create very relevant local content about places to visit, events, and other news in their neighborhood, but a brand that has many of these locations may run into a scalability issue when trying to create content. How do these brands keep up with local content?
Your content needs to feel local -- local to your industry, your customers, and your audience. It shouldn't sound like an outsider wrote it. When you're working on a geographically-based content marketing campaign, local writing is even more critical. Colloquialisms are what separates locals from tourists. Locals know the right streets, shows, and restaurants. They refer to landmarks and sports teams the right way. Is it "San Fran," "Frisco," or "SF"? Ask a local.
Hiring Writers and Writing Services
Hiring local writers consistently is difficult to do at scale. Intrepid Travel has built up a network of local travel writers to write on their blog. They have also taken advantage of user generated content by having their clients submit stories and blog posts. Having personal relationships with great writers is always a good idea. However, keep in mind that traveling writers may not always be available and deadlines may need to be flexible when working with a few writers.
ApartmentList turned to
Scripted to help source local writers
to research and write about local neighborhoods and cities. Scripted has a network of over 7,000 vetted freelance writers across the U.S. and can locate writers based on ZIP code for local content needs. Hundreds of guides, like these about
Boston
and
Engelwood
, can be written easily with such a service.
Get Local Content With Scripted
Now What?
1.
Start small!
Don't cover every geo-graphical neighborhood and area possible in your market. Pick one or two areas and brainstorm content topics. Keep your quality high and focus on building an audience that engages with your content.
2.
Who would share this?
Speaking of your audience - be as specific as possible with your audience. Create an article that specifically talks about the challenges of a single, mid-thirties woman who is looking to rent in Seattle. Or that quarter-life crisis young adult who just was fired from his job and is looking for a trip to clear his head.
Generic content = nobody cares.3. Be set up for SEO success.
Don't set yourself back by creating content that is not optimized for search. If you're a local business, is your local listing on Google accurate? Do you have the proper URL structure, title tags, links, and tags in place? Take a look at
this checklist
. Spend time on keyword research and titles. Your content is great, but give it as much as a head start as possible when publishing!
How are you creating local content? What examples of local content impress you? Share your stories with us below!