Lemonade for Business Cards: Your Guide To Crashing Conference Events
In case you didn't know, Dreamforce (Salesforce's sponsored event) was in San Francisco last week, which means lots of people were walking around Moscone center. As a small start up, we immediately saw this as an opportunity to meet some potential clients.

Given that we didn't have any passes to the event, we had to think of a new strategy. We began thinking of various costumes we could wear, but eventually settled on a lemonade stand. The lemonade stand would act as a reason for people to talk to us while we would tell them about Scripted's services. It was a valuable experience overall, and it's definitely taught us some new tricks that are extremely helpful when crashing a conference.

1. Be Mobile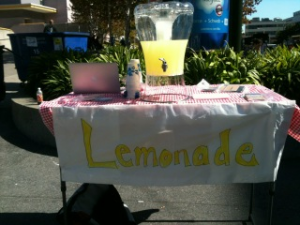 Having a small stand with light materials is key when promoting your services at an event. If you can bring fewer items, you're even better off. For example, dancing around in a costume would remove all of your set-up materials and keep you incredibly mobile - however, you might run into an overheating issue. At this event we were pretty lucky, we only had to carry:



A light folding table


A backpack with Scripted fliers/notepads


A jug of lemonade.


The lemonade was definitely the most difficult thing to carry, but it was essential to our initiative.
2. Choose the Best Location (But Act Fast!)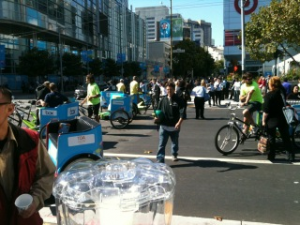 The next step is to choose the proper location for your promotion. Obviously the spot with the most foot traffic is ideal, but once you're all set up you'll need to begin promoting quickly. Don't be afraid to start asking bystanders if they would like some of what you're offering, and be sure to get a worthy exchange for the product you're offering.
With our lemonade stand for example, visitors would often ask what they needed to do to get some lemonade. While we initially would say, "Nothing, it's free!", we soon realized that a better answer would be to ask for a business card. Optimize this opportunity, because it won't last long.
3. Expect to Get Kicked Out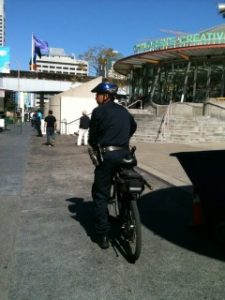 Within a couple of minutes the 'eye in the sky' noticed our little lemonade stand. Although we were giving it out for free, they just weren't happy with our presence on their corner. We even gave free lemonade to the Salesforce event manager and to the police officer, but it could not persuade them, and they told us to move to a different part of the street. Consequently, being mobile comes back into play here, as we were able to jump around from corner to corner.
4. Avoid Having A Free Product that Homeless People Want
This is especially true in SF. Being out in the street (as opposed to inside the actual conference) means you're going to get some passersby that are more interested in free gifts than business. In fact, over half of our lemonade went to random people who were just thirsty. After all, it's pretty tough to tell someone that they can't have lemonade when you're constantly shouting "free lemonade." At the same time, there was something about the bearded man carrying a sleeping bag that made me think that he didn't need some blog posts...
5. Follow Up on Emails
After surviving the day, I emailed all of our new contacts thanking them for talking with us and I offered them a discounted blog post. Within 45 minutes, we had received 6 new emails, given away 4 gallons of lemonade, and had to relocate 3 times. If I were to do this again, I would have more branded materials and signs in front. There were a lot of people that walked by and noticed our lemonade, but had no idea that we were offering free blog posts. Also, I would like experiment with having an email sign up sheet or raffle for your business cards. The good news is that Oracle Open World is coming soon!