You Got a Like, But Can You Get a Click?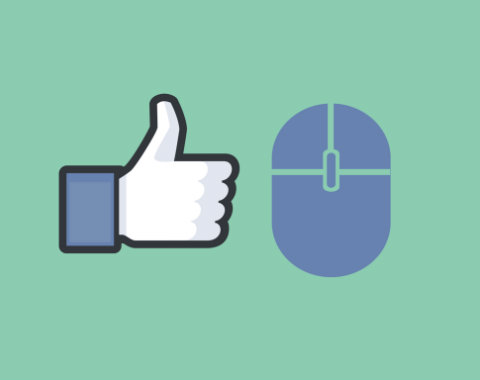 Social media shares aren't all they're cracked up to be. You need to balance shares with clicks to gain a real following.
Think of it as the tweet that sunk a thousand marketing ships. Earlier this year, the CEO of Chartbeat stopped marketers' hearts cold when he announced that
his research shows
"effectively no correlation between social shares and people actually reading."
Record scratch.
You mean all those likes don't
really
drive traffic? Well, no. But the sad realization that people often like or share content
without actually reading
isn't all bad news. That's because savvy writers know how to get likes
and
clicks. Here are a few ways to diversify your site's audience.
See also: Millennials to Baby Boomers: Create Content for Your Audience's Generation
1. Get Visual
It seems counterintuitive, but if you're hurting for clicks, try upping your visual game. Platforms like
Pinterest
provide clicks by default -- and gorgeous, brand-worthy pictures gain Pinterest traction. Make it easy to pin straight from your page. Give your image guidelines a once-over and consider investing in great graphics to keep the pins flowing.
2. Tease and Please
There's a reason Upworthy uses vague,
over-the-top
headlines. They reveal just enough to pique readers' curiosity without spoiling the article's content. For every person who shares without reading more, there's another who will devour each word. Here's the trick: Make sure you deliver your headline's promise. An over-the-top headline just for the sake of the click feels cheap. Preserve your brand integrity and practice
authentic headlining
at all times.
See also: Three Rules to Follow For Writing Good Headlines
3. Accept the Truth...
This is a hard truth to swallow. Your social audience and your blog audience are two separate groups requiring two distinct strategic approaches.
Gulp.
Look at how users behave on different platforms. Twitter users are enticed by good, succinct headlines, while Pinterest users value an attractive visual above all else. But a consumer who wants to read actual content -- a long-form connoisseur or a die-hard fan of your brand -- will give you the click.
See also: What Social Media Visits Bring to Your Content Marketing Strategy
4. Give Them The Goods
Ultimately, the best way to garner a like and a click is to deliver what you promise. That's why you can't afford to have bad writing on your site. If you're struggling to
build an audience
or grow traffic to your site, unfocused, generic, or just plain boring writing could be to blame. Audit yourself ruthlessly using current best practices as a guide.
How's your voice? Is your content presented in a way that's visually appealing and easy to read? Does it lend itself to sharing, talking, arguing, questioning? If you don't know the answer to the questions above, it might just be time to step up your game.
What Next?
It's not easy to predict where content creation is going, but it's likely that an even more robust social landscape will mean an ever-more divided audience and even stiffer competition for that click. Instead of wringing your hands, focus on getting better. With a
strong content strategy
and a site that delivers what your audience is looking for, you'll always be ahead of the great click contest.
How do you increase engagement with your content? Share your thoughts with us below.
To Read More About Content Promotion, See Below:
Checklist: Can Your Paid Promotion Vendor Give Your Content a Wider Reach?
What Social Media Visits Bring to Your Content Marketing Strategy
Promoting Content on Social Media: How to Increase Your Shares [Interview]