How to Engage Your Crypto Audience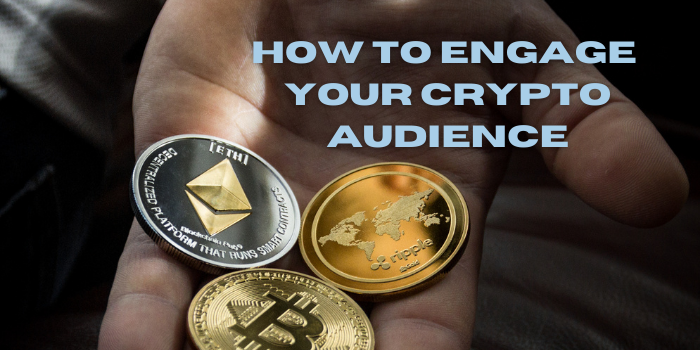 This post will discuss how to engage your crypto audience and utilize social media, blogs, and podcasts for maximum exposure. The best way to reach those in the cryptocurrency community is by using popular platforms like Facebook and YouTube. We'll take a look at content marketing strategies geared towards this niche, focusing on content distribution.
Write blog posts on topics that are relevant to your audience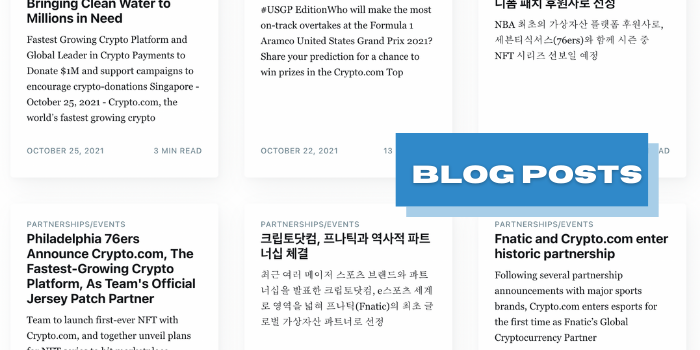 Blog posts are an excellent way to engage those in the cryptocurrency community because they have a longer lifespan than social media posts. They can be updated, edited, or deleted, and there is less of a chance that you will lose your followers if you make changes to your blog post content.
Bloggers must create quality posts about their topic with high-quality graphics and visuals to get more engagement from this audience. When applicable, this includes images, videos, infographics, and other visual aids such as website layouts and illustrations.
Blog content ideas you can use include:
How to start investing in cryptocurrency.

Tips for getting started with Bitcoin and altcoins.

Review of the latest ICOs on the market, including analyses of their features and potential success rates.
After posting your blog post, you can do some promotional activities that will help attract new followers. This includes: 
Using hashtags.

Engaging in conversations with other bloggers or content creators.

Following people who post about related topics like yours.

Reposting relevant posts from others onto your social media page. 
These are all great ways to go viral on Instagram as well as Facebook.
Create an engaging and informative podcast about cryptocurrency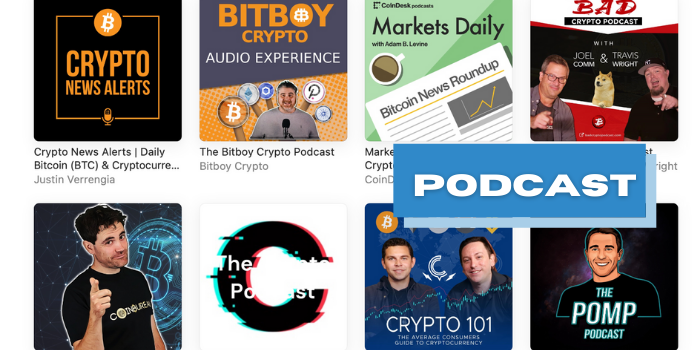 Podcasts are a great way to engage with followers who are interested in the subject you're discussing. Podcasts can be downloaded and listened to at any time, so they have more longevity than other content types like social media posts or video clips.
Create an engaging podcast by researching what your audience is looking for, then explore the most popular podcasts of that topic on iTunes for inspiration.
Podcast topics could include:
Tips for investing in cryptocurrencies.

Latest crypto news updates.

Interviews with experts worldwide about their thoughts and opinions on cryptocurrency-related issues such as security concerns or how governments may react to this emerging technology.

Hosting a live streaming event online where someone will talk about either Bitcoin or altcoins — these events usually attract high traffic.
Send out weekly emails to your subscribers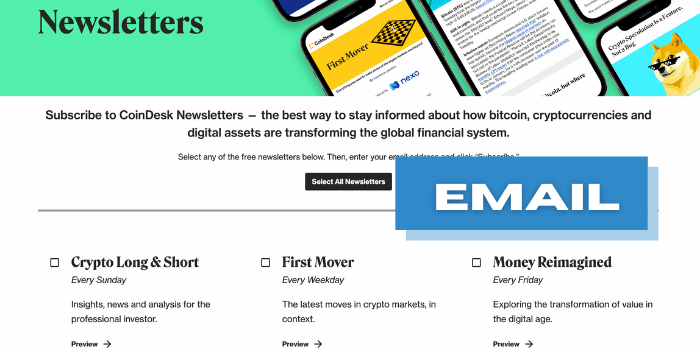 Your email list is a great way to keep in touch with your audience and will allow you to build better relationships. The great thing about email is that it will go to your subscribers' inboxes, which means there's a higher chance of them seeing the content instead of social media posts.
Email marketing often gets overlooked, but it remains one of the most profitable methods for engaging with an audience today. Send out weekly updates about what's been happening recently within cryptocurrency. It's essential to include blog posts, podcasts, or videos and general information about cryptos like new exchanges opening up around the world or significant changes coming down the pipeline.
Paid ads to gain cold traffic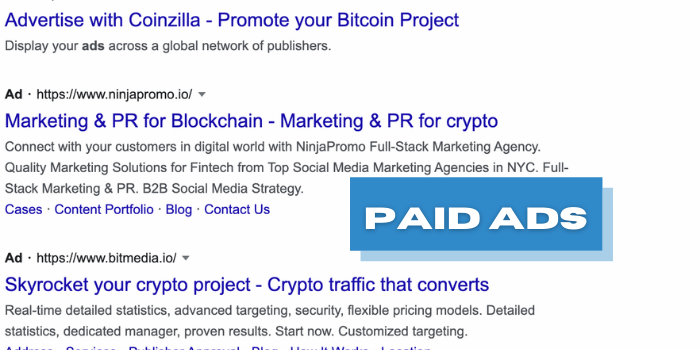 Google search ads, for example, are a great way to get your content and blog posts in front of more people who may be interested.
You can also use Facebook ads for this purpose if you have an established following on that platform. All you need to do is set up the campaign based on keywords related to cryptocurrency or crypto-related terms like "bitcoin" or "cryptocurrency."
Consider advertising YouTube videos, podcasts, and blogs as well.
YouTube offers many different video formats, but it's best to choose one that suits your topic the best, so users will find what they're looking for quickly when they search online. Alternatively, you could upload videos through channels such as Vimeo, which has less traffic than YouTube but generally attracts a higher quality audience.
Be active on open forums like Reddit and Clubhouse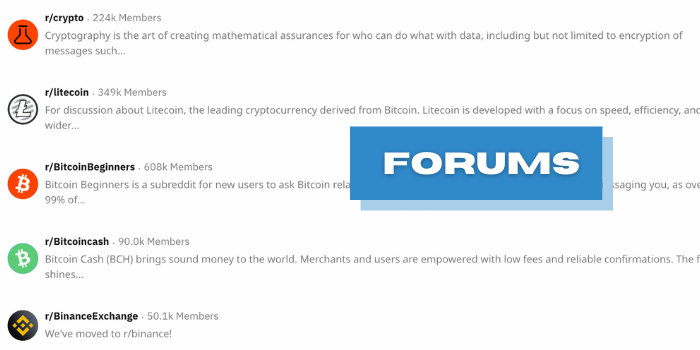 These places have a lot of cryptocurrency fans, and often conversations take place about the latest news. Be sure to participate in discussions relevant to your blog or podcast, but also be careful not to over-advertise yourself on these platforms. Engagement is key!
Be active on Facebook Groups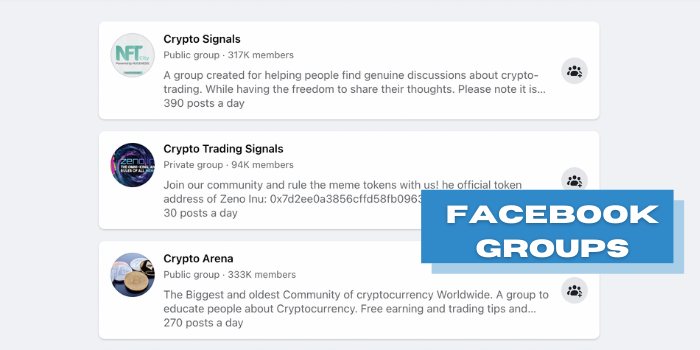 Suppose you've never been a member of a social media group before. In that case, it's worth trying them out as they can offer some unique opportunities for networking with people who share similar interests with you. For example, Cryptocurrency Collectors Club has many members still actively discussing new developments within this industry, such as changes in legislation around crypto-related matters or emerging technologies like blockchain.
Collaborate with other popular Crypto blogs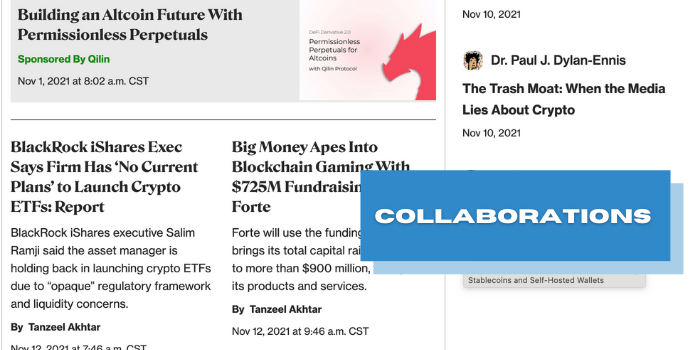 It's worth reaching out to another crypto website for a potential collaboration. This is especially true if you have unique content that they don't and vice versa. Chances are there may be overlap in your audience, so joining forces can lead to more people hearing about both of the businesses.
Some great collaboration campaigns are as follows:
Host a giveaway together.

Promote each other's content on social media.

Write guest posts for their blog.
Cross-promote your podcast with another crypto-related podcast. For example, if you have an investment-focused podcast, partner up with someone who has more technology focus to see how the episodes can be cohesively merged. This is also beneficial because it will allow people in different industries to hear about what's happening elsewhere within this field and may spark new discussions among listeners.
Conclusion
We hope this blog post has given you some new content tips and ideas for ways to engage with your crypto audience. Whether through email marketing, paid ads, or content creation, it's important to regularly communicate with your audience and keep them up-to-date about what's happening within the industry.
If you're looking to explode your traffic through content creation, consider using a platform like Scripted. Our platform pairs businesses with some of the top writers in their industry to write content that increases website traffic. Visit our content writing services page to learn more.