How I Used Scripted to Remodel an Old House
In 2020, with the pandemic raging on and no real end in sight, I had an additional dilemma on my horizon. I really needed to move out of my current space and living situation. Fortunately, I was able to secure a great deal on an old house in a town I dearly love and call home. Thanks to the generosity of the home's owner, I paid less than I expected to.
But once I got into the space, it was also pretty obvious that there was a lot of work that needed to be done to make it mine. Since I'd been working as a freelance writer for decades, I knew I just needed to get some more clients and make some extra money, so I could make the home into something I really loved. I turned to Scripted, since I'd heard such good things about it from other writers, and got to work.
What the Onboarding Process is Like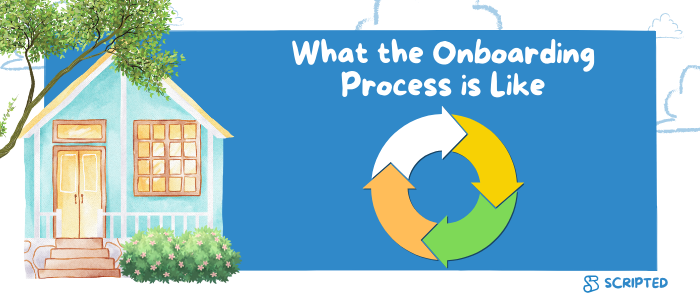 Onboarding at Scripted isn't difficult at all. I was fortunate enough to apply during a time when the sign-up fee was being waived, but that was just the luck of the draw. I would have gladly paid the small fee that was typically required because it's definitely worth it.
Normally I don't pay to get access to writing jobs, since there are so many scams out there. But Scripted is completely legit, and there are always plenty of writing jobs to apply for. It's a great platform, and one of the few that I use most frequently for my freelance income.
I had to fill out the application, and I created a profile with samples and information. Once I had everything done and my application has been approved, I was able to access the board and start proposing jobs to clients.
Now that Scripted offers their SmartMatch jobs, I don't even have to bid for jobs if I don't want to. There are usually enough SmartMatch options that I can take all the work I need without sending out proposals. But proposing jobs is easy and intuitive, and Scripted support is always there if I have questions.
There are Plenty of Industries and Topics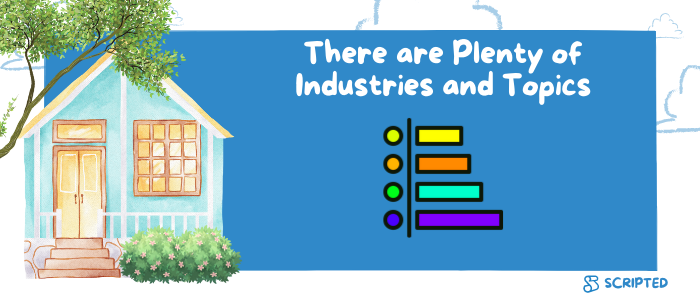 One of the biggest things I noticed right away about Scripted is that there are all kinds of industries and topics available. Since I have experience in a lot of different industries, that really made me happy. I had the chance to write about things I liked, or pick a newer topic and learn as I went along.
Whether you're a niche freelance writer or more of a generalist, Scripted has plenty of things you can write about. I generally take work in the legal and business areas, but I've also written about clothing and shoes, automotive products, and a lot of other things that I find interesting.
A freelance writer who's very specialized can find work at Scripted, and cultivate a client base that provides them with plenty of work. For those who are more likely to write about nearly anything, there are hundreds of jobs available, waiting for proposals. It's competitive, but not so much that it's discouraging.
I started getting jobs pretty quickly and winning a lot of the work I was proposing. Some went to other writers, and that's okay, too. There's enough to go around. I never felt like I couldn't compete, or couldn't find jobs to propose to, and that's still true.
Content Options are Numerous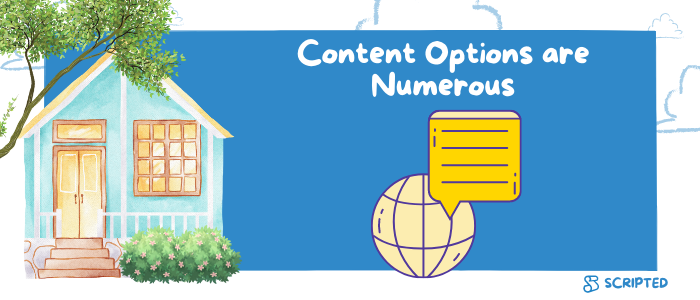 It's not just the different industries and topics I can write for that makes Scripted great. It's also all the different kinds of content to choose from. I've seen ad copy, video scripts, transcription jobs, product descriptions, blog posts, and a lot more. There are also editing jobs, for writers who get accepted as Scripted editors.
With so many different types of copy options available, it's easy to pick the kinds of things I like the best, or reach out and try something different. By reading the content brief carefully, I feel confident that I can give clients good quality work even if it's not in an area that I've done a lot of work in before.
Trying my hand at new types of content gives me the chance to learn more, and grow as a writer, too. As long as I do my best and keep clients happy, it works out well for everyone and I get to add to my portfolio. It's important to keep clients happy, but that's true of any writing platform and with other types of jobs, as well — and happy clients keep coming back!
Being a Client Favorite Helps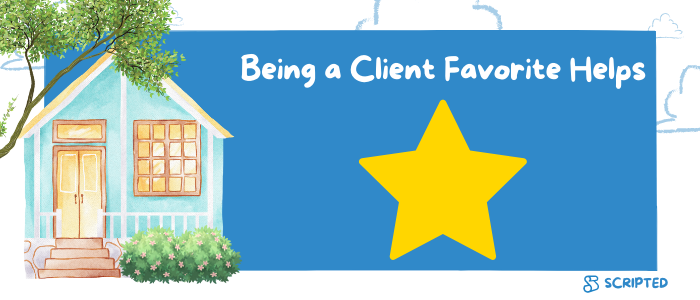 One of the best things you can do for yourself as a Scripted writer, is become a client favorite. As a wrote more content, I noticed my "client favorite" number going up. When you're a client favorite, those clients often choose you, or you and a small group of other writers, for SmartMatch jobs and other work. They may send you a personal message to ask you to submit a proposal for their jobs, too.
Naturally, that means you're competing with fewer writers for the jobs from that client. Not only does that mean the potential for more work for you, but it makes your profile look better to other clients. They see that you're popular and have good ratings, which gives them confidence that you'll do a good job for them.
It's Important to Keep Ratings Up
Rating matter. You can't control how clients rate you, and you can't see which clients rated you a certain way, or why. On my profile, I can see how many ratings I have and what my overall rating average is. It's pretty good, but not perfect. I wish it was higher.
But I always do my best, and I understand that there may be clients that just aren't happy with the work I gave them. It's literally impossible to please everyone, all the time. Since ratings are important, and because I really value my freelance career, I always try to do the best job I can, for every client.
My House is Really Looking Like Home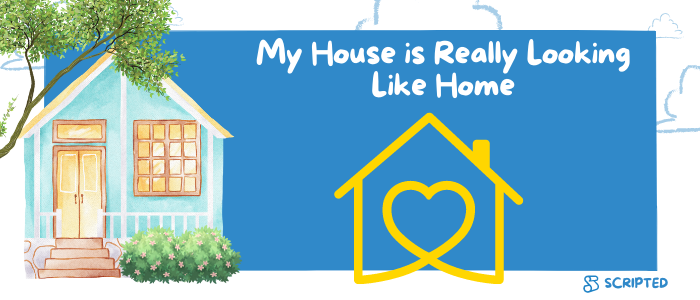 Now that I've been working with Scripted for over a year, I'm seeing the benefits on the platform and also in my personal life. The old house I moved into is looking more like home every day. Yesterday, I bought a piece of artwork I really liked, to hang on the wall over the couch. There are some small updates that need to be made, and some paint needs touched up.
The kitchen isn't remodeled yet, but we all know kitchen remodels cost a lot. I'll get there. In the spring, the house will get new siding and windows, too. Some days it feels like a daunting task, with all the work that I still need and want to do, in order to really make my house a home. But I know I can keep writing with Scripted, and that will help give me the financial boost I need to do more on the house over time.
Want to Make Money for Your Dreams, Too?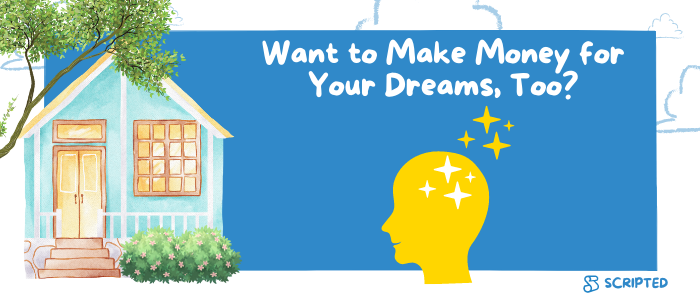 You can make money for your dreams, by working with Scripted. Whether you're fixing up an old house, you want to go back to college, or you have other ideas about what you'd like to do with more income, there are ways to make it happen. Sign up and become a writer with Scripted today, so you can start making your own dreams come true.

Author & Scripted Writer: Michelle Beck