The 5 Steps for Hiring Medical Freelance Writers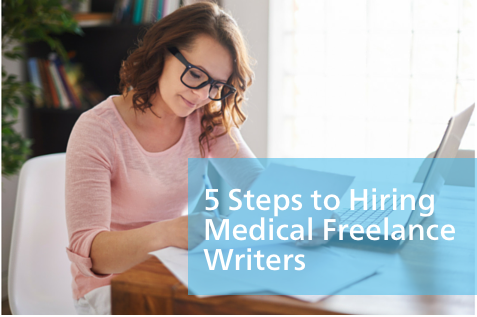 Creating captivating medical content requires not only an in-depth knowledge of the topics discussed, but also some advanced writing skills. If you don't think you have anyone in house who can reach out to readers and grab their attention, don't worry -- a freelancer can provide you with the engaging content you need.



Hiring a medical freelance writer is a great way to become a thought leader in the healthcare industry, as long as you watch out for a few common pitfalls. Here are the 5 steps to understand when hiring a freelancer in the medical space.

Why Hire a Medical Freelance Writer?
For many businesses, cost is a big factor in the decision. Working with a freelancer can be a lot more cost-effective than hiring a permanent employee. Freelancers provide flexibility, allowing businesses to order content when they need it and not have to worry about the cost of keeping someone on the payroll when the need reduces.
The best medical freelance writers draw on the latest medical advances to create content that is relevant to today's readers. Whereas a busy in-house medical professional may not be able to keep up with the latest exciting developments outside of their field, a freelancer has the time and skills necessary to research the latest developments.
Read more:
The Ultimate List to Outsourcing Your Content
What to Look for in a Medical Writer
Healthcare businesses must ensure that any content they publish is accurate. Giving out misleading medical information can seriously harm readers and damage the credibility of the company. Therefore, the most important thing to look for in a medical writer is knowledge and expertise. Look for a medical writer with a
PhD, PharmD, MD
or other relevant scientific or medical qualification.
When hiring a medical ghostwriter, always ask about the writer's background in the medical industry. Ask to see evidence of the writer's qualifications and experience of working in a healthcare setting. Yes, it takes time to perform these checks, but it reduces the risk of hiring a writer who puts readers at risk by providing misinformation.
As well as medical expertise, freelance writers must be able to write clearly and in a way that engages readers. Most freelance writers are happy to provide writing samples that show off their writing style. It's always a good idea to view a range of samples before hiring a writer to find out what to expect. As well as an engaging style, medical writers must have perfect grammar, as too many basic errors can make a healthcare brand look unprofessional and untrustworthy.
See also:
5 Ideas for a Writing Test to Give Content Writers
Finally, freelance writers must be able to meet deadlines. Businesses should hire writers with proven track records of producing content on time. Once you have identified your freelancer, you can establish a work flow schedule to keep content flowing in consistently.
What to Expect When Hiring Medical Freelance Writers
When hiring medical writers, businesses must provide clear instructions describing the content they want the writer to produce. These instructions should include the following information:


What key points should the writer cover in the discussion of the topic?


Are there any keywords the writer should include?


Should the writer use second person ("you" and "your" pronouns) or third person ("he", "she" and "they")?


Should the writer use a friendly, conversational style or a more formal tone?


Should the writer include lists and subheadings or stick to paragraphs?


Are there specific publications or sources the writer should use?


If possible, provide examples of the style and tone the writer should use.
A key part of hiring medical freelance writers is negotiating rates. Businesses can pay writers in a
variety of ways
:


By the word: This allows businesses to easily scale the amount they pay by the length of the content they need.


By the piece: Paying per piece allows businesses to pay a price that takes into account the length, complexity and other requirements of the article. This pricing model provides certainty when hiring medical writers, as the hiring business knows in advance exactly how much the content is going to cost.


By the hour: Some freelancers like to charge an hourly rate, but this pricing model provides less certainty for businesses, as it's never clear exactly how long a freelancer will take to finish a piece.


See also:
5 Ways to Prevent Your Writer from Missing a Deadline
How to Simplify the Process of Hiring Medical Freelance Writers
Businesses new to working with freelancers may prefer to work with a professional writing service, rather than hiring medical writers directly. These agencies use writing tests and client feedback to vet their writers, ensuring that the teams they provide have the right skills. Working with a professional writing service reduces the time that businesses have to spend searching for the right writer.
There are dozens of services that can provide content for businesses, but they vary widely in the level of quality they offer. In the healthcare sector, it's vital to work with a service that can provide access to medical writers who have real, verifiable credentials. Choose a high-end service such as Scripted, which specializes in managing teams of writers who have expertise in specialist subjects such as medicine, healthcare and science.
Managing Relationships With Medical Freelance Writers
After finding a freelance writer with the right skills and experiences, an organization must nurture the relationship. Provide feedback to freelance writers so they can adapt their writing style to match the target brand voice as closely as possible.
Positive feedback helps freelance writers feel valued and encourages them to continue working for an organization. If a writer is particularly impressive, bonuses can strengthen the relationship still further. On the other hand, don't feel bad about letting a freelancer go if he or she is not able to provide the necessary content, even after a lot of coaching and feedback. Building a strong team of freelancers is an ongoing process that takes work on both sides.
Conclusion
Outsourcing writing work to freelancers is a great way to get high-quality content without facing the ongoing costs of hiring an in-house writer. By working with a high-quality writing service and providing the clear instructions and feedback writers need to hone their style, medical organizations can get the content they need to build a lasting connection with their audiences.
Looking to hire medical freelance writers for your company or project? Check out a few of Scripted's medical specialists, and leave the vetting to us: