How to Grow Your Traffic From Social With Visuals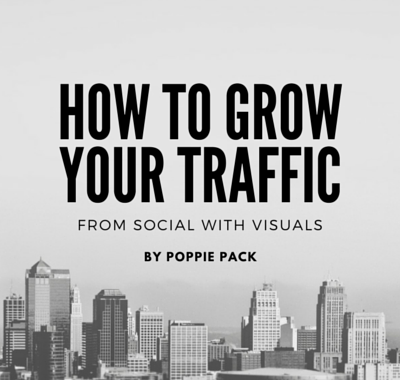 Canva's Senior Graphic Designer, Poppie Pack, offers her advice on how to create engaging visuals in this guest post.

Visual content is one of the most effective ways to communicate. Did you know visuals on Facebook receive 53% more likes, or that tweets with images receive double the retweets? An idea conveyed successfully through graphics will captivate an audience more effectively than text will. Therefore it is no surprise that by choosing the correct images, appropriate filters and using other graphic techniques you can significantly grow your traffic.
Apply an Appropriate Style to Attract Your Customer
When people see any of your visual content, you want them to immediately identify your brand. Create a visual style that sets you apart, and targets the consumer base you are trying to reach. After the fashion conscious? Create stylistic social graphics that speak to fashionistas. Research the typefaces, colors and filters are popular within that industry. If you are aiming for a younger generation, keep your imagery energetic and exciting. Gen Y don't stop, so keep your content fresh and compelling. It might pay to create a template that you can duplicate and edit, for helping build brand recognition through consistency.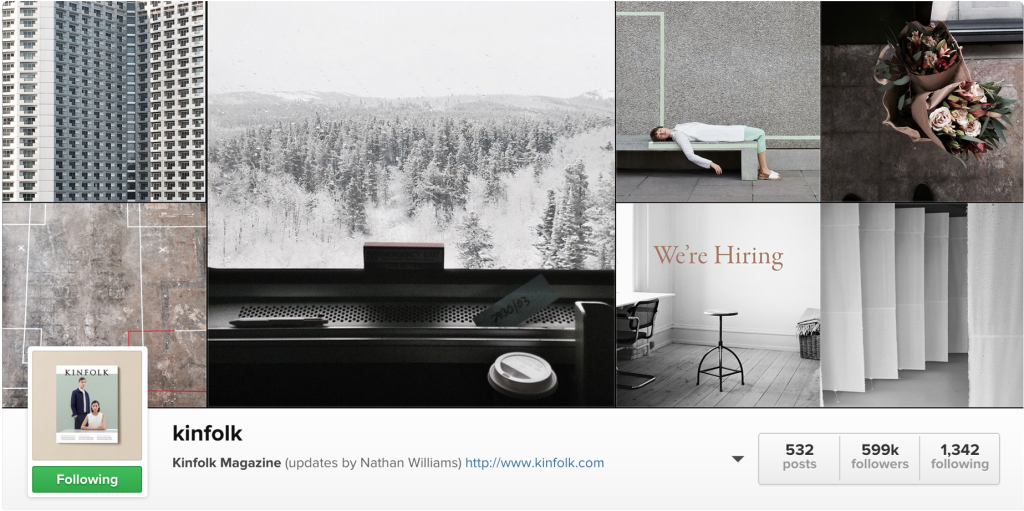 That's what Scandinavian-style magazine Kinfolk has done. Kinfolk is more than just a publication, it's a lifestyle. Nordic imagery of scenery, interiors, hospitality and all that is cool in the Nordic-sphere. Their specific style is a mix of washed-out, ashy tones and dark, desaturated imagery.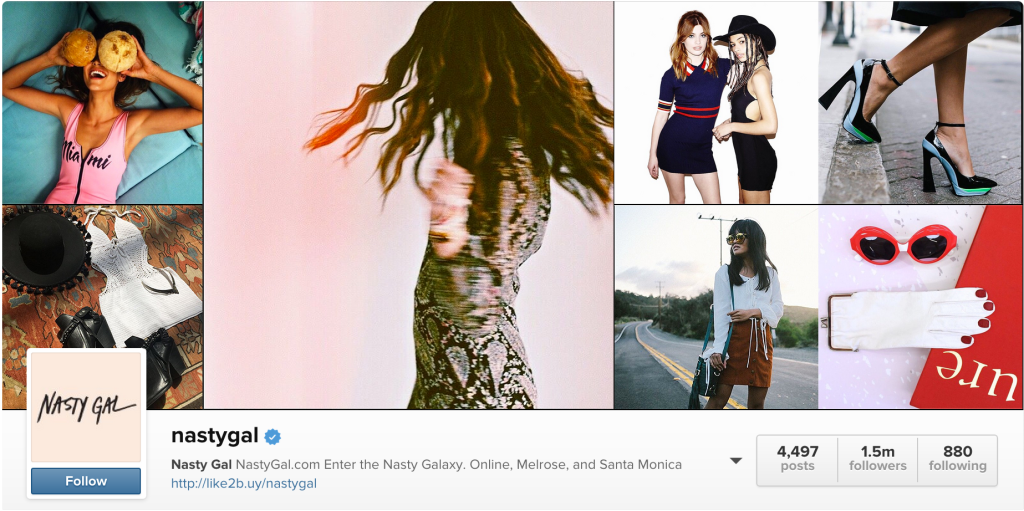 On the other hand, Nasty Gal, an online Vintage clothing site are moving mountains with their 1.5 million followers on Instagram. Each post receives hundreds of comments and likes. This is because Nasty Gal's content caters to its audience, sharing well-styled photos of their clothing and action shots of models and celebrities wearing their apparel creates a shopping experience for their customers, via social media.
Follow & Like
Find influential users whom you would like to be affiliated with and follow and like their content! Use similar hashtags as well as popular ones to ensure your images come up in industry and generic search feed. Piquora says that including just three hashtags on your posts can increase your number of likes on that individual post by up to 110%. Remember the more relevant content there is in your the visuals, the easier it is to hashtag. They also claim that users are drastically underusing hashtagging, and that they should be using seven hashtags as a general rule.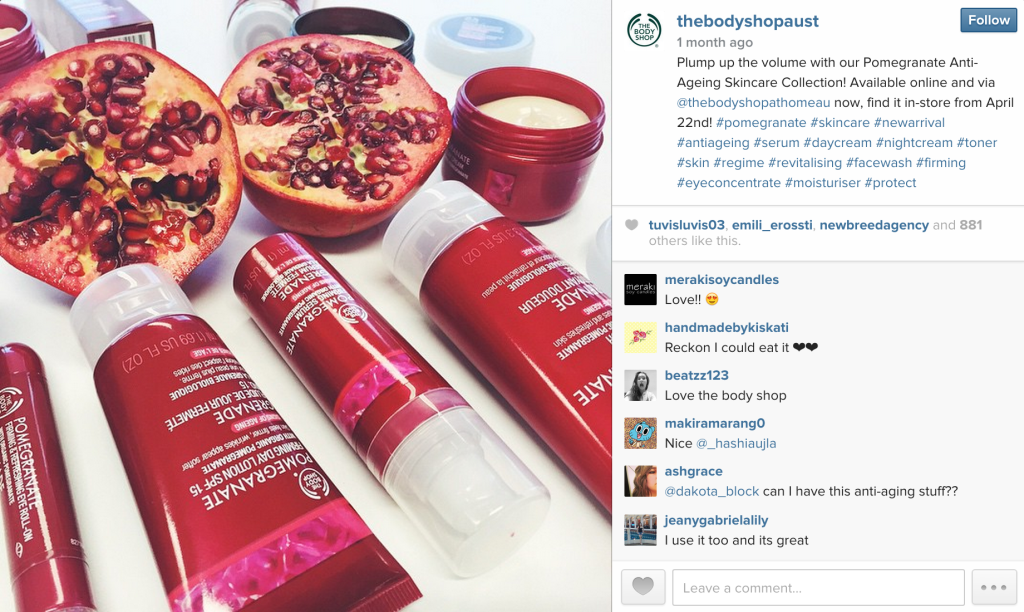 The Body Shop uses bright and exciting images of their products. They have color-coded ranges which they team up with corresponding colored fruits to create visual interest. What unique aspects of your brand can you leverage?
Use Content Automators to Autoschedule



There are amazing tools you can use to not only schedule all your graphics to post at specific times, but also to autoschedule - this way you can get ahead by ensuring all your content is planned. Coshedule, Buffer, Hootsuite, Latergramme and TailwindApp are great programs that offer a lot of features including analytics and a publisher which allows you to save drafts and prepare for schedule.
Use the Correct Dimensions For Each Network
Every social network has different dimensions which work best. Pinterest posts are long and have proven success when posted at the correct size. Remember that when you post on Facebook, if you intend to promote the post, it needs to have less than 20% text. This includes any text in your logo also. Use the Facebook tool to see if your graphic passes the test.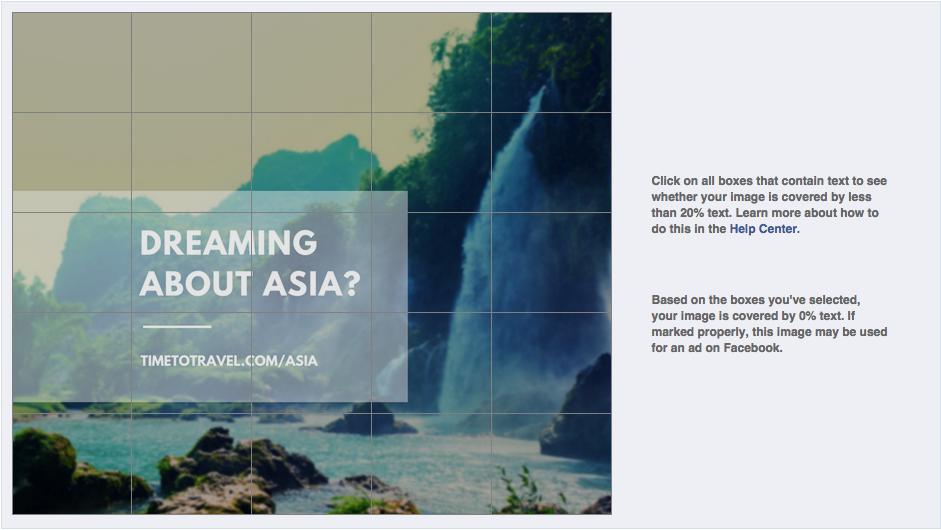 TIP: If you are creating your graphics on Canva, we have an excellent tool that you can use to measure how much of your graphic is text:
Search for "20% text rule"
Drop text grid onto your graphic
Check to make sure all your text fits into 5 boxes only
Create Downloadable Resources
Give your audience something special. Offering something in the sign-up process is a proven success. Creating eBooks and freebies will win over new customers and potentially reach out to a broader audience. That's what we've done at Canva with our new branding and design eBook, which offers a beginner's guide to building a brand. You can create an online competition where your customer has the opportunity to win something, this is an excellent way to engage with your audience and build a relationship with them.
Sharable Content
The key strategy when it comes to social media, is to get more shares. The more visually appealing your graphics, the more likely they will be re-posted and shared amongst other networks.





Group Boards on Pinterest are an awesome way to cross pollinate your content. Use sites like PinGroupie to easily find group boards on Pinterest that are relevant to your industry or product. You can search for titles or description keywords, the site lets you know the category, how many collaborators there are and how many people follow the board so you can choose what is the most valuable board for you to join.
Different People Like Different Social Networks

Not everyone likes the same social channels. Find out which of your customers like each social network, this will will help you tailor content for them. There are age brackets which prefer some social networks to others. According to Ashtann Moore from McBD, "young adults, while remaining active on Facebook, are signing up for new social media channels. Over half of all young-adults (53%) aged 18-29 are using now actively Instagram, whereas only 11% of adults aged 50-64 and 6% of seniors aged 65+ are using the platform." This means that Instagram, a highly visual network is becoming increasingly popular over all age groups, proving that graphics are leading the way in the marketing world.
Make it Both Evergreen & Timely

A content production strategy is vital. How will you serve each network's unique requirements, and deliver great content for your audience? Creating evergreen content is quality information that is useful to people over a long period of time. It offers great value It will mean a constant flow of traffic comes to your page over time, it either doesn't outdate or you update it accordingly. Being timely means that you know what's going on, what's trending and what your customers are gunning for. It's recent and it's. This sort of content is best placed in a News section so that people don't confuse it with current content.
Conclusion
Using effective imagery is a big part of marketing process. By combining images with useful information and conveying your brand, you'll be well on your way to building an engaged community of followers.

Need help finding a designer? Instagram is a great place to start.

Editor's Note: Poppie Pack is Canva's senior graphic designer at Canva. and is responsible for the beautiful designs you'll see on Canva's social media channels. She has just written a guide to design and branding with tips on creating your own brand. Download it for free on Canva's design school.
Read More About Content Marketing: