Google Analytics: Review, Features, and Resources

Nearly 30 million websites around the world rely on Google Analytics for the insights and data management that drive their marketing campaign. This full featured analytics tool from search giant Google contains a long list of features for mining and reporting data from any website, and it works with content strategies of all kinds to drive traffic and boost online visibility – including Scripted's SEO-based solutions for more effective content marketing.
What is Google Analytics?
Google is the world's leading search engine, and it also offers the web's most robust set of tools and services for helping website owners ranging from personal bloggers to giant corporations to get the exposure and traffic they're looking for. Google Analytics is the centerpiece of Google's Marketing Platform, which features an array of advertising and analytics tools in a single, easy to access platform.
The goal of Google Analytics is to provide everyone with the tools to understand customers better – and to use those insights to take actions that improve their experience. With tools for analyzing just about every detail about the traffic to an enabled website, Google Analytics gives site owners an in-depth picture of the behavior of all visitors to the site. That includes important metrics such as:
How many people visit the site
What pages they click on the site
How long they stay on those pages
The most popular content types
Which websites send traffic
What advertising strategies work best
How much traffic converts to leads or customers
Google Analytics can be installed on any website, and it can work independently of other tools in the Google Marketing Platform.
Getting Started With Google Analytics
To add Google Analytics to your website, you'll need a Google Analytics account. You can create a new one on the site, or use any existing Google account to set it up. Then, simply fill in the information for the website (called a property) that you want to track.
Many users need to set up Google Analytics for just one personal or business website. But for large companies, or entrepreneurs with multiple businesses, it's possible to have up to 100 Google Analytics accounts under a single Google account. Under each separate Google Analytics account, you can also add up to 50 different website properties.
To start tracking analytics, click the Get Tracking ID button on the new account page. This generates a unique Google Analytics code – a small piece of Javascript that must be pasted into the code of every individual page to be tracked. WordPress users can get a plugin that takes care of this.
Each website to be tracked has its own Google Analytics profile, where users can establish Goals and Site Searches - ways to tell Google Analytics what it should track. It takes about 24 hours to start generating data on a new account.
Google can present the data collected from site analytics in up to 85 different reports, which present metrics in different forms. View them by clicking the Reporting link on the Analytics dashboard.
Inside the Google Analytics Toolbox
The Google Analytics tool is actually a toolbox that contains a considerable number of more specialized functions that allow site owners to fine tune the reporting and get the right analytics for specific circumstances.
Analytics Intelligence automatically provides insights extracted from website data to alert users to changes, trends and other points of interest. This tool's Smart Goals and Smart Lists features use machine learning to highlight essential insights from analytics.
Reporting is a central feature of Google Analytics, and users can select from a variety of report types and presentations to find the information they need. Most Reporting features, such as advertising and conversion reports, are free to everyone, but some advanced formats are only available in the paid, Analytics 360 platform.
Data Analysis and Visualization tools include multiple ways to access data, including mobile apps, email alerts and a reporting API. Funnel analysis tools allow users to monitor and analyze a variety of shopping, checkout and other funnels, and advanced filters and sorting tools allow users to customize any data sets for multiple uses.
The Data Collection and Management feature supports a variety of formats for importing, storing and sorting data, including Javascript libraries and tag management systems.
Data Activation includes tools for detecting anomalies and predicting variables such as which users respond to re-engagement, or which site actions produce the best results. Demographic and interest data collection provides specific intelligence on visitors, such as age, gender and relevant interests.
Both free and paid versions of Google Analytics can integrate seamlessly with other Google products such as Google AdSense, Google Ads and the Google Search Console, as well as with some other third party products such as WordPress plugins. Other tools, such as the Google Cloud, are available only with the paid Analytics 360 plan.
Google Analytics Plans: An Option for Everyone
The basic version of Google Analytics is designed for individuals and small businesses. It's free to install on any website, and it includes all the platform's essential tools, such as Google Ads, AdSense and the Search Console, although it doesn't offer advanced features such as integration with platforms such as Google BigQuery or Salesforce. 
For larger corporations and enterprises, Google offers Analytics 360, an advanced version of Google Analytics that includes tools such as advanced funnel reporting, Campaign and Ad Managers, and Display and Video solutions. Interested users need to contact Google's sales staff for pricing information.
Resources, Support and Community
Google offers an array of resources to help users of all skill levels learn to use Analytics and other Google products. The Analytics Academy offers free online courses on all aspects of Google Analytics, and the Skillshop offers free training on Analytics and other Google tools. With the Google Primer mobile app, users can access quick lessons on using Google Analytics, marketing strategies, and more. There's also a blog with tips, tutorials and general information, as well as a user community and round the clock support.
Scripted and Google Analytics: Partners for Marketing Success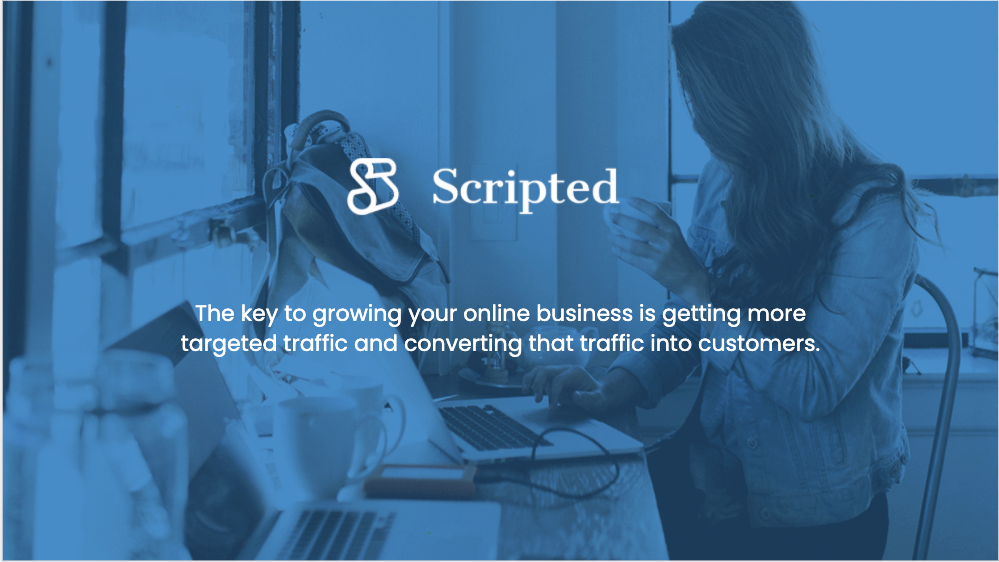 Relevant, authoritative content is a key component of a successful marketing strategy, driving engagement and building a website's reputation for thought leadership. Scripted's content-based SEO strategies work with the tools of Google Analytics to create search-optimized content that converts visitors into customers and clients.
Scripted's SEO solutions center on quality content, created by a deep pool of professional freelance writers with experience writing in industries and disciplines of all kinds. With plans for individual entrepreneurs and small businesses as well as for large enterprises, Scripted provides the services and support you need to build a successful marketing strategy that responds to the insights provided by Google Analytics.
Scripted's three membership plans include access to carefully vetted writers specializing in creating blog posts, articles, white papers, press releases and other customized content. Whether you need content to support your company's existing marketing plan, or you're looking for a fully managed solution that includes analytics and site reviews, Scripted has a plan that fits your goals.
Scripted's Self Serve Basic plan features unlimited content from the basic writer pool, ready to incorporate into any SEO and marketing strategy for higher rankings and more authority. Like Self Serve Basic, the Self Serve Premium plan includes unlimited, high quality content for use in any marketing strategy. But Self Serve Premium provides access to the top-tier content creators in Scripted's Premium pool of writers. Self-Serve Premium also includes an initial site analysis and a quarterly review of your site's SEO performance.
The Cruise Control plan is a fully managed SEO solution backed by high quality content created by the best writers in your industry. With Cruise Control, Scripted handles every aspect of your site's search optimization. We'll connect you with the best writers in your industry, and you'll also have the support of a dedicated account manager who coordinates every aspect of your customized SEO strategy, including regular SEO reviews of your website. 
Scripted also has options for agencies and larger enterprises. Scripted for Agencies is designed to support creative and digital marketing agencies handling multiple clients. Working with Scripted's dedicated account managers allows these agencies to make more efficient use of the company's content budget and serve a wide range of clients across multiple campaigns. Scripted's solution for agencies has no membership requirement, and you'll pay only for the content you need.
Scripted for Enterprise is a turnkey marketing solution for large companies and enterprises with more complex marketing needs. No membership is required, and Scripted for Enterprise is available for unlimited users in an organization, and includes access to a dedicated team of professional writers with expertise in your industry, as well as support from Scripted's account managers and representatives.
Want to learn more about Scripted's SEO solutions for your industry? Contact us today to find the plan that's right for you.