Donald Trump's Marketing Strategy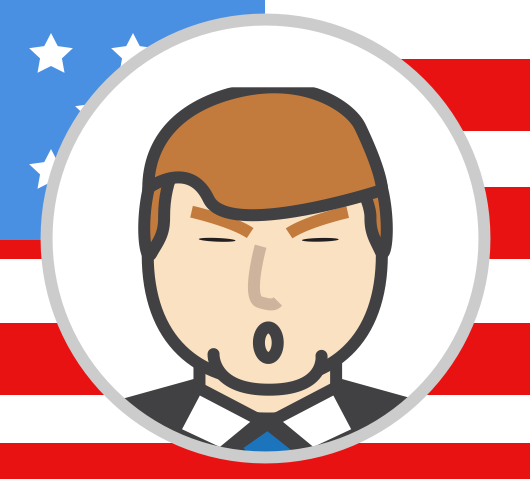 Donald Trump. These days his name has the ability to unite or divide a room. Known as perhaps the most polarizing candidate in the 2016 presidential election, Trump's digital and social media strategy has been a major point of focus during the past year. Let's take a look at how both conventional and non conventional methods as part of Donald Trump's marketing strategy.
Diving into Donald Trump's Marketing Strategy
Trump often heralds his business acumen as a key highlight of his campaign, and most business owners know the importance of online reputation. Let's take a look at Trump's content plan and how it's paid off for him during his run.
Throw Social Media Rules Out of the Window
Creating a social media strategy is heralded as an important step for any business. With so many people accessing company accounts daily, it's important to have a plan that protects your reputation and prevents any mishaps.
When companies make embarrassing gaffes on Twitter or Facebook, the world tends to respond with vitriol. For that reason, common social media etiquette cautions:


Don't say negative things about the competition


Keep your professional and personal life separate


Respond to any negativity right away and clear up the issue


Trump, however, doesn't play by these rules.
From the moment his campaign launched,
Twitter has been a place
for the budding politician and businessman to express his thoughts and feuds.
With attacks on everyone from Hollywood actresses to President Obama, Trump has never shied away from controversy on his social media accounts. However, this hasn't proven to be a campaign killer.
Slate
named Trump as the best candidate on Twitter, and his 8.16 million followers might agree. Trump also boasts 7.7 million Facebook fans and 35,000 YouTube subscribers.
The lesson learned from his social media success? Sometimes shying away from controversy isn't always the best plan of action.
Consistency Is Key
The thing that keeps Donald Trump's social media fresh is its consistency. Trump tweets at least 10 times every day. In an age where people are looking to consume content at alarming rates, Trump is playing directly into the hands of people who are active online.
Think about how many times you look at your phone in one hour? The digital generation is always looking for the freshest piece of news, the latest tweet or post that will go viral and get people talking.
By keeping a constant flow of messages, Trump is resonating with online audiences. While some of his messages are automated, a majority feel like they were typed by the candidate himself. This consistency combined with the real voice behind the message plays into his audience who believe he is an authentic addition to the political process.
Marketers and brands can learn a lesson from this approach. Despite the comfort of a screen, people are looking for the humanity behind digital content. Making sure your words or message don't sound robotic can be an important way to connect with your audience.
Simple, Easy to Remember Content Resonates
Ask most people Donald Trumps' campaign slogan and the majority will be able to repeat it back to you.
Make America Great Again.
With just four words, Trump has connected a viable message with millions of voters. It's also a slogan he's never wavered from. While some candidates try out different messages and slogans for various audiences, Trump has stuck with a simple message from the beginning.
This simplicity extends beyond his slogan. Often speaking and tweeting in short bursts of easy-to-read text, his online messages make for quick, shareable content.
Visit his website
and you'll find limited text above the fold (except for the menu). Clear calls to action line the top of the site, which means users don't have to search for what they're looking for. This simplicity may seem unlikely for a complicated presidential campaign, but digital strategy shows simple, direct content has a better chance of reaching a wider audience.
Any PR Is Good PR
Any important part of online content strategy is making sure referral traffic to your website or brand page is constant. Referral is the new word of mouth, and a link on a popular website can have a huge impact on your own traffic.
Donald Trump is perhaps the most talked about candidate in recent years. In fact, many members of the news media have wondered if they're
talking too much about Trump
.
While some of the press hasn't always been in his favor, Trump never backs down from a chance to respond to criticism. When your name is mentioned, ignoring the problem won't make it go away. Responding to the mention, whether negative or positive, keeps your business at the forefront of the conversation. This is considerably different than the reaction of Republican runner-up, Ted Cruz, who constantly
shied away from responding
to social media rumors.
It's also, in a sense, free advertising. When someone mentions your brand or product online and links back to your site, you receive a lot of benefit without doing a lot of work. Trump has taken digital content and made it work to his benefit. In fact, the New York Times estimates that Trump has amassed over
2 billion dollars in free coverage
since launching his campaign.
Love him or hate him, Donald Trump is the Republican candidate for the presidential race. As things start getting geared toward the general election, it will be interesting to see the content Trump and his competitors release online and how it affects their campaigns.
Be sure to check out the strategies of competitors
Ted Cruz
,
Hilary Clinton
, and
Bernie Sanders
to get an in-depth look at the content marketing strategies which shaped this election.
Need help driving your own content marketing strategy? Get Scripted, and leave the writing to us.