5 Dating Websites That Rock at Content Marketing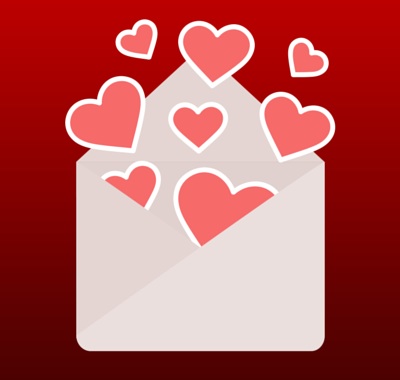 Need inspiration for your own content strategy? Take a look at what these dating websites are doing.
We talk a lot about B2B companies and their
content marketing
successes that sometimes it can be easy to forget what the B2C world is up to - for example, dating websites and apps. However, the combination of great subject material -- dating, attraction and sex --in addition to advanced data analysis have made dating site blogs must-read material. While these might not be the most obvious sources of content marketing inspiration, their examples can be applied to various industries -- not just in the world of love. In fact, some dating sites have the best content marketing around. Pay attention to these five dating sites for great reads and deep content marketing insights.
See also: How to Fall In Love With Your Blog All Over Again
Dating Website #1: OKCupid

OkCupid is a free dating site with millions of active users. The site's blog,
OKTrends
, has made massive waves -- not just in online dating - but to American culture at large. The blog was run by co-founder and author Christian Rudder, and discusses dating through analyzing data from its millions of users. Posts on OKTrends buck a lot of content marketing rules; few and far in between, often lengthy and lack a call-to-action. However, due to the sheer quality of data analysis and the simple and funny tone, OKTrends has become an enormous success. Curious to know how? Check back with Scripted February 11 for a full interview with Christian.
Why they rock:
Their entire content marketing strategy is focused publishing quality content which is why it can take them weeks to put one article together. Their method proves quality content drives big rewards.
Dating Website #2: Match.com
Match.com has potentially the largest name recognition of any dating site and they're no strangers to amping up their content marketing strategy. Their blog --
UptoDate
-- has been around since 2010 and discusses dating trends, tips and shares success
stories of happy couples
. They also conduct complex roundups of in-house marketing data, like their recent post on the
make-up of new Match users
in 2015. If that's not enough, you can get more dating tips from
Happen
, Match.com's online magazine, which hosts a wide variety of dating advice.
Why they rock:
They curate stories from their own community. There's no better way to market your product than by sharing stories straight from your users.
Dating Website #3: PlentyofFish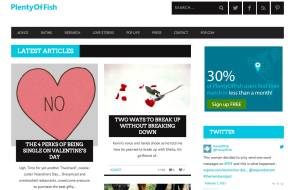 PlentyofFish also has a large number of users and a well-engaged blog. The
Plenty of Fish blog
features articles with tips on everything from finding love to getting over a breakup. While it touches on a familiar territory, the sheer quality of writing and story topics keeps these posts fascinating. Headlines like, "
The Science Behind Why 'Friends With Benefits' Doesn't Work
" or "
The Only Questions You Need to Ask on A First Date
," show both an insight into users' lives and an understanding of what makes content shareable. The dating wesbsite also runs a fantastic
YouTube channel
hosted by dating coach Sarah Gooding, which doles out great online dating tips in viral-quality videos that seem to regularly break one million views.
Why they rock:
PlentyofFish takes advantage of the power of video in their content marketing strategy by running their own successful YouTube channel.
Dating website #4: eHarmony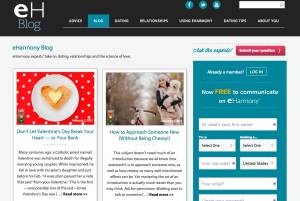 eHarmony's blog
is similar in style to PlentyofFish. It's primarily focused on dating advice, but is more tailored towards the insecure feelings many experience while dating. This approach works wonderfully because through content, eHarmony shows its audience they understand these feelings.
Their headlines perfectly balance comfort with education, all while while looking highly shareable, for example: "
Feeling Desperate? Don't Worry. No One Can Tell
," and "
The Most Important Thing to Remember in Dating (Which You Likely Forget!)
." eHarmony's blog also hosts advice from dating professionals and published authors.
Why they rock:
They understand their audience! eHarmony's content is specifically tailored to reaching their audience on a deeper and more emotional level.
Dating website #5: Zoosk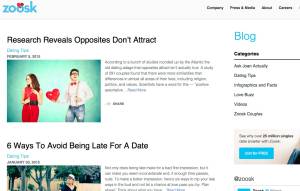 If you want to see a variety of content, check out the
Zoosk blog
. It offers practical, evidence-based advice for those navigating online dating. The site also features a regular advice column from "
Joan Actually
," an in-house dating expert, answering dating questions directly from users. There's also a
Zoosk YouTube
channel with videos featuring the theme "First Comes Like," showing the importance of the first smile, greeting and date -- long before the "L word" is ever uttered.
Why they rock:
They take questions from their community and turn them into content via the "Joan Actually" series.
Which dating sites do you love for their content marketing? Share your thoughts with us below.
To Read More Content Marketing Advice for Brands, See Below:
Why These 4 Brands Bring Social Media & Blog Content Together Amazingly
Learn From the Masters: Brands That Crafted a Cohesive Multi-Platform Social Media Brand
How Brands Should Really Be Thinking About Content Distribution [Interview]
Subscribe for the latest in Content Marketing & Freelance Writing!