The 7 Most Creative Ads from Euro Cup 2016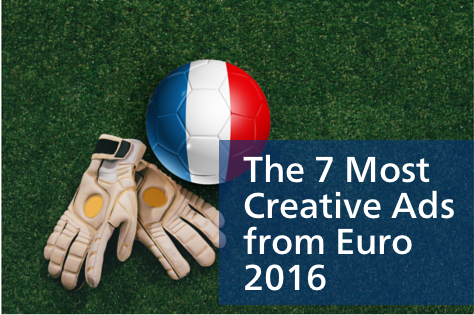 Everybody loves football, but not everybody loves the same football. From June 10 through July 10, football fans all over the globe were transfixed by the drama of the UEFA European Football Championship, better known as Euro Cup 2016.
Forget about all the political news coming out of Europe this summer. The real excitement was on the pitch.
This isn't American football, and it isn't the Super Bowl. Think of it as the Super Bowl multiplied by 10 (unless you're an American). The contest pits 24 football teams against each other, each representing their host nation in Europe with the world's best football players from all over the planet. Their task of each team is to eliminate all rivals until there's one team standing. That team will face the other continental champions from Asia, Africa, Oceania and the Americas at the 2017 FIFA Confederations Cup, which sets the stage for the World Cup in 2018.
As you might imagine, the content marketing for this massive event is the equivalent of Super Bowl ads on steroids. Research from ZenithOptimedia estimates that this year's Euro Cup is on track to
increase ad spend overall
by approximately $1 billion all by itself. That amount will be spread across channels, but concentrated in television and outdoor, mostly in Europe.
Every year, advertisers try to grab headlines with original concepts. The biggest budgets typically go for TV commercials, which do double duty as social video after the premiere. However, this year there are some clever cross-channel surprises. Here's a look at the most creative content produced on and off the continent for Euro Cup 2016.
Lufthansa's Flight of Fancy
The ancient rivalry between England and Germany was played for laughs in Lufthansa's TV spot "
Everyone's Fanhansa
." Two ultra-fans of England's team get bumped from a flight and put on Lufthansa. They imagine what it might be like on a German airline, full of stereotypes like lederhosen, oompah bands and cuckoo clocks. Essentially, this is Germany laughing at what other Europeans think of them while reminding everyone that they've won the World Cup four times.
Mars Attacks
What comes to mind when you think of Mars candy bars? If you said knights on horseback, a man in a lion costume, Welsh Corgis wearing bow ties and a homemade flotilla of football fans storming the beaches of France looking for the Euro Cup, that would be pretty extraordinary. That's also the joke in this fun and unbelievable "Believe" spot. Ad agency Abbott Mead Vickers BBDO assembled the unforgettable images in association with Rogue Films.
Betting on Social
Online betting titan Betfred is putting the lion's share of its advertising budget this year into new channels such as social media initiatives and interactive apps. Betfred's head of marketing
Gemma Strath explained
, "Usually we'd lead with above-the-line activity, but this time it is only 20 percent of our spend [compared] to 80 percent on digital channels," she says. "It is the best way to react in real-time to all the action and carefully build a narrative."
The Team That Wasn't There
Oddly enough, Betfred's competition, Irish bookmaker Paddy Power, may have won the title for the
most surprising ad
by celebrating a national team that didn't qualify for the tournament. "Scotland won't be there/Do you think we really care?" is one of the refrains from a host of Scots, backed up by bagpipes and long-haired highland cattle. The ad was created by the Scottish agency Lucky Generals.
The Heart Strings Award
Not all ads made their points with humor though. The "Awwww" award for the most emotional ad of the contest goes to Hyundai's "
Football Starts with Real Fans.
" The standout piece in this series is a dialog-free profile of a young boy saving up coins in a hopeless plan to buy a ticket to the Euro Cup. He can't go, of course, but in the end he is able to join other happy fans watching the games on a giant screen in "Hyundai Fan Park." The media campaign is supported by a roadshow with a traveling Fan Park and a website called their Digital Fan Park, with interactive games and the chance to win a car.
The Mini-Film to Beat
It now seems like a lifetime ago since Nike produced the shocking $100 million ad called "
The Secret Tournament
" a.k.a. "The Cage" for Euro Cup 2002. Directed by Terry Gilliam and produced by ad agency Wieden+Kennedy, the mini-film was set inside an abandoned oil tanker in a dystopian future. Three-on-three teams were forced to fight out a single goal elimination tournament inside a cage of iron and chains. The winners were allowed a chance to escape and swim for shore. It was a sharply edited and darkly comic compendium of football's most exciting moments, starring the world's top players. To this day, fans still discuss its impact on audiences.
Nike's Next Mix Up
In short, Nike had a great deal to live up to this year. They did it with "
The Switch,
" a six-minute mini-film featuring a twist on the "Freaky Friday" genre of mind swap comedies. When Team Portugal's Cristiano Ronaldo collides with a fan on the sidelines, they switch bodies courtesy of Nike. Wieden+Kennedy again produced, this time highlighting the quirky vision of Hollywood cinematographer Matthew Libatique.
All Are Winners
Unlike the Euro Cup, all of these contenders are winners as long as people are talking about their ads. In the aftermath of Euro Cup, advertisers will start looking ahead to the next big event where they can compete on creativity: the Summer Olympics in Rio this August.
This blog was written using one of Scripted's many marketing writers. If you are looking to create some of your own, engaging marketing content, check out our other writers here: