Browseo Review: Feature Overview & User Guide

Browseo is a powerful web-based tool that helps you quickly digest a website's content by removing all of its graphic styling. In addition to removing visual distractions, Browseo also highlights content that's proven important for that page's SEO. It's a unique concept, and once you learn more about it, you're sure to find it beneficial in your SEO pursuits.
What is Browseo?
With Browseo, there's nothing to download or install. Instead of operating as a desktop software or browser extension, Browseo simply requires you to visit browseo.net and enter a URL in their search bar to begin browsing. The neat thing about Browseo is that its pure HTML outlet allows you to see a webpage in a way that's very similar to the way search engine crawlers "see" that same content. 
Search engines care about the content of a webpage, often disregarding the layout and visual styling completely. So, by removing the visual components and putting emphasis on the content Browseo helps you focus on what search engines care about. That's what makes Browseo an excellent tool when it comes to actually optimizing your content for search engines.
What Makes Browseo Unique?
It's very easy to get caught up in a page's visual appearance. In fact, the visual layout and design of a page can actually mislead human readers by changing how they perceive the actual value of the content. Search engines aren't distracted by such things, and when you're working on optimizing your content for Google and other search engines, you shouldn't be either. That's where Browseo comes in.
In addition to taking away the visual distractions, Browseo also highlights other valuable data by allowing you to highlight internal links, external links, and "nofollow" links on the page. It can also display details about server response codes and other information that may be pertinent to your SEO endeavors.
Of course, if you're familiar with Lynx, you may be thinking that Browseo is much the same. The truth is, while Lynx can serve a similar purpose, Browseo retains some of the details that a text browser like Lynx does not. Plus, Browseo is generally more user-friendly, letting you navigate pages using your mouse and keyboard just like you're used to doing. 
How Browseo Works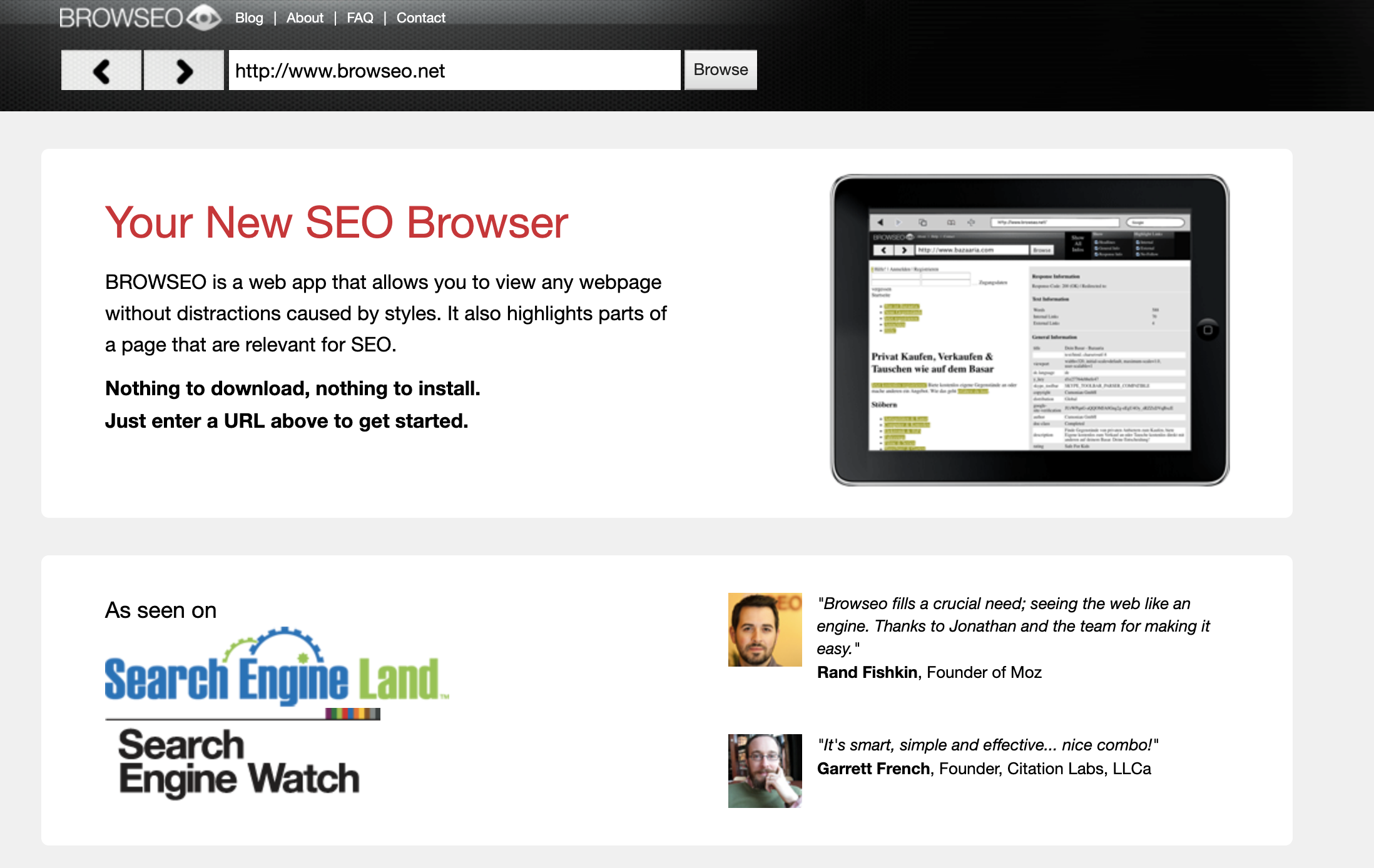 When you visit a webpage using Browseo, you'll see an output based on its pure HTML. The result is that you end up viewing the page much like a search engine crawler does. This enables you to quickly figure out a page's structure with just one glance, while also picking out the most relevant search terms with options like: URL redirects, server response code, heading tags, internal links, external links, meta information, and more. 
To top it off, you can also download a spreadsheet that saves all of the important results discovered in each session, allowing you to revisit results at a later date and aid your research.
Why Do People Use Browseo?
When you first start playing around with Browseo, the first thing you may find yourself doing is entering your own website into the search bar so that you can get familiar with how Browseo displays content. As you start using Browseo for research, you'll likely come to do this many times in the future.
Starting with your own website is great since you already know what your site looks like to the human eye. Browseo will show you what it looks like to search engines, putting your content front-and-center so that you can begin identifying aspects that you can improve and optimize. When it comes to figuring out exactly what those aspects are, you'll probably turn to competitor research.
Given that Browseo is completely free to use and puts no limit on your daily searches, plug in your top competitor and start browsing away. By looking at how your top competitors look through Browseo's search engine, you may start seeing commonalities amongst top-ranking posts and pages regarding how they're structured, the keywords being utilized, the placement of keywords, the number of links, and so on.
By using Browseo to take notes on a handful of your competitors, you can begin making these conclusions and, therefore, finding ways to optimize your own website. This is why people use Browseo. While it may seem like a simple tool at first glance, it's actually extremely powerful when it comes to revealing the core SEO-friendly structure and strategies that you could be using.
Bringing Content Center Focus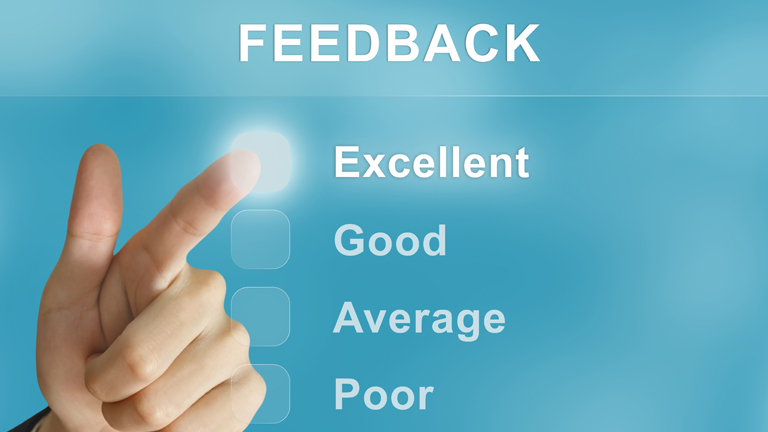 Ultimately, the most impactful thing about Browseo is that it helps shift your focus, as a human, away from the graphic styling and other distractions that can impair your judgement of the content that's actually on the page. In other words, it helps bring the real content into center focus, allowing you to achieve two important things.
First, Browseo helps you see a website just like a search engine crawler "sees" that same page by removing all the elements and visuals that simply don't matter for SEO. Secondly, and perhaps more importantly, Browseo helps you focus on the content in a way that you usually don't, paying attention to the structure, the headings, the distribution of links, and so on. In doing so, Browseo can help you identify how these aspects impact SEO, but also make notes regarding how you can optimize your own content in other ways.
If you turn to Google or any other industry leader when it comes to improving your site's SEO, one theme you'll hear repeated time and time again is a simple, yet often overlooked ideal: The best SEO results from valuable content that's written with the reader in mind. Browseo can help you work this ideal into everything you create by taking away that visual clutter and helping you truly focus on how you're structuring your content and offering value to your human readers.
All in all, it's a powerful tool that will help you get back to thinking about your content, and see everything else as a secondary initiative. This alone can help you greatly improve your website by optimizing what really matters, that being the information you're giving to readers and search engines.
Features & Pricing

Since its launch in 2018, the team behind Browseo have continued to gradually expand it with the introduction of new features, like the recent update that now allows you to export search results in spreadsheet format for later reference. In addition to this perk, you'll also enjoy features like these:
Start browsing immediately without the need to download a new browser, software, or extension.

Use Browseo to hide all the visual stylings and distractions so you can focus on what search engines care about.

Toggle settings to control the info you see, revealing heading tags, meta data, server response codes, and more.

Gain a deeper understanding of a site's strategy by highlighting internal links, external links, "nofollow " tags, and more.
Perhaps best of all, Browseo is a completely free tool to use, with no need to create an account. It's also super easy to use, even for non-techy people. Simply enter a URL and start browsing.
What Users Say
The unique concept behind Browseo has gained the tool a lot of attention. It's been featured in Search Engine Land, on Search Engine Watch, and even reviewed by the likes of Rand Fishkin (founder of Moz), who says: "Browseo fills a crucial need; seeing the web like an engine. Thanks to Jonathan and the team for making it easy."
Another featured review from the founder of Citation Labs, Garrett French keeps it short and sweet: "It's smart, simple and effective... nice combo!" Other reviews echo these sentiments, like the one from Debra Master, President of Alliance Link, who states: "A one-click tool that shows basic but important SEO metrics in an easy-to-read format."
Scripted & Browseo

In the years since its launch, Browseo has steadily gained an audience of marketers, website owners, and agencies who use it to help better structure their content and web pages. It's powerful, purposeful, and feature-rich, plus: it's free! This web app is an excellent addition to anyone's tool kit. There's nothing to install and no learning curve, just an intuitive platform that you can jump right into using.
Without a doubt, if you weren't using Browseo before, you're sure to find yourself using it now. The question is, what other powerful tools should you be adding to your toolset? Here at Scripted, we're well-versed on the complexities and best practices of web design, SEO, and the other critical elements that help drive a site to success. Of course, if there's one thing that Browseo helps prove, it's that the heart of any SEO strategy isn't the design or presentation, but the content itself.
As a content production platform, we're proud to help brands like yours find the writers and editors who will create content that performs. When you work with Scripted, you'll gain access to a growing pool of thousands of writers from across niches, each one bringing their own unique experiences and writing styles to the table.
Even with our self-service tier, you'll enjoy perks like unlimited content ordering, multiple revisions, and astounding customer service to help ensure every project is a success. Meanwhile, if you're seeking something a bit more hands-off, maybe you'd like to consider our fully-managed Cruise Control plan. Cruise Control puts your content strategy and marketing efforts in the hands of one of our experts who will provide a truly "done-for-you," results-oriented experience.
Just looking at the results that our other clients have achieved, like Kixie's 67% growth in referring pages and Simple.Thrify.Living's 543% growth in traffic, proves just how effective our expert-led content teams are. Interested in learning more about Cruise Control and how our plans can help your business achieve more with the content you publish. Explore the perks of joining the Scripted platform and learn more about our other clients' astounding results.