Do's and Don'ts of April Fools' Day Marketing

The Do's and Don'ts of April Fools' Day Marketing
April Fools'Day jokes have become a part of the modern marketing landscape. They litter the internet on April 1st. Some get a chuckle and some fall a bit flat, but they all manage to help humanize brands. Learn when an April Fools' Day campaign is a good idea, and avoid being this year's April Fool.
Major players such as Google and Amazon hit consumers with a range of gags, and other brands follow suit. If you can create a humorous, timely, and committed April Fools' joke, it might be a great way to gain visibility for both real and imagined products.
Commit to Your Joke
The biggest mistake that many April Fools' Day gags make is to give away the joke. The fun of the fool is being fooled. If you give away the joke, you take away the uncertainty. It might get a few laughs and a few views, but to truly take advantage of the spirit of the day, it needs to fool those who see it.
When OREO and Heinz announced they were teaming up to introduce cookie-cream-flavored, plenty of people urged them to make the product happen. They committed hard enough that even other brands got in on the joke. Walgreens posted a tweet requesting information about signing up for jumbo squeeze bottles of the flavor.
Fruit of the Loom responded that it wanted "cornuCOPIOUS" amounts of the ketchup. (In case you aren't familiar with Fruit of the Loom, the company uses a cornucopia as its brand image.)
You know you have a good prank when other companies can use it to emphasize their unique brands.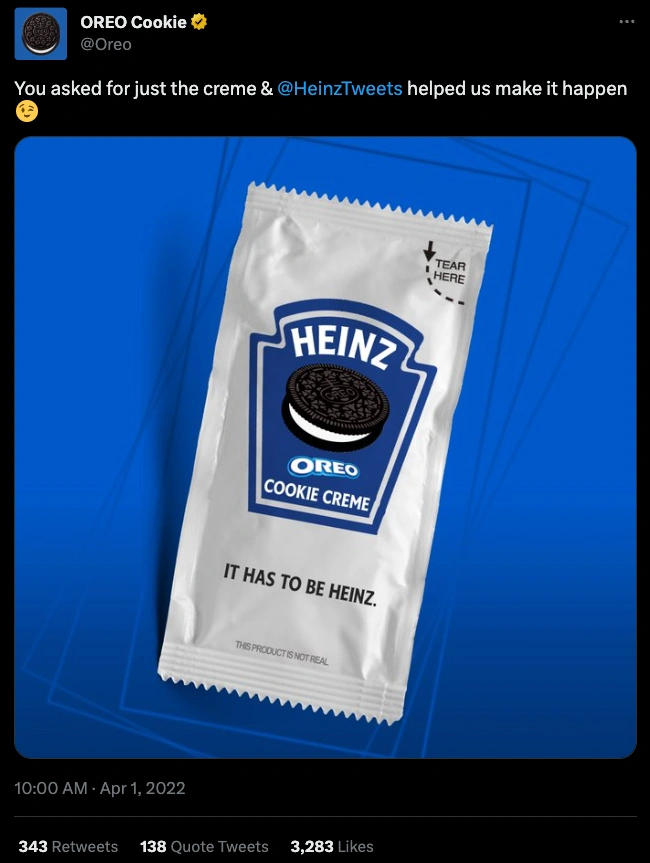 Go Big or Stay Home
If the joke is good, it deserves to be seen. And it will be used in blog posts as examples of great jokes for years to come (ahem!). Warby Parker posted the Warby Barker video in 2012 and hasn't done another April Fools' Day prank since. Why? The company simply hasn't found another joke that is good enough to promote. As with all your content, you should never publish for the sake of publishing. If you don't have something you love, move onto something else. Maybe you don't find a great idea for this year. It's better to take a year off than publish something you don't believe in.
Are you struggling to find an April Fools' Day joke that resonates with your brand? Learn more about how Scripted can help meet all of your content creation needs.
Current Can Backlash
You need a fresh content strategy with creative ideation, but sometimes staying at the forefront isn't the best idea for a prank. People can have strong feelings about current events, making it easy to upset consumers unintentionally. You want your April Fools' Day marketing to get attention, but you don't want a lot of negative attention.
Instead of focusing on current events, you might look to your brand and company to find your next gag. The joke will probably age better, get more positive attention, and show off your brand's creativity.
Do you know how well your April Fools' Day digital marketing campaign worked? Start optimizing content and tracking performance so you can learn from your successes and failures.
Believable Is Better
A gag that sounds real can draw a lot more interest than one that is an obvious joke. In 2022, Budweiser announced it was opening a Budbnb for its fans. For just $1,876, guests could get the opportunity to spend the night in a luxuriously transformed horse stable... with a fully stocked bar, of course. Yes, it sounds ridiculous, but companies do some pretty ridiculous things. This was just believable enough to make you double-check your calendar. Plus, Budweiser included some pretty convincing photos when it posted about its new venture on Twitter.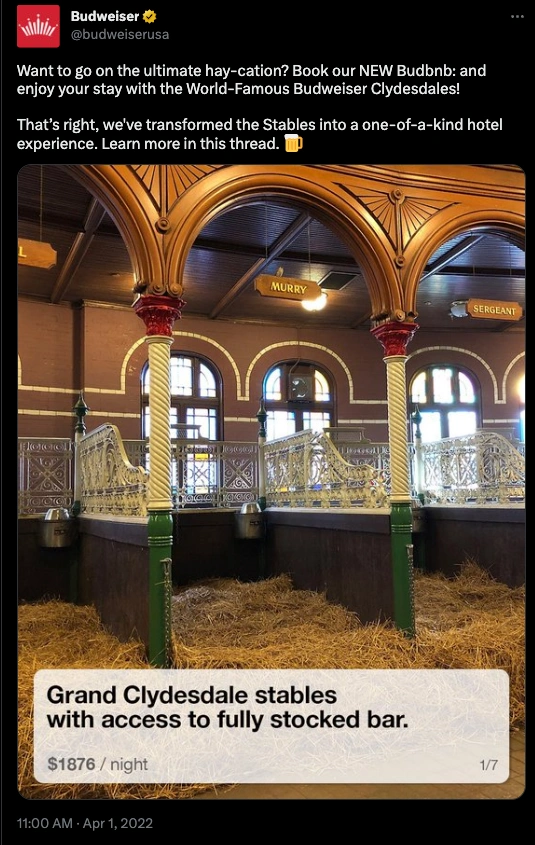 Keep in mind that you could confuse people by introducing a real product or feature around April Fools' Day. Amazon unrolled the Dash button on March 31st and made a lot of gag winner lists because it was an absolutely real product that seemed too good to be true. Avoid rolling out real products on gag day unless you want to assure customers that it is real for months afterward. If people think your real product is a joke... you might have a serious marketing problem on your hands.
April Fools' Day Is Only One Day
If you don't have April Fools' Day jokes ready for the first of the month, you're missing out on a great opportunity to enhance your brand awareness and digital marketing campaigns. It takes time to come up with something that is fun without being insulting.
The best pranks tie into the brand, like the Blue Moon release of beer-infused oranges. If you like an orange slice with your beer, why wouldn't you like oranges that taste a little like beer? It's odd, somewhat believable, and undeniably delicious. Those are traits that make April Fools' Day content worth the effort.
If you have a gag that ties into your brand, is humorous without being insulting, and is ready to share on April 1st, go for it. Give the gag the promotion it deserves with press releases, product pages, social media posts, and other marketing avenues. If you don't avoid them entirely, pranks can be very hit or miss.
Don't miss your April Fools' Marketing Opportunity: Order Content Today!
Sign Up For Your 30-Day Free Trial Today!
Content creation already takes a lot of planning, research, and thought. An effective April Fools' Day campaign needs can't compromise on quality. If you find the right tone, you could amuse fans and reach new customers. If you make a mistake, you could damage your reputation. It's a balancing act that requires careful consideration.
You don't have to do all of the work on your own. Scripted has a deep pool of content creation professionals with digital marketing and humor backgrounds. You will get expert assistance on your April Fools' Day campaign and ongoing support for future content marketing projects.
Start your 30-day free trial to see how Scripted can help your brand attract more views and convert more customers.