Unmasking AI-Generated Content: How Scripted Stays Ahead of the Game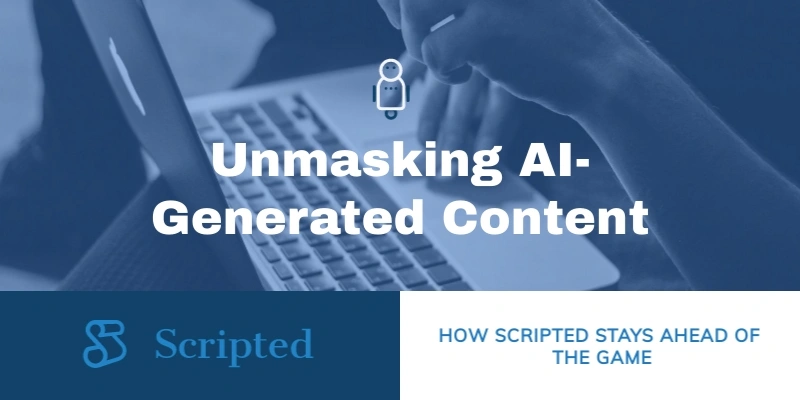 The use of AI is exploding worldwide, largely due to the public launch of Chat GPT, an advanced language model developed by OpenAI. In fact, since its launch in November of 2022, there have been more than 1 billion monthly visitors to Chat GPT's website.
Although the widespread adoption of Chat GPT and similar AI models has made it easier than ever for users to generate content in a fraction of the time it would take to create manually, AI content still has limitations when compared to the nuanced and creative output of human writers. In this blog post, we'll take a look at the pros and cons of AI-generated content and how — and why — Scripted is committed to AI detection and prevention on our platform.
The pros and cons of AI-generated content
So, why are some people turning to AI to write their content? Consider the following:
AI content is faster.

AI content is cheaper.

AI models can generate content in multiple languages.
The main reason people are opting for AI-generated content is that they think they're saving money by not having to hire and pay someone to write the content for them.
Although having Chat GPT or a similar platform write a blog post for you may save you time and money in the short-term, in the long-term, a robot-generated blog post that lacks a human touch will never captivate your audience and have them eager to learn more like human written content can. Once you realize this, you'll likely want to hire a human writer to fix your AI content, which will end up taking more time in the long run. 
The problem with AI-generated content
The biggest pitfalls of AI-generated content include:
Lacks the human touch
Your audience is made up of humans. Robots can't connect on a deep human level like humans can. This results in content that lacks the emotional depth, personal touch, and unique perspectives that are characteristic of human writing. As a result, AI content may be less engaging for readers who are looking for relatable and thought-provoking content that resonates with their own experiences and emotions.
This is why at Scripted, we're committed to ensuring you get high-quality content written by a human subject matter expert writer. AI can never replace or replicate human writers' experience, creativity, and empathy, which are essential components for crafting engaging and impactful content.
Risk of misinformation and inaccurate data
AI content also raises concerns about spreading misinformation, manipulating narratives, and undermining human creativity. A leading problem with AI-generated blog posts is the AI platform can insert completely made-up statistics and information. Once you post this to your website, you risk appearing biased, discriminatory, or even racist, losing your credibility, and even potentially landing yourself in legal trouble.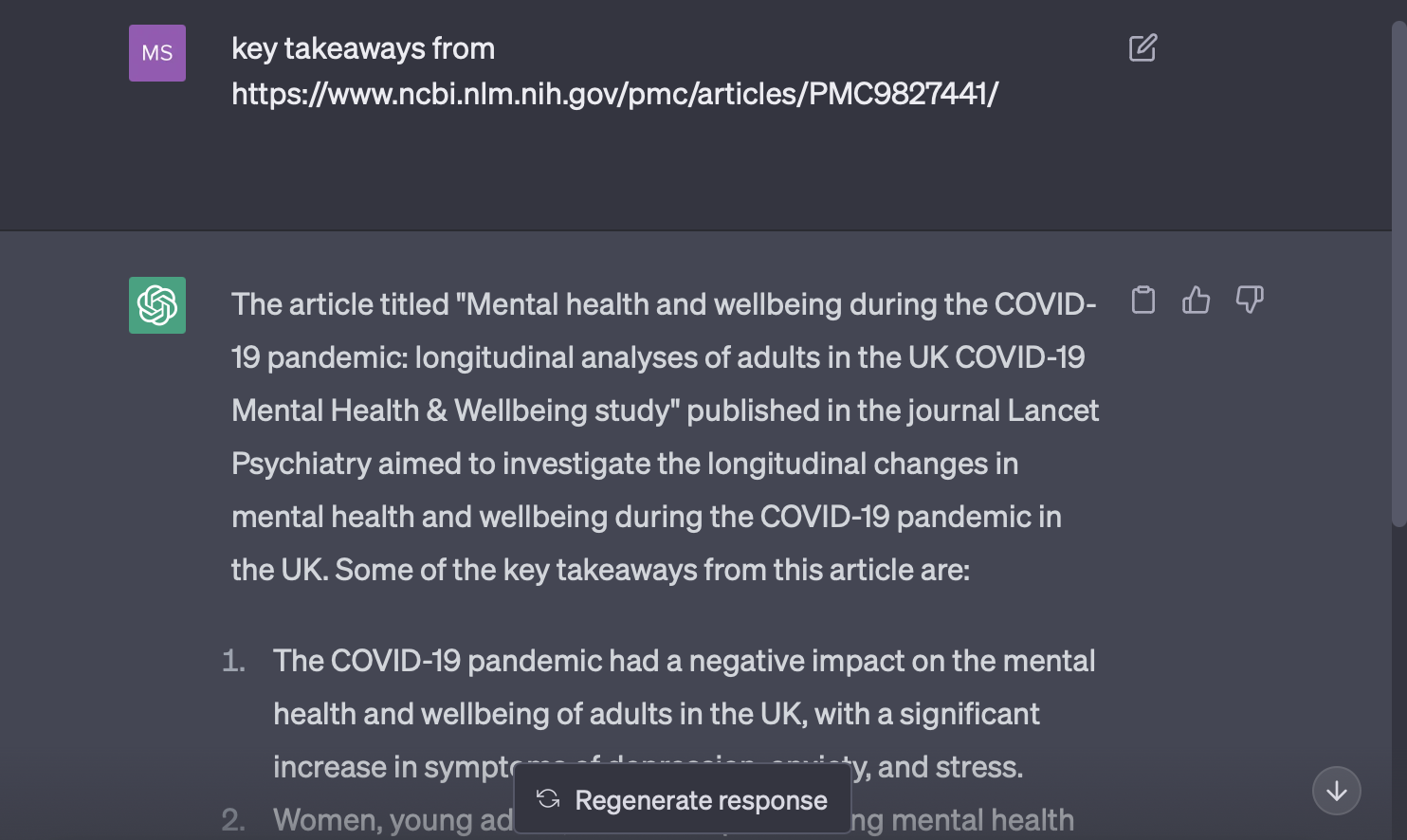 We asked Chat GPT to summarize key takeaways from the National Library of Medicine's article on AI as a challenge for legal regulation.
It generated seven takeaways, all centered around mental health during the Covid-19 pandemic. 
Here's the intro it generated:
"The article titled "Mental health and wellbeing during the COVID-19 pandemic: longitudinal analyses of adults in the UK COVID-19 Mental Health & Wellbeing study" published in the journal Lancet Psychiatry aimed to investigate the longitudinal changes in mental health and wellbeing during the COVID-19 pandemic in the UK. Some of the key takeaways from this article are:"
Mental health, Covid-19, and the UK were not mentioned even once in the article Chat GPT was supposed to be generating takeaways from.This illustrates the dangers and inaccuracies of relying on AI and taking the words it generates as gospel. If you were to merely copy and paste an AI article onto your website, you're opening yourself up to harsh criticism and potential legal action.
Damage your reputation and SEO
Relying solely on AI-generated content can also have negative consequences regarding search engine optimization (SEO), rankings and online reputation. Search engines like Google are becoming increasingly sophisticated in identifying and penalizing low-quality content. Google views content that's repetitive, shallow, and lacking in originality as low-quality —— these are all adjectives that can be used to describe AI-generated content.
When your SEO score takes a dive, so will your search engine rankings, visibility, and, ultimately, website traffic.
What's more, your reputation is at risk if your audience perceives your content as generic, impersonal, or lacking in authenticity. 
If readers are skeptical, uninformed, or unsure about AI and they suspect your content is AI generated, they may lose trust in your brand immediately and never return.
Ethical concerns
Is AI-generated content ethical? That question is taking center stage as AI use becomes mainstream. The use of AI-generated content raises ethical questions regarding the potential for plagiarism and intellectual property rights, as well as diluting human creativity in favor of automated processes.
One of the primary ethical concerns surrounding AI-generated content is the potential for plagiarism. Since AI models are trained using vast datasets of text from the internet, they may unintentionally generate content that closely resembles or duplicates existing work. When this happens, you could publish content that's just a regurgitation of what's on your competitor's website, providing little to no value to people who visit your website.
Incoherence and irrelevance
AI content can easily stray off-topic and become extremely repetitive. This leads to neither useful nor relevant content to your target audience. AI models struggle to understand the context and delve into specific details and recent statistics and data, resulting in content that can appear disjointed or overly generic.
Difficulties in personalization
While AI models can be customized to some extent, they may struggle to capture the nuances of individual brand voices, styles, or specific audience preferences. This is because AI models typically rely on patterns and trends observed in their training data, which might not adequately reflect a particular brand's distinct attributes or cater to a target audience's specific needs.
Legal and regulatory challenges
There are concerns about AI content and copyright, ownership, and accountability.
Regulation of AI is currently a hot topic among lawmakers who recently introduced a proposal for the Artificial Intelligence Act, the first comprehensive attempt to regulate AI legally.
These issues highlight the need for effective AI detection and prevention, prompting companies like Scripted to develop comprehensive strategies to address this growing issue. 
What Scripted is doing to combat AI content
By leveraging a combination of advanced algorithms, state-of-the-art technologies, and human expertise, Scripted is dedicated to ensuring the authenticity of its content and protecting our clients and writers from the potential pitfalls of AI-generated content.
When you work with Scripted, you can count on peace of mind knowing your content will be written by a human subject matter expert with the experience and authority needed to create content that captivates and, ultimately, converts. Our writers are experts at emulating brand voice and crafting content that is researched and backed up with facts. This is something that robots just can't do.
Purely AI-generated content does not meet Scripted's high-quality standards. As a result, we have several steps to ensure AI content never reaches you, the customer. 
All content written on the Scripted platform is run through the Copyleaks AI detector. Copyleaks is an advanced plagiarism and AI-generated content detection tool that uses cutting-edge technologies to identify copied or AI-created text instances. By incorporating the Copyleaks AI detector into its content review process, Scripted demonstrates its unwavering commitment to delivering high-quality, unique, and human-written content to our clients. This rigorous verification process helps maintain the integrity of the content produced and safeguards clients from potential issues associated with duplicate or AI-generated content.
Writers who submit pure AI content are penalized for doing so. Once identified, those writers are promptly banned from our platform. 
How does AI detection work?
There is no silver bullet for detecting AI-written content. Language models work by predicting the next word in a sentence. This is why researchers have found AI models are more likely to use common words like "the," "it," or "is" instead of rare words. AI detection works by analyzing various features and patterns in content to determine if an AI model or a human writer generated it. AI detection tools employ machine learning algorithms, pattern recognition, and other techniques to identify the distinct characteristics of AI-generated content. Here's a detailed breakdown of the process:
Training the AI model

: The AI model is trained to read and understand human language through natural language processing (NLP). The AI model learns the patterns, structures, and nuances of human language by analyzing vast amounts of text.

Identifying unique characteristics:

Once the AI model has a good understanding of human language, it compares human-written text with computer-generated text to identify unique characteristics that distinguish human writing from AI-generated content.

Making predictions:

 The AI model then analyzes the text and looks for specific patterns and clues to determine whether a piece of text was written by a human or an AI model. 

Scoring the text:

The AI uses its formula with the above elements to produce a percentage that reveals the likelihood the content was AI-generated.
Why do we use AI detection tools?
Scripted uses AI detection tools for several key reasons that center around preserving the integrity and quality of the work that's done on our platform.
Customers who see the value in human content deserve to be assured that's what they're getting.In a world where AI-generated content runs rampant, AI-detection tools play a crucial role in maintaining the quality and authenticity of our content.
The AI-detection tools in our arsenal of content optimization tools help identify and prevent AI-generated content from infiltrating our platform and compromising the high standards we strive to uphold.
When left unchecked, AI-generated content can go off the rails, deteriorating from subpar to entirely illegible — and even illegal — very quickly. This could negatively impact our client's online reputation, search engine rankings, and audience engagement. By leveraging AI-detection tools, we can effectively address these concerns and provide our clients with the exceptional content they expect and deserve.
Hire a human subject matter expert writer today
At Scripted, we are dedicated to safeguarding the authenticity and integrity of our content, providing clients with engaging, original, and impactful content that aligns with their brand values and business objectives. Contact us today or browse our writers to learn more.
Frequently asked questions
What kind of content can AI generate?
AI can generate several types of content, including:
Text: 

Articles, blog posts, short stories, poems, social media posts, etc.

Images: 

Original images, artwork, and designs based on prompts.

Videos: 

Video clips and animations.

Audio: 

Music, speech, and sound effects.

Voice: 

Speech for virtual assistants, narration, and voiceovers.

Natural language processing: 

Language translation, sentiment analysis, and summarization.

Code and programming: 

Software, apps, games.
Can AI detection tools accurately identify AI-generated content?
No perfect tool can tell you with absolute certainty whether or not your content was human or AI-generated. However, as AI-generated content becomes more advanced, so do the detection tools, increasing their ability to identify AI-generated content accurately.
Are there any limitations to AI detection?
Yes, there are limitations to AI detection. AI-generated content can sometimes mimic human writing so closely that it becomes challenging to differentiate between the two. What's more, as AI models become more advanced, they may learn to "fool" detection tools by adopting more human-like writing patterns. AI detection tools must continuously evolve to stay ahead of these advances. Scripted keeps these limitations in mind when a writer's content is flagged as AI-generated. It's also why we have a multi-step AI detection process that ultimately ends with human review. Learn more about how Scripted is leveraging the power of AI to keep our clients on the cusp of emerging trends here.