A Quick Guide to Finding Content Writers in Niche Industries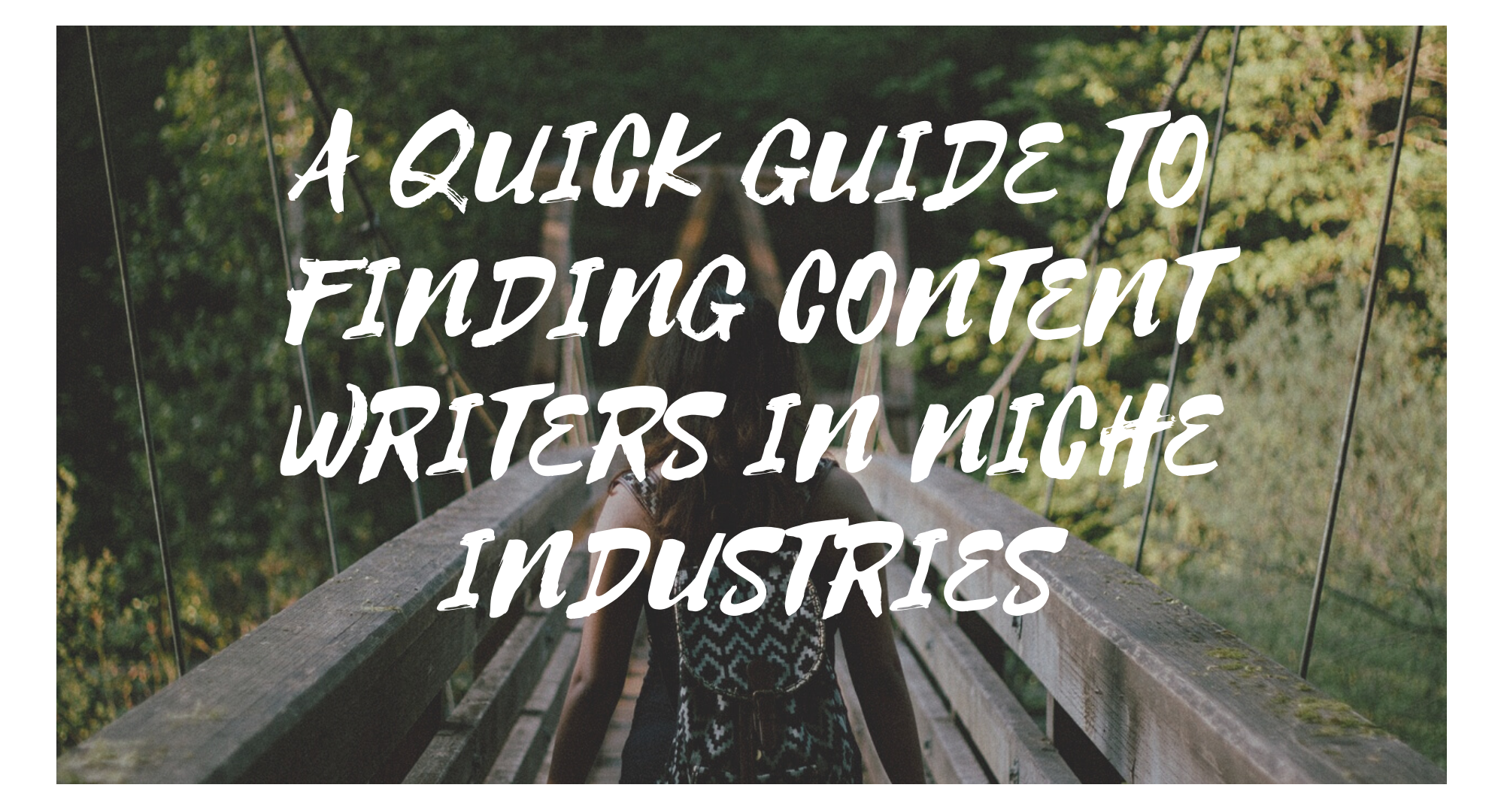 Companies in niche industries have to work hard to set themselves apart from the masses. These days, the internet is swarming with digital content. Billions of new articles crop up every month, inundating consumers with niche products and service promotions of all kinds. Creating enough content to fill up your blog and flush out your marketing plan is one thing - making sure it is content that engages your target audience is another. 
Research by Brightedge confirms that organic traffic accounts for 53% of organic traffic, meaning that getting your content found in Google searches is still the best way to promote and build a business in most niche industries. But with so many people trying to break into niche markets, you need to create high-quality content that appeals to your audience and generates reliable income. Generating marketing material in niche industries requires a huge amount of writing, which is why you should outsource content writing to a pro. Read on for a step-by-step guide to hiring content writers in niche industries. 
Step 1: Get Clear on Your Needs
As a niche business, you need a writer who can appeal to your specific target audience. This is a critical step that you don't want to skip - especially when you're searching for a writer who knows the ins and outs of your industry. If you put out a generic ad for content writers, it can take hours or days to weed out all the writers who aren't really qualified to work with you. Save yourself the time and energy by defining the scope of your job, including:
Tone/Voice:

What tone do you want to strike with your content (e.g. casual, professional, funny, educational, etc.)

Format:

What kind of writing do niche industries like yours need (e.g. product reviews, instructional guides, social media posts, etc.)

Budget:

How much do you have to spend on a writer?

Timeline:

How soon do you need content?
Step 2: Find Out Where Your Writers Hang Out
Finding the right writer can feel like searching for a needle in a haystack. But knowing what you're looking for can make the hunt a little easier. There are two basic ways to find writers in niche industries. You can conduct an independent search to find freelance writers that work on their own and have a 'for hire' website. The top hits are probably excellent writers and you can narrow them down by specific search terms related to niche industries. The downside is that you often have to reach out to a lot of different people before you find a writer with the availability to take on new clients. 
The second way to find writers in niche markets is using a content writing platform. These have gotten more and more popular with companies who have ever-growing content needs. They are super helpful because they do the grunt work of matching experienced writers with businesses. You can sort through a selection of skilled writers based on things like star-ratings, performance, deadlines, payment, etc. It's great for honing down your selection to writers with experience in your industry. And platforms like this are also helpful if you don't have time to manage every detail of the content writing and editing process. 
Scripted has tons of writers in niche industries who are ready to work one-on-one with your business. 
Step 3: Fine-Tune Your Content Brief
This step fleshes out the job guidelines we reviewed in Step 1. By incorporating even further detail, you can make sure writers have clarity on what you're looking for. Your content brief should include things like:
Where the content will live

Ideal qualities of a writer (e.g. local to a certain area, background in travel writing/food writing, etc,)

How much content you want to produce (e.g. 2-3 posts per week, longform)

Voice/Tone

Turnaround time

Audience Specs

Additional needs (SEO Knowledge, etc.)
Step 4: Hone Down the Candidates
Now it's time to start whittling down the selection of writers to make sure you find one that is well-versed in niche industries like yours. Instead of rushing to choose a writer, set aside some time to consider different candidates based on the following:
Writing samples:

Do you like the writing samples they have available? Which style closely matches to what you're looking for?

Voice/Tone:

What are the communication and organization styles of each writer? Do they seem like a good fit for your company culture? 

Ratings/Reviews:

If the platform has them available, take a look at the reviews, ratings, testimonials, etc. for each writer. What are the different strengths and weaknesses of each? 
Companies in niche industries might also want to schedule a phone or Skype call with a writer, depending on how detailed the project is. This can help give you a better sense of their industry knowledge and a chance to ask any questions you might have. 
Step 5: Dive In!
Once you've chosen a writer, start out with a small test project as opposed to launching into a complex, in-depth assignment. A small job will give you the chance to run through the writing process and get a feel for how it works and how well the writer executes the job. Make sure that you have clearly communicated exactly what you're looking for in terms of content, deadlines, word count, tone, etc. so the writer has the best chance of success. This is where content platforms have an edge - they manage all of these details for you so you don't have to worry about forgetting important details. 
Step 6: Assess the Draft & Offer Feedback
The last step is assessing the initial draft. Writers in niche industries know the process well, so they'll expect a review period of their work. This gives you the chance to provide feedback, get a sense of their writing skills and style, and ask them to make changes. If you like your writer, this process will help both of you tweak the different steps of the process so that future projects yield even better results. The process gets easier and more efficient over time as your writer understands your content needs and guidelines better. 
Hiring a content writer doesn't have to be a daunting task! Outsourcing your content is a critical part of marketing in niche industries these days and, unless you have a dedicated in-house writer, it is one of the most cost-effective options for your small business. Great writers can help you drive organic traffic to your site, build your reputation and boost conversion rates. 
Want to see what niche industries Scripted writers cover?

Browse through our professional, pre-vetted writers across a variety of niche industries to find the right match for your business.