A Guide to B2C Marketing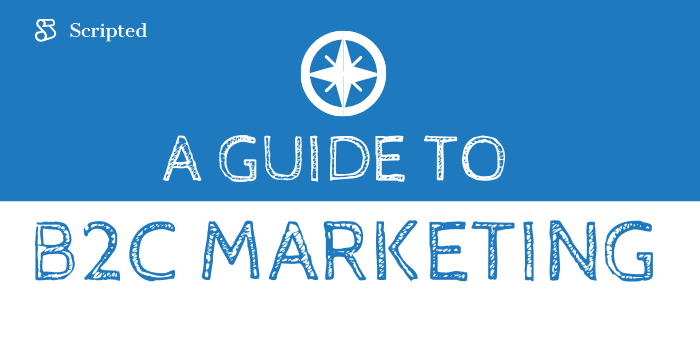 Content marketing is an essential part of operating a successful business. But there's more to your content strategy than just telling individuals and end-users what you have to offer and hoping they buy it. To get them on board with what you're selling, you need the right kind of presentation, too. That's a vital part of engaging your customers because you need to know who you're talking to.
Customers that aren't "feeling it" when they read your ad copy or hear about your company aren't likely to investigate any further or purchase anything from you. That makes sense in some cases because not everyone will be interested in what you have to offer. But if those people are in your target market, you could quickly find that you're losing ground in the marketplace. Here's what you can do to market more effectively.
What is B2C Marketing?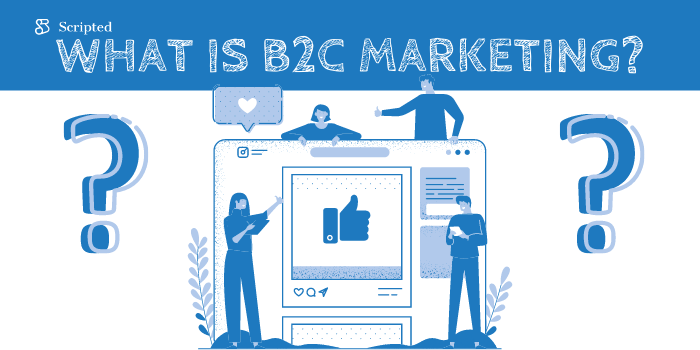 B2C, or Business to Customer, marketing is what most people think of when they think about advertising. Businesses need to market their goods and services to customers to get those customers to buy from them. So the businesses set out to gain the attention and interest of the customers they want to attract. Those customers are part of the company's target market because they're most likely to buy.
All kinds of advertising options can fall under B2C marketing, and they all have to have a good content strategy to be effective. If the company doesn't have a good strategy or is just unsure how to reach out to the people it wants to target, its advertising may not be effective or efficient.
If you want your company to be successful in its B2C marketing and advertising efforts, the right content strategy needs to be something you think about carefully. For example, what are you trying to say in your marketing? Sure, you want customers to buy from you. But you need to tell them why they should buy what you're offering, and how you're different from — and better than! — your competitors.
To see why you have to be careful with content strategy and how much B2C marketing can affect how successful you are in the marketplace, though, you need to take the time to understand two things: why this kind of marketing is important and what elements you need to have in your successful B2C strategy. By having good knowledge of those two areas, you'll be much more likely to see success in your marketing.
Why is B2C Marketing Important?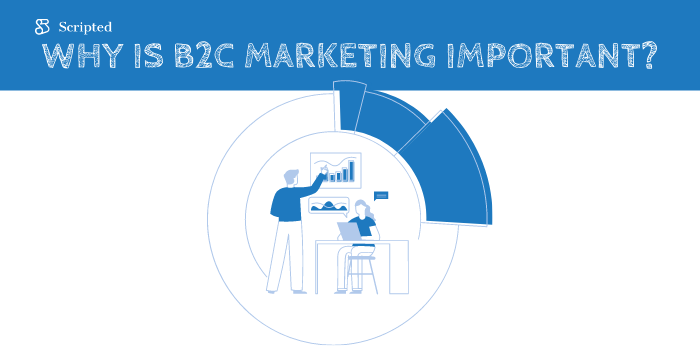 B2C marketing is important because it's what's needed to get customers to buy what you're selling. In most cases, that's a product, but it could also be a service. Either way, you believe you have something customers want. You may be right, but if you can't convince those customers that they want what you have, you aren't going to get them buying from you.
Even a great product with lots of potentials can fall completely flat and fail in the marketplace, all because it doesn't have the right kind of marketing efforts behind it. Marketing takes your great product and shows the world that there are significant benefits to buying and using that product. The same can be said for a service you're offering, and that's often a service that customers didn't even know they needed.
But now that they see your marketing, they can discover how great that service is and everything it can provide to them. Whether you want customers to sign up for something, contract with you, or just buy a product you're offering, your content strategy and the effort you're putting into B2C marketing has to reflect the desire to get customers interested and keep them coming back again and again.
Unfortunately for a lot of companies, there's not enough understanding of their B2C marketing strategy and why it matters. There are ways to explain to these companies what kind of strategy they should have and how to create it, but if they aren't clear on its value, there's not a lot of passion behind the advertising they create. That can keep their advertising from "landing" with customers, which reduces their success.
What are the Elements of a Successful B2C Strategy?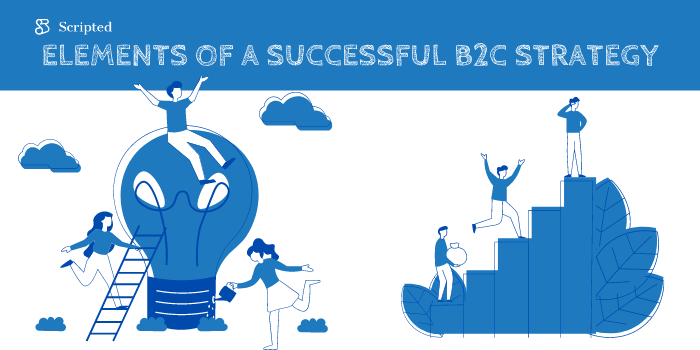 Except for the "why," the most important issue for a B2C content strategy is the "how." In other words, a company that understands why their marketing is important and why doing it right matters still may not have much success if they're not addressing the how. They need to know the elements of a successful B2C strategy and then make sure they're incorporating those elements into their marketing campaigns.
Customers as Ambassadors
The first element to a B2C marketing strategy that's successful is to make the customers who like your product or service into ambassadors for it. That can be done through videos, testimonials, "Likes," and social media posts. Referral programs may also be a big hit with your customers, as will user-generated content displays on your website and social media. It's like word-of-mouth advertising for the modern age.
Today's customers are cynical, and in the age of misinformation, it can be hard for them to know who to trust. A big corporation may be perceived as too greedy, while a small or new company may be seen as inexperienced or not stable enough. It can be hard to build a customer base. But when potential customers see current customers talking about the happiness and value they're getting, that can build trust.
Steady Content Marketing
People have short memories. It's no insult to them; it's just how things work. Because of that, you need to make sure you're sticking in their minds. Your company should frequently remind customers that you're still around, or they're going to forget about you. If your competitors are advertising more than you are, or if their ads are more interesting, you could end up with a problem in that your customer base could weaken.
Of course, it's also about the kinds of information you're putting out to the world and what you're saying to your customers. If you aren't reaching the right people or saying the right thing, you'll have trouble. Make sure a valuable message is going to the people you want to target and make sure that message is getting to them steadily and frequently. That will go a long way toward convincing them to keep buying from you.
Good Use of Social Media
Your customers are using social media. If you're not, you're missing a great opportunity to interact with them more fully. You can respond to their questions, nip bad reviews in the bud by replying and clearing up the situation, and much more. Don't avoid social media with the idea that you don't want to see what customers are saying, in case it's negative. You need to know because that's the only way to make corrections.
Social media use also shows that you're engaged with your customers and what you're offering to them, so you can keep working toward a better relationship. Customers who feel valued will be much more likely to keep buying from you and to stay loyal to your company. That's a great way to add to the strength of your customer base. Reaching out via social media is also a quick way to connect with most customers.
How Should You Form Your Marketing Plan?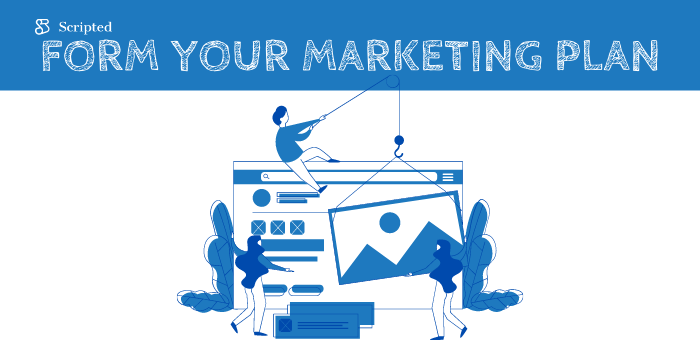 As you focus on your B2C interactions and your content strategy, one of the things you'll need to do is form a marketing plan. That can give you the support and guidance you need to follow, so you know what to do next in your customer interactions and advertising. Here are some important points to consider.
Connect With People on a Human Level
People want to feel heard and valued. When you're able to give them that experience, they'll remember your brand more fondly. Over time, that can lead not only to loyalty but to a customer who will bring other customers to your door. If they're treated well, they naturally assume that others will be treated well, too. Then they can focus on what they want to buy from you, and know they'll have a good experience.
There are many ways to connect more deeply with people, but the most important thing you can do is show that you're listening and understanding their concerns. If you don't take them seriously or don't try to solve their issues, the chances of them continuing to buy from you are going to drop. Rather than let that happen, it's a much better choice to see them as individual people, and treat them that way, as well.
Focus on the Value of Experience
If your company has experience in something, or your workers have a lot of collective experience, make sure your B2C marketing and content strategy reflects that. It could give you an advantage over your competition, especially if they're new or don't have the kind of experience some of your employees have. There's no reason to downplay something that might be very important for your customers to know.
Experience isn't everything, of course, but if it's one of your strengths, you'll want to be sure that customers are aware of it. That's especially true in industries where experience may be significantly more important, such as the legal or medical fields, but it can matter in any field where customers want to feel like the company they're doing business with understands how to provide them with what they need.
Don't Forget About SEO
SEO is vital to your content strategy. You need to make sure your copy reflects that in all your B2C marketing. But be wary of trying to put too many keywords and key phrases into your marketing or repeat something too many times. That doesn't read well, and search engines don't like it either. Write naturally about your product or service, and the keywords will generally be in what you write.
Making small adjustments can be easy to do at that point, so your copy can be optimized and as effective as possible for your audience. Remember, you're trying to sell something. You want to make people interested in it, but you're also talking to people who want to be understood and valued. If they think that all your company sees is their wallets, you may lose out on their business as customers.
Ready to Get the Marketing You're Looking For?
You can have a stronger content strategy and better B2C marketing when you have advertising copy, social media posts, and more that are effective and optimized. The best way to get that is by hiring an experienced writer who can give you high quality and a lot of value. That will help you bring in more customers and build the success of your business. Get the content writing services you need through Scripted today.