5 Things Jon Snow Can Teach Us About Content Marketing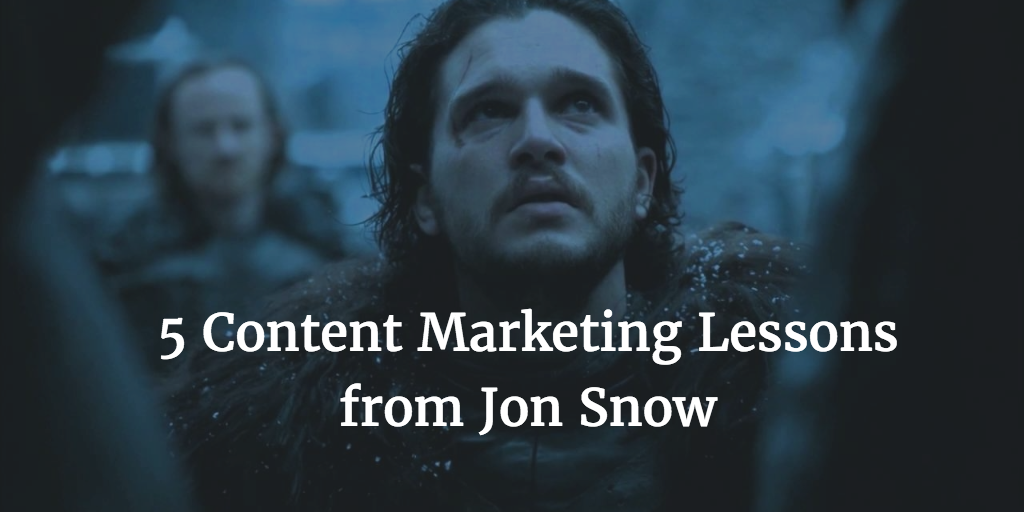 If you've been keeping up on "Game of Thrones," you know that there's plenty we can learn from Jon Snow. In addition to his bravery, valor and Blue Steel camera face, Jon Snow is also a secret content marketing expert.
Here are the five biggest things that Jon Snow (and season 6 (
spoiler alert
) of "Game of Thrones") can teach us about content marketing:
1. You Don't Need to Be a Blue Blood to Succeed
Some people think of content marketing as an impossible task, reserved for professional marketers and prodigies. Luckily, this isn't the case. If Jon Snow can become one of the biggest heroes of the "Game of Thrones" series, despite his questionable parentage, you can win at content marketing despite a small budget or the lack of a programming degree.
2. Appearance Matters
Let's be honest: Jon Snow's grungy Night's Watch get-up and those coiled ringlets are a good look on him. It's not surprising, really, since Jon Snow has always understood that looking good -- and, in his case, windswept -- at all times is a recipe for success.
The same goes for content. You can't expect to type out content in five minutes, post it on your site or social profile, and get great results.
Instead, you have to pay attention to the way your content looks and feels. Is it readable? Is it well edited? Are the spelling and grammar correct? Do your links look good and function correctly? While these things may seem superficial, they're critical to ensuring your content looks great, kind of like the dapper Direwolf himself.
3. Sometimes Unexpected Things Work Together
If Jon Snow can be both a Stark and a Targaryen, you can mix and match content marketing strategies. The best
content strategies
in business are often comprised of a combination of original content, curated content and social media material. In addition to keeping your content strategy interesting for readers, this approach also allows you to strengthen your brand voice through various content channels.
4. You Must Protect Your Seven Kingdoms
Jon Snow has spent many an icy night guarding the Wall against the horrors of The North. In Jon Snow's world, The North contains unspeakable and mystical dangers.
In the world of content marketing, however, The North contains low-quality links,
bad SEO
, keyword-stuffed content, and grainy visuals that lead to poor reputations and Google penalties.
To triumph over your enemies, you, like Jon Snow, must protect the "Seven Kingdoms" of your content. It's hard work, but someone has to master the forces of good writing, strong research, quality visual content, great SEO, social media, blogging and website content.
5. Your Content Strategy Can Rise From the Dead
Even if your content marketing strategy has been lackluster up to this point, you can't lose hope. If Jon Snow can
rise from the dead
(even though Melisandre had begun to doubt her powers), anything is possible.
Keep in mind that content marketing is a trial and error thing. This may mean you have to change your approach, run A/B tests, and adjust as your company grows, but have no fear: you'll hit your stride eventually.
Great at Content Marketing? Thank Mr. Snow
While content marketing might not be as tough as being on the Knight's Watch, everyone appreciates a few good tips now and again. With that in mind, take these "Game of Thrones"-inspired content marketing hints and apply them to your own strategy. Jon Snow would be proud!
This blog was written by Scripted writer Ashely A. at the request of Scripted. To hire Ashley for your own projects, or see more of her work you can visit her profile here: