Constant Content: Reviews, Features, and Alternatives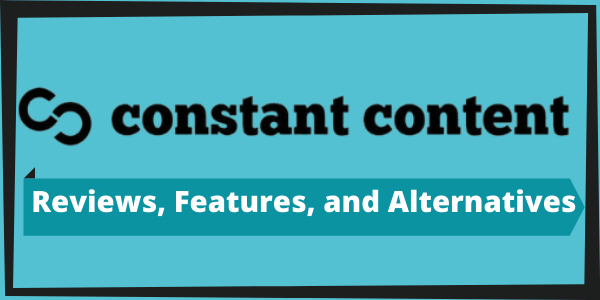 Constant Content provides content marketing services with a twist. Like many similar services, the company provides a way for businesses to connect with expert freelance writers in a variety of industries and niches.
Constant Content also features "content on-demand" – a catalog of prewritten, entirely original content that users can purchase outright or license for use in blogs, social media, and more. Constant Content's multifaceted platform provides wide-ranging content marketing solutions for solo bloggers, small businesses, and enterprises – but it also presents obstacles for new users looking for quick answers to their content needs.
How Does Constant Content Work?
In many ways, Constant Content operates like other leading content providers that match freelance creators with clients who need blog posts, articles, and other kinds of content to build brand awareness and boost search visibility. When users create an account with Constant Content, they can post projects and connect with writers specializing in niches of all kinds. Constant Content offers its customers not just one or two but five different ways to get the content they're looking for. 
Call for Articles
Any user can post a "call," or request, for an article on any topic. Interested writers can submit a completed article for consideration, and clients can review them all and select their favorite. Articles not chosen can then be posted to the Content Catalog for sale to anyone.
Casting Calls
Here, clients can post short or long-term projects, and qualified writers are invited to apply for them using their Constant Content profile and writing samples as well as other work. Clients can choose a writer from this applicant pool or select several writers to build a team.
Targeted Requests
A targeted request narrows the writer pool to a few specialized writers approved by Constant Content's editors. This feature allows clients to reach writers that meet specific criteria, such as expertise in a certain field.
Expert Requests
Some writers on Constant Content are qualified as "experts" in their industry or niche. An Expert Request allows clients to choose from a list of professionally certified writers vetted by the company's editors and content managers.
The Content Catalog
Constant Content users can also get instant access to unique content through the Content Catalog – a collection of thousands of prewritten, ready-to-post articles on all kinds of topics. Article buyers get full rights to the content, and it can be used in any way they choose.
Constant Content promises SEO-friendly, error-free content that's entirely original, and its editorial process is strict. The company promises 48 –hour turnaround with no missed deadlines for all kinds of content types, including standard blog posts, whitepapers, landing pages, and ebooks.
Plans, Pricing, and Signing Up

Constant Content offers options for individuals and small businesses, agencies, and enterprises. Individuals and small operations can sign up directly on the site, while larger organizations need to contact the company for customized options and access to additional support, including account managers.
Signing up with Constant Content is free for both customers and freelancers, and there's no set per-word price. Customers set a price range for article requests, and writers set their own rates and prices for pre-written pieces in the Content Catalog. Constant Content takes a 35% fee on each transaction in these categories.
New small business users looking to buy content from the Content Catalog must buy a minimum of $25 in credits to start – and present the receipt from the third-party payment processor to Constant Content before they can go shopping for articles. Constant Content customizes pricing arrangements and buying options for agency and enterprise clients.
Constant Content for Freelancers

Constant Content says it works with more than 100,000 expert writers in a wide range of specializations. To join that group, writers must take a qualifying test and submit samples. Once accepted, writers can set their own rates and prices for articles they list in the Content Catalog, and they can also respond to project postings and calls for articles. Writers take home 65% of the price for each job completed or each article sold. Because of the site's stringent quality controls, writers can lose their accounts if content isn't completely original and error-free.
What People Are Saying About Constant Content
Constant Content gets 2.45 out of 5 stars from 29 reviews on SiteJabber, and reviews by others in the writing industry are similarly mixed. Customers like the many options for buying content and the wide range of content types and specialties available on the site. Many are pleased with the moderate price range for quality content.
But they aren't so happy about the requirement to buy at least $25 in credits, and some say that they still need to edit the content they buy, both for better alignment with their brand and for style and grammar. Others complain about poor customer service for anyone other than top-tier enterprises.
Writers who work with Constant Content like the freedom to write on a variety of topics and to sell pre-written content in the Content Catalog, but some say editing can be arbitrary and misguided. A few say that they were dropped from the site for minor issues, with no recourse for addressing the problem.
Although writers can set their own rates, some say they still make relatively little given the tight quality control that leads to frequent rejection. Overall, though, Content Writers scores points as a place where writers and customers can meet for secure transactions and quality products. Users also like the Content Catalog feature – one that's missing from other top-tier content sites.
Alternatives to Constant Content
Constant Content offers multiple options for buying or ordering unique, quality content, but it's one of a number of companies dedicated to providing similar services. Here's a look at three of the top alternatives to Constant Content today.
ContentWriters: Full Service at Premium Prices
ContentWriters delivers exactly what its name describes: quality content produced by skilled writers specializing in a wide range of industries. ContentWriters users include bloggers, web publishers, and businesses of all kinds, who turn to the site for content types such as whitepapers, blog posts, articles, and social media posts.
Content Writers has no open job boards or calls for writers. It offers both "a la carte" options for single or bulk orders and fully managed accounts that include assembling writing teams and developing long-term content strategies. Payment for content is handled ecommerce-style, with a shopping cart and payment portal, which are managed from the account dashboard.
As the name implies, the Self Service option allows users to manage their own content purchases. Pricing for Self Service starts at $99 per piece, but potential users have to sign up for a free account to get access to the full pricing structure. The Managed Service option includes support from a dedicated Content Specialist who finds and manages writers and provides general support. Because Managed Service plans are customized for each client's unique circumstances, prices are not listed on the site.
ClearVoice: Premium Content and Teamwork
ClearVoice is a premium content solution aimed at larger businesses and enterprises. It's a full-service content marketing platform that matches clients with freelance writers specializing in more than 200 industries and fields. But ClearVoice aims to transform the way content is produced and purchased, with innovative tools and a vision that looks beyond simply matching individual writers with assignments.
The company uses a proprietary, AI-powered tool called Voicegraph to index writer portfolios for the best match with a client. And although Clearvoice provides the typical range of content types such as blog posts and whitepapers, it specializes in "teamlancing," or collaboration – assembling and managing teams of remote writers working on a single project.
ClearVoice freelancers are highly experienced specialists who create a portfolio on the site to showcase samples, set rates, and pitch ideas directly to clients. But most assignments come through project managers who recommend or recruit writers for individual projects. 
ClearVoice has no structured plans and no pricing information. The company creates a custom plan for each user, with quotes for prices that considerably higher than most content platforms. Interested users can sign up for a free account and an account manager contacts them for a free consultation and demo.
Scripted: A Customer-Centered Solution
Scripted is a full-service content marketing solution that's flexible and economical enough to serve a wide range of content needs, including blog posts, articles, press releases, and video scripts. Scripted's pool of skilled freelance writers have expertise in industries and specializations of all kinds, and they can propose projects, set their own rates, or take fixed rate jobs when available. 
Scripted's subscription plans offer options for users ranging from individual entrepreneurs to large organizations. The Basic plan is an economical, self-managed plan with access to the platform's Basic writer pool and unlimited content requests. 
Scripted's managed plans start with Premium, including an account manager and periodic content strategy reviews. The top-tier Cruise Control plan offers account management, a customized selection of excellent writers and ongoing support for the company's content marketing strategy.
With a deep pool of highly experienced writers and plenty of options for custom solutions, Scripted offers high-quality, SEO-friendly content ranging from single blog posts to complex, long-term marketing campaigns.