Content Writing Services for Agencies

Partner with Scripted to provide professional content to clients seamlessly without managing writers or editors.
Digital marketers and agencies have jumped into the game of content creation and content marketing, but creating content at scale that stands out has proven to be challenging. With
Panda 4.1 in effect
, Google is placing more emphasis on original, relevant, and helpful content - dropping results on spammy and duplicate content. As clients demand more content to fuel their SEO and traffic goals, many agencies are unprepared for the volume of content needed.
Scripted's content writing services allow agencies to turn their clients' editorial calendars into engaging, high-quality posts that are written by freelance writers in their industry. Hundreds of agencies have partnered with Scripted to power their clients written content ranging from lifestyle blog posts to thousands of costume product descriptions. 
Why Choose Scripted as Your Content Partner?
On Brand Messaging
Brand Guidelines:
Your brand guidelines and requests will be submitted to Scripted writers by your dedicated account manager. With one contact communicating your guidelines, your content is more consistent and on brand.
"The quality is excellent. I was incredibly impressed. I thought that the writers found the fun voice, and I think there was a consistency across all the blog posts." - Diana Adair, Director of Communications,
Zazzle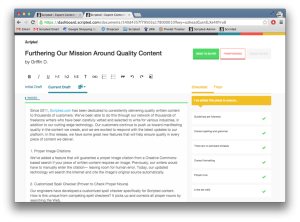 Edits:
Feedback and revisions are an integral part of making sure we create content that exceeds your expectations. All content includes revisions and your account manager will be sure to iterate on brand guidelines throughout the project.
Content Delivered at Scale
High Volume of Content Made Seamless:
Scripted's technology and network of writers means that you can create as much content as your clients demand. From 25 to 2,000 pieces of content per month, Scripted is your complete content creation solution. Scripted's platform allows you to export hundreds of pieces of content in custom exports. In addition, the Scripted API can deliver content directly to your clients without using the Scripted dashboard.
Custom Exports
: CSV, HTML, TSV, XLS, DOC, TXT
Vetted Writers:
Scripted has a vetted network of 7,000 writers focused on creating the most engaging content for your brand. Scripted writers are accepted after multiple customized writing tests and industry prompts, resulting in 99 percent of all work being accepted by clients.
Top Quality and Accuracy
Scripted Editors:
Each piece of written content is reviewed by Scripted Editors who have passed our customized editing test. Editors check for guideline adherence, quality of writing, and depth of knowledge.
Customized Spelling & Grammar Check:
We use our own spelling and grammar solution to deliver content that is free of spelling and grammar errors. Our spell check identifies and corrects proper nouns.
Verify Originality:
In addition to using the plagiarism detection software iThenticate, Scripted Writers will be notified prior to submitting their work to Scripted Editors if any wording or sentences appear to be plagiarized.

Premium Customer Support
Account Managers:
Your manager is responsible for delivering the highest quality content. From understanding content guidelines and brand voice, to targeting specific keywords and delivering custom formats - your account manager is here to make you successful.

Our Work
Scripted has written professional content for thousands of clients ranging from small businesses to large enterprise. Digital agencies have trusted Scripted's content for their clients, allowing them to scale their services and handle large content needs from clients. Our clients include:







What other marketers are saying:
"Scripted has been a tremendous partner and value add for our business in helping us craft insider descriptions of cities and neighborhoods. This level of transparency has been invaluable to our customers."
- John Kobs, CEO, Apartmentlist.com and Autolist.com
"Scripted's management service helped to ensure that the content we ordered was vetted, well-written and ready to send off to our client. It required minimal management time for me which gave me additional time to handle my other responsibilities for my various clients."
- Ryan Siegl, Founder, Demand Results
"The team at Scripted have been amazing to work with. Scripted has allowed us to fill needs in key areas where we were lacking content. The quality of the writers are amazing and the end products have driven up our engagement rates with our followers."
- David Hsu, International Digital Project Manager, L'Oreal