What is a Marketing Flywheel?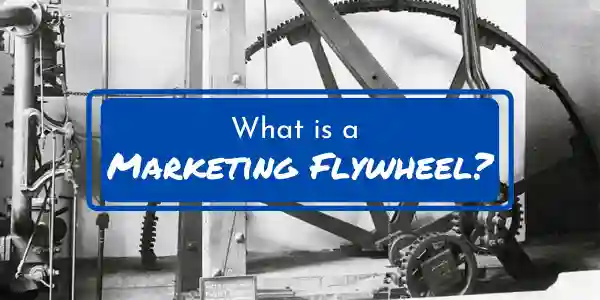 The flywheel is a marketing model that depicts the momentum you gain when your entire organization aligns around delivering an exceptional customer experience. It's an upgrade to the traditional funnel that we're all familiar with, and it forces you and your organization to keep a single purpose in mind in everything you do. 
The pioneering Scottish inventor, James Watt, used a flywheel over 200 years ago in his steam engine, the invention that powered the Industrial Revolution. Basically, it's a super heavy wheel that takes a ton of effort to push. The more you push, the more momentum it builds. Keep pushing, and eventually, if it doesn't encounter any friction, it starts to turn itself. 
The flywheel looks at three key stages of the buyer's journey: attract, engage, and delight. It also reveals how your various teams influence satisfaction and engagement within those touchpoints. These initiatives are the spokes of the flywheel and the effort you put into each one either speeds up or slows down your wheel. 
Flywheel vs. Funnel
The flywheel represents a successful marketing model and the forces that affect your company's growth. Unlike a funnel, the marketing flywheel doesn't end when a customer makes a purchase. It's a continually spinning process that uses your existing customers to keep driving business. The momentum of satisfied customers drives referrals and further purchases until the marketing process resembles an ever-revolving wheel. 
Businesses today are finding out that the marketing funnel doesn't work that well for customers. The funnel focuses purely on sales as the end goal, without considering the customer experience. Instead of a traditional marketing funnel's linear arrangement, the flywheel offers a more comprehensive picture of the customer journey. That's why more and more customers are switching to the marketing flywheel as a more customer-centric business model. 
The idea is that once you set the elements of your flywheel in motion, you put in the same amount of work each time and get more and more out of it the more you repeat it. 
Force and Friction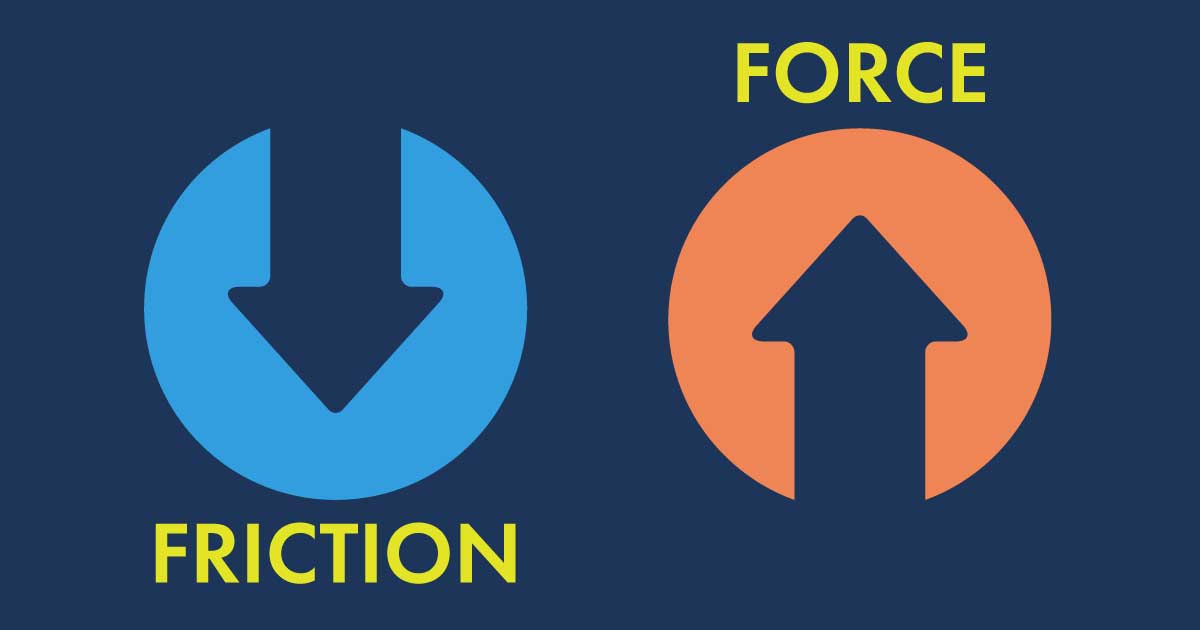 The flywheel's speed depends on two factors - force and friction. These are the key challenges that will help or hinder momentum. 
Force
Force provides positive energy that fuels your flywheel. Common sources of force include programs and strategies you have implemented, such as partner programs, thought leadership, demand generation, and referral programs. Sharing customer success stories and gathering positive customer feedback are also causes of force. Focusing on how you can make your customers successful means they are more likely to become brand ambassadors and rally other potential customers to buy from you.  
Using an inbound methodology, you can increase the force to provide an amazing customer experience. The key is to earn people's attention by attracting them with helpful content and offers. Keep the focus on opening relationships, not just closing deals. Your priority is to help, support and empower customers to reach their goals. After all, customer success is your success. 
Friction
Friction depletes energy and slows down your flywheel. Common sources of friction include a lack of smart content, ineffective workflows, poor internal processes, and slow customer service. Wasting time and resources on poor lead qualification and anything that garners negative feedback can also add friction to your flywheel. 
To create an effective flywheel, you need to reduce friction in your inbound methodology. The traditional marketing funnel often prioritizes sales over customer experience. With the flywheel, it's up to every team in your company to ensure your customers are engaged and delighted. You can reduce friction by looking at how your teams are structured, where you are losing customers, and where leads are getting stuck in their journey. 
The more you increase force and eliminate friction, the faster your flywheel will spin. This means creating more promoters of your business, which means a more successful organization. 
3 Stages of the Flywheel Method
An effective marketing flywheel creates a circular process where customers feed growth. This involves three stages. 
Stage 1 - Attract
The attract stage is all about awareness of your brand. You want potential customers to hear about your business, product, or service, which means you need to put your name out there. This is essentially inbound lead generation as we know it -- making sure that you provide genuine value to your target audience. Attract phase tactics include:
Content marketing.

SEO/Keyword strategy.

Social media content.
Providing informative content and building awareness throughout the customer's buying process gives potential leads a chance to determine whether or not they have an interest in your company. 
Stage 2 - Engage
The engage stage takes things a step beyond simply dropping leads into a marketing funnel. With the flywheel, this is where you seek to build meaningful relationships with customers. This includes:
Ebooks and whitepapers.

In-depth tutorials.

Webinars.

Free trials.

Targeted email campaigns.
This stage involves an open line of communication between sales and service teams to make sure you understand your customers' satisfaction level and pain points. 
Stage 3 - Delight 
The delight stage turns a customer's journey into an experience they are excited to share. These days, it's not enough to make a sale. You want to help support and empower customers to reach their goals leading up to the sale and beyond. This stage leverages forces like:
Proactive customer service.

Multichannel availability.

Ticketing systems.

Loyalty programs.

Customer feedback.
Cultivating a positive experience with a focus on building relationships helps turn your customers into promoters of your brand. This makes the wheel spin right back to the attract phase. 
Examples of Effective Flywheels
The flywheel is a simple concept that you can apply to marketing practices as diverse as cold outreach, incentivized word of mouth, and event marketing. You can create a flywheel effect with pretty much any marketing practice, given that it has:
A consistently repeatable tactic.

A system for either reaching a larger audience or cutting costs to reach additional leads.

Scalable, successive investments that reduce friction in the system.
Take a look at some of these examples to see how various flywheels work. 
Press + Word of Mouth Flywheel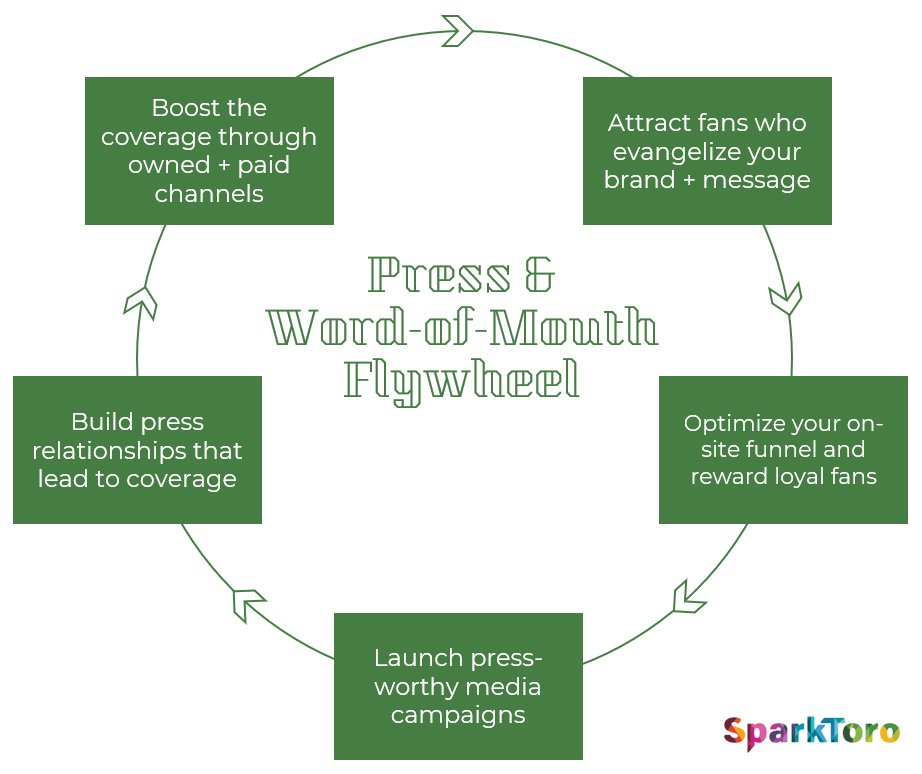 It can be difficult to get lots of diverse news sources to write about your product. But if you work in a field that lots of publications and people cover, the press + word of mouth flywheel model will likely be very effective. Follow these steps:
Launch press-worthy media campaigns.

Build relationships with press outlets.

Boost covered with owned + paid channels.

Attract fans who act as brand ambassadors.

Reward loyal fans.
Content + SEO Flywheel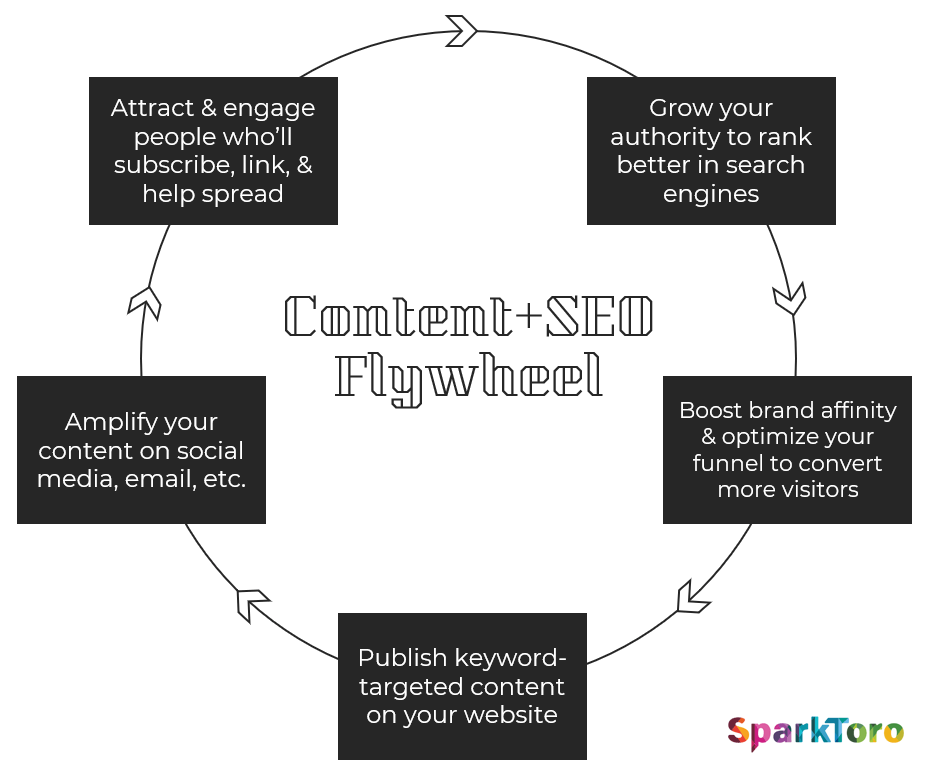 It takes some trial and error to figure out what type of content and topics resonate most with your audience. But once you do, a content + SEO flywheel ensures that less work yields greater results for each post. Here's how a content flywheel works:
Post SEO content on your website.

Share it via social media, email, etc. 

Engage influencers, etc. who will link and help spread.

Grow authority to boost search rankings.

Optimize funnel to convert more visitors.
Free Trial Flywheel
The Free Trial flywheel relies on having a hook that spreads virally. It works well in combo with other marketing channels to rapidly grow audiences. Here are the steps of this model:
Launch free trials that appeal to your audience.

Incentivize sharing.

Optimize features that earn new users.

Boost messages from users to attract more.

Convert most satisfied users to paid accounts.
Over time, a well-designed marketing flywheel offers huge returns on the initial investment. 
Start Your Flywheel
Getting started with the flywheel doesn't mean you have to literally reinvent the wheel. It's more of a mindset shift that allows you to identify the opportunities where you'll have the greatest impact on your customers. You can more easily see where your efforts aren't lining up so you can make the necessary changes for a better customer experience. 
Some ways to get started include:
Creating more helpful and engaging content that offers value to customers instead of pushing sales.

Adopt "customer-friendly" language that's on brand and easier for customers to understand.

Streamline customer support efforts.

Upgrade your tech tools to foster a more collaborative work environment.
These are just a few examples of areas where the flywheel can help you improve the customer experience. Ready to get started?  Schedule your appointment with a content strategist today.