How to Choose the Best Social Media Platform for Your Business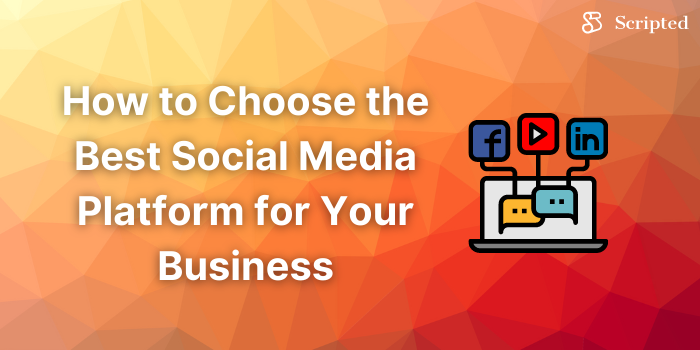 Social media is everywhere. You can't go a day without seeing someone on their phone scrolling through social media or sitting in front of the TV watching people from all over the world posting videos and updates to YouTube. However, it can be hard to figure out which social media platform will work best for your business. In this blog post, we will discuss how you can choose the best social media platform for your company by examining what each one has to offer and deciding which ones are most appropriate for your business.
Identify the Goal of Your Social Media Presence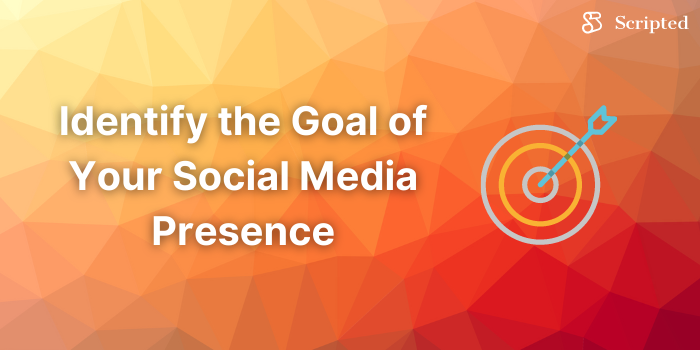 Each social media platform has its benefits. Figuring out what you want to get out of social media, in general, will help pinpoint which platform would work best for you. A business's goals online can vary significantly from wanting to sell a product, bring awareness, or even just to keep in touch with your audience in a fun way.
Determine What Types of Social Media Platforms Are Best for Your Type of Business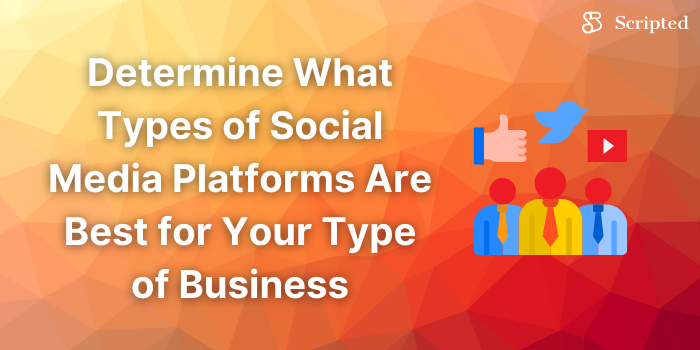 When you've determined what your goals on social media are, you will be able to find the best social media platform for your business. Here we will explore what each of the significant platforms offers and summarize what they have to offer your business.
LinkedIn: LinkedIn is best for B2B businesses, connecting with colleagues and other professionals in the industry. It also has an incredible database that can help you find job project opportunities or even recruit new employees.
Types of businesses that would thrive on Linkedin:
Law firms

Marketing agencies

Accounting firms

Recruitment services

B-to-B companies

Companies that need to connect with other professionals in the industry
YouTube: YouTube is an excellent platform for businesses that want to reach their audience and market products through video content. It also helps them quickly stay connected with followers by uploading videos frequently. YouTube has almost unlimited capabilities. If you're looking for a place to share videos online, YouTube is the best platform.
Types of businesses that would thrive on Youtube:
Companies that have a product they need to market.

Brands who want to stay connected with followers using long-form content.

If you're running an entertainment company, YouTube will help spread your brand and reach fans in new ways.

Video bloggers.

Product reviewers.
Twitter: Twitter is best for public companies who want to keep their followers up-to-date on company news as well as share any related content from articles or blog posts.
Types of businesses that would thrive on Twitter:
Public companies

Companies that work with bloggers to share company news

Businesses looking for a way to connect with their audience in an informal manner

Startups seeking funding or venture capital

Any business that wants to increase brand awareness via content marketing.
Facebook: Facebook revolves around photos, live videos, text updates, and links, which makes it very versatile when trying to reach people worldwide. Facebook also has a massive following which can help you expand your audience and connect with potential customers.
Types of businesses that would thrive on Facebook:
Any company that wants to increase brand awareness via content marketing.

Product review companies that want a way for customers to share their thoughts with others in the community.

Companies looking to find new clients and reach out about promotions and events they're hosting.

Anyone trying to sell anything online should use Facebook, too, because it has so many opportunities when sharing links from pages you like or posts from friends/followers.

Bloggers who are promoting brands through sponsored posts
Instagram: Instagram is a great way to share photos with your followers. It's also ideal for creating and sharing behind-the-scenes content, such as live videos from events or taking pictures of products in the production stage.
Types of businesses that would thrive on Instagram:
Product review companies.

Brands looking to show behind-the-scenes content and provide a personal connection with followers.

Companies that want to share exclusive photos or videos from events they've hosted, like product launches, company parties, charity benefits, etc.

Creatives who are looking for an outlet where they can post their artwork and get feedback on it in real-time without having to sell anything online themselves.
Snapchat: Snapchat is best used by those who want to create intimate connections with their followers while providing an inside look into the company itself. Due to it only being available on mobile devices, it can't be accessed through desktop browsers, making this type of platform perfect if you're trying to reach teenagers.
Types of businesses that would thrive on Snapchat:
Companies that have a young demographic

Creatives who are looking for an outlet that can help them build their following and connect with others in the industry.

Companies that offer subscriptions, which would be easier on this platform because of its more intimate connection with followers (also perfect if you're trying to sell anything)

Marketers who don't like the idea of providing content constantly and prefer posting when they feel inclined instead. The drawback is there isn't much data analysis available on Snapchat, so it might not provide as accurate information about your audience as other places.
Research Each Platform to Find Out Which One Is Most Popular and Has the Most Active Users in Your Industry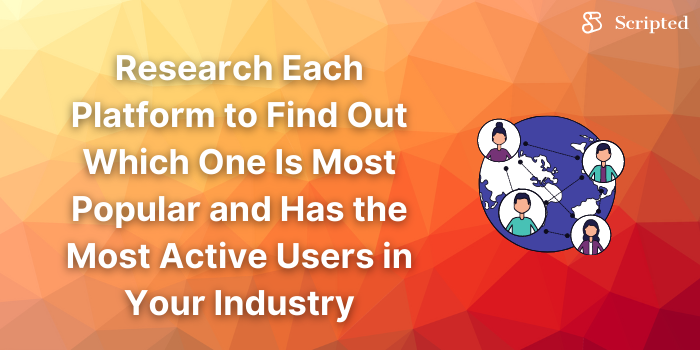 Figure out which one is the most popular for potential customers in your demographic and what type of content they share, and how much time you are willing to spend marketing on each platform.
After considering these factors, choose at least two platforms that will be appropriate for your business's needs so you can focus all your attention on those instead of spreading yourself too thin across many different social media networks with little success.
It is also essential to use a strategy or plan to manage multiple social media accounts because it can be challenging to stay active on all of them at once.
You need to figure out the best time when your target audience is most likely online and create content for those specific times, so you don't miss an opportunity.
Create a Plan for Marketing on Each Platform, Including Goals and Objectives 
Running social media accounts can be time-consuming and challenging to manage. It's essential you set a plan for each platform so that it doesn't take over your life and make running the business even more stressful than it needs to be!
Have a realistic idea of how much time you can allot each week to social media, as this will significantly impact which platforms you choose.
If you don't have much time, using platforms like Youtube, where you'd have to consider planning, shooting, and editing videos, might not be the best idea.
Another vital thing to keep in mind is that everyone's thoughts and behaviors are different across each platform. Keep this in mind when you're creating content for specific platforms. For example, you may not want to post informal content on LinkedIn, where the general news feed is cluttered with professional posts. Instead, save that content for more casual platforms like Instagram.
Consistency Is Important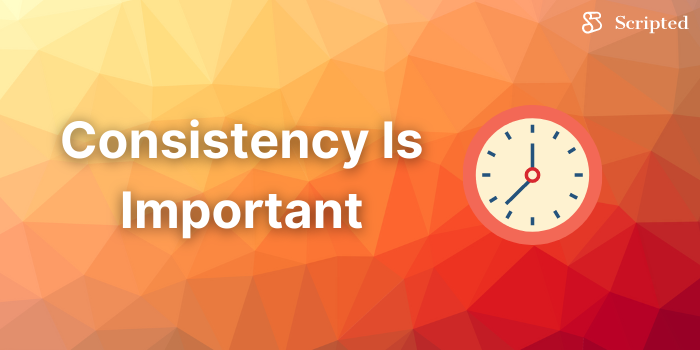 Don't make the mistake of creating social media accounts and never posting; it will only confuse your audience.
To keep up with all these different sites, you'll need to set a goal for how many posts per day are appropriate so that content is always fresh on each platform. This time frame may vary depending on what type of business you're running, but if there's one golden rule in social media marketing, that consistency is vital. When people see regular updates, they know that your company isn't dead or dormant, which helps create an image of credibility. But don't forget about quality over quantity – when setting this number, think about what makes sense for your business and who you want as an audience?
If you cannot create consistent content, platforms like Youtube and Instagram may not be your best choice. This is because these platforms use ranking algorithms to showcase your content on their home or explore page. A significant factor when considering which content to showcase to users is whether or not the creator is consistent. Their main goal is to maintain user retention, and they won't achieve that by showing them content from an inconsistent creator.
Grow Your Social Media Accounts at Scale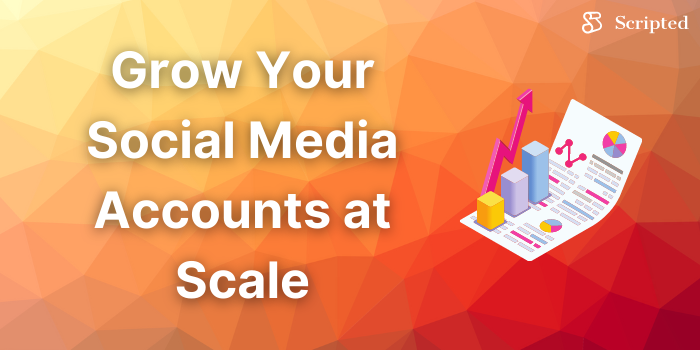 It's crucial that you find a way to connect with customers and potential buyers on their preferred platforms. Still, it can be not easy to produce content that engages your audience continuously. No matter what platform you end up choosing, you'll still need to come up with content ideas, scripts, copy, and ad text. With Scripted, your business will be able to gain access to the best writers in the industry, and they'll work on your behalf to create high-quality content for social media, email campaigns, blog posts, videos - you name it.
Scripted has helped companies grow at scale by providing them with a steady stream of quality written content tailored specifically to their business needs. Whether it's promoting your product or service or creating more brand awareness, Scripted will help you achieve these goals faster than ever before.
If you've found your perfect social media platform and need writers to churn out high converting content, click here to see how you can work with Scripted.