Top Building Materials Sites by Traffic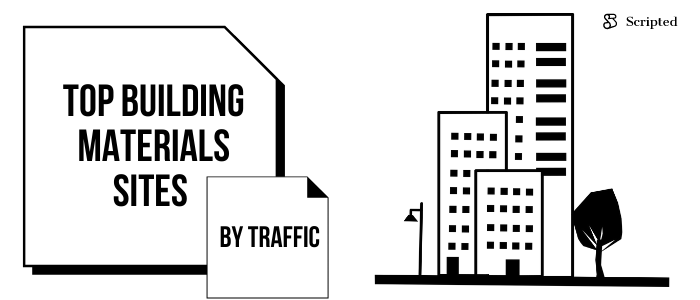 All businesses, no matter the industry, should rely on their online presence and SEO to increase brand awareness and bring in new customers. Most marketers understand today that content marketing is powerful and important. In fact, 70% of marketers are now making active investments in their content marketing efforts. One reason that content marketing is so important because it can improve your SEO.
According to research by BrightEdge, 83% of traffic to sites from search engines comes from SEO (rather than paid search). This holds true if you work in the building materials industry. A building materials website should be informative, engaging, and well written, and the content of the site itself should help convince customers that they want to do business with you. Investing in content marketing for
If you don't have a building materials website yet, or you want to change yours to increase organic traffic, it can help to take a look at the top building materials sites on the web. The following building materials sites are the most successful and popular ones on the internet, and following their example can help you craft a website that helps your company grow.
What is a building materials site?
Before you look at the best building materials sites on the web, it can help to get an understanding of what a building materials site is and what it should do. Building materials websites are the online storefront of a building materials company.
Whether you sell materials on the web or not, your website should let people know about who your company is, why it was founded, what sets it apart from other companies, and what they can buy from you. A website should include contact information and a place to offer support to customers looking for answers.
A helpful addition to a building materials site is a blog. A site blog can increase the amount of content on your site, which should help boost your SEO score (and increase organic traffic). It can also help you paint yourself as an expert or authoritative leader in the field, so you can convince potential customers that they want to do business with your company over those of your competitors.
The top building materials sites on the web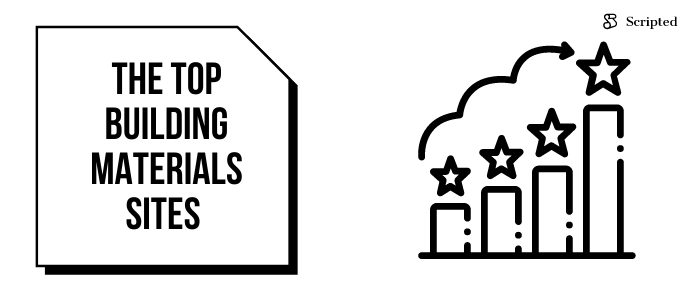 Now that you know what a good building materials site should do and what components it should include, take a look at the following real building materials sites. These are the best of their kind on the web, and they can help inspire you when you craft your website.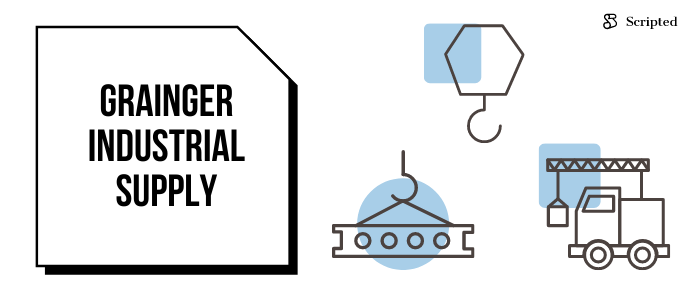 Grainger is a company that manufactures and sells MRO and industrial supplies. The company, which has been open for more than 90 years, offers more than 1.5 million products, which they aggregate from a huge range of suppliers. Thanks to this vast supply of products, and the ease of use of their site, Grainger is the most popular building materials site on the web.
When you visit the site, you immediately encounter the company's catalog of products so you can begin shopping. There's also a search bar to search specifically for what you need. In addition to the materials you can buy on the site, the company also offers a section of the site called "Grainger's Got Your Back." This section is essentially a how-to guide that can walk people through construction projects and the usage of their products and tools.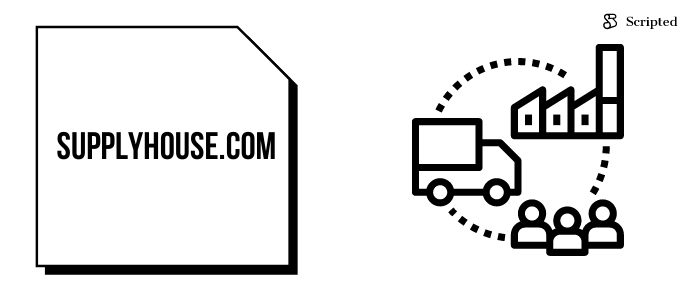 Another of the most popular building materials sites on the web is SupplyHouse.com. The company offers more niche products than some companies, and they specialize in plumbing, heating, and electrical supplies. SupplyHouse sells materials to contractors and builders who construct buildings for their customers. SupplyHouse.com's site is extremely straightforward and focuses on its catalog. With extensive descriptions of each product, SupplyHouse.com makes it easy to buy.
SupplyHouse.com also features customer service options on its site, so people can visit to get help with supplies they've bought. The minimalist of this site and its straightforward nature as an eCommerce site make it one that people want to visit and buy from.
Another of the world's most popular industrial materials sites is MSC. MSC connects contractors and builders with tools and materials they might need. The catalog is a big part of the MSC website, but the company offers a lot more info online, which is one reason why the site gets so much traffic. Some of the helpful information that is included on the site includes:
Buying Guides

Emergency Preparedness information

Information on COVID-19

Safety tips

Access to Machinery and Metalworking experts
MSC is such a popular site because it offers a lot more than just its products, and the site is cleanly designed, easy to navigate, and helpful. You can go to it if you already know what you need to buy, or if you need advice about what you're buying.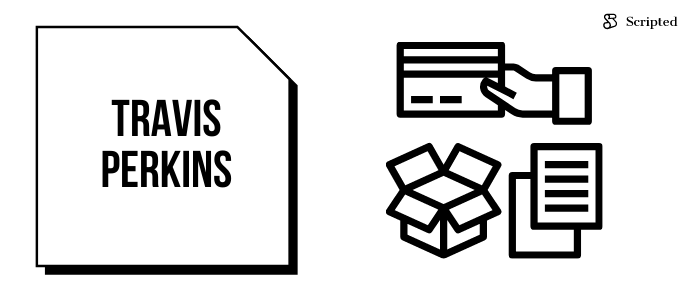 Based in the UK, Travis Perkins is one of the most visited building materials websites online. Travis Perkins is an extremely popular global company. In fact, they are one of the largest suppliers of building materials in the entire UK. They supply much of the UK's building and construction industry with the things they need to do their work.
Travis Perkins has been in business for over 200 years, and over the years, they've established themselves as a go-to, trusted resource in construction. Their website's popularity reflects this legacy. When you visit Travis Perkins' site, you can shop for any building materials you need—they have things like brick, cement, roofing, gutters, building chemicals, lintels, blocks, insulation, and so much more. Travis Perkins also lets customers order free delivery from a local location of Travis Perkins, which is a reason that people visit so often.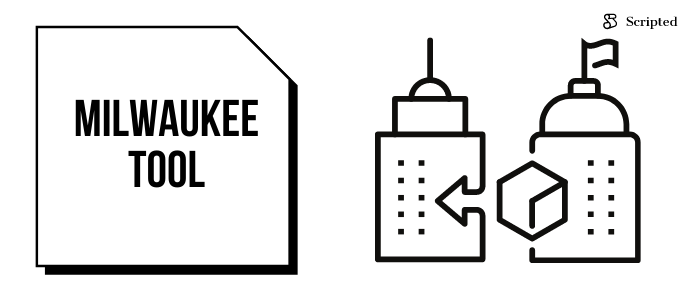 Milwaukee Tool is a company that specializes in power tools, but they also sell building materials, and they are one of the most commonly visited building materials sites on the web. Milwaukee Tool's sites feature their catalog, which includes hand tools, outdoor power equipment, and power tools. But they also sell sewer and drain maintenance products, site lighting, and construction site apparel (among many other products). Milwaukee Tool's site is sleekly designed with eye-catching red details. They also have access to helpful services on the site, including tool repair, e-rebates for purchases, usage manuals, and more.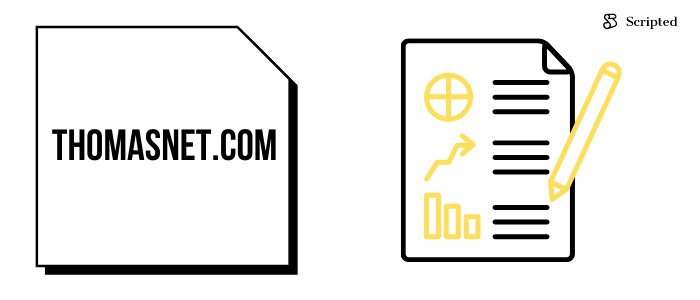 Thomasnet is one of the most widely used resources on the web for finding a supplier of industrial supplies and building materials. The Thomas website has a search bar, where visitors can search for suppliers, products, and CAD models. Thomasnet aggregates suppliers and materials so that shoppers can come and search many, many building materials sources at once.
In addition to being a resource for shopping, Thomasnet .com includes an incredible amount of information about the construction industry. It has a slew of regularly updated articles on construction, as well as a selection of white papers for more in-depth reading. Thomasnet.com also allows suppliers to connect their businesses to the site, so it attracts traffic from both sellers and buyers.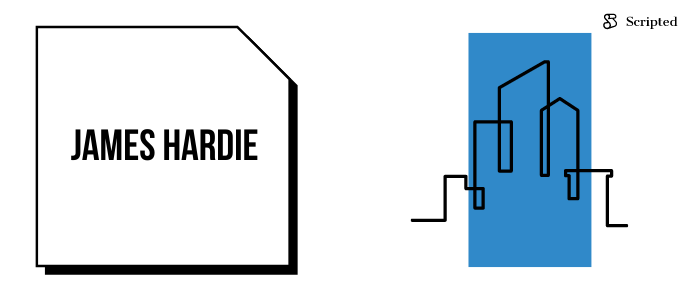 For house siding and backer board, the most popular destination on the web is James Hardie. James Hardie has a sleek website that allows visitors to shop for and purchase siding materials for your home. The company has been in business for over 100 years. Over time, they have established themselves as the leading experts in the industry. They also have an easy-to-use, useful website, which includes beautiful photos of their products on real houses.
On the James Hardie site, consumers can get guidance on what materials to buy, browse inspiration of real projects that used James Hardie products, take advantage of the project planning tools that the company offers, or get quotes from convenient businesses for how much it would cost to buy the James Hardie materials you want to buy.
James Hardie also has their own blog, linked on the website, which includes construction tips, design inspiration, beautiful home photos, and a whole lot more. The James Hardie site is also home to their customer support center, and visitors can use this portion of the site to get in contact with support at the company, look at FAQs, read installation guides, and more.
Do you work in the building materials industry? Scripted can help you increase organic traffic
If you work in the building materials industry, you should use the potential power of your website and the content you create on it to increase organic traffic. 80% of consumers prefer to find the businesses they want to buy from through content, so investing in what's written on your site can generate business and expand awareness of your brand.
One of the best ways to make sure that your website content is doing all that it can is to hire a writer from Scripted to help you write it. Scripted's writers are professionals who are trained in SEO, and they know how to harness the power of excellent writing, keyword placement, and more to ensure that your website is working to increase organic traffic.
When you hire a Scripted writer, you can pick someone who is an expert in your industry, so they know all the jargon and language to use to ensure that you look like an authoritative expert. To learn more about how Scripted writers can help you improve your website and help your business grow, reach out to us today. We can talk about all of your content needs—whether that's just your website, or blogs, articles, and ebooks (etc.)—and match you with a writer who can take all that writing work out of your hands.