The Importance of Brand Identity and Content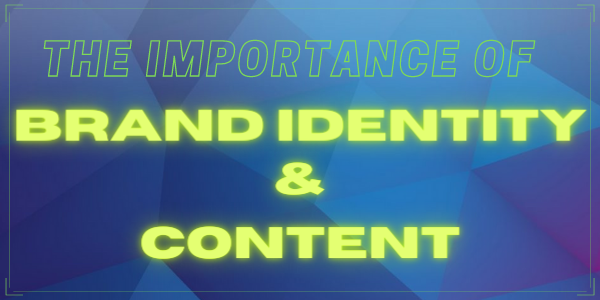 There are plenty of ways to boost awareness of your brand, from ad placements to email funnels to give away contests and everything else in between. And content marketing is at the core of most, if not all, of them. But if we asked you what the primary goal of your content marketing is, what would you say? Revenue? Prospects? Leads? Referrals? These things are important, but your number one goal for content marketing should always be to create a strong brand identity. 
What Is Brand Identity?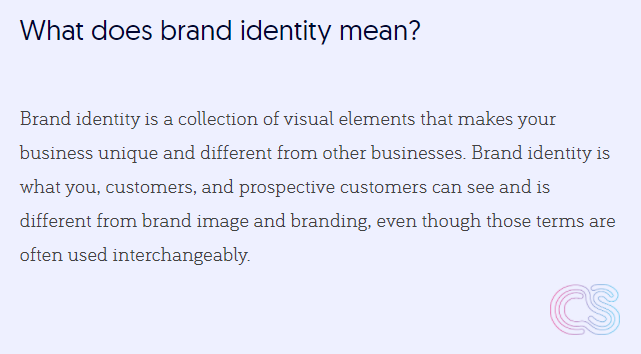 According to Crowdspring, "Brand identity is a collection of visual elements that makes your business unique and different from other businesses." Your product leaves an impression on people before, during, and after the sale. Brand identity is how you go about shaping that impression. 
The most important factor in brand identity is Trust. A study by Edelman shows that 81% of consumers say they need to be able to trust a brand to buy from them. This number stays pretty consistent across different global markets, age brackets, and income groups. When brands build trust, consumers feel encouraged to buy. 
Consumers don't just care about the experience of using a product - they also have concerns about the customer experience and a brand's impact on society and the environment. If brands can build trust with their customers, they will earn attention, revenue, prospects, leads, sales, and more.
Why Brand Identity Matters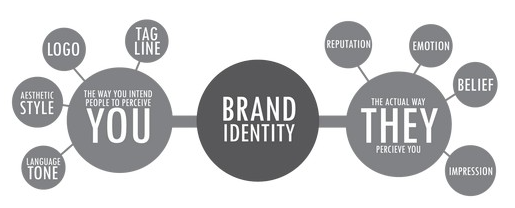 Brand identity is constructed from a company's core values. It's the foundation of your organization's culture and ethos. Having a unique, trustworthy, consistent identity will attract an audience that shares your core values. About 70% of Americans shop consciously and buy from companies whose values align with theirs. 
A great example of this is when Target announced its transgender bathroom policy and was boycotted by some customers who didn't support transgender rights. They took to social media to express their feelings about it and some stopped shopping at Target. But, ultimately, the shopping giant gained more loyalty and trust with their decision. It wasn't about freaking out their customers, making a radical statement, or pushing boundaries; it was about inclusion. Target executives knew it would be risky, but they held true to the brand's identity and its core values. 
A strong brand identity gives you what is called the "halo effect." This means that people prefer your products and services simply because they like your brand. 
Think about Apple. Chances are, most iPhone users would also enjoy using an Android phone. In fact, an Android might even have more appealing features, fewer issues with the hardware, etc. But hardcore Apple fans, and there are a lot of them, will still stand in line for hours to get the latest iPhone just hours after it's released. 
That's because Apple has built a strong and unique brand identity with its crisp, clean visuals and packaging, its minimalist and tech-centered stores, and the folklore story of how Apple began. 
Whether you actively create a strong brand identity, or ignore it, you are putting an image out to customers and prospects either way. 
If your business doesn't have a strong brand identity, it's high time you developed one. 
How to Create a Unique Brand Identity 

You want your brand identity to strongly communicate your core values and gain the trust of your audience. Consumers dislike smarmy, dishonest companies that go for a hard sell and lack personality. Trust, loyalty, and attachment are enhanced when your customers feel that they share your beliefs and values. If your brand doesn't seem to be part of their culture, they will find one that is. 
Developing a cohesive and professional brand identity is an important part of an effective branding strategy. It requires research and thoughtfulness to develop a style that meets your business goals, conveys your core values, and strikes the right tone. 
There are many elements that factor into a cohesive brand identity. Crowdspring states that brand identity includes a variety of visual elements, including:
logo or watermark

different logo variations

key brand colors and color palette

typefaces

typographic treatments

a consistent style for images and content

library of graphical elements

brand style guide

your visual identity on social media
But brand identity is more than just a pretty package. To create an appealing identity, you have to take the following factors into consideration. 
Personality
To make your brand identity unique, you need to make sure the various elements represent the personality of your brand. Identity design sets the tone of your brand and can be used to evoke different feelings in your audience. It should communicate the message your company wants to get across and promote your business goals. 
Differentiation
You've established your personality, but now you need to figure out how you are different from anyone and everyone else selling similar products and services. What sets you apart? Situating yourself appropriately can mean the difference between gaining more customers and losing them to a similar company. 
Consistency
Perhaps the most important part of a strong brand identity is consistency. You want to develop a consistent message across your online presence and marketing materials. Have a style guide so you can always refer back to the same basic styles and design elements. There's nothing worse than a brand with a flimsy identity. 
You can think of your brand as a role model. What do you want people to think about when they see you? What values do you wish to impart to those you come into contact with? How do you want people to feel after interacting with you? What do you want them to say about you after you have left the room? 
How strong is your brand identity? Put it to the test with Crowdspring's Free Brand Identity Grader. Just fill out the form on their site and Crowdspring will send you a free custom video review of your brand identity. The video will include actionable insights that will help you improve your brand identity. (In order for the brand identity grader to work properly, your website must be in English and should be your own website, not someone else's site.)
How Does Brand Identity Relate To Content? 
So, you need to grow your audience, which means proving to your consumers that they can trust you, which means building a brand identity. But how do you get your message out to customers in the first place?
Building trust between brand and consumer can be as simple as establishing brand identity and communicating that identity with excellent content marketing. Content marketing is one of the best ways to create and promote brand identity. Content strategists need to know how to get the right message to the right people at the right time in the right medium. 
Content allows you to build trust with customers. If you craft consistent messages with your core values in mind, you show audiences that you know who you are. You show that they can trust you to stick to your guns and take risks to defend your values. Having a published communication plan that outlines your core values will help everyone stay consistent in messaging, tone, voice, and style when producing content. 
A lot of content marketing involves being in tune with human behavior. Humans are social animals. We are driven to be part of a community and align with those similar to us. This applies to the neighborhoods we live in, the causes we care about, and the online products we search for. We appreciate brands just like we appreciate beliefs, motivations, and morals of our friends and family. Content marketing helps you convey your similarities to your ideal customers. 
What Makes Content Great?
Successful content needs two things: SEO and optimal user experience. SEO can make your content pop up in every Google search around the planet, but that doesn't mean your audience will want to read it. The top priority, then, should be ensuring that your content is real, genuine, and trustworthy.
Content marketing supports and strengthens your brand identity. It shows your audience you are invested in them. You can use your content as a creative outlet to deliver engaging, fun, and helpful information. The best way to connect with your audiences is to publish a steady stream of unique, original content that resonates with your audience. Don't skimp on the important stuff. 
Scripted can help you develop a winning content strategy and deliver high-quality, customized content to boot. Our Cruise Control option combines content marketing strategy, content creation, account management, and analytics -- all managed by Scripted's team of experts. Get in touch today to schedule a demo.