Top 5 Parenting Blogs by Traffic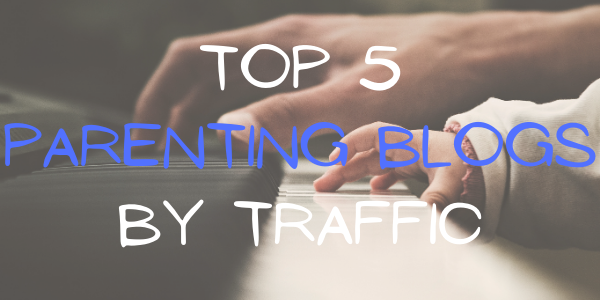 There are millions of parenting blogs on the internet. It's an extremely competitive field, but it also offers a wealth of opportunities if your content strategy is successful.
This guide covers the top five parenting blogs, ranked by traffic (according to Feedspot) and relevancy.
Here you'll find a quick overview of each blog and its content strategy. We included each blog's Alexa rankings, which ranks a site comparatively to every other site on the internet and is the most reliable estimate of a site's traffic. We'll also offer insights to help you create your own content strategy based on the top-ranking blogs. 
Whether you're new to blogging or have years of experience, there are always ways to increase your organic traffic. This guide helps you do just that. Let's get started.
What is a parenting blog?
First, let's consider the term "parenting blog." For our purposes, a parenting blog is any site that regularly provides posts about parenting, childcare, and related topics.
These might include:
Child psychology

Single parenting

Divorced parenting

Child/parent attachment

Learning and emotional disorders

Work-life balance for parents

Everyday parenting tips

Etc.
We aimed to include a variety of parenting blogs. Some of our top parenting blogs are managed and written by parents. Others are created by professionals. But they all have one thing in common: They're all about parenting, and they all have a strong content strategy that brings a lot of traffic.
1. Daddy's Hangout
Alexa rank: 102,832
Daddy's Hangout is a family and parenting blog started by Travis Williams, a father of three.
The blog began as a hobby for Travis, but it's now one of the top parenting blogs on the internet.
Travis blogs about his role as a father, but he also throws in music, sports, and other interests on occasion.
How to Copy the Daddy's Hangout Content Strategy:
Daddy's Hangout isn't just a parenting blog, though that's the primary focus. Travis connects with his readers by including all of his interests and passions; this helps make him more personable.
Readers love to feel like they know the person (or writer) behind a story. If you want to copy Daddy's Hangout's content strategy, consider adding a bit of personal information to your blog. If you work with other writers, you can either request ghostwritten content, add your own personal details, or let each writer share their own bio or narrative to connect with the audience.
2. Psychology Today | Singletons Blog
Alexa rank: 1,969
The Psychology Today Singletons blog focuses on single children. Readers include people who are single children themselves, parents with single children, and even parents who plan to have more than one child in the future.
A social psychologist writes the blog, so topics typically deal with the psychological and social aspects of parenting.
How to Copy the Singletons Blog Content Strategy:
The Singletons blog is managed by Susan Newman, a social psychologist with a Ph.D. Each blog topic includes carefully sourced material from reputable organizations.
Because the blog is part of the Psychology Today parent site, readers expect carefully researched, authoritative information with each post. Singletons doesn't disappoint.
The blog also manages to present the information in an easy-to-read format, and the writing has a conversational, casual tone.
It's often difficult to walk this line, making your blog both personable as well as authoritative. Psychology Today's Singletons blog does it well.
If you want to copy their strategy, you'll need to provide informative, authoritative content in an easily digestible format.
3. ADDitude | ADHD Parenting Blog
Alexa rank: 26,931
The ADHD parenting blog is part of the ADDitude parent site. ADDitude is a magazine written for parents and children affected by ADHD and certain learning disorders. The ADHD parenting blog includes guest posts from readers of ADDitude magazine.
The topics vary, but each post is a personal story about living with ADHD. They're usually well-written, relatable, and often trigger an emotional response from readers.
How to Copy the ADHD Parenting Blog Content Strategy:
If you want to copy the ADHD parenting blog strategy, consider writing personal essays rather than informative types of blog posts. These stories often resonate with readers, particularly when they deal with personal struggles.
Everyone has problems. Most blogs aim to solve those problems, but sometimes people just want to feel "seen."
Arguably, the best approach is to include a mix of both types of content. Write posts that inform and instruct, but include personal essays as well. Readers want to feel connected, and these types of posts are the best way to do just that.
4. Aha! Parenting

Alexa rank: 152,458
Dr. Laura Markham founded Aha! Parenting to help parents understand and connect with their children. As a clinical psychologist and parent, Markham strives to connect the gap between advice and practical parenting. In other words, she takes theoretical advice and shows how it applies in actual parent/child relationships.
The site is well-organized, with links that span ages from newborn through teenage years. There's even a section for pregnant parents.
Many of her blogs approach topics in a Q&A format. For example, a parent asks a question, and the writer replies with a post that fully answers the question. It's basically an advice column from a professional parent.
How to Copy the Aha! Parenting Content Strategy:
When you first visit the Aha! Parenting site, you'll notice the layout. It's well organized, so it's easy to find exactly what you need.
If you have a newborn, simply click the newborn category to find content that applies to your everyday struggles.
This is a simple format that's easy to copy on your own blog. While many parenting blogs separate content by topic, it's much easier to search for information by age group. This also keeps readers clicking because they'll find more and more helpful information the longer they scroll.
The Q&A section is especially helpful because it features actual questions from other parents. Parenting can be a lonely journey, but it's helpful for readers to know they're not alone when they seek advice.
5. Working Mother
Alexa rank: 83,246
The Working Mother blog offers strategies, inspiration, and advice for working moms. The brand advocates for working mothers across the world by providing "community, solutions and strategies they need to thrive."
They also support paid family leave, affordable child care, flexible work, and other options to help working mothers and their families.
Content is organized around a working mother and her lifestyle. There are topics for work, parenting, and "off duty."
How to Copy the Working Mother Content Strategy:
Working Mother targets a specific niche within the parenting industry. Many working moms feel overlooked and overwhelmed. 
Most parenting blogs focus entirely on the child, while Working Mother acknowledges the mother figure as a complete person, with goals and obligations that have nothing to do with her children–but without neglecting the "parent" role.
It's a tough job to fill, but it obviously resonates with readers. Nearly one-third of working women are also mothers, and the shifting responsibilities are sometimes physically and emotionally demanding. Readers of Working Mother feel like the blog understands their plight, and they find encouragement there.
If you want to copy the strategy, find a target demographic and position your content to focus on their needs. All too often, parenting blogs revolve around the child, but you can target a specific type of parent to meet a need.
How to Build Organic Traffic for Your Parenting Blog
Unfortunately, there's not a simple approach that guarantees you'll increase organic traffic for your blog. However, there are several things you can do right now that may help.
First, use the blogs ranked in this guide to start brainstorming your own content strategy.
Think about your ideal target audience and what you hope to achieve with your blog. Then consider the type of content you'll need to achieve those goals.
Statistically, 94 percent of searches are through Google. If you want to show up in search results, you'll need a content strategy that helps you rank high.
You may need to change a few things to make this happen, but that's part of blogging. 
SEO and traffic optimization are always changing, and your content strategy may need to change, too.
Achieve Your Organic Traffic Goals With Scripted
If this seems too overwhelming, we can help.
Scripted is a full-service content platform that helps bloggers create and manage content for their sites.
When you sign up for our service, you can search for a parenting blogger and find a list of professional writers who meet your needs.
Add these writers to your list of favorites or request proposals from a pool of writers.
The writer will create the content you need, and you have time to request revisions before you approve the final piece.
Once you find a writer you love, you can hire that same person for each piece of content you need. If you need a lot of content quickly, you can work with a team of writers to get the job done ASAP.
Because Scripted parenting writers are industry experts as well as writing experts, they know how to create content that boosts your organic traffic. They're experts in SEO, and they can help increase your conversion rates and help your site rank higher in Google search results.
If you want to create a better content strategy, Scripted is here to help.
Search for a parenting blogger now to get started.